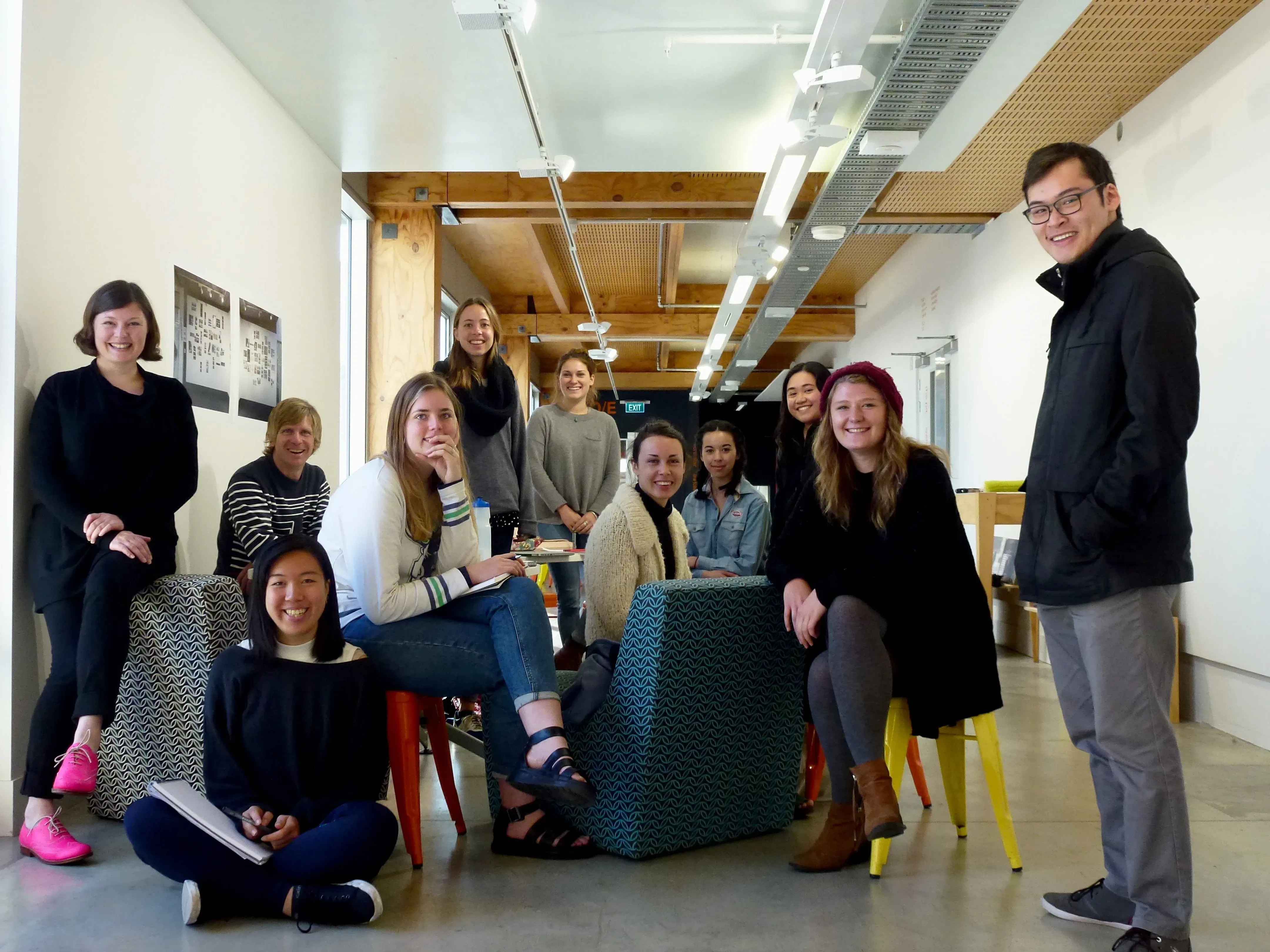 Students from seven design and architecture schools across Australasia will be transforming vacant inner city spaces in Christchurch on Labour Weekend with installations from reused waste materials.
Collaborating with creative director Jos de Krieger from Superuse Studios, the installations will be part of the Lean Means street party on 22 October, a highlight of the four-day Festival of Transitional Architecture, FESTA.
In a first for the festival, artists are collaborating with student studios to explore sustainability in design.
We hear about the project Pipe Dreaming from Christchurch artist Julia Morison and the School of Design crew at Massey University College of Creative Arts in Wellington. The work, made from reused cardboard pipes, considers if a sustainable future is a fanciful hope.
The artist, students and lecturers tell us how the project helped them dismantle boundaries between subject areas, the artist and designers. And how it started with playing with materials, letting the work emerge instead of predicting an outcome, with the process becoming part the final design.
Tell us about the project concept for FESTA
Artist Julia Morison: In art and dream may you proceed with abandon. In life may you proceed with balance and stealth — Patti Smith.
Pipe Dreaming is a group of cardboard carpet cores suspended in a triangular form. They function as pavilion and/or folly and/or sculpture and at night they become a three-dimensional cinematic screen for a choreographed sequence of projections derived from re-using and re-thinking waste materials. The process is thus the content, folded-in or convoluted with the final pavilion/artwork. We had in mind that this might mirror the way small ground-up projects (like FESTA for example), so evident in the aftermath of destruction, can lead to and be vital for a city re-imagined. This is not a master plan but a fluid collaborative model for a city that organically and dynamically rises in small steps with respect for our history.
Student Design Team - Katie Deller, Nicole Gesmundo, Nicki Gordon, Tzu-Shiuan (Claire) Huang, Sarah Joubert, Maggie Meiklejohn, Rachael van Wieringen, Franziska Steinkohl, Calvin Lai: At the start sustainability and recycling felt like loaded words – they brought to mind certain materials and a certain look. We thought it would be restricting and the results could be clichéd, but hearing about the work of Superuse; considering both the past and future potential of materials; seeing them in a new light has been really eye opening. We've been led by a process and let the materials lead the response. Sort of letting the waste fulfill its own potential. The whole process has been a conversation; a dialogue between us and the materials, between Julia as an artist and us as designers, and also talking to Julia about Christchurch's experience and future. We want to play out some of that conversation – and provoke new ones – through making the process visible through projections onto the installation and through a zine that people can take away.
Nick Kapica (Senior Lecturer) and Jo Bailey (Lecturer): The project has the working title Pipe Dreaming. As with all things in this project, the name came from the materials – cardboard 'pipes' – but also the serendipity of a repurposed meaning: if a 'pipe dream' is 'an unattainable or fanciful hope or scheme', the team wanted to consider, is a sustainable future indeed a fanciful hope? Through the act of thinking creatively – dreaming – can we bring new life to old materials and new life to a city in a state of flux?
Tell us about the process
Julia: The original brief set was that the Massey team of designers would make an environment to showcase my artwork. The aim of the project was to contribute to the context of 'Lean Means' with its theme of re-using materials.
This brief rightly assumes that there are different roles for artists and designers but this project presented an opportunity and a challenge to integrate rather than separate the art and design components. Rather than conceive of a grand end result or predict an outcome, we would shift the focus of attention to something very small and begin with play. To discover what excites you is essential for an artist, necessary even, as extrinsic rewards are rarely guaranteed.
Rather than force a material to conform to an aim, we respond to its nature and come to know what it can do, what it means, what it could mean.
I am based in Christchurch and have had one two-day visit, at the start, with the students. We have communicated through Skype, email and shared documents through GoogleDrive. The students give Skype & Google presentations and I have responded by email.
Design team: We had to work out how to work with each other – we all have different approaches and come from different backgrounds – we hadn't worked together before, or with Nick and Jo – it's definitely made us open to trying new things; not labelling ourselves. We learned to bring ideas to the group and filter them. The interdisciplinary studio approach (where nobody wears a 'hat' saying I'm the spatial designer, or I'm the teacher, or whatever) became really fluid and allowed us to try stuff out. Like Jos's architecture, the project sort of designed itself once we understood that you can work backwards by trying out materials and seeing what they do. We looked at designers like Morag Myerscough and Uwe Brückner, and of course Julia's practice, and really started to get a sense of narrative in design (something we talk about, especially in Visual Communication, but didn't necessarily 'get'). In terms of how it worked, we scavenged from the campus, went to the landfill, started scouting out skips and became really aware of all the stuff that's out there being thrown away. We got all that on the table, and just played with it, really, to see what it could become. A whole heap of experiments and discoveries that we documented with photographs, models, time lapses.
Jo and Nick: When FESTA asked us if we'd like to involve a student team from Massey, we thought it was the perfect opportunity to try out an idea that has been in discussion around interdisciplinary working. Jessica (Halliday - FESTA director) didn't know at the start that we are both visual communication designers by background, but she saw that as an interesting opportunity too and really embraced it, as did Julia. It's become clearer and clearer that the expectations of students, and also of the design industry are becoming less wedded to discipline labels, so FESTA was a compelling opportunity to try out a new way of running a studio class.
The BDes programme at the College of Creative Arts is delivered through six subject areas (Industrial, Spatial, Fashion, Textile, Visual Communication, and Photography). Students are required to complete their 'core' subjects in one of the subject areas. This project gave us an opportunity to explore running an interdisciplinary core instead of a subject specific one. This has only recently become possible following the alignment of all learning outcomes across subject core courses. The intent is to provide students with a subject agnostic design experience, solving the problem through selecting the best design approaches from all fields of design: spatial, industrial, fashion etc.
What did you learn during the collaboration?
Julia: To work collaboratively in a way that included every person involved was something that I wanted to achieve in this. To let go of control and allow things to happen is OK. It's actually exciting as you can't predict the outcome.
Design team: How to develop a group dynamic where everyone is heard, but not to produce something that's all things to all people (so a bit of a mess). And, how to work in a way where we all bring our ideas but nobody is too attached to any one concept. We've learnt from each other – Sketchup, using tools, VR prototyping and model making are things we've taught each other. Working with Julia, who has an artist and a designers' perspective, has been great. Her personal relationship with Christchurch has informed our thinking, and she's brought fresh eyes each time we Skype; we show her iterations and she helps keep us on track. We've also learnt a lot of hands-on skills, some engineering and construction knowledge, and that rapid quick-fire working is helpful, and that we are a messy bunch!
Jo and Nick: The enthusiasm of the students and of Jessica and Julia has been great.
It has become evident that there is an appetite amongst students to explore design in an open and holistic manner. It is also apparent that while there are many technical skills that are missing, learning these as and when required can work.
What do you hope the public takes away from it?
Julia: Firstly, I hope that they find the project seductive and that this will entice them to take the supporting document that reveals our different methods and outcomes for re-using materials which will stimulate their own thinking about waste materials and how they can be re-used.
Secondly, I hope that this project successfully demonstrates that artists can work collaboratively and artists should be involved in design decision making for a city for more meaningful results.
Thirdly, I hope that we contribute to the idea that a public artwork need not be a fixed object in space; that a public artwork can also be something process based, active, fluid, changing, transitional and collaborative.
Design team: We know we are not changing the world with this one thing, but if people enjoy the space, talk and question, that's a successful outcome. From our very first conversation with Julia, where she talked about bringing people together around her table after the earthquakes, we wanted to make a space for conversation. If people are drawn to Pipe Dreaming and it means they interact both with it and other people, that's great. Also the whole process has been about playfulness, so we hope it's fun and engaging!
Jo and Nick: As for the intervention in Christchurch I hope the public in the first instance have a fun night out. Then I hope they reflect on the purpose of a city and what it means to fill it with people and why it is important to have space for people to meet, have fun, exchange, learn and be together. Thirdly I hope people think a bit more about what happens to all the materials that are no longer required … where does it all end up?
What's great about FESTA and Christchurch?
Julia: Christchurch is raw and contested. Projects and organisations, of which FESTA is one, are vital. They present alternative humanist models for low-risk experimentation. FESTA brings us and others together, gets us excited, gets us thinking, gets us talking about alternative options. FESTA gives us an opportunity to be involved.
Design team: We probably wouldn't have come together as an interdisciplinary team if it wasn't for FESTA. FESTA have been really open – not at all prescriptive about what we should produce, and have trusted us all the way, as has Julia. That's made us have more faith in ourselves! As we are mostly from a graphic design background, working in a field that's not 'supposed to be for us' has been amazing. None of us are from Christchurch so we are excited to visit, and for that visit to be for FESTA. The opportunity, as students, to have our work showcased at FESTA is a big thing. In terms of Christchurch, it seems like there's such an opportunity there to build an amazing city. FESTA's voice in that conversation is really vital.
What's your big idea for 2017?
Julia: I can't strategise beyond tomorrow. No idea.
Students: As a team, we've thought a lot about the way we design, the waste we generate, and there are things we've learnt from FESTA that we all want to carry through how we work, like reducing waste, and making use of resources that are destined for landfill. We all go into our final year of study in 2017, and FESTA has definitely made us think differently. We are also inspired to work on more installations, so are on the lookout for other festivals! We have also instigated a 'Superuse group' on campus and we want to challenge other people to minimise waste and look at the potential of waste materials. Inspired by Jos and his approach to create a closed cycle of waste within his coworking space in the Netherlands we are proposing that the College of Creative Arts explores what this might mean for an art and design school. Our big idea for 2017 is that we develop a 'superuse' cycle of materials that takes the remnants of one project or course and provides this as the 'material' for another course. Eventually we hope that all material used in learning & teaching art and design at CoCA is used as much as possible within the closed system of CoCA, and then finds its way into other systems hopefully avoiding landfill entirely.
* * *
About Julia Morison
Julia Morison's rich and ambiguous practice has encompassed a diversity of approaches and materials in a career spanning four decades. Much of that time has been dedicated to laying the foundation for a complex symbolic system, including the development of an artistic vocabulary inspired by sources such as Hermeticism, the Kabbalah, alchemy and memory systems. Morison's work represents her own intellectual order through an interweaving of symbol, material and philosophy. By reviewing and re-interpreting these sources for a contemporary context, she invites us to consider how artificial structures and systems can affect and manipulate the way we see and understand.
Born in Pahiatua in 1952, Morison lives and works in Christchurch. She has exhibited extensively in group and solo exhibitions in public and private galleries throughout New Zealand and overseas. She has received several grants from the New Zealand Arts Council and was awarded the Frances Hodgkins Fellowship in 1988. In 1990, she undertook a Moët & Chandon contemporary art residency in Avize, France, and continued to live and work in France until her return to Christchurch in 1999 to take up a lecturer's position in Painting at the University of Canterbury's School of Fine Arts. She resigned in 2007. She was inducted in to the Massey University Hall of Fame in 2012 for services to Art & Design.
Website