No matter how you slice it, the past year has been a paradigm shifter.
It's been a series of unexpected revelations, a strange unfolding of history that continues to play out as we emerge from time to time with acts of creativity, kindness and humanity. As we travel the uncharted territory of pandemic and find our way into 2021, the arts are needed now more than ever.
For most communities and readers of The Big Idea, it's been a year of change, self-preservation and ongoing thoughts of wellbeing. The defining word, embraced across New Zealand and at every level of government, has been resilience. 
Imagine a town or city that doesn't care about its stories, that isn't creative, that can't express itself through music, literature, theatre, film or visual arts. You'll have a mundane and uneventful place—and a community incapable of understanding itself or finding true resilience. 
Here at Creative Bay of Plenty, we don't like being boring or uninspiring—and we love a good comeback. 
Every day we work to build more interesting places, connections and experiences. Like so many regions, our small team and board have learnt a few things doing that in these unpredictable times. 
The world will continue to bring us its mysteries, no matter what. Wellbeing isn't just a buzzword—it's intertwined with our ability to be creative and recover from crisis. Change really is a constant. 
So why not take these paradigm shifts, recognise the power of the arts, and strive to make our region the most creative and interesting place in Aotearoa? Why not be a triumph of resilience?
But how do we get there?
The active ingredients are pretty simple: ideas, people, partnerships and a slate of arts programmes and services. 
Each region in Aotearoa is unique in its cultural identity. Each has a special recipe for creative placemaking. For the coming year,  the Bay of Plenty is mixing its own in search of new paradigms.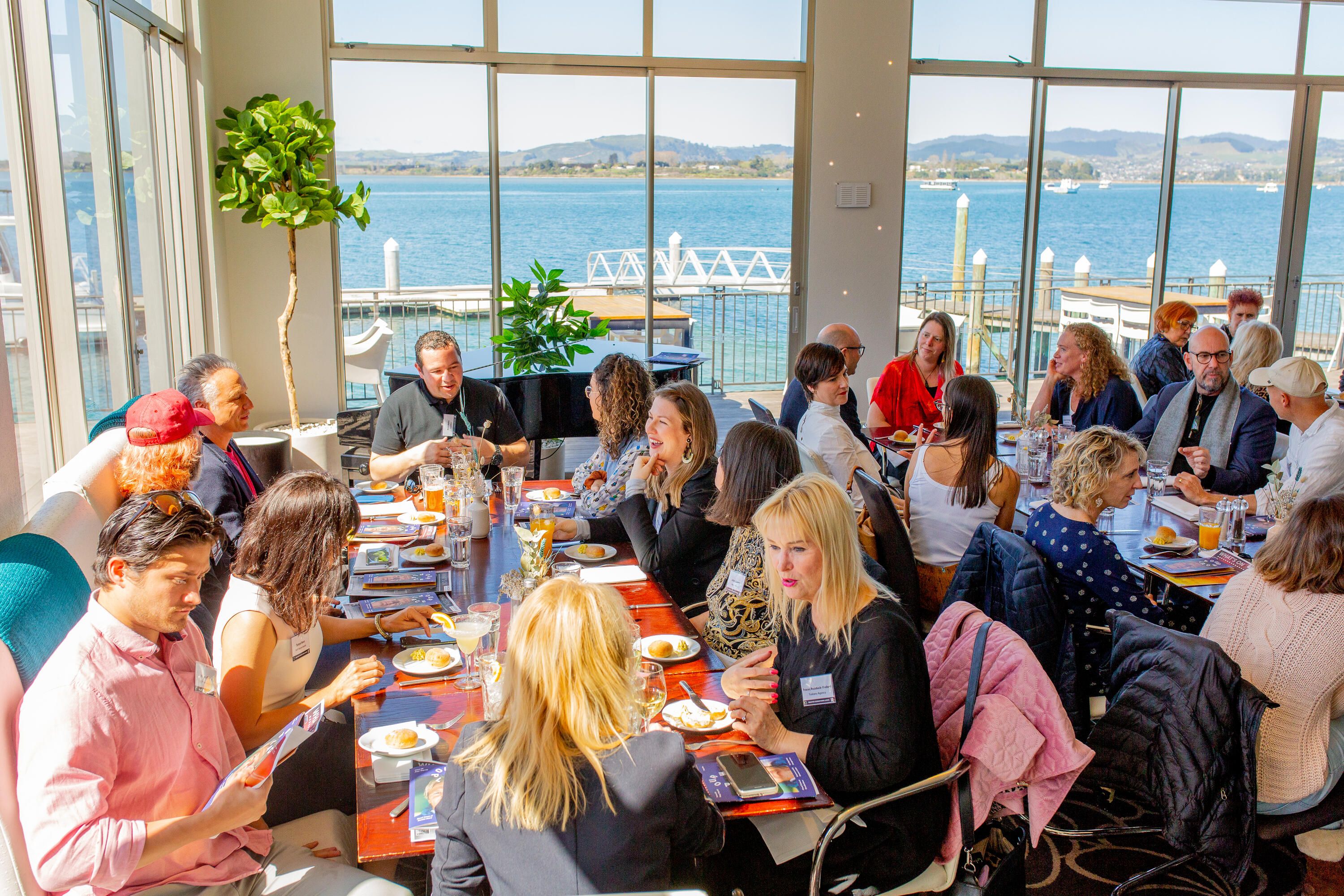 A Creative Communities lunch in full swing. Photo: Jess Lowcher/Creative Bay of Plenty.
We'll gather for Creative Communities Lunches, celebrate local artists in our recently launched online Creative Directory, interview them with our Creative Patapatai series, expand regional grant-giving programmes and offer an ambitious batch of new professional development workshops. 
We'll explore new festivals and civic events, develop an Artist in Residence programme, and initiate a regional arts and culture conference to hatch more plans. In partnership with Te Tuhi Mareikura Trust, we'll outline new Māori arts partnerships, encourage cultural wellbeing with Creative Side Effects, and work with our two Councils on ground-breaking public art opportunities. And in support of our region's next generation, we're actively expanding our arts scholarships and training support.
This community will get there by working together and being fearlessly creative. That way, resilience comes naturally.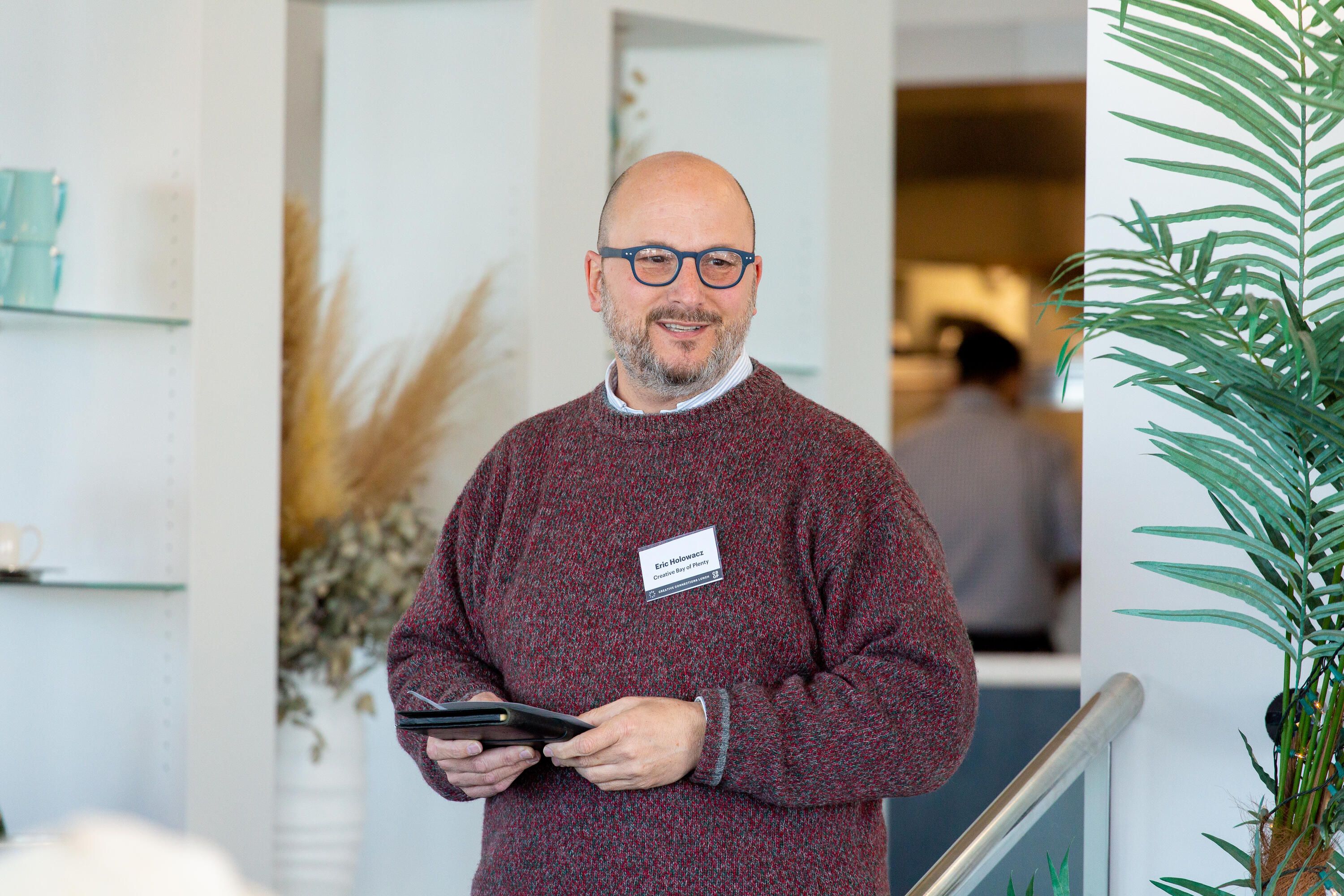 CBOP General Manager Eric Holowacz. Photo: Jess Lowcher/Creative Bay of Plenty.
Our ethos at Creative Bay of Plenty is to meet the challenges of life with art—helping us traverse these shifting landscapes with colour, story and human expression. It takes hundreds of local artists, cultural organisations, mana whenua, civic leaders, educators, venues and festivals, and everyone from Katikati to Pongakawa to Waihi Beach to the Kaimai Ranges.
I have no doubt that the Western Bay will emerge more creative, endlessly kind and remarkably human—because we have the power of the arts. 
That's our dream for regions up and down Aotearoa, as we all exit 2020 and come together in new ways. Let's share ideas and support each other while reaffirming our regional creative identities.
That sounds like an extraordinary new paradigm to work towards as we leap headlong into a 2021 ripening with arts, culture, and heritage activity. And no matter how you slice it—this world has never needed it more.