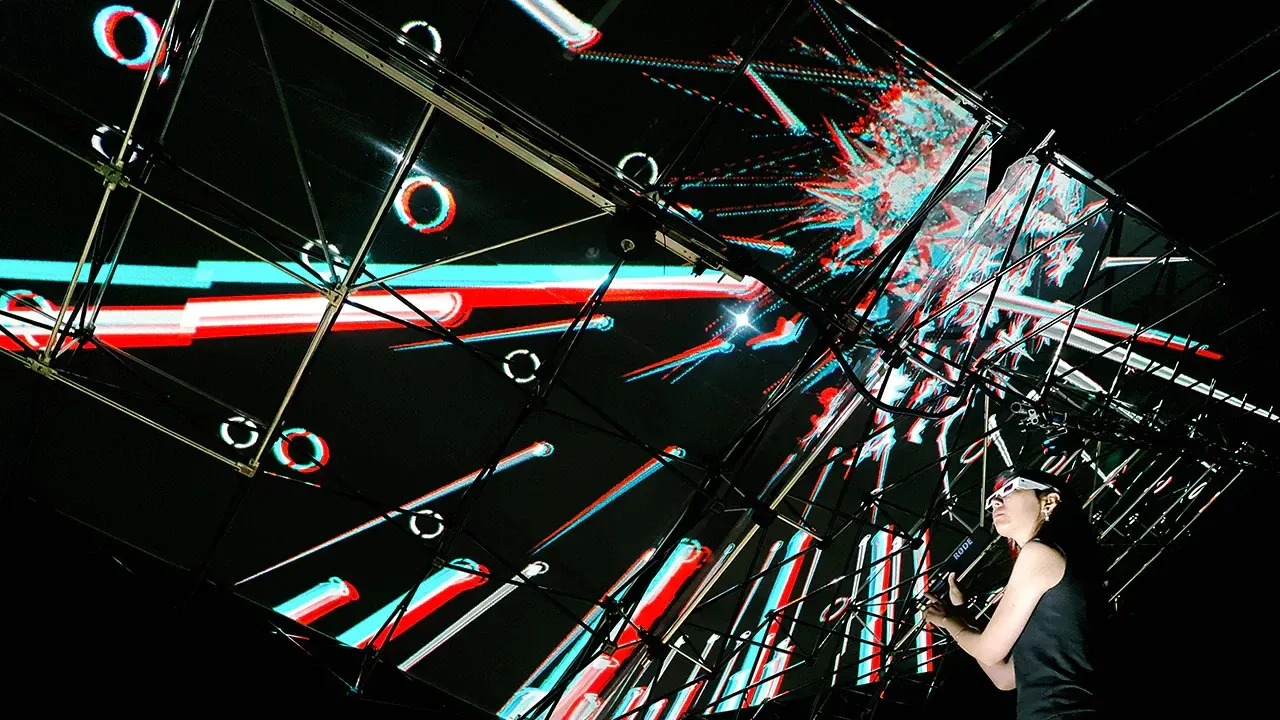 While celebrating success within the creative community is paramount, keeping things in check is also crucial.
Some of those observations could be conversations that need to be had, issues that continue to bubble away without being truly resolved - and some come out of sheer frustration.
There's been several of the sector's hot topics brought to the boil this week. It should be a clear sign to those who find themselves under the most-likely unwanted spotlight that these things don't just 'go away'.
But key to it all is how these issues are handled, confronted, questioned.
The rise of social media has brought wonderful discourse, exposure and a wider sense of community for creatives (and of course other parts of society). But the reasonable is so often drowned out by the aggressive, the name-calling, the tit-for-tat response that only serves to tear down, not build up or resolve.
Being pissed off, outraged and upset are perfectly acceptable emotions to voice. There are always fine lines to tread - but one of those is not abuse. Contrary to a common belief, there is no grey area - you're either being abusive or you're not. You can't cite a "lack of intent" to offend, once someone uses abusive language towards someone, they lose control of how it is perceived.
Kudos then to those who can pitch their critique, their objections in a tone that focuses on the issues, rather than personal attacks.
This week alone, we've seen Andrew Wood hold the polarising Narrative Muse to account, asking if it has used its $500,000 innovation funding grant (that outraged the literary community) to the benefit of Aotearoa locals.
Janet McAllister got tongues wagging and opinions flowing when she questioned the lack of toi Māori at Auckland Art Gallery as Matariki approaches. Part of the conversation involved questioning the accessibility of this week's toi Māori wānanga, Toi Te Kupu: Whakaahuatanga at Aotea Centre. The line up of speakers is impressive and the kaupapa is important - but at $335 for a two-day event, there would be many creatives who were priced out of attendance.
Palestinian human rights groups have called for a boycott of the Doc Edge Film Festival over concern its funded by the Israeli Embassy. Doc Edge General Manager Rachael Penman has responded that they're funded by many embassies and the lack of Palestinian entries in recent festivals - including this one - is down to no entry meeting qualifying criteria.
The appointment of New Zealand Symphony Orchestra Chairman Laurence Kubiak to regular anti-arts lobby group the Taxpayers Union's board has raised ire and eyebrows. He has been told his contract with NZSO won't be renewed, and just this morning Mark Amery discussed the juxtaposition of Kubiak's role switch.
Having the strength to share your convictions in a forthright - but non-abusive manner - can make a difference.
American music sensation Lizzo caused a storm recently, called out for an ableist slur in her new single Grrrls. Rather than rail against it, double down and combatively stick to her point of view, Lizzo announced she was changing the lyrics to the song and put out a new version after the harmful word was brought to her attention.
All from a fair point raised by an Australian social media user saying "it's 2022 - do better".
So these commentaries - and many others from intelligent, emotive and articulate members of the creative community - matter.
The question is - are those being questioned listening?
The truth is out there
Last week we discussed a big departure from the Auckland Writers' Festival in Director Anne O'Brien - this week it's all about what's coming in.
The launch for the 2022 event took place last night, with some big names and intriguing topics announced as part of the August programme. The Big Idea was in attendance and it was wonderful to see a full house of writers, funders, supporters and creative sector figures soaking up an honest-to-goodness live event again, with O'Brien holding court masterfully.
For star power straight from Hollywood, two names that will be a potential lure to a wider audience stand out from the announcement.
Dame Jane Campion. Photo: Grant Matthews/Netflix.
Fresh from her Oscars success with The Power Of The Dog, Dame Jane Campion will be live at the Festival to share her incredible career, much like the title of the book Jane Campion on Jane Campion.
Of X-Files and Californication fame, David Duchovny is also an accomplished author with four novels under his belt, and will be one of many international names live-streaming into venues in the new post-pandemic hybrid festival tradition.
David Duchovny. Photo: Tim Palen.
Others providing a notable digital - rather than in-person - impression include last year's Nobel Prize winner Abdulrazak Gurnah and George Orwell biographer Rebecca Solnit.
The big international "gets" to make the trip out include one of the most recognised writers on Vladimir Putin, New Yorker writer Masha Geesen, successful TV screenwriter Liane Moriarty (Big Little Lies) and feminist icon Clementine Ford.
Of course, Aotearoa will be well represented too. Respected creatives like Nigel Borrell, Tayi Tibble, Coco Solid, Moana Maniapoto, Steve Braunias, Hinemoha Elder, Selina Tusitala Marsh, Shane Bosher, Madeleine Chapman, Rosabel Tan, Hemi Kelly, Tessa Duder, Lana Lopesi, Gigi Fenster, Mohamed Hassan, Jennifer Ward-Lealand, Dominic Hoey, Anne Kennedy, Claire Mabey, Victor Rodger and Stacey Morrison bring plenty of heavy-hitting and credibility to a list burgeoning with talent.
And in perhaps what the show-stealing announcement - the reunion of the amazing Naked Samoans (below), described as a one-off with one of the most organically funny performance collaborations live on stage with another national treasure in John Campbell.
Full and Bright futures
Some long-awaited international exposure and education has been handed out to half a dozen artistically minded New Zealanders.
Among the 27 Graduate awards handed out in the Fulbright Scholars 2022 cohort named this week, six creatives have been given their boarding passes to further their learning journey in the United States.
Three former graduates of Wellington's Victoria University are all headed to New York. Bronte Heron is taking up a Master of Fine Arts in Creative Writing at the New School in New York City, Dexter Stanley-Tauvao will join the Aaron Copland School of Music at Queens College for a Master of Music in Jazz Studies, while the Big Apple beckons for Jack Harré as well, set to complete a Master of Music in Jazz Performance at New York University.
Fellow Victoria University Alum Isabella Gregory is Texas bound for a Master of Music in Flute Performance at Houston's Rice University; Otago University graduate Jordan Hamel will complete a Master of Fine Arts in Creative Writing at the University of Michigan in Ann Arbor, Michigan; and Liam Wooding will research music performance at the University of California in San Diego, towards a DMA at the University of Waikato.
Bronte Heron. Photo: Supplied.
It's a long way from New Plymouth to New York (around 14,000km actually) but Taranaki-raised Heron told The Lowdown she can't wait for August to arrive.
"I want to write my little heart out and learn from all the poets I will be surrounded by," Heron, who also has a Bachelor of Fine Arts from Elam to go with her Masters in Creative Writing from the International Institute of Modern Letters.
"For me, it's an amazing opportunity to be involved in a new literary community with writers from all over the US, and from around the world too. New York is such a vibrant and exciting hub of creativity and I'm really looking forward to being a part of that. I feel so humbled to be given this chance to experience more of the world through writing."
Liam Wooding. Photo: Supplied.
Wooding (Ngāti Hinearo, Ngāti Tuera/ Te Ati Haunui-a-Pāpārangi) will begin his American odyssey in January and told The Lowdown "I've been in a holding pattern for a few years and going to America does mark a new chapter in a way. I'm so looking forward to the new experiences that life in America brings, and being part of a new musical community.
"The main focus of my time is to finish my doctorate, but I hope to use my time in America as a platform to establish connections with people and to perform as much as possible."
Matariki's shining stars
Matariki is upon us - and the shine is already starting.
The sixth annual Matariki Awards - Ngā Tohu o Matariki o te Tau - were awarded at Te Papa this week - with a couple of leading creatives honoured.
Hugely respected musician Rob Ruha (above) - best known to many for his viral hit 35 that has made a big splash on TikTok - was presented with the Supreme Award by Kiingi Tūheitia Pōtatau Te Wherowhero VII.
Ruha (Te Whānau ā Apanui, Ngāti Porou, Ngāti Tūwharetoa, Rongowhakaata, Tainui-Waikato, Te Arawa Ngāriki, Kaipūtahi, Ngāpuhi) also picked up the Tipuārangi - Arts & Entertainment award in recognition of his contributions to waiata reo Māori and work with rangatahi.
Hēmi Kelly (Ngāti Maniapoto, Ngāi Tahu – Ngāti Whāoa) was also honoured for his work in growing te reo Māori with the Waipunarangi/Te Reo and tikanga award. There will be plenty of Matariki events to take in around the motu in the coming weeks - especially with next Friday the first ever public holiday to recognise it. You can find creative events here in our Matariki guide.
Youth, ambition - action!
There's a new kid on the block in the welcome growing number of film festivals and this one is for - well - the new kids on the block.
By students, for students - the New Zealand Youth Film Festival (NZYFF) has been launched ad is already fielding submissions. It's the brainchild of AUT and University of Auckland students, Ryan Chow, James Tapp and Bryan Wang.
While stating that over 217,000 students are studying in creative fields in New Zealand in both high schools and tertiary institutions, Chow explains they have the noble ambition of wanting to empower young filmmakers and have their youthfulness celebrated, rather than seen as a barrier.
"I believe it's super important for us to support the next-generation of Peter Jacksons, Taika Waititis and Jane Campions. As a student myself, I feel as if more ought to be done to connect students with New Zealand's famed film industry."
Ryan Chow. Photo: Supplied.
Creatives between the ages of 15-24 have until 11 November to get their entries submitted - a free process - with every submission to be available on the NZYFF website after the deadline and 21 awards on offer.
In keeping with the ambition of helping give creatives a leg up into the industry, the prizes aren't just cash. There's also career building opportunities on offer like a Canon R10 camera and flights to Wellington to have lunch with the Wētā FX team.
NZYFF will also run industry experience events in August and a gala event in December, "allowing students to meet and interact with those shaping Aotearoa's film industry."
Chow told The Lowdown "youth currently face limited representation in the film industry, with few programmes available to help support their development or growth.
"Though it is now easier than ever to create content and publish it online, it is an extremely noisy landscape with stiff competition nearly everywhere. Getting heard and seen is what our festival is being designed to do - to help Aotearoa's talent shine brighter and be seen more clearly.
"I hope to create a reputable festival that both students and the wider industry look forward to each and every year. We believe there is enormous potential for future filmmakers to grow through our festival and connect with the industry where they would otherwise struggle to."
Support for Asian artists
Supporting the "untapped potential" of an often overlooked - and underfunded - creative community has been the driving factor in this week's announcement of the recipients for the inaugural Asian Artists' Fund.
Opening early this year, interest was high in the fund - with over $1.9 million requested in 81 applications. The overwhelming volume saw the overall funding lift from the originally expected $300,000 to $430,000 over all.
A wide range of artforms and genres have been given the green light, ranging from street dance to literature including graphic novels, right through to visual and performing arts.
All My Friends (AMF) Limited is creating one of 19 initiatives being jointly funded by Foundation North and Creative New Zealand, receiving the top dollar amount of $35,000.
The team behind All My Friends Limited. Photo: Supplied.
AMF team member Tommy Jiang told The Lowdown "Our goal is to realise creative projects that involve the Queer, P.O.C. and Creative communities on, off and behind the stage. We want to foster visibility, meaningful conversations and new connections within these communities."
The currently untitled project is a four part visual artwork due to be open to the public from March 2023, using the medium of digital film, of Asian and Pasifika artists' response to the question "What is your New Gum San?"
New Gum San relates to the story of Chinese immigrating to Aotearoa in the 1860s with hopes of prosperity and finding their fortune at the gold mines. Much like their Pacific Island counterparts, in search of a Land of Milk & Honey.
Jiang explains "this project looks to tell the stories of eight different artists from this generation and their creative interpretation of the questions:
"What are the aspirations of this next generation of young Asian and Pasifika Artists? How are they grounding their roots and navigating inevitably intersectional lives? We want to know What are their hopes and dreams?
"And importantly, how our histories are interwoven into four different locations in Tāmaki Makaurau that speak to the migrant histories of these artists."
You can find the full list of recipients here.
Sweet feet music
The Tinkle Drum concept. Image: Supplied.
With festivals around the world getting back up and running after an understandably bleak few years, a New Zealand-driven project is set to feature in one of the most iconic of them all.
Kiwi artist Bibi Bliekendaal has had her Tinkledrum project approved to be part of the famed Burning Man event at Black Rock Desert in the Nevada wilderness. It's only the second time that a New Zealand project has been given a Burning Man Honorarium Art Grant, after 2016's Giant Weta.
The concept is a life-size music drum that people walk inside, which makes it turn, and thus play music - as well as lighting up at night. "A giant interactive music sculpture that people can walk in to create sound, People-Powered Music aka The Tinkle Drum project is all about international collaboration, recycled materials, breaking down barriers by bringing people together through art and music."
Bliekendaal (above) details "after lonely lockdowns, we want to make something light and fun to bring people together – something that enables people to make music in a public space, no matter who you are, what musical talent you have, or what language you speak.
"The default song is the iconic Imagine by John Lennon, but it's also reprogrammable, so people can make their own compositions."
Bliekendaal has gathered a group of creatives, including Christchurch engineer Joshua Jordan and Auckland burner Geveta Cook that will bring this project based on the themes of sustainability, collaboration and diversity.
State of the art
Lightsense. Photo: Supplied.
Closer to home and a little more high tech, The capital gets a slice of the world's largest media arts festival from today.
Ars Electronica: Garden Aotearoa runs until June 22 in Wellington - a branch from the main festival held in Linz, Austria. Made up of fifteen installations and performances, the event features projects from New Zealand artists, musicians, scientists, and researchers.
It's certainly a future focused event hosted by Victoria University - consisting of exhibitions, performances, concerts, and symposia that uses the digital revolution as an opportunity to explore technologies and interrogate potential future.
Poly D. Photo: Supplied.
Among the features, LightSense certainly looks spectacular. is the latest interactive extended reality installation by Uwe Rieger and Yinan Liu from the University of Auckland's arc/sec Lab.
"The kinetic construction combines a lightweight structure with 3D holographic animations. An integrated AI system, trained to learn hundreds of thousands of poems, allows the structure to engage, lead, and sustain conversations with the audience. Analysing the emotional tenor of this conversation, the system can perform autonomous architectural behaviours, immersing the visitors in Pavilions of Love, Anger, Curiosity, and Joy."
Helping artists get noticed
Artists can use all the support and opportunities they can get.
A new platform to help showcase their work has given many another launch pad opportunity.
Former gallery manager Jessica Agoston Cleary and South Pacific Pictures leading light John Barnett (pictured together above) have combined to start Artfull, labelling themselves "the bold new approach to buying and selling New Zealand art online."
Having just launched last weekend, already several artists are being featured, including Toipoto mentees Paul Nathan AKA Bonco, Hannah Rose Arnold, Inga Fillary, Michelle Reid, Karen Rubado and Robyn Penn, as well as rising stars like Ashleigh Taupaki and well-regarded creative Deborah Crowe.
Having an online space that can help showcase creative works and achieve Artfull's stated ambition of demystifying the art world for buyers - established or new - is likely to be a welcomed channel.
Barnett says the new site "will give visitors access to a world they may not be aware of, or which would otherwise take a long time to physically find.
"Artfull will support artists and galleries by ensuring their work is seen by a much-enhanced audience, introducing artists to more potential buyers, and buyers to the joy of collecting and pride in owning a piece of Aotearoa.
Agoston Cleary adds "there may have been record sales through auction houses, but this doesn't necessarily flow on to artists who live and work here."
Anything that results in better outcomes for artists has to be applauded.