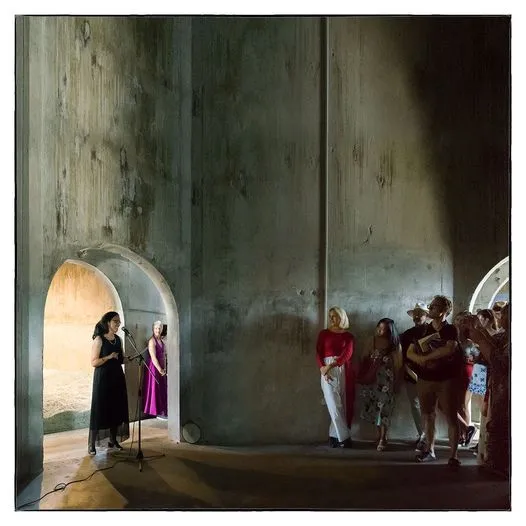 Our society is changing and so are the types of leaders we seek to entrust with power.
The imperative to empower the most disenfranchised and marginalized among us has revealed a large gap in the arts and culture leadership, while exposing limited knowledge on how to tackle the ongoing problems of systemic racism and structural injustices in our society and the communities we identify with.
For Courtney Sina Meredith, author, performer and the Director of Tautai Contemporary Pacific Arts Trust - Aotearoa's leading contemporary Pacific arts organisation - this is the space she feels most comfortable in. It's a space she understands well through lived experience, as a respected figure in the arts and as an accomplished multidisciplinary artist in her own right. The artist and the administrator entwined, a chimera of the dreamer and the doer.
"Where I am now in my life is where I've been for a very long time - inside the wave. As a writer and performer, I've had the great blessing of documenting the sea salt, struggles, genetic memory and amazing ambition from within. I believe in the future my grandparents and great-grandparents left Samoa and Rarotonga to pursue.
"Family is everything to me, it is the foundation of who I am as a creative, as a leader in the arts, as a new parent and someone more interested in doing the right thing behind closed doors than highlighting the performance of expected leadership in the public realm."
Willing to serve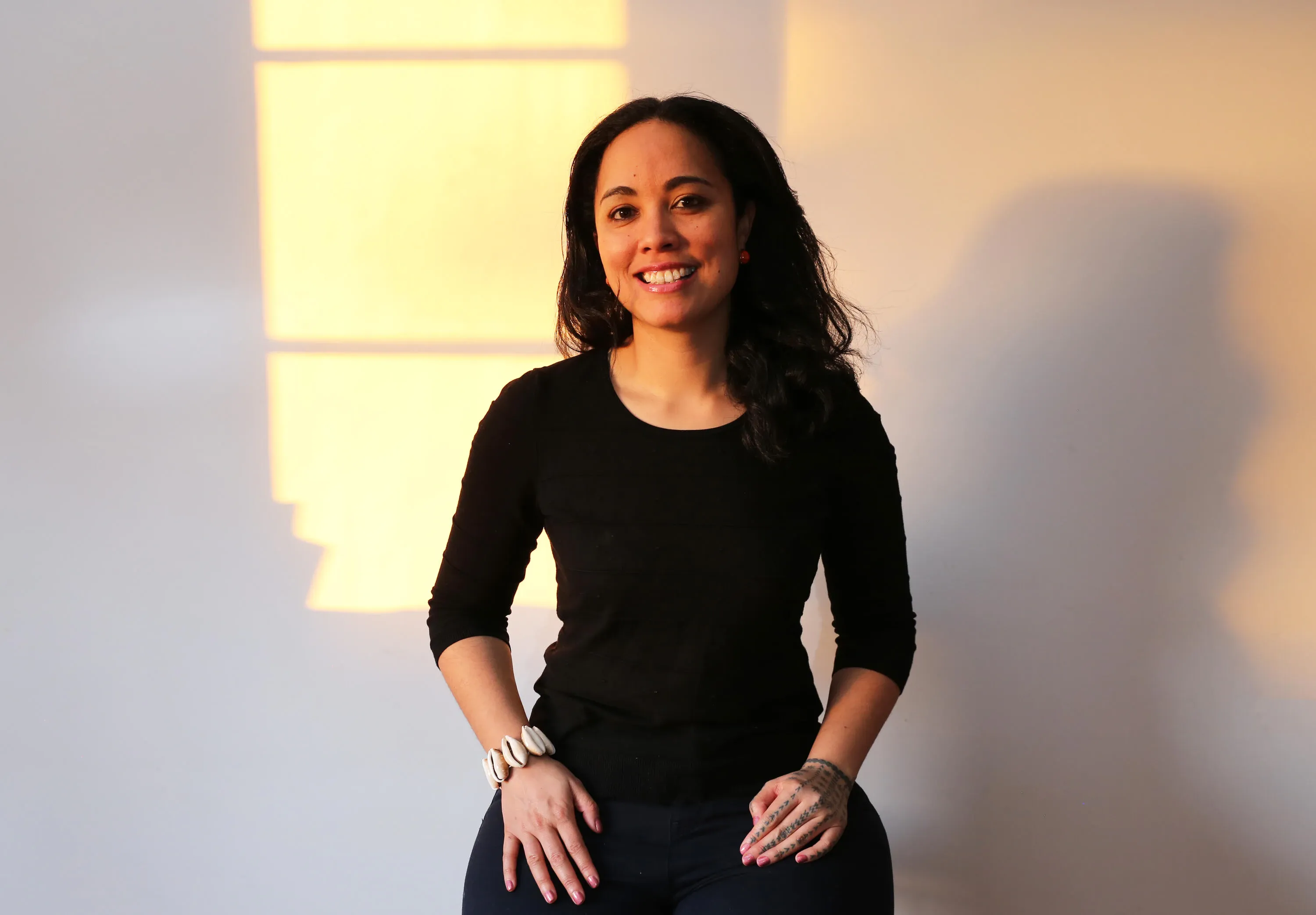 Courtney Sina Meredith. Photo: Janet Lilo.
As we are faced with a time of unknowns, we are also in the greatest time for learning and doing things differently. Leading the way in this time of great change may be easier for some than for others but this leader never dilutes that the struggle is indeed very real, if you are willing to truly serve your community.
"Leadership isn't glamorous at all - it's a lot of planning and pukumahi. I've retained my spirit by understanding that sacrifice is the greatest art form. Look at what's created through the hope for something more.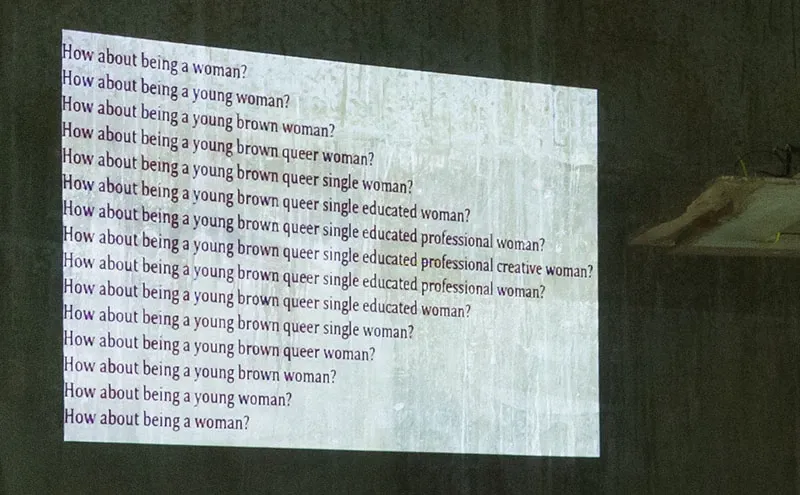 Courtney Sina Meredith - How about being a Woman, 2019. Photo: Sait Akkirman.
"I've always believed that a true artist creates artistic opportunities for others. I turned down many opportunities to be my own artist because the fork in the road ahead meant a win for myself or a win for somebody else. That doesn't make me a martyr - I think it makes me, by my own personal code, the sort of artist I've always wanted to become.
"When I see Moana creatives come into Tautai and they light up because they feel so seen and so comfortable - and every piece of art, every space, every book reflects and affirms their very being - those are the moments I breathe out and let myself feel a tiny piece of the enormity of it all."
Dedication
For Meredith, seeing and understanding the problem was not enough. She decided to solve it the best way she knew how; by allowing her love of the community to lead her. This month, she celebrates two years at the helm of Tautai, which has seen the most dramatic change under her transformative leadership. Her drive to futureproof the organisation was all about rebuilding faith, confidence and ultimate trust of her community.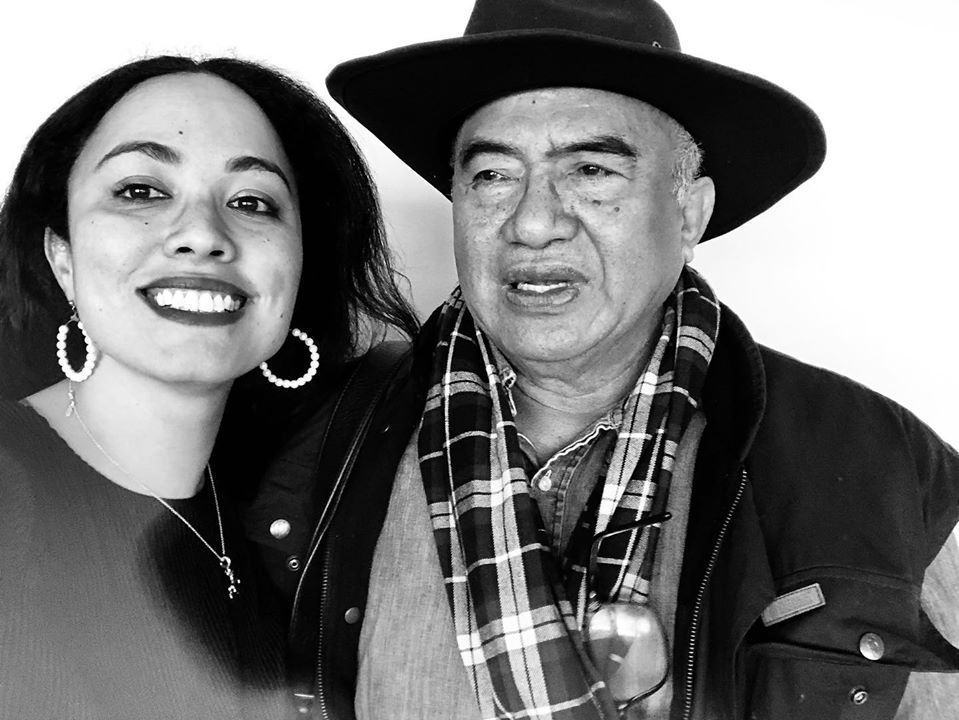 Meredith and Tautai's founding patron Fatu Feu'u. Photo: Courtney Sina Meredith.
"I've never dug so deep as I have for the love of this community. I was confident I could bring the Trust back to good health, in the way you nurse a loved one. That was a metaphor I returned to often. Yes, I had a 12-month, 6-month, 90-day and 30-day business plan - crossing those things off with my team was actually so emotional - but I also just treated the Trust like an elder who needed my time.
"Slowly, gently, it was like this entity in the crook of my arm that couldn't be left alone, regained colour in its cheeks with daily nourishment. People returned, the memory returned of who Tautai was and why.
"I am powered by my belief in the power of my people. Whether or not Moana artists want to engage with Tautai is their choice but I'd rather exist in a time where it is a choice and not a consistent inequity that is glaringly obvious."
Blu-tack & chicken scrawl
This is clearly the case of not being afraid to talk about the hard work and sacrifice it took to get the Trust and the team to where they are now. It's about the visibility of difficult conversations and the hard work of the days and months that followed. Here is a leader that knows she is not alone and that her sacrifice is most certainly not unnoticed.
"I've poured every drop of love into Tautai that I possibly could. Love-led leadership looked like practically living at the office in the first 6-12 months, with family dropping off food in the weekends and sitting with me in the office with print outs and sheets of papers covered in my chicken scrawl blu-tacked to the walls, backs of doors, in piles around the meeting room.
"It completely overtook me - this instinct to secure the Trust. I put myself into a very vulnerable space but I was determined to succeed. I understood it would take time and so I just settled in for the long haul. Some days were a lot harder than others but the good days were especially great and I held onto that."
Purpose-built, built with purpose
Building the future on broken foundations is a difficult and potentially dangerous path. It can only be achieved by rebuilding upon new, healthy foundations. For Tautai Trust, they appear to be brightly lit, glistening like a newly shed skin. The new space with the expanded footprint is a vessel for artists to exhibit and gather but also a home dwelling centered on the Pacific community and their role in the contemporary arts practice. It is no wonder they are celebrating this visible and transformational success.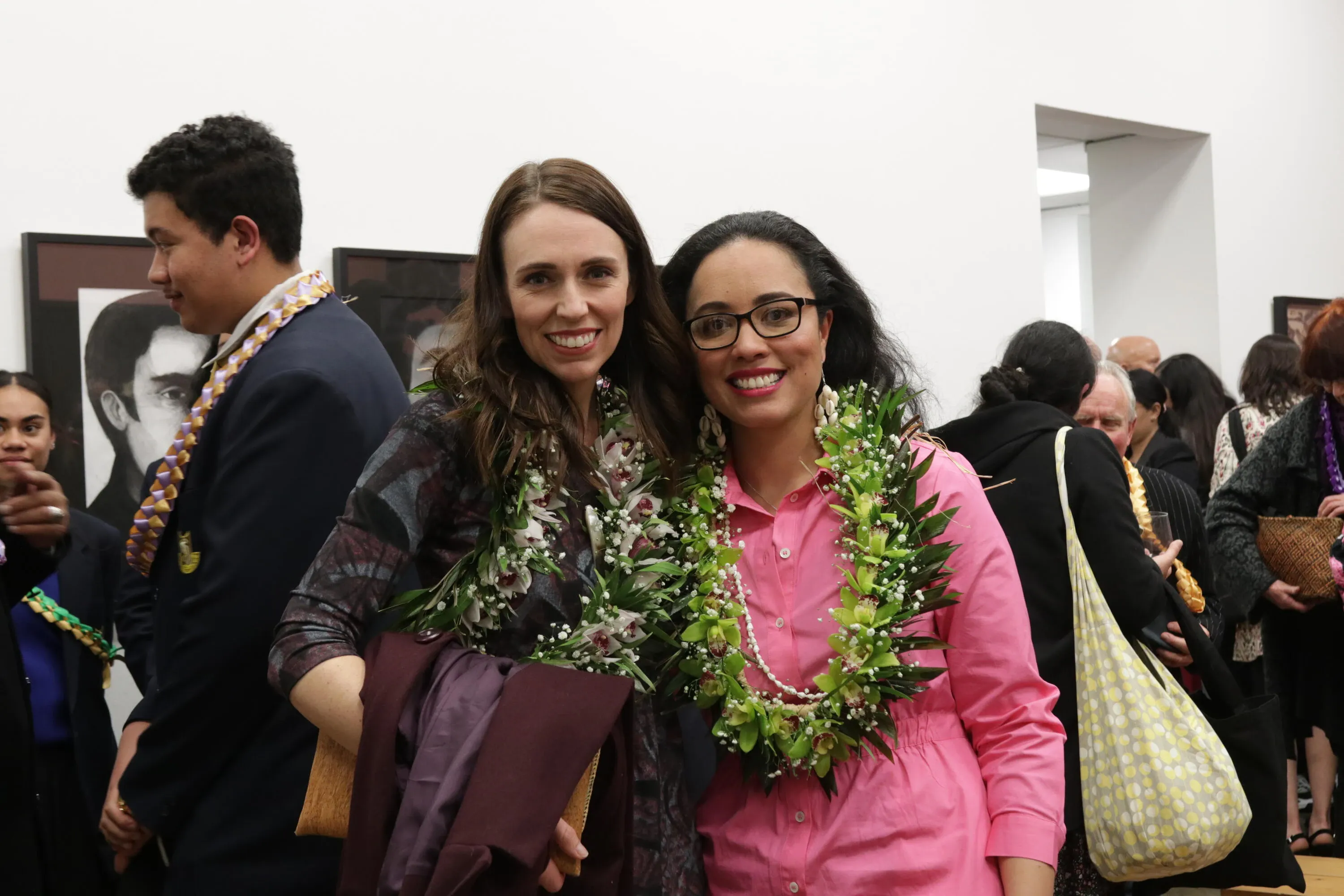 Meredith with Prime Minister Jacinda Ardern at Tautai's official opening. Photo: Cass Marrett.
"In two years we have expanded our space triple-fold, establishing Tautai Gallery which was officially opened this year by Prime Minister Jacinda Ardern, held our first indigenous collaborative show across the Tasman at Blak Dot Gallery, increased our funding by 94%, had two clear financial audits, brought on Pacific accountants, Pacific auditors, Pacific caterers, a range of Pacific suppliers and built partnerships with many thought leaders here and around the globe.
"This realm has always been my church, my spaceship, my happy place but it's not easy to make a life in the arts and this is something I'm passionate about changing.
"Now that the horizon has come to us and we are piercing the walls of many heavens together, I feel that I can finally take a step back and learn to live in the fale we were able to build thanks to our incredible funders at Creative New Zealand, Foundation North, our Fetu Ta'i patrons and the endless alofa of many Pacific creatives who came home to Tautai with open arms and open hearts - ready to take on the world."
Tautai is a repository of knowledge and understanding for the communities it serves while consistently reaching beyond their core audience.
Although it is now a physical space, it refuses the colonial impulse to collect and obscure its mission by caring for objects. Its foundations are strong and enabled by inclusion and centering of non-western bodies and spaces.
It does not shy away from real politics, it invites it.
If most public institutions have a legacy that is tainted by long genealogies of violence and institutional injustice, public spaces like Tautai are here to spread their new fresh approach by injecting the personal into our art lives. If anyone could be 2020-ready to rethink the entire model of what cultural institutions do and are, it is Courtney Sina Meredith leading Tautai with clear focus and new constellations to steer their vaka towards.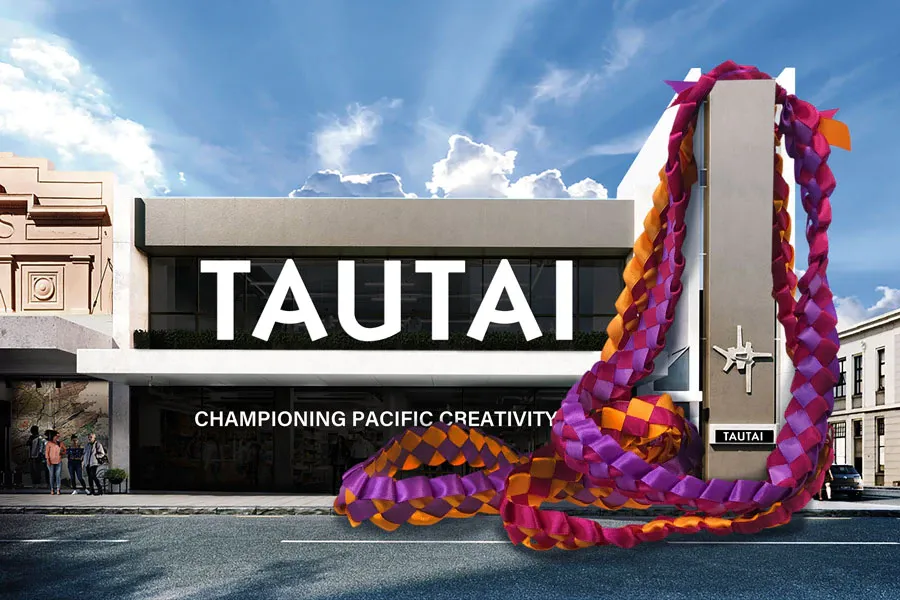 Tautai Gallery's second exhibition SALTWATER/Interconnectivity opens Thursday 15th October from 6pm as part of Artweek.
Co-curated by: Katharine Losi Atafu-Mayo and Giles Peterson
Featuring: Peter Elavera, Katharine Losi Atafu-Mayo, Te Ara Minhinnick, Shawnee Tekii, Telly Tuita and Gutiŋarra Yunupiŋu