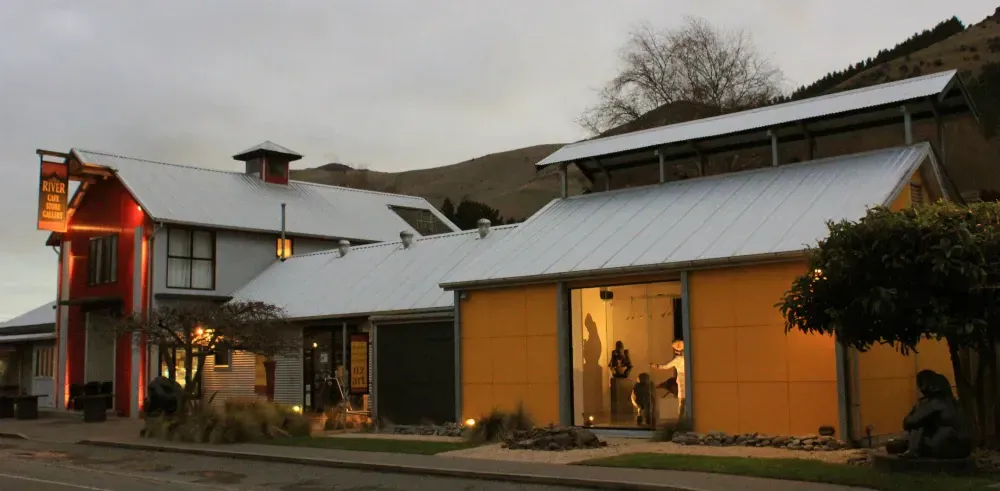 This gallery's story definitely reads as one of learning and of trusting your instincts. After a devastating fire destroyed the previous building and business, gallery owners - Ange Wright-Stow and her husband Stuart - opened Little River Gallery with its adjacent cafe on January 3rd, 2000. So by the time you are reading this story, this compelling passion project and community hub will be 20-years old (happy birthday, Little River Gallery!).
Despite being a gateway to the Akaroa Peninsula, Little River remains a quite isolated place, with no natural or cultural "destination points" of its own. So not only was rebuilding in the rather remote location a true leap of faith: but the founders had no formal background in the arts. Ange had lots of experience in hospitality and Stuart is a skilled carpenter, builder, and creator of beautiful wooden toys. They also had strong relationships with the arts community in close-by Ōtautahi.
Ange braved out to include a dealer gallery in their newly-built business. Their focus on the good of the region paid off. The cafe is brimming with fresh regional produce, and both shop and gallery showcase a diverse range of New Zealand artists and makers.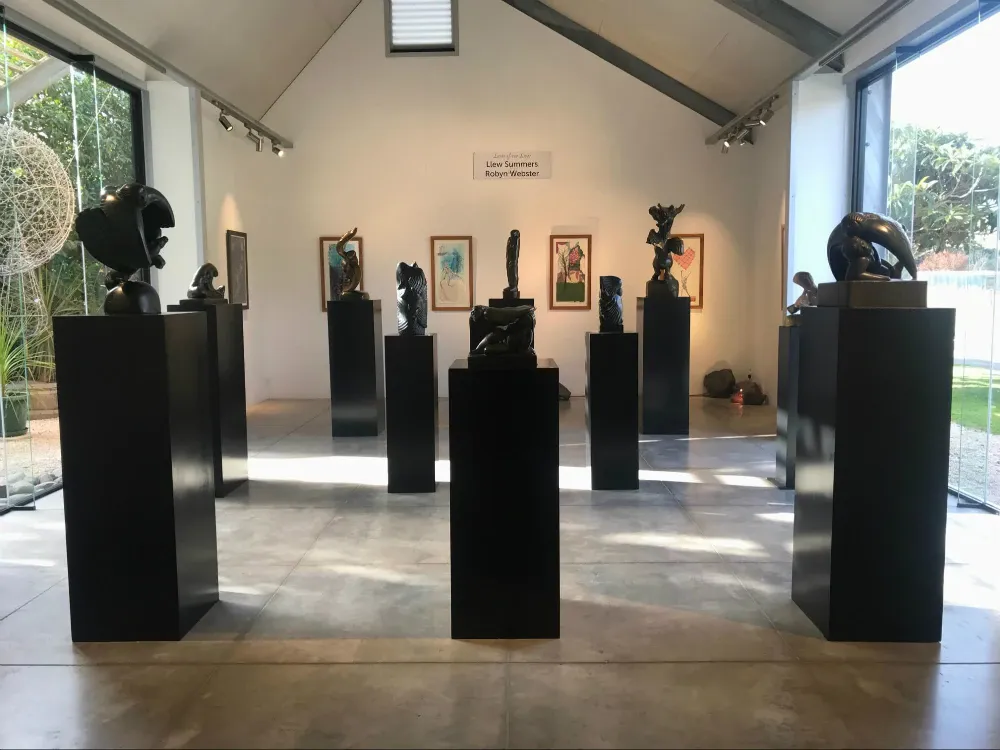 Into the wild
I ask Ange whether she thinks their remote location has ever been a disadvantage to their business. "Being off the beaten track is never a disadvantage. If you are offering honesty and great quality, if you keep things fresh and interesting, then people will come to you, no matter where you are."
The stunning architecture of the gallery, shop and adjacent cafe invite their visitors to linger, and the fresh local produce is surely one strong reason for the Little River Gallery to be quite an essential place to gather for the local community. And it's not just the locals who stay for a while. Ever the inventive multi-taskers, Ange and Stuart have added another reason for visitors to linger longer with a unique accommodation offer. Like a mirage on the horizon, the Silo Stays and gallery appear to take Little River from a mere pit stop to a true destination.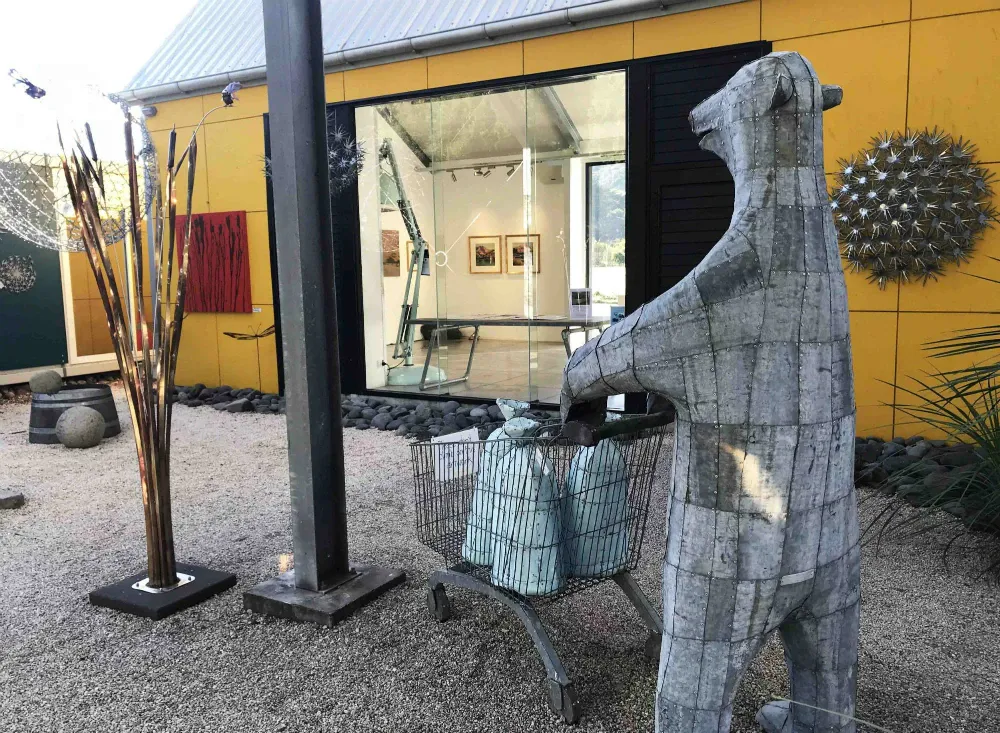 Just like falling in love
Ange says it's important to them that their customers feel right at home in the gallery, with no pressure on sales but an emphasis on taking the time to browse and to ask questions about the artists and artisans behind the works. And this strategy seems to work both ways: the gallery schedule is often booked out two years in advance. With the open invitation to stay for a while, artists tend to spend a lot of time on the peninsula and then create a body of work that is directly connected to the area and their experience of the place.
"I wish the artists could hear all the beautiful comments we get from people [about their work]," Ange says.
"Finding an artwork you love is like falling in love," says Ange. "I've noticed that it gives people such a lift and self-confidence when they find "their" artwork, that realisation of 'This is who I am, this is what I like.' It's very special to witness that." And isn't this connection exactly what art is all about?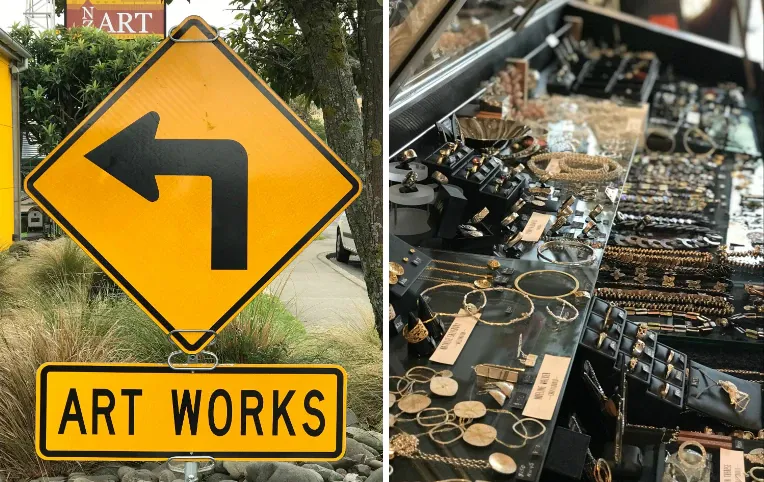 Showcasing Māori and local artists
I first learned about the Little River Gallery while working at the Suter Art Gallery Te Aratoi o Whākatu in Nelson. Both galleries were hosting works by Golden Bay and Nelson Whākatu-based artists Robin Slow and Brian Flintoff, and supported one another by sharing information about the respective shows.
The mesmerizing exhibition of paintings and taonga puoro, Ngā Hau Ngākau, by Slow, Flintoff and Bob Bickerton turned out to be their most visited exhibition at the Suter that year and continued on to travel to the North Island to acclaim. Visitors made sure to travel on to Little River to see the artists' works there and to possibly get a painting or carving for themselves.
I was intrigued by the focus on showcasing Māori and local artists at such a small regional gallery at the gateway to Bank Peninsula. But it's clear that this focus is very much a passion project for Ange, who thinks we should "all be bi-lingual".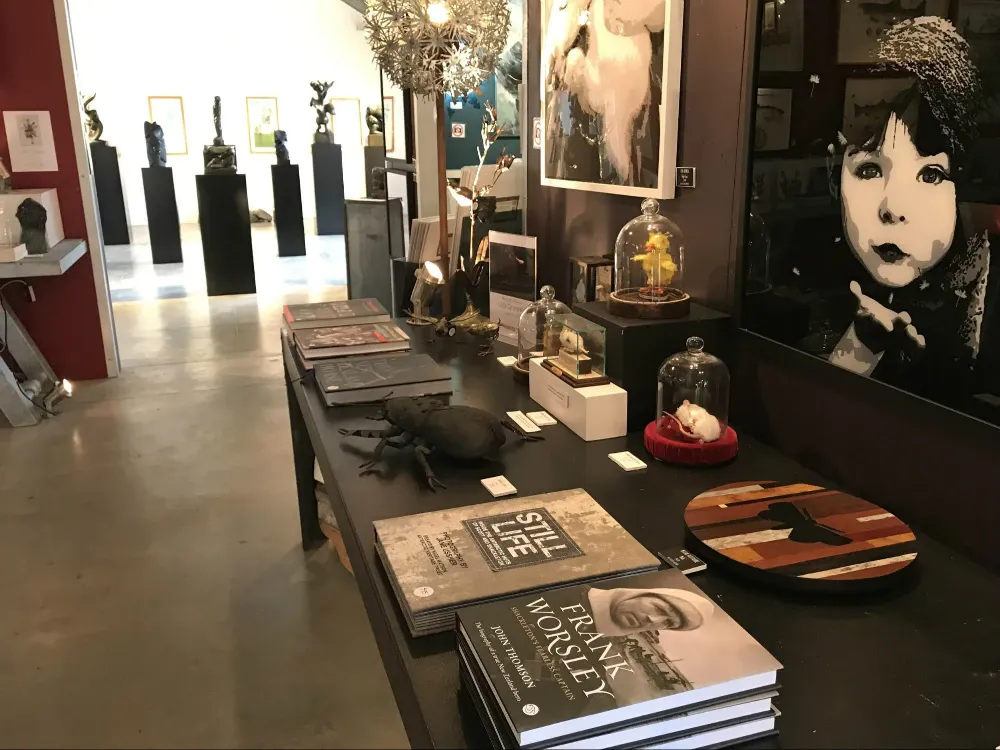 "I feel like we've all been robbed of this opportunity for years, but the visual arts have the ability to embrace and transport te reo; a real opportunity for everyone to share and learn."
With a monthly exhibitions schedule, Little River Gallery prides itself in exhibiting and selling artworks, gifts and products solely made in Aotearoa. When selecting the goods and wares for the store, Ange says her approach is very much focussed on quality and accessibility. She believes that it is important to be able to offer something for everyone, especially as there is such a wide range of people visiting the gallery - from the locals and regulars from the community to the international travelers passing through the town which is very much a pit-stop for recharging before heading out to the wild beauty of Akaroa and the Peninsula.
Find out more about the gallery here: Littlerivergallery.com.