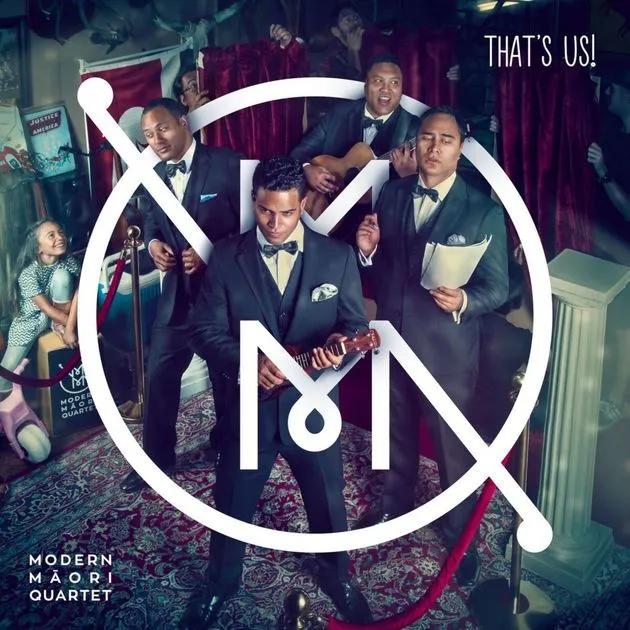 Despite the warning, one listen to showband Modern Māori Quartet's latest single, Don't Fall in Love, and you'll be falling in love with them. Performer and Music Director Matu Ngaropu got it very right when he said, "It's our Motown-inspired, soulful, Sam Cooke styled song that will cut straight to your heart."
It's been a whirlwind five years for the group – made up of James Tito, Matariki Whatarau, Maaka Pohatu, Francis Kora. They have toured throughout New Zealand – most recently on a 12 date tour with the NZSO, to England, Wales, Uzbekistan, Hawaii, Rarotonga, Australia, Singapore and Malaysia. At the time of this interview the group were in Edinburgh, performing at The Edinburgh Fringe Festival – the world's largest arts festival.
"When we first came together and formed the Modern Māori Quartet, I had no idea or dream of our work becoming as internationally known and regarded as it is now. The amount of places that we've travelled to blows me away. We are still a relatively young company so it feels like the possibilities from here on are limitless," says Matu.
The group arrive back on New Zealand soil in time for the release of their debut album – "That's Us!" before embarking on a 20 date nationwide tour, travelling the highways and byways of New Zealand taking their music to the people of Aotearoa.
"The tour will be about taking our music to the people and returning it to our roots. We want to inspire a new generation of garage parties and fuel those special gatherings with new, honest, hearty waiata to add to the classic playlist. These will be songs that the heartland of Aotearoa can sing along to. As a team committed to carrying the mantle of this kaupapa we aim to share a new and current sound of Māori showbands and show people that real music, our music, is alive and thriving," says Matu.
Admirably, the group go slightly off the beaten tour-track and stop off in small towns like Putāruru, Pōronghahau, Featherston, and Ōtaki. ­­ "Whenever we've been hosted in small towns the manaaki is massive, so much aroha and generosity comes our way so it's only right that we come through and spread aroha to those communities," says Maaka.
That's Us! features all original waiata, as Matariki explains, "We've been singing covers for years and you know, we thought...why not?! The spirit of this album comes from the Māori garage party, reminiscent of the parties of years gone by when someone would pick up a guitar and the music would flow. We strongly believe that real stories told with truth and conviction should be at the forefront of who we are - and that's exactly what we set out to do with the creation of our first album."
After the tour is complete, Francis says, "I would love it if just one of songs made it to the Māori garage party. I reckon I could die a happy man." Recalling garage party memories of playing with the cousins in the back yard, preparing the hangi, enjoying kai together, and later on listening to the aunties and uncles play guitar and sing along, the Māori garage party is a common demoninator for these guys when talking about their early learning experiences with music. "You might not think a garage party would be a viable training ground but trust me, it sure is," says Maaka. "I can't ever remember a time where I didn't know how to sing, harmonise or play the guitar. It's definitely been something I just absorbed," says Matu.
Studying at the New Zealand Drama School Toi Whakaari is another common thread for the group. The guys all agree that this drama-specifc course had a huge imapct on their careers and how they perform with Modern Māori Quartet – specifically in stage craft, storytelling, and how they engage with the audience.
"I believe our training at Toi Whakaai is something that makes us unique and special. At Toi we studied to be story-tellers and to make work in a space where we can commune together as people. This is at the heart of pretty much all we do. The stagecraft we learnt has a seriously big part to play in our shows. It's not just about the music but the ability to connect to the audience. I've been told that it looks easy and like a whole heap of fun and the truth is it is! But the amount of nuanced listening and shared synergy involved takes time and experience to craft and a big part of knowing that comes from our training at drama school," says Matu.
Speaking about the first time he saw the Modern Māori Quartet perform, Francis Kora says he knew there was something special about the group – the spirit, the storytelling, and the way they showcased Māori culture. "Storytelling and wairua is what is so often missing in today's modern music."
The group's recent singles Don't Fall In Love and Shine, while catchy tunes, are also dripping with honesty, authenticity and well-crafted song writing – rare traits in a lot of modern music. "It seems to me that with the huge amount of toys and production styles that are available in this age of technology, the heart of what music is about has been lost - the simplicity and honesty of being a storyteller," Matu says. "Truth in storytelling is what we aimed for in our album. We wanted people to connect with us and our true stories, hence That's Us!" says Maaka.
For other Kiwi performers looking for exposure on the international stage, here are a few top tips from the group:
Connect with Creative New Zealand
Get a strong management team together
Make sure your social media content is strong and attract attention that way
Consider showcasing your work at performance art markets (like PANNZ) – Maaka said doing this got them an invite from Assembly, one of the premier venues at the Edinburgh Fringe.
For tour dates and tickets, click here.
A final shout out to a couple of local artists whose works feature in the MMQ music videos:
Modern Māori Quartet