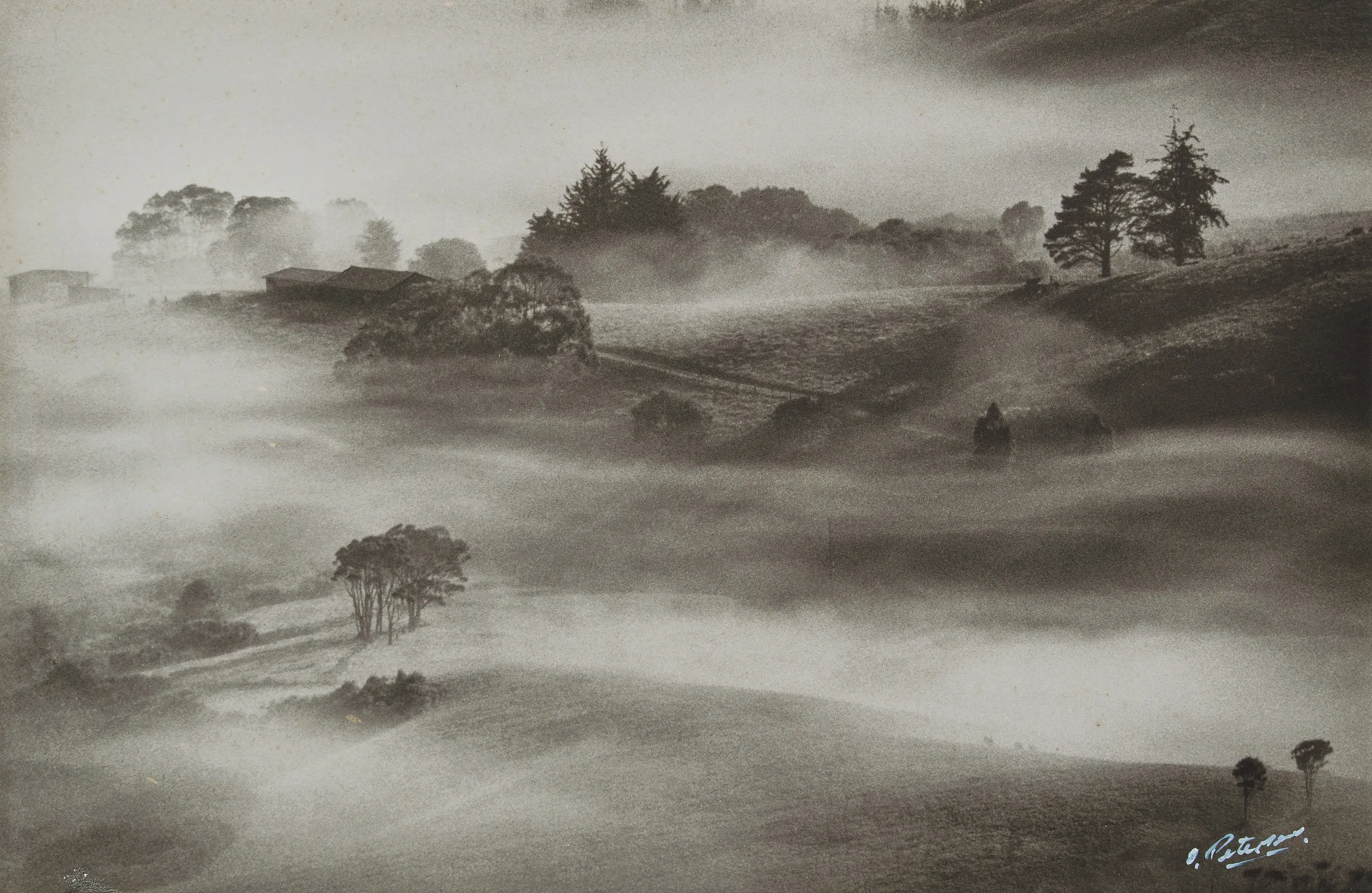 A new exhibition chronicling the work of a man some claim to be one of New Zealand's most under-rated photographers opens at Auckland War Memorial Museum today.
Nature Boy: The Photography of Olaf Petersen is a passion project for Shaun Higgins, the museum's Pictorial Curator. He explains to The Big Idea why Petersen's work is so unique.
Just beyond the last train station on the Western line, at the edge of Auckland's urban sprawl lie the Waitakere Ranges, a wonder of bush, surf and bird life.
For over fifty years Swanson photographer Olaf Petersen (1915-1994) created images inspired by this region. His friend Alan Warren once addressed him as 'Nature Boy'. It was a name well given: Petersen approached nature with the excitement of a child entering a fantasy world.
In this time of closed borders and limited movement, when many do not have a chance to visit these places in person, Nature Boy, a new book and exhibition at Auckland Museum, showcase the award-winning photographs of Petersen's meetings with nature.
Looking out at the Morning Mists on the family farm in Tram Valley Road, Petersen wanted to make pictures of the outdoors.
From 1935, he was part of the Auckland Camera Club and honed his skills until going professional in 1952. When he wasn't taking portraits for a living, he was out in nature.
His travels with fellow nature enthusiasts, like the Auckland University Field Club took him all over the country. In 1956, a trip to the Poor Knights offshore islands led to a photograph of tuatara, Me & Pop. The first of many series the Weekly News paid him to publish.
Olaf Petersen, Me & Pop.
As Petersen's creative style developed, he came to see his subjects as a means to 'interpret certain moods', conveying the moment and the feeling, rather than just documenting their existence.
In Walkabout (1971), he takes a group of local Wheeler children and their dog Jasmin on an adventure through a seemingly ancient landscape with towering tree-like pillars of sand behind them.
Olaf Petersen, Walkabout.
The fantastical trees were in fact the dunes at Lake Wainamu. The wind and the rain shaped the sand in that formation for two days only. Petersen cleverly turned sloping dunes into vertical pillars, proving his statement that the west coast 'stimulates your imagination.'
Human figures increasingly become diminutive towards the 1970s making them look humble against nature. The tiny figure of a man stands facing a giant pōhutukawa in Late Afternoon.
Olaf Petersen, Late Afternoon.
Human markings become the primary focus such as a busy scene of tyre tracks in Usual Spot (1968) at Te Henga or Through the maze (1968), taken at Muriwai, showing a cyclist amidst formidable vehicle tracks that lead to the toheroa beds there.
Olaf Petersen, Through the maze.
Alongside humour, evident in some of his chosen titles, a degree of cynicism also found its way into his work. His photograph Go Home! (1976) shows a scene on the coast that is dominated by what appears to be a giant taniwha facing a much smaller human figure walking away.
The title clearly states that humanity has overstayed its welcome.
Olaf Petersen, Go Home.
Taken lying on the ground to elevate the form of what is likely a small piece of driftwood, this photograph is both humourous and indicative of this awareness of the difficult balance of human interaction with nature.
Today, many tracks in the Waitakere Ranges are closed, primarily to prevent our footsteps from spreading kauri dieback. On the coast, Muriwai Beach retains the tyre tracks, but toheroa shellfish beds are off-limits. Even the wondrous Lake Wainamu with its enormous dunes has seen erosion.
Olaf Petersen, Usual Spot.
Petersen's photography remains as an advocate for these familiar places, showing their beauty and asking for our respect. As he said, 'every time, provided you look for it, there is something new.'
A modest man, though he would win photography awards alongside his peers, he is little known today, with exception of the West Auckland community.
The eerie emptiness in his photograph So Lonely (1970) depicts a small oyster catcher in another wind and rain shaped sandy expanse at Pouto. Petersen often placed a bird in the landscape, perhaps seeing himself in them. He himself rarely appeared in his photos.
Olaf Petersen, So lonely.
The nature boy spoke from behind his lens, and now his stories are told once more.