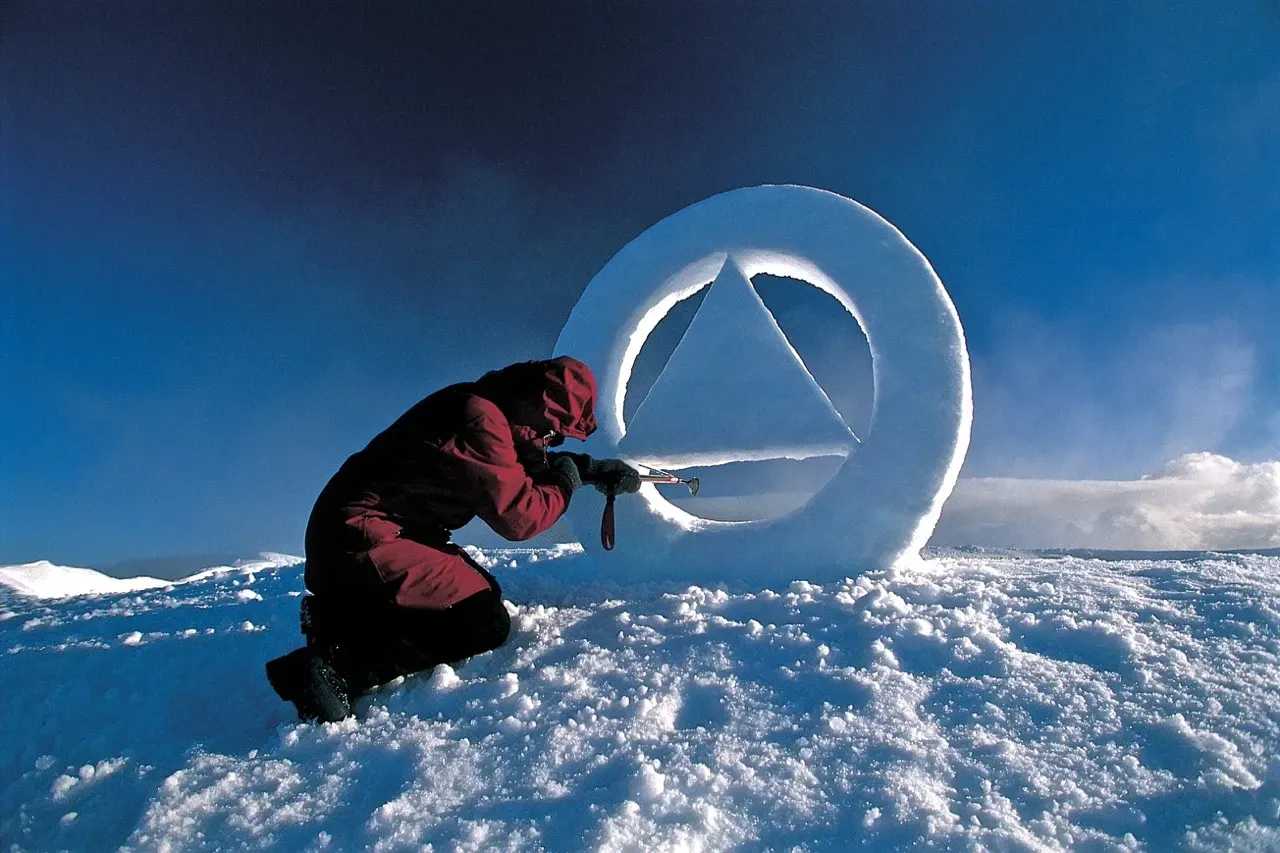 Our Prime Minister Jacinda Ardern's statements of policy and government intentions to create a wellbeing budget that measures its success not solely on measuring GDP is something New Zealand should be very proud of. We can also be proud of her statements on the value of the arts to the wellbeing of the community.
Jacinda's representation of New Zealand at the Davos World Economic Forum with her ideas and principles on the health of the people, planet and climate were clearly articulated and positively received.
The Prime Minister's statements and actions since the appalling Christchurch mosques terror attacks have shown great compassion and leadership which we should all be proud of.
The Fine Line Project
I have been making exhibiting and publishing Internationally, ephemeral environmental land art made in nature mostly in New Zealand since 1994, focussed on the message of Sustainability by Design.
My partner and collaborator Philippa Jones and I have also worked on a global project called the Fine Line which we began in New Zealand on Mt Ngauruhoe in 1995. It consists of 12 ephemeral sculptures made on high points of the world connected by a line that encircles the earth starting - and due to be finished on Mt Ngauruhoe this year.
The project is a metaphor for holistic regenerative solutions to climate change, ecological and social degradation. The solutions are based on aligning human systems with the operating principles of natural systems through design which mirrors Jacinda's statements.
Making the world work for 100% of the people in the shortest time
Fifty years ago Buckminster Fuller wrote Operating Manual for Spaceship Earth. He stated that his aim was to help make the world work for 100% of the people in the shortest possible time. He practiced anticipatory design thinking.
Following his example, the Fine Line Project uses this form of design thinking. We would like the Fine Line Project to be published, exhibited and disseminated professionally and internationally along with the story of its making and the scientific solutions to which the artwork refers. Its intention is to spread a highly motivating story emanating from New Zealand about systems change by design. We invite exploration of ways to work together with us to achieve these objectives.
The project was always driven by the urgency the world faces but we intended it to be ready and available when the time came for it to be useful. Judging by the great international response to our Prime Minister's leadership based on her values I believe that time is now.
Written by Martin Hill and Philippa Jones; all images courtesy of the artists. You can learn more about their works here: www.the-fineline.com
*The Big Idea Arts & Well-Being Week*
We believe that the arts play an essential role for our well-being.
All our stories this week, April 1 - 6, will look into the importance of the arts for our health - make sure to check them out here and here! #artsmatter