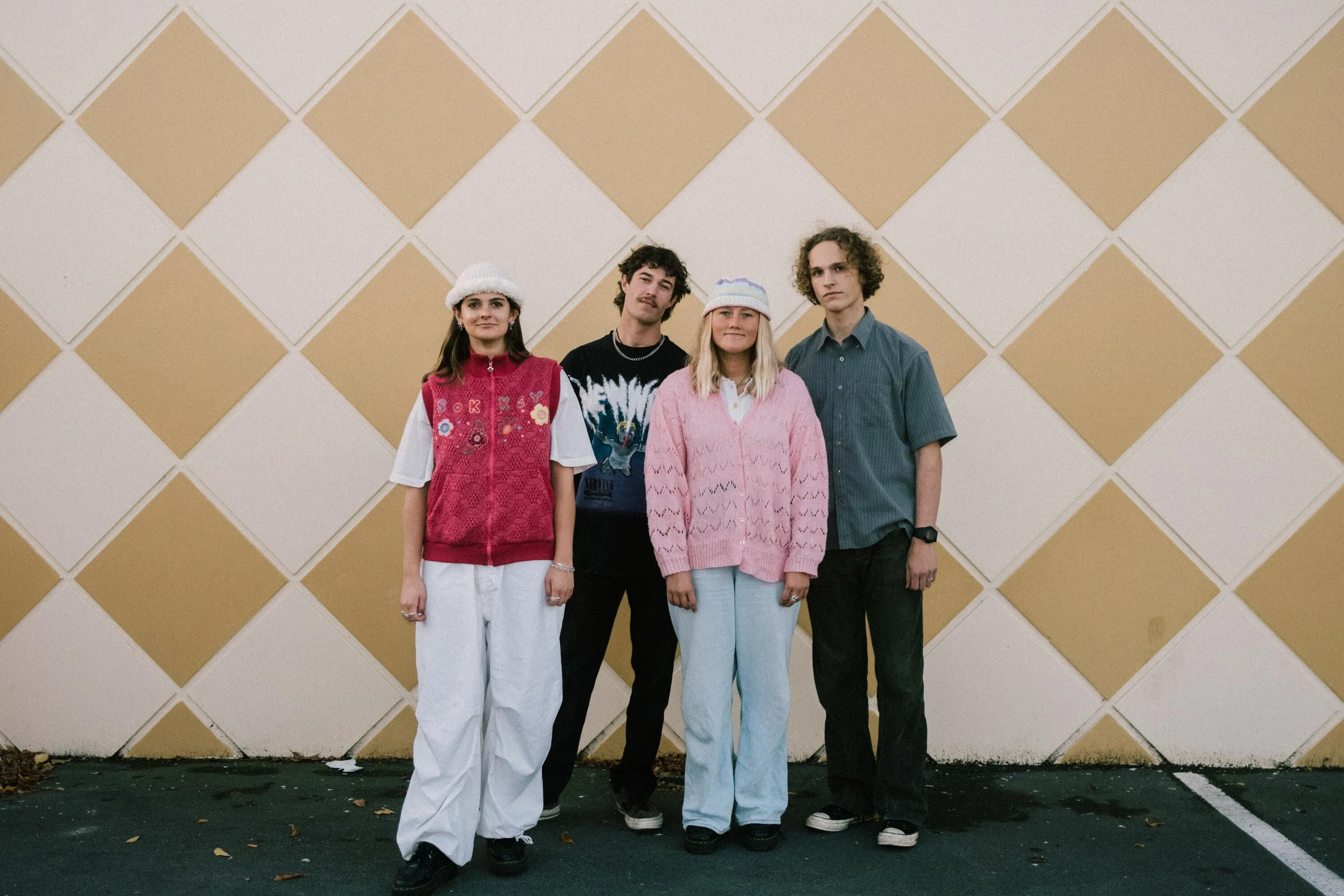 Indie-pop band There's A Tuesday are in elite company after generating a whirlwind of success in 2022.
The Ōtautahi four-piece - fronted by two extraordinary young women - are the brash newcomers amongst some heavy hitters for the coveted APRA Silver Scroll Award this week… appropriately on a Tuesday.
And being elevated to the same pedestal as Tami Neilson, Marlon Williams, Rob Ruha and defending champ Troy Kingi is just one of their dazzling achievements this year.
They met at a high school party at their future drummer's house, and the chemistry was there straight away for singer/songwriters and guitarists Nat Hutton and Minnie Robberds - now both 21 and studying music at separate universities.
The band already has a bunch of great songs and two EPs packed full of them, and one special track off Boy Scout is getting mainstream attention. The lyrics from their catchy, affecting single Girl At Night - about uncertainty and anxiety for young non-males - really bite for Hutton.
"I don't even think it's personal to me, it's personal to most females," she tells The Big Idea. "It's so common - it's surprising you know. Like not being able to walk home.
"It's actually based on a gig. I wanted to leave because I felt sick and wanted to be by myself 'cause I was anxious. But already that night, I'd had boys shout at me from across the street. It's gutting because it shouldn't be, but it's a classic experience. I know that Minnie and I have had some pretty lame experiences.
"I feel it's a very universal thing, but yeah, it's definitely a Christchurch thing."
Those themes feature on the five other tracks on the release, which came out in June this year, featuring gorgeous melodies, hooks galore and meaningful lyrics.
Robberds believes they've lifted their game to a whole new level from their debut Dance With Me Before We Cry.
"I feel we really enjoyed the space we'd got to with that EP and the sounds we were making. We're kind of just building from that.
"We're always thinking about something new and writing new songs with new styles and ideas. I feel the place we got to with the EP .. we'd like to keep bouncing around it."
Dealing with disenchantment and anxiousness may be familiar for the music industry - and life in the 2020s - but there's a clarity to the lyrics that anyone can relate to, not just young people, and Hutton is clearly passionate about their lyrical evolution.
"I think we try to be real and honest, and sing about things that are important and not commonly spoken about, such as mental health and being queer, things like that. Because I know growing up, there was a little bit of that kind of stuff, but no one I could relate to as a young, queer anxious woman.
"I think we're trying to fill that gap of young wāhine and non-binary females presenting how those cope with mental health both in New Zealand and internationally."
There's A Tuesday's bumper year also featured a Best New Artist nomination in the inaugural Rolling Stone NZ magazine awards (losing to TEEKS), and they're finalists in the
Breakthrough Artist of the Year/Te Kaituhura Puoro Toa o te Tau at November's Aotearoa Music Awards.
Their songcraft and creative process is unique, and Robberds has a words first, chords and music next approach.
"We seem to write lyrics usually separately and then bring them to each other to polish up a little bit. It's lyrics, then chords, polish it up together then take it to (fellow band members) Joe and Gus, who play the bass and drums, and they add all their goodness. It usually takes me a little longer."
Hutton likes to create by writing and playing her guitar simultaneously.
"It's always been my - and I'm sure Minnie's too - emotional and creative outlet. It all comes just so naturally. I don't even realise I'm doing it.
"Like last night, I was feeling not super good and didn't think much of it, and realised I'd been sitting on my bed playing guitar for three hours. It's a habit.
"We're so lucky to have that skill and that my mum and Minnie's parents got us into music growing up. It's been a lifesaver for sure."
Last year's switch to Olive Records with world famous and equally young pop star Stella Rose Bennett - aka Benee - has provided the right sort of launching pad for Minnie, as the band expands its horizons.
Robberds states "we knew who she was - big fans .. and we met her at Rhythm and Alps. We were kind of starstruck to talk to her. She watched our set, which meant heaps to us, and we kinda stayed in comms, met up a few times.
"She came and saw us play. And then when the opportunity came, her and Poppy Tohill (from her management firm CRS) who is the label co-owner with Stella, approached us about singing with us, and we were really over the moon. It's the sort of label we wanted to be involved with, and wāhine led."
So what is next on the horizon?
Hutton muses "we've just been writing heaps and heaps of material and recording it. We've got a range of different people on this next project.
"It's been a big goal for us to release vinyl so I think we'll be doing that with Boy Scout on one side with the next EP on one side on the other side. Actually, we don't have a name for it, I reckon it should be called Girl Guide .. that would make so much sense.
"And then there's playing as much as we can - looking forward to summer and Laneway and making sure our sets are very tight and really represent us and everything we're about".
As university students with day jobs outside their music, There's A Tuesday have benefited from a financial boost from New Zealand On Air who "fund the development, recording and promotion of singles and multi-song projects", a real bonus for Hutton and her bandmates as they look to the future.
"We've been really lucky to be helped out .. they're absolute legends. It's helped out totally - just being able to record a song, not having to reach into your own savings is incredible."
An unbreakable, unique musical partnership .. the stars aligned for these two talented musicians who bounce off each other so beautifully.
Hutton sums it up nicely.
"I always say when explaining what Minnie's like, she's like me with blonde hair. We're best friends but on top of that she has a passion for music. That's so important to the both of us. It's special and a once in a lifetime kind of thing."