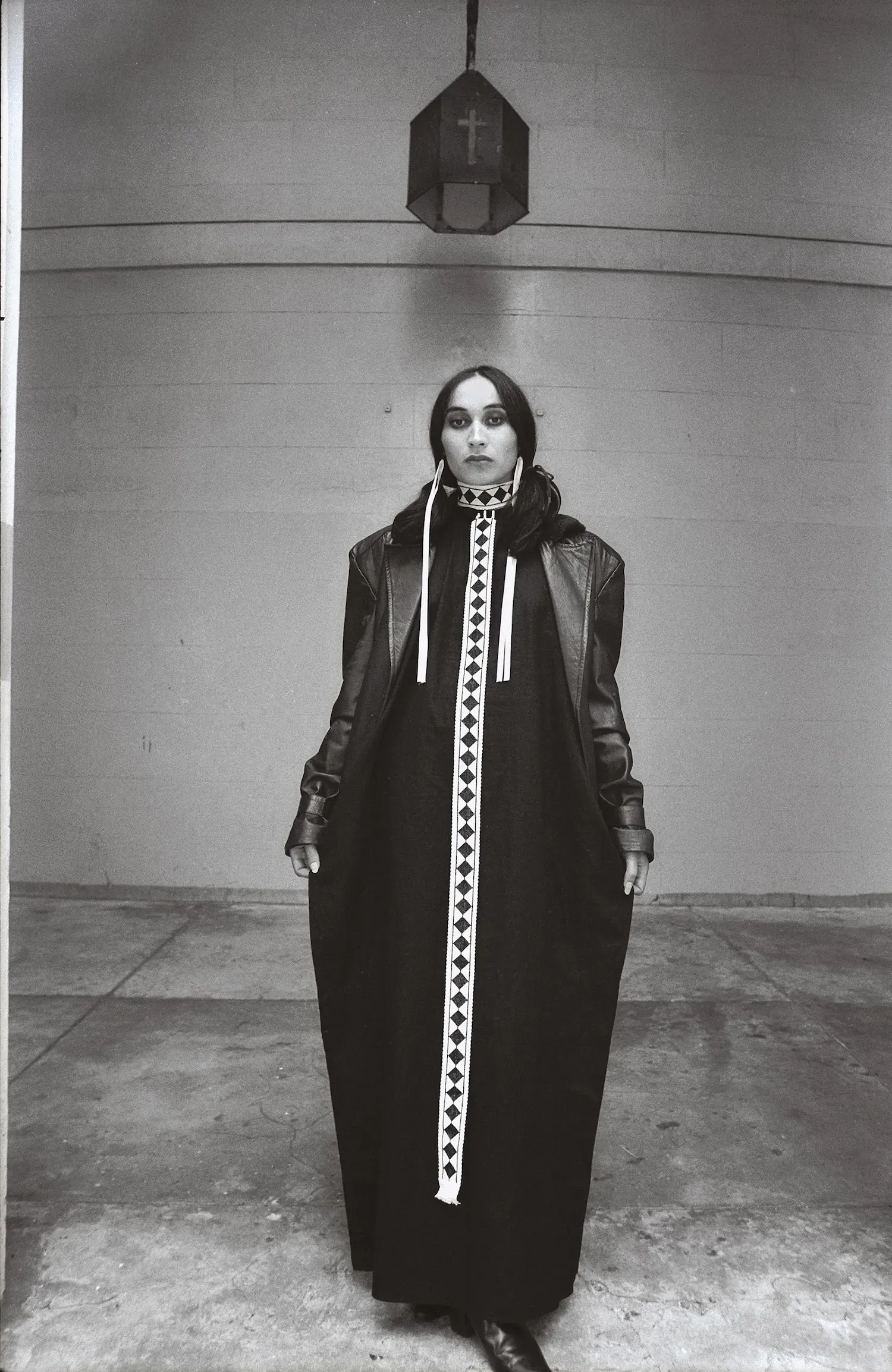 Rebels with a cause
After a successful run at Te Papa, Pacific Sisters: He Toa Taera – Fashion Activists has returned to its original source of inspiration, Auckland City. Many of the Pacific and Māori fashion designers, artists, performers and musicians who made up the Pacific Sisters were directly responding to the city's impact on their individual and collective sense of identity.
The 1990s marked a seismic shift for Pacific people in Aotearoa. The effects of urbanisation began to be felt as a generation of young people born on this soil yet found themselves caught between two seemingly disparate worlds. Where there was an opportunity to create a sense of identity that spoke to the past, present and future of what it means to be Pasifika. That demanded to be heard in a society that did and does not value Pacific and Māori voices.
Clever curating
Given the breadth of mediums the Pacific Sisters worked in, it would be easy for this exhibition to become a hodge-podge of ideas. But thanks to clever curating, the fashion aspect of their practise is brought centre stage. Given that the Pacific Sisters used fashion as a battlefield to assert, question and tear down ideas, it is a succinct way to intertwine many of the key ideologies of the collective to make for cohesive viewing. Fashion has long been used as a way to assert your identity both internally and externally and this balance is consistently maintained throughout the exhibition.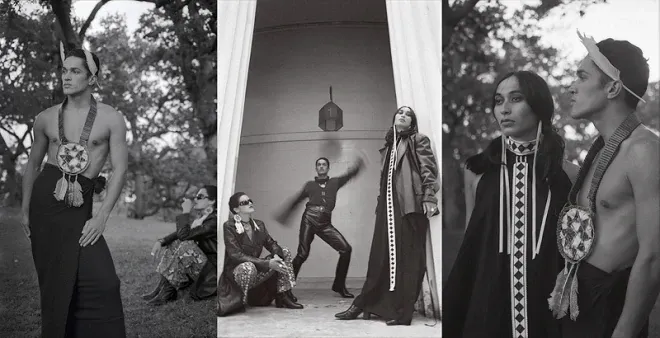 Spread across three rooms, there are a number of original designs, two videos, photographs and archival footage that operate in the space between communal and personal expression. To convey fashion activism well, every detail must be considered and the Pacific Sisters do this with aplomb. From fabric patterns to the cut of a silhouette, everything becomes the embodiment of this fine balance of two worlds colliding to create something completely new in the space between uniforms and highly individualised power dressing.
Powerful ancestral women
Within the realms of activism, uniforms offer a powerful statement. When your pithy slogans fade from the ears of your audience, a uniform offers a reminder and symbol of unity.  For viewers, uniforms can act as a comforting acknowledgement of shared values, alternatively they can be a rallying cry to join them. For the Pacific Sisters, their uniform of a waistcoat allowed for both a shared vision and an individual voice. Described as "the signature of the Pacific Sisters....a symbol of protection and identity" subtle tweaks to traditional techniques add a unique sense of self to each of them. They are paired with larger-than-life photographs of each of the artists. Their composition and glossy airbrushing evokes the kitschy coquettishness of "dusky maidens" that were a staple amongst velvet painters. However the dress and pose of each of them alludes to powerful ancestral women who are anything but submissive.
"the Pacific Sisters used fashion as a battlefield to assert, question and tear down ideas"
Their approach to fashion continued to reference this fusion of past and present to create works that speak to their unique experience of growing up Pasifika or Māori in an urban environment. This layering of ideas is reflected in an idea the Pacific Sisters called "accessification" where they took a more is more approach to the aesthetics of identity. Each piece resonated with a powerful strength and rebellious spirit that celebrated diversity in a society that was and is still feeling the effects of hegemony and colonialism.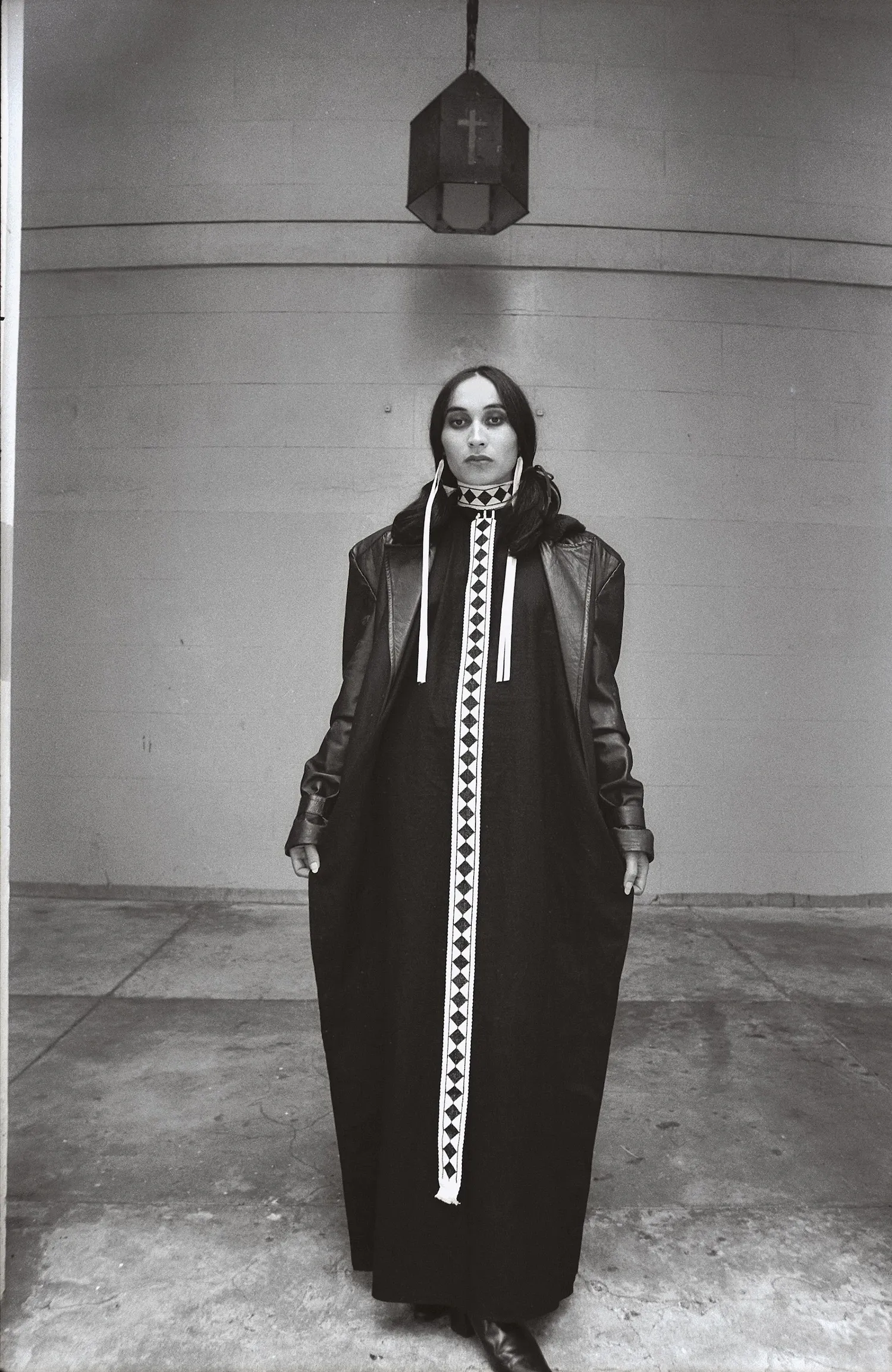 This celebration of collective and individual identity cumulates together beautifully in the final room. Through archival footage and outfits, the exhibition nods to the multimedia spectacular that was spectacular Motu Tangata. Video of models across the size and gender spectrum sashaying down the runway in striking clothing to pulsating beats evoked both the underground Club Kid scene of New York in the 1980s as well as the natural heirs of the Pacific Sisters mantle, FAF SWAG.  
"the issues the Pacific Sisters are tackling remain as pertinent as ever" 
Walking through the rooms, it becomes abundantly clear that despite many of these pieces being made over two decades ago, the issues the Pacific Sisters are tackling remain as pertinent as ever. Overcoming stereotypes, the painful lack of representation in the media, the search for an identity that is both iconoclastic yet respectful of the past, present and future are threads that continue to run through many contemporary Pasifika artists' works, and the Pacific Sisters paved the way for their voices to be heard. Pacific Sisters: He Toa Taera – Fashion Activists is a vital exhibition that simultaneously celebrates how far we have come, but also highlights how far we have to go.
Pacific Sisters: He Toa Taera – Fashion Activists runs at Auckland Art Gallery until Sunday 14 July 2019. It is Exhibition developed and toured by the Museum of New Zealand Te Papa Tongarewa and curated by Nina Tonga.
All images by and courtesy of Vivienne Haldane.