Marianne Infante is a dynamic force emerging on New Zealand's performing arts scene, as a talented and tenacious actor, writer and producer for the stage and on screen.
And as The Big Idea discovered, this staunchly Filipino New Zealander's empathy and focus on developing platforms for all of Aotearoa's different languages and cultures - including her own - really strikes a chord.
Proudly Asian
Infante emigrated to Christchurch with her family from the Pampanga province in the central Philippines and has been on an impressive path since graduating with a Bachelor of Performing Arts in Screen and Theatre Acting at Unitec in 2016.Lockdown has proved no barrier, her career taking off with her ground-breaking debut stage production Pinay for Proudly Asian Theatre in 2018, where she is the company producer.
"I think for us, the main drive for our mahi is to really acknowledge tangata whenua, the people who came before us - We are settlers in this country," Infante explains to The Big Idea.
" Then we can go into the conversation of who we are as Asians. We are constantly and continuously mentoring and uplifting other Asian creatives who can tell their own story. We can empower them, give them opportunities and resources to be able to do that.
"We recently produced Pork and Poll Taxes which is one of the first theatre productions to talk about the Chinese poll tax era."
The Asian/NZ collective could be seen as a flag-bearer for multiculturalism in New Zealand's performing arts and entertainment.
"I definitely think it's a wider conversation .. I don't think Filipinos can do it by themselves - or the Chinese community. I firmly believe in a collective collaboration.
"We have the name in the industry … why not share the love?"
Going Global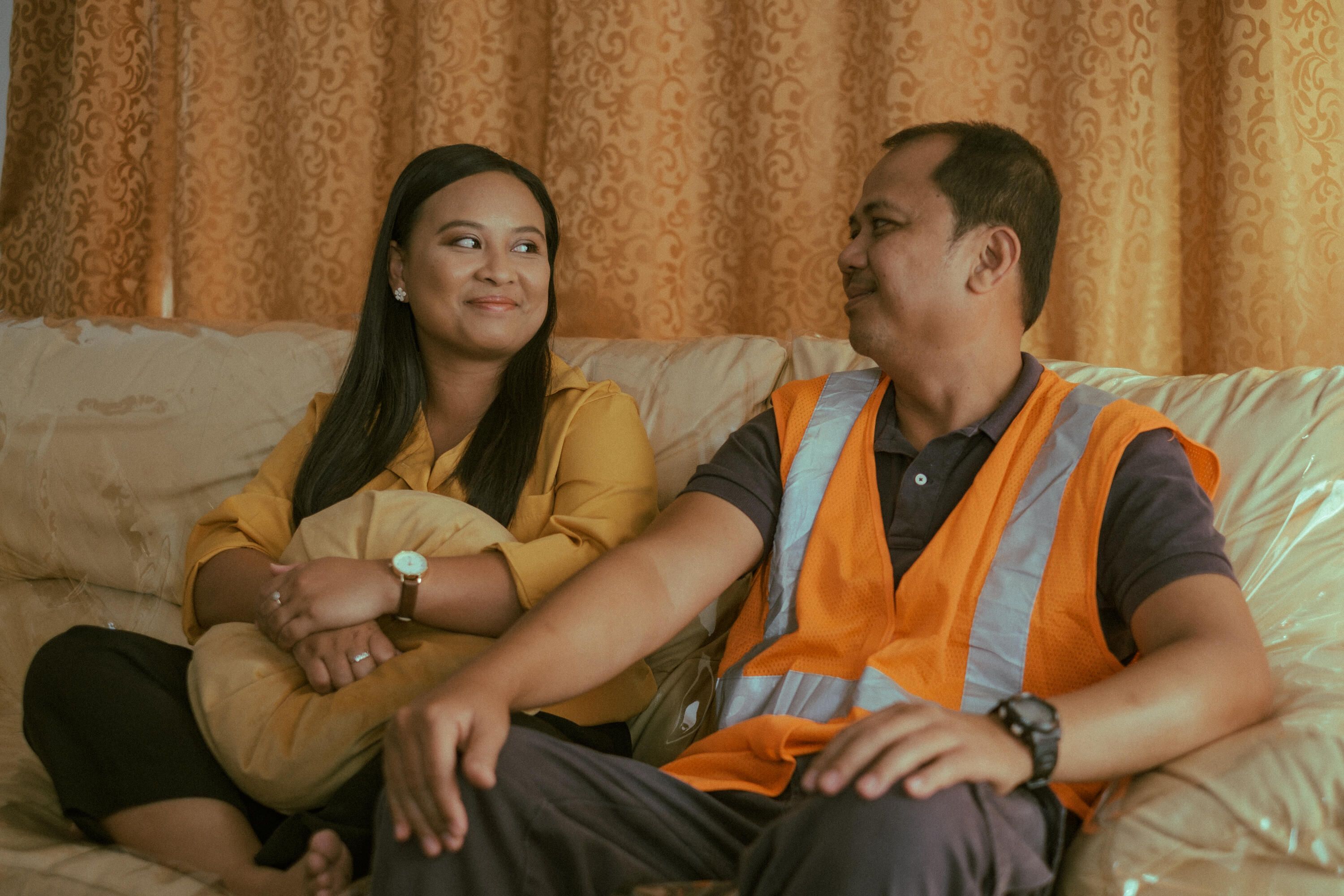 Marianne Infante and Allan Murillo in Mekeni. Image: Suppled.
Her acclaimed short film Mekeni - part of the most recent wave of Someday Stories - is making an impact The emotions flow in this poignant immigrant story, creating history as Aotearoa's first production in Kapampangan-Filipino.
"There's been an incredible range of reaction to the film," Infante enthuses, "most of which I wasn't actually expecting. Not just from our people here in Aotearoa .. everyone was just really supportive of finally hearing another reo on screen. Another proud language.
"The other thing that really took me by surprise was when Mekeni started trending in Pampanga where I'm from - I wasn't expecting all the publicity and media we received back home. There was something really heart-warming for the 'Motherland' to call you and recognise your work."
Keeping her native dialect alive and in front of audiences is of crucial importance to Infante, who experienced it being nudged from the spotlight in her youth back in the Philippines, with an ongoing struggle to move the language forward to the next generation.
"It's kind of like what stunted the growth of te reo Māori here in New Zealand. We weren't being taught our own language. All the school books were in American English or Tagalog which is the national language of the Philippines, so it's referred to as the Filipino language.
"It's one of the things I wanted to share with people … the Philippines is home to 120 languages and dialects .. and Kapampangan is one of the eight major languages. I'm really proud to share that in a format that I do best and I know how to do passionately well with the people that believed in the kaupapa of the film."
Ferndale Filipino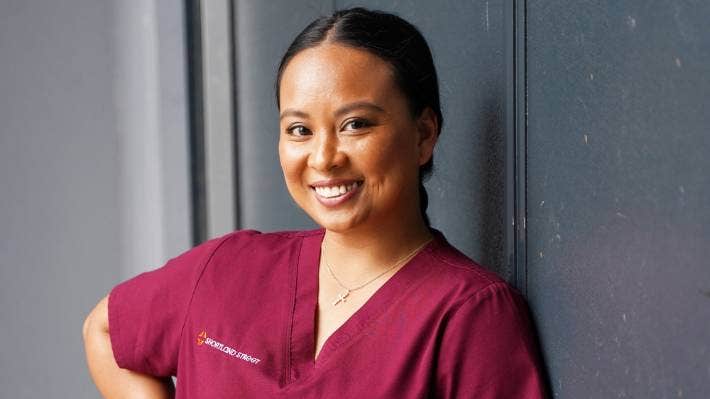 Marianne Infante in her Shorty Street uniform. Photo: Supplied.
She's a fine actor too, and has taken on the challenge of being the first Filipino on New Zealand television institution Shortland Street.
"COVID is affecting everyone's ambitions at the moment. But I'm in a very privileged position where now my mahi takes me to the screens, being on television.
"A lot of my mahi and energy is delivering our first Filipino nurse on New Zealand primetime television. Basically focussing on my opportunity of being on Shortland Street is definitely something I want to cultivate further.
"It's a big task, it's a full-time job. I never thought this day would come when I can be a full-time actor, finally."
Māori arts and culture has such a strong presence in Aotearoa, how does she find a place in that scene?
"I don't think I have to - I think I need to.
"The significance of acknowledging te reo Māori in terms of our culture here is incredibly important. It would be incredibly remiss of us as makers and storytellers to leave our Māori community behind.
"(It's about) collaboration and really understanding their culture, rather than telling their story for them. They're more than capable of telling their own stories and their own narrative - all I really need to do is listen and re-share that with people. Then they'll do the same for us, I'm already seeing that with all our Asian allies in the arts community.
"I love that about the arts. I love that with the theatre community. I personally resonate with the fact that we all come from a place of minority. We all come from a space where we are constantly reclaiming, whether that be language or culture."
Making noise
Infante takes great pride in getting "an incredible mix" of people and cultures in the audiences for her work.
Referring specifically to Pinay, "the purpose of that work was to really engage with the Filipino community. We did a feedback form at the end of it and it was the most beautiful mixed crowd. Because the story was so universal, they all connected with the heart of the story. Pakeha who went to see the show recognised those characters too. It was incredibly eye-opening about how great we can all be if we really just connect with each other.
"There is the perception that because we're called Proudly Asian Theatre that we're exclusive to Asians - no, no, no, we're not.
"We are a platform that proudly facilitates, develops and empowers Asian voices -but it is to benefit everyone. It's also for our whānau that wants to connect with us."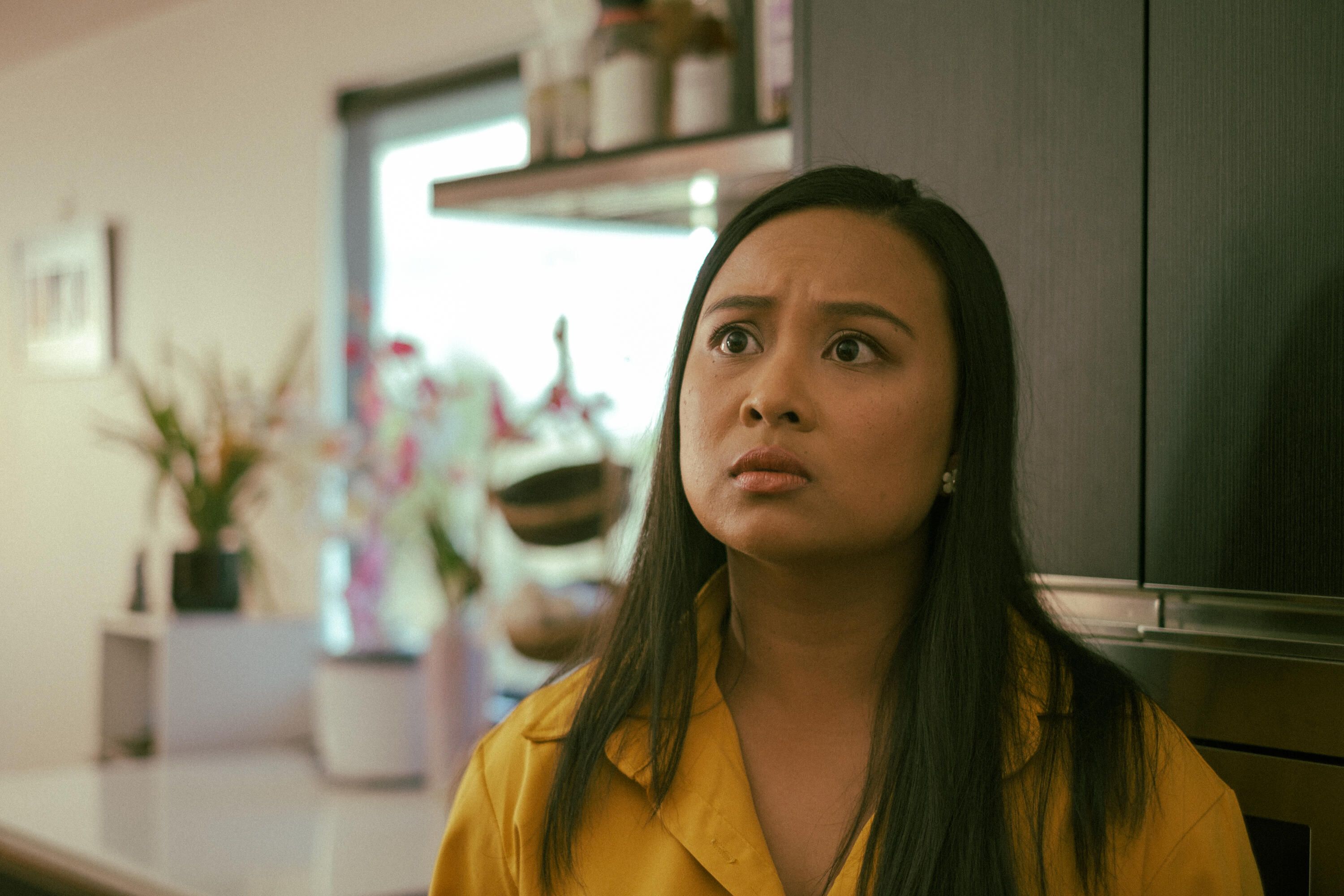 Marianne Infante in Mekeni. Image: Supplied.
Infante seems comfortable and definitely motivated to play her role in this multicultural environment.
"You can't say we're not around. We are around and we are making a lot of noise. We will continue doing that until we see ourselves reflected on our stages, on our screen.
"But I also know there's still a long way to go. Whether that be in the institutions that are running spaces, or the funding organisations being able to support these artists.
"I will never disregard the achievements we've had so far - but I also don't want to let that stop me or other artists who want to take space to tell their stories and be unapologetic about their language or their culture.
"I want to see it".
Next project
The weight of this extraordinary range of skills and motivations seems to sit easily with her, although she's taking on a big challenge for her next theatre production.
"I'm writing another work that is continuing my exploration with my Kapampangan roots. I'm considering making it a solo show because I think I'm terrified of that. I'm terrified to tackle performing on my own.
"The other reason is I want to be able to travel fast and wide and doing that on my own with very little budget is the best way to do it. The other thing with performing a language that's essentially becoming extinct - it means you've got to work fast and hard to keep the language alive."
But she'll have to wait for the right window to tour it around the country.
"A blessing I would like to focus on at the moment … I can have the time to really dive into the work .. get it wrong then get it right.
"When the time comes and once Auntie COVID gets out of the way - then hopefully it will be ready for an audience of some sort.
"I don't want to rush it."
Applications for Someday Stories 6 are open until 29 November.