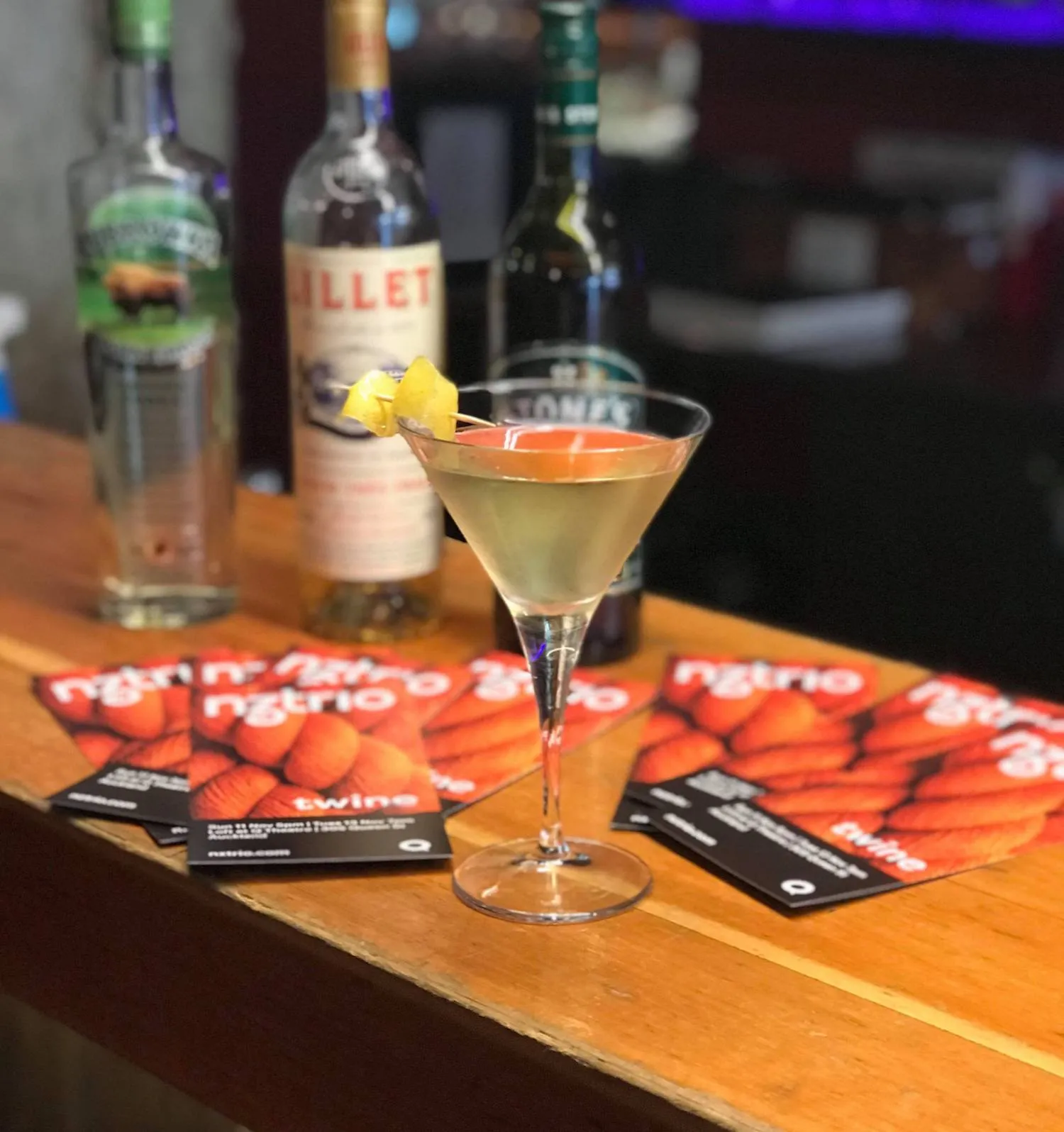 Us writers love recurring themes and characters. After reading Vanessa Zigliani's essay on the death of the art critic, I felt compelled to write a piece that affirmed our existence, albeit on life support. I argued for the need to cultivate a space where thoughtful criticism is welcomed, encouraged and recompensed; where it is treated as a viable skill. So reviewing Twine - the latest offering by the NZ Trio who are managed by Vanessa - has the satisfying ring of a third act reprise.
There is a fundamental difference between what we want and what we need.
There is a fundamental difference between what we want and what we need. Explore it and you'll discover a lot about what connects us as human beings.
Many of us desire to find love. Inevitably, we all need to come to terms with the reality of death.
Using the universal language of music, NZ Trio's latest offering Twine at Q's Loft Theatre twists and weaves the connections we want and connections we need together to create a spellbinding meditation on what it is to be human.
NZ Trio founder cellist Ashley Brown is joined by violinist Amalia Hall and pianist Somi Kim in a genre – spanning programme that delivered virtuosic skill and an affable, accessible stage presence in equal measures.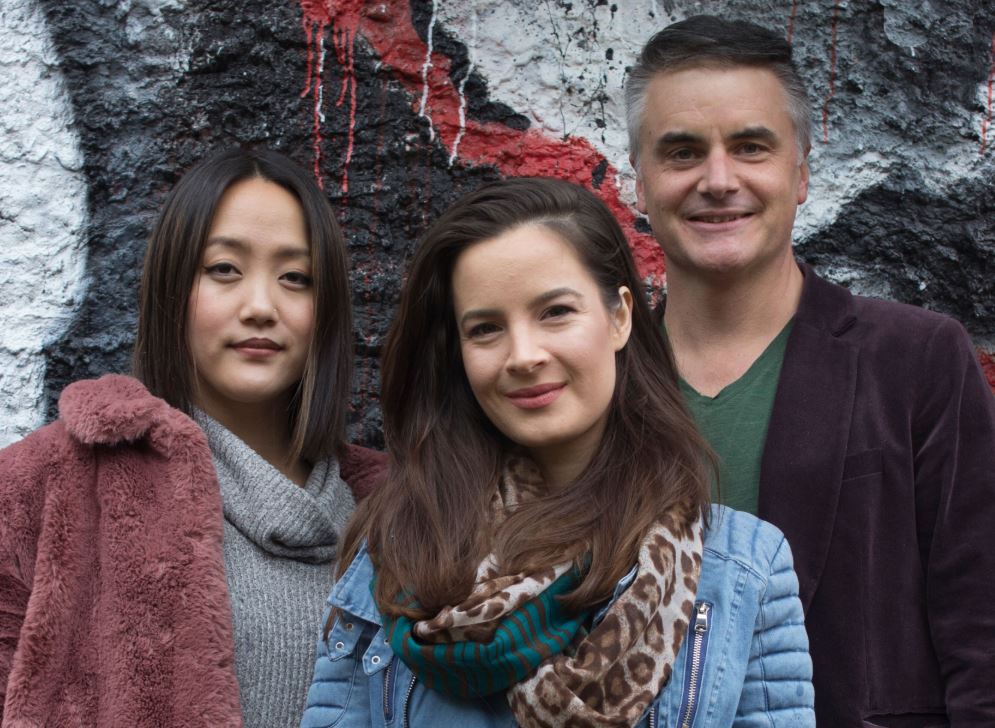 Photo by Tai Nelson
The last movement from Philip Glass's String Quartet number 3 from the 1985 film Mishma: A Life in Four Chapters was a stunning opening to the evening. This biopic captures the life of the beloved Japanese poet and political figure Yukio Mishima, whose despair over the loss of Japan's dignity in World War II was so great he committed ritualistic suicide. He lived up to his own quote "the value of a man appears in the moment in which life confronts death."
Like Ernest Hemingway before him, Philip Glass expresses himself with a succinct flair. Glass pulls and pushes the boundaries of traditional classical forms to create what he calls repetitive structures. Within the confines of Mishma he relies on several of his trademark motifs to build it – namely repeating rhythms and string figurations. A seesawing cello is at the epicentre of Mishma to create a spiralling piece that blooms again and again with hypnotic arpeggios. It felt fearless, steadfast in the acknowledgement and acceptance of death that comes to us all. Do not be deceived by the simplicity of this piece. The kinetic interplay between repeated rhythms and tones takes considerable talent to do – a misplaced finger could've spelt disaster for this trio. Thankfully, this was just the first instance of them being an effortlessly talented ensemble.
We were then transported back to the Romantic era, courtesy of Robert Schumann's piece Piano Trio No.2 in F major. The pensive stylings of Glass were shattered by the loved-up joie de vive of Schumann. These four movements were penned during the happiest time of his life, where he toured extensively with his wife Clara – herself an accomplished pianist and composer. While a move to his childhood stomping ground alleviated many of his inner demons – phobias, fear of death and nervous fits- that had plagued him for years.
There are few people in the world who have little desire to find the unique connection that comes with loving and being loved in return. Schumann may have captured this breezily passionate connection well on paper, but this trio imbue it with real heart. Kim's lively piano danced beautifully in the spaces between Brown and Hall's richly saccharine strings, which temper off to dulcet tones in the third movement. Although well-executed, the compositional frills and flounces was like swallowing a mouthful of sugar; it was too sweet for my personal taste, making it my least favourite part of Twine.
Contemporary Australian composer Matthew Hindson's Rush operates as something of a middle ground between Glass and Schumann, the contemporary and the Romantic, nicely tying up the loose ends in time for the intermission. Written in 1999, Rush was shaped by both Mendelssohn's Octet for Strings and Hindson's appreciation for then-contemporary techno and pop sounds. From the outset, it forms a strong connection between the two previously heard pieces. Over the course of nine minutes, the joyously flamboyant performance of Schumann – hands flying everywhere, carefully coiffed hair escaping out of place- met the repetition and minimalist motifs of Glass spectacularly well.
There was a specular tension between the vibrancy of what was being performed and the danger of performing with such vigour.
The name Rush can be read as a reflection of the hedonistic nature of modern society. It could also be a reference to a drug favoured by ravers for its fleeting, immediate high or the thrill of meeting a warm body on the dance floor. There was a specular tension between the vibrancy of what was being performed and the danger of performing with such vigour. Once again, light and dark, love and death however fleeting intertwine throughout this piece.
During intermission, the audience were invited to answer one of two questions on a slip of paper in preparation for the debut of US/NZ composer Celeste Oram's piece the naming of waters. The audience could either answer What things never change? and What do you hope will change? These subtle shifts in semantics once again relate back to the human connections found within what we want and what we need.
Oram's work was refreshingly immersive and interactive. Opening with a reading that set the scene as a burial at sea with a trio of hired musicians on deck. Sand was poured and white flowers handed out. There was a sense of solemn duty, much like the orchestra who gallantly played on as the Titanic sank.
The players skilfully improvised the squawking of seagulls and the delicate splash of sea mist as they scattered the audience's papers. Each of the performers took turns reading the answers to the two questions, their voices cutting through the music like fog on the water. While it would seem that the composer wanted to create a sense of tension between hope and inevitability, the majority of the audience appeared to choose to answer What do you hope will change? Which is interesting in itself. Desires to be loved by children and partners came up multiple times and save for a rogue Marcus Aurelius quote about the inevitability of death, the mood was a whimsical yearning for love scattered on the sea breeze, with the final refrain "Pineapple Lumps!!" offering a charmingly absurdist respite.
the mood was a whimsical yearning for love scattered on the sea breeze
Closing the evening was Johannes Brahms Piano Trio No.1 in B Major and was Romanticism with more passion and elegant grandeur than Schumann's keenly wispy offerings. The third movement – Adagio- was when the trio intertwined and truly shone with the weight and grandiosity one expects of Brahms. It was a fabulous flourish that signed off the evening well.
Strong performances of works that sit in the space between what we want and what we need are strung together to create an evening that connects all of us to each other on a fundamental level. The performers manage to capture our concerns around love and death with ease, making these big questions seem accessible - if just for a moment.

You can catch NZ Trio's Twine at Q's Loft tonight at 7pm.
Kate Powell is a freelance cultural critic (music, visual arts), curator and gallery essayist who has studied at the Sotheby's Institute in London. Currently based in Auckland, she works in Communications and Public Relations. She is contactable via email or through Facebook.