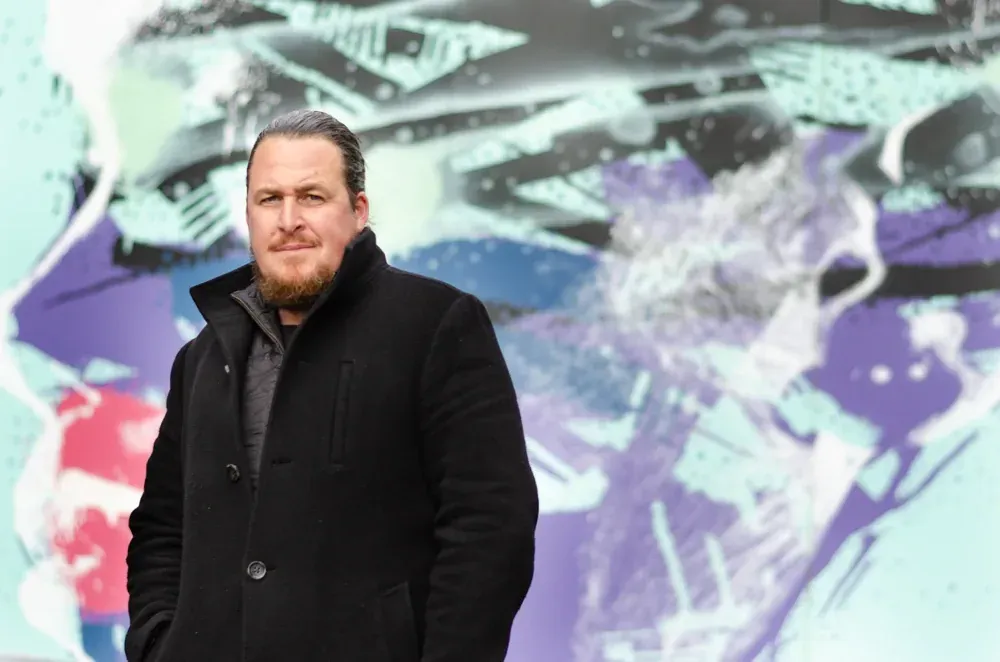 George Parker, the new Artistic Director for the Christchurch Arts Festival, has some big ideas for the festival's future. The self-proclaimed dreamer and schemer spoke enthusiastically about the role of the arts in Christchurch and its ability to bring people relief after the trauma of the earthquakes. "The city has gone through many different cycles since the earthquakes and the initial period, while immensely challenging, was creatively very interesting."
We are going to down-scale the programme and upscale the sense of spectacle
Fresh ideas and new possibilities
George says that the creative energy that manifested soon after the earthquakes has plateaued in recent years, and he is on a mission to see that energy reinvigorated. He speaks of a strong desire within the community to support the Christchurch arts scene and bring some life back into the city, and hopes he can aid in this process through the change of direction he has planned for the Christchurch Arts Festival. Big things are happening, George tells me excitedly: "we are going to down-scale the programme and upscale the sense of spectacle and experience through interesting collaborations and new initiatives."
Only one month into the gig and George is already busy planning and meeting with key figures in the local arts scene. He says, "at the moment there are lots of meetings, lots of sharing a sense of where we are heading and seeing how people are going to respond to it. I'm speaking to artists, producers, musicians and various organisations to get some feedback on the plans and sort out the logistics of putting it all together."
Locals have been overwhelmingly supportive of George's proposed change in direction for the festival and are keen to contribute their own ideas. He says, "it's invigorating being given the chance to rethink how a festival might be and how it might work in relation to the city at the moment. People want to engage with the local arts scene and explore what it means to be from Christchurch."
As a foodie and supporter of local restaurants, George hopes to be able to incorporate this element into the festival. "Just this morning I had a wonderful conversation with Giulio Sturla from Roots restaurant in Lyttelton and he's really keen to play a key role in the festival. Dining can be a thrilling experience — it can be akin to theatre."
Free Theatre
Theatre is something that George has always been very passionate about and it's something which has always played a large part in his life. He is currently an actor in Christchurch's Free Theatre and in the past has also been a producer and a manager for the company. Free Theatre is the longest running supplier of experimental and contemporary theatre in New Zealand. George believes his involvement in Free Theatre is an important aspect of what he offers to the festival: as a working artist himself, he is better able to understand the challenges faced by artists and how he can successfully incorporate them into the mix. He says, "I bring an artistic angle to the table — the artist's ability to work collectively or collaboratively. It enables me to think about how I might involve different people, different groups, or organisations into the development of the festival."
A production by Peter Falkenberg with the Free Theatre set in motion a major turning point in George's career and his view of New Zealand theatre. He saw it at a time when he was trying to raise money to pursue an acting career overseas because he didn't believe he could have a future in theatre here. "When I saw Peter's production it was an experience… it really raised a lot of questions about what you could do with theatre and that was thrilling to realise. Eventually I discovered a whole artistic history that I had never really engaged with. While our cultural identity might be quite young in comparison to other countries, it's enthralling when you uncover a Whakapapa or lineage of artists that have been trying to stand upright here."
Listen to your gut
George explains that in order to succeed in this type of gig you have to be brave enough to listen to your instincts and take chances. He says, "a lot of the time you need to listen to your gut and see where it takes you. My gut is that people are really searching for experiences that engage them with the world; that take them beyond their everyday life, to be reconnected and to return home to their community. There's a sense of dissatisfaction with the way the world is and a sense that many people want to find experiences that challenge that dissatisfaction and give voice to them."
Who Got the Gig? Did you advertise your new gig - or score it - through The Big Idea? Tell us about it!
For 15 years The Big Idea has helped creatives find work and opportunities in New Zealand and arts organisations and creative companies find the right people.
If you've recently appointed someone to a position you can share your announcement in our Community Announcements section straight away, or to be profiled in this series on Who Got The Gig in the creative sector, contact [email protected]
If you have a new job or position to fill please list it in our Work section, or contact us on [email protected] for more information.