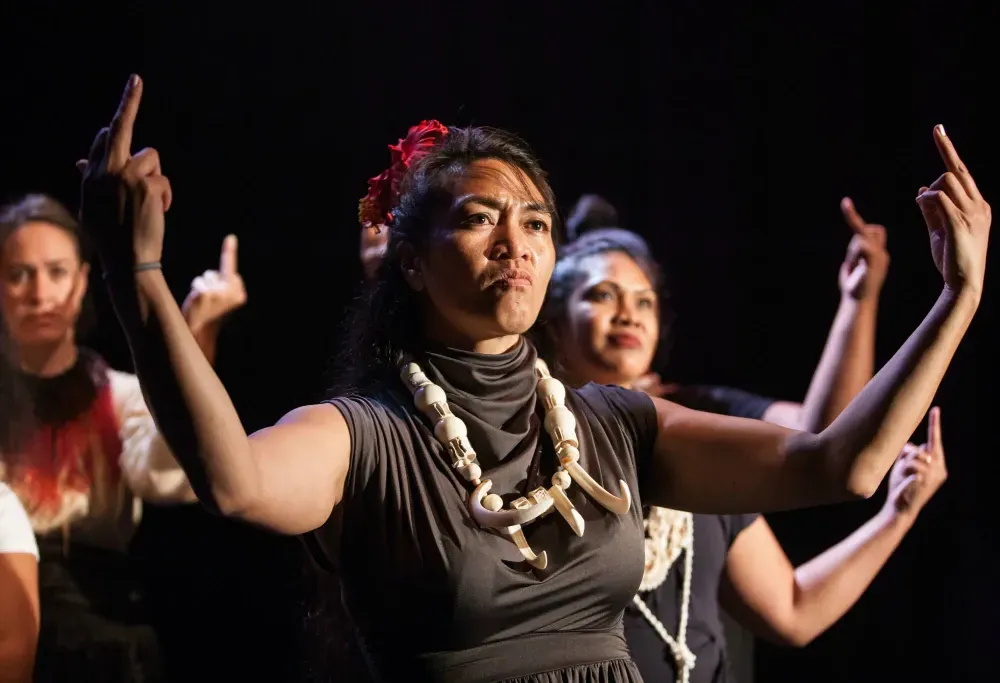 In festival news...
The Auckland Arts Festival has just released the line up for their 2020 programme. Highlights include a collaboration between New Zealand's own Aldous Harding and Purple Pilgrims with US musician Weyes Blood, a reunion from much-loved band @Peace, a host of exciting dance works, as well as an overall focus on accessibility. See the full programme here.
From Auckland to New York (via Hamilton)
In a massive win for Aotearoa storytellers on the world stage, three shows, all featuring Māori and Pacific performers, are hitting New York for a season of New Zealand Theatre at SoHo Playhouse. The shows are FCC/Victor Roger's Wild Dogs Under My Skirt (Give-a-Little fundraiser here), SquareSums&Co.'s Modern Māori Quartet and Zanetti Productions' The Contours of Heaven. The trio were invited to the critically-acclaimed off-Broadway theatre after its Artistic Director, Darren Lee Cole, saw their performances during this year's Performing Arts Network of New Zealand (PANNZ) Arts Market.
Closer to home, Hamilton's art scene continues to flourish with the announcement that the government is supporting the Waikato Regional Theatre with a $12 million cash injection. It is added to a kete that includes funding from the Hamilton City Council, Waikato Regional Council, Trust Waikato, Lottery Grants Board and numerous individuals, families, trusts and businesses. It is expected to be completed in March 2022. While it's wonderful the arts are getting a push in a city not usually noted for it, this ex-resident can't help but ask, "what about revamping the Founders Theatre?"
While it's wonderful the arts are getting a push in a city not usually noted for it, this ex-resident can't help but ask, "what about revamping the Founders Theatre?"
This has been a stellar year for the Auckland Theatre Company, and a look at the 2020 programme shows the ATC plan to continue their winning formula, with three New Zealand works, Ibsen's The Master Builder and the glam rock musical, Hedwig and the Angry Itch scheduled for next year. Colin McColl, artistic director of Auckland Theatre Company, says: "When I pick plays for a year, I don't start with any set theme in mind, but one certainly starts to emerge. I think it's fair to say that next year all the plays feature characters who are facing change and transformation in their lives."

Hariel, one of six drag performers who will appear in "Lit-Sync for Your Life" on November 9.
Lit Crawls and Lip Syncs
Our coolest little capital is kicking off the Verb Festival today. Running until November 10, the five-day writer's festival includes a raft of events sure to thrill Wellington's bibliophiles. A regular highlight is the annual Litcrawl, which features 27 events in 23 venues across the CBD over three hours on November 9. Meanwhile, some of Wellington's top drag performers will serve literary realness in Lit-Sync For Your Life. A full list of events is available on the Verb Wellington Writers Festival website.
Jess B gains a Moonman
It's a golden age for New Zealand hip-hop and Auckland rapper JessB has just cemented herself as its indisputable queen, nabbing her first ever Moonman at the MTV European Music Awards. She was judged Best New Zealand Act, beating out Bene, Broods, Kings and Drax Project.

JessB
Music is for everyone
In an amazing technological feat, the Augmented Human Lab at the Auckland Bioengineering Institute is helping deaf people hear music. Their invention MuSS-Bits (music sensory substitution bits) was inspired by deaf multi-percussionist Evelyn Glennie who feels the vibrations of sound resonating through her body. It's great that advances are being made to help ensure that music truly is accessible to everyone.
Casual Friday? Wear a band T-shirt
At The Big Idea we recently ran a series on mental health and wellbeing in the arts. One of the organisations we mentioned was MusicHelps, a charity focussed on developing projects that use music to help and heal people who have health issues, are disabled or at risk. It also offers free professional counselling and wellbeing resources available for musicians in Aotearoa. So far, they've helped 60,000 people and counting.
To raise funds for this worthy cause, this Friday is the first ever NZ Music T-Shirt Day. If you don't already own a band t-shirt to rock, you can buy heritage band t-shirts from a variety of artists from JB HiFi, with all proceeds going towards MusicHelps. There are iconic designs from Th' Dudes, Split Enz, Lorde, Herbs, Six60 Shihad and Truebliss, who we have to thank for the American Idol format. So whether it's a guilty pleasure or a loud and proud proclamation, start a conversation around your watercooler this Friday with your choice of band t-shirt. Don't forget to sign up and donate on the MusicHelps website.
Farewell to a literary notary
It is with sadness that we acknowledge the death of Ian Cross, noted author, journalist and broadcaster, aged 93. His debut book, The God Boy was released in 1957 to national and international critical acclaim, becoming the second New Zealand book to be published by Penguin as a modern classic, and later adapted into one of our earliest television dramas. A former editor of The New Zealand Listener, he transformed the magazine to build a massive readership in the 1970s. His contribution to the media and literary landscapes of New Zealand were notable and we wish to express our condolences to his family and loved ones.

Ian Cross
Stepping Down
After 12 years at the helm of NZ On Air, Chief Executive Jane Wrightson is stepping down from her role. During her tenure, NZ on Air has funded over 12,000 hours of screen content. Jane championed NZ on Screen, Audioculture, Coconet.TV and HEIHEI. Her dedication to highlighting the diversity of Aotearoa's talent is clear and she will undoubtedly be missed. All the best with your future endeavours, Jane.