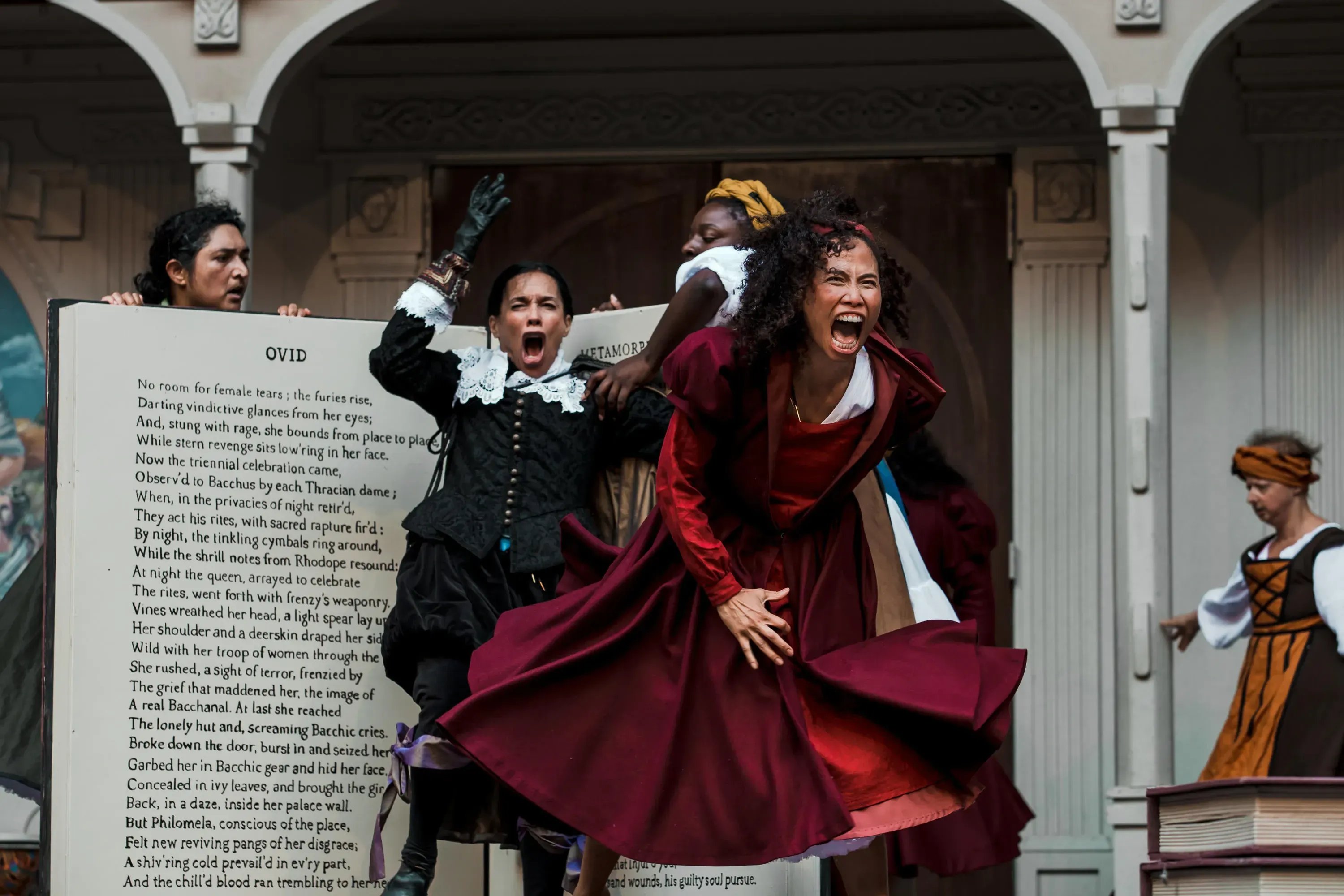 "We are only as powerful as the stories we tell. We have not always been able to tell them. We are Emilia. Time to listen."
A lot can happen in a week.
A man once considered one of the most powerful people in Hollywood can become a convicted rapist.
A convicted rapist can win Best Director at the César awards.
Two steps forward, one step back.
It was against this deeply conflicted backdrop that the curtains raised on Emilia, the farewell play of Auckland's Pop-up Globe about a woman, written by a woman, directed and performed exclusively by women.
For hundreds of years, the most famous lines spoken by women have been penned by men, while every man from Shakespeare to Spielberg have boxed women into easily identifiable tropes. So a play where a woman's words are her own are a welcome respite.
The Dark Lady
The play is a loose retelling about the life of Emilia Bassano, one of the first Englishwomen poets, a proto-feminist and possibly the inspiration behind Shakespeare's Dark Lady sonnet series. Because women were only allowed to write religious texts, Bassano veiled her messages in godly rhetoric. Despite her revolutionary exploits, like many women before and after her, Bassano was relegated to a footnote in history books.
If Weinstein or Polanski have taught us anything, it is that a play about women's voices being drowned out by men can be written just as easily today. This timelessness alone makes Emilia essential viewing. Playwright Morgan Lloyd Malcolm manages to capture the essence of feminism in the 21st century within a 16th century figurehead. She unapologetically leans into centuries of frustration and distress felt by women within the performing arts and beyond, making Emilia a harrowing joy to watch.
Acushla Tara Kupe (Emilia One) and Fiona Collins (Emilia three) in the opening scene. Photo by Julie Zhu.
Audiences Divided
This tone has divided audiences. While some find it "joyfully infuriating and empowering", others label it "overwrought and berating." This reviewer suggests that the key difference in those perspectives may be whether the person feels it is their anger being spoken, or the one who is being spoken to.
the play is concerned with exposing boundaries enforced by privilege - including in the meta world of theatre
Privilege - whose stories are told, who is selected to tell those stories, who sees those stories - lies at the heart of Emilia. Thematically, the play is concerned with exposing boundaries enforced by privilege - including in the meta world of theatre the production itself takes part in. Part of putting Emilia on means that there is a deliberate policy of hiring an all-woman cast who might otherwise be overlooked by the industry.
That Emilia made its international debut in New Zealand - the first country to give women the vote - is fitting. That it references Shakespeare and his plays aside, the decision to perform Emilia at the Pop-up Globe is a bold one. It must not be forgotten that this is an institution that initially sought all-male casts and appropriated #MeToo. However, it should be applauded that the Pop-up Globe is now using its considerable status within Aotearoa's theatrescape to begin to dismantle some inequalities faced by women within it.
Good Things Come in Threes
Following in tradition, Director Miriama McDowell leads a diverse troop of actresses, allowing for rarely heard voices to be amplified within a mainstream theatre. Collaboration is at the heart of this performance. A lack of casting hierarchy sees three different women play the role of Emilia. Each of them bring a unique energy, perfectly encapsulating the message that although this is the story of one woman from history, it represents a sisterhood that transcends time.
although this is the story of one woman from history, it represents a sisterhood that transcends time
Acushla Tara Kupe (Ngāti Maniapoto) plays the young Emilia with aplomb, capturing the struggle between wanting to appease those around her with an indomitable spirit yearning for independence beautifully. "I know now that as I grow, I must also shrink," she gasps as she is bound into a corset, the sadly wry witticism capturing the contradictory demands women are still overly familiar with.
Jen Van Epps plays the second Emilia. She brings a breathless energy which occasionally saw her delivery suffer in minor ways - her accent would waver or she would stumble over the odd word. However, this did not detract from her performance as a whole. She brought a vulnerability to her performance that was used to devastatingly visceral effect when Emilia lost her infant daughter, prompting gasps throughout the audience.
Jen Van Epps (Emilia Two) and her sisters. Photo by Julie Zhu.
Fiona Collins rounds out the Emilia trio with a performance that crackles with an unrepentant power that seems to only come through age, hindsight and no longer having to answer to anyone. This comes to a stunning head with her final soliloquy where she intones to the audience "If they try to burn you, may your fire be stronger than theirs so you can burn the whole fucking house down." They were words weighted with equal parts anger and pussy power. As she hurled them into the night sky, there was a sense of freedom, of releasing centuries of tension by finally being given a platform to speak freely.
Fiona Collins (Emilia Three) implores the audience. Photo by Julie Zhu.
The vile, cloying power of Lord Howard is played to gruesome effect by Rashmi Pilapitiya, Batanai Mashingaidze gives William Shakespeare a raffish lad-about-town charm. While Celeste De Freitas (Ngāti Porou) plays the hedonistically hopeless Alphonso with a knowing wink, a welcome flash of comedic foil in a heavy play.
Powerful Performance
Strong performances are buoyed along by smart art and directorial decisions. Props are used sparingly, but to great effect. Giant books loom large over the set, a constant reminder that women writers were and continue to be in the shadow of men. Ovid's Metamorphoses - a book that vividly depicts the rape and sexual assault of multiple women - is torn up to burn a woman at the stake; she is literally being suffocated by the words and actions of men.
Music is also employed well, with an opening karakia giving a beautiful sense of place, while a recorder-backed rendition of I Need A Hero gives an appropriate dash of humour.
Jen Van Epps and Millie Manning share a moment of comradery. Photo by Julie Zhu.
Put simply, Emilia is a pertinent, powerful play. I attended a preview as opposed to an opening night. It speaks to the ability of all involved that I forgot this fact. It would be wonderful if, 400 years from now, people who saw Emilia were perplexed that anyone could have considered the oppression of women as valid. That the ideas within it are laughably outdated.
In order for that to begin to happen, it needs to be seen beyond the realms of woke, educated theatre circles in Ellerslie. Hopefully a nationwide tour is in the works soon.
Emilia runs at Pop-up Globe in Ellerslie until March 22, tickets still available