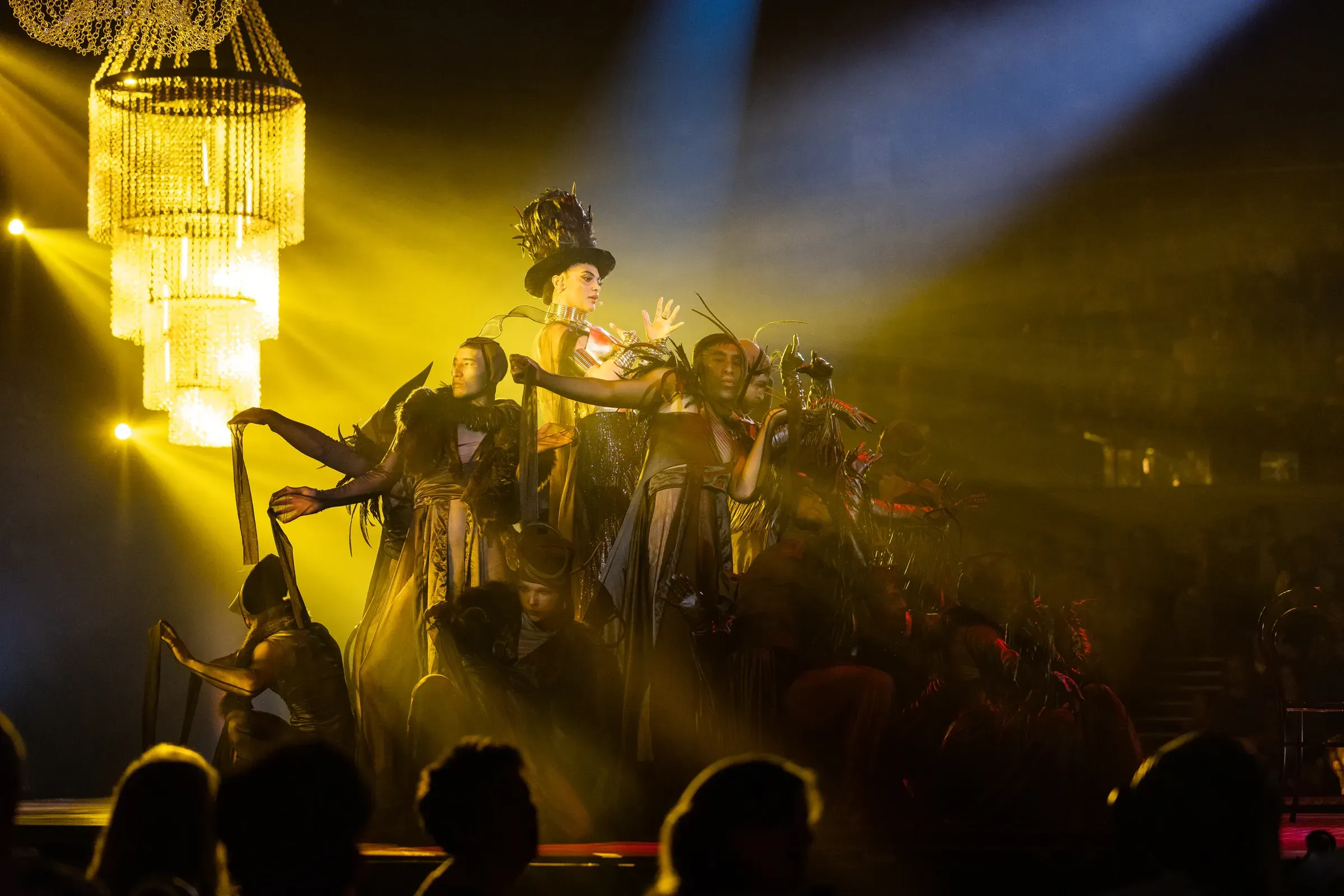 All creative ventures start with an idea - many from simple origins.
But few could hope to have the trajectory of the iconic World of WearableArt (WOW) - that grew from a regional concept into a multi-million dollar spectacle which attracts entrants and audiences from around the globe to Aotearoa's capital.
The creative minds behind that incredible growth from its debut back in 1987, Founder Dame Suzie Moncrieff and her sister and co-owner Heather Palmer, have been at the helm for 35 years.
But that incredible streak has finally come to an end - with the announcement that the world's leading wearable art competition has been sold.
The new owners are STILL, a business run by Hideaki Fukutake and family. Residents and citizens in New Zealand since 2009, Fukutake's family has a long history of nurturing arts and culture projects that build community wellbeing, including creating the Benesse Art Site at Naoshima.
This event is the sisters' event to sell off - they built it and they have more than earned the right, especially after the emotionally exhausting pandemic period where WOW was one of many creative endeavours crushed.
But in building something so large and uniquely Kiwi in its concept, it has become a taonga for this country, and there will be some concern about the future of WOW on our shores.
The new owners are adamant the change of ownership will not change the structure, staffing or day to day operations of the company, nor will it affect the recent renewal agreement with WellingtonNZ to host the WOW Awards Show, with the call for 2023 entries currently open.
Dame Suzie told The Lowdown that much of the deal was based around the safeguarding of this event in Aotearoa.
"I certainly wouldn't have handed this over to just anyone, that's for sure.
"When STILL approached us to say they were interested in purchasing WOW, I looked at their company and what they had achieved. I feel that STILL are the perfect guardians for WOW, and that WOW has ended up in very safe hands.
"I really valued their alignment of artistic creative value and their intrinsic values, as well as the long term focus for my vision to be realised.
"I've always had big dreams - for WOW to be at an internationally recognised show, perhaps maybe regionalising various countries and culminating in New Zealand for a worldwide award show. My vision is totally shared by Hideaki and I have every confidence STILL will make that happen and enable WOW to thrive."
Dame Suzie Moncrieff and Hideake Fukutake. Photo: Supplied.
In a statement, Fukutake underlines he is very aware that the acquisition of WOW carries significant cultural responsibility.
"The World of WearableArt is a New Zealand treasure. We know how important WOW is to New Zealand and we are passionate about ensuring it lasts well into the future – for at least another 35 years and beyond.
"This is about protecting a creative treasure for future generations of New Zealanders and making a long term contribution to creativity and culture in Aotearoa New Zealand."
Dame Suzie's entrepreneurial nature is one many creatives could tap into. WOW's creation under a rain soaked marquee in Nelson originally stemmed from her own desire to bring attention to her work as a sculptor.
"Obviously you've got to have a pretty strong vision - which I did when I started this. In the beginning, it was to be a promotion for a rural art gallery that I had. After the first show we did out in the countryside, and I realised I had something very special.
"So I thought 'well, I'll do another one. We'll see what happens'. It just kept on growing from there."
Womens Wall (five million sarees), Jo, Marie Odgers, New Zealand. Photo: Getty Images.
Dame Suzie won't be completely throwing in the WOW towel - she's staying on as resident judge, with sister Palmer a mentor and both remaining as Foundation Ambassadors.
"Now's the time for me to get back to the passions I had in the 80s before I started WOW. Hopefully I can still sculpt, that's what I would like to get back to."
Pitch proactive
While it's the time of year to reflect on what's been achieved - it's also a crucial point to think about what you want to achieve in the year ahead.
An important deadline for theatre makers is coming up in the next few days - with applications to pitch or showcase your work at the 2023 Performing Arts Network of New Zealand (PANNZ) Arts Market due by 5pm this Monday (5 December).
If you have a production you want to get in front of the right people, you'll find fewer more influential opportunities and there is no cost to apply.
PANNZ Art Market a hive of activity. Photo: Ralph Brown.
PANNZ Chief Executive Louise Gallagher explains to The Lowdown "the Market offers three types of pitching and showcasing opportunities for New Zealand based independent artists/producers, or producing companies.
"Whether the work is still just an idea, in development, ready to premiere, or tour ready - the PANNZ Arts Market is an excellent and accessible way to create connections and partnership opportunities with both national and international presenters."
It's already proven a successful breeding ground for many - even beyond the networking and relationship building opportunities. A number of works that have featured at the Market have subsequently secured both national and international tours.
They include the hugely successful Wild Dogs Under My Skirt that took Tusiata Avia's work to the world and presented on Broadway as a direct result of the Art Market, along with other talents like Rodney Bell, Rutene Spooner and Trick of the Light.
Another show to benefit from presenting at the PANNZ Arts Market is Yes Yes Yes by Eleanor Bishop and Karin McCracken that's toured both in the States and Australia.
The duo have another feather to their cap, this week named the 2022 Bruce Mason Playwriting Award winners - the first time in the award's 40-year history that it has been given to a creative partnership.
Photo: Philip Merry.
The $10,000 cash prize recognises professional success in the career of a writer and is designed to encourage their continued exploration of the theatre medium.
The collaboration known as EBKM joins the impressive list of Award alumni like Hone Kouka, Briar Grace-Smith, Jo Randerson, Victor Rodger, Ralph McCubbin Howell, Mitch Tawhi Thomas, Sam Brooks, Mīria George, Nathan Joe and Nancy Brunning.
Artefacts are art, in fact
One of the top prizes in the national ceramics world has been dished out, with the 2022 Portage Awards honouring some high level examples of the craft.
Richard Penn has claimed the Premier Award for his clay collection Artefacts, edging runner-up Helen Perrett for her work No space in my head.
Penn's entry is described as a collection of artefacts from an ancient, future civilisation - buried in the ground to travel back in time for us to find and puzzle over. Drawn from machine parts, ritual objects and diatoms, they are familiar objects whose purpose and meaning slides off the tip of your tongue.
Richard Penn, Artefacts. Photo: Studio La Gonda.
Judge Karl Chitham (Ngā Puhi, Te Uriroroi) expands "this work is more than just a trick of the eye or an insider joke, it inspires curiosity and makes us question the purpose and value of the things around us."
Penn, along with his talented wife and Toipoto artist Robyn, only moved to Aotearoa from South Africa a few years ago, but already he's entrenched in the creative community. He has taught ceramics at Elam School of Fine Arts and Otago Polytechnic - as well as holding residencies at Auckland Studio Potters and the Coromandel's Driving Creek Pottery.
Penn told The Lowdown "I can't overstate the importance of this award to me. My hope is that winning the Portage Award will open some doors and provide further opportunities for me as a newly arrived artist in Aotearoa.
"These two years in my new country have been incredibly productive and I have been forced out of my comfort zone in order to make ends meet in creative ways. I have experienced a very positive and energising kind of desperation that has pushed me in all sorts of directions and I'm extremely grateful that my work is beginning to resonate within New Zealand!
"In terms of future projects, I have a show of ceramics and drawings coming up in May at Public Record on Ponsonby Rd and I continue to teach and to curate new exhibitions for Auckland Studio Potters as well as to manage ASP's Artist in Residency Programme."
Among the other winners on the night were three Merit Awards with Evelyn Hodowany's pandemic toilet paper crisis-inspired 12 pack #1 "I can't spare a square", Elena Renker's Three tea bowls, and Matapouri's Dorothy Waetford for AO and HR.
The work of all 33 finalists is on display at West Auckland's Te Uru until 5 March.
In their Prime
James Norcliffe (Photo: supplied), Stephanie Johnson (Photo: Maeve Woodhouse), Vincent O'Malley (Photo: Hagen Hopkins Photography).
Legacy is not something to chase - but to create.
Having a lasting impression on your chosen genre can only happen with building a body of work that is not only enduring but admired.
Fiction writer Stephanie Johnson, poet James Norcliffe, and historian Vincent O'Malley have had their mahi validated by being named as the winners of the Prime Minister's Awards for Literary Achievement for 2022 - a prize that comes with both recognition and $60,000.
The versatile Johnson's had an impact across a range of areas in the creative community - from being a co-founded of the Auckland Readers and Writers Festival (now just the Auckland Writers Festival) to success as a writer of non fiction, short stories, and poetry as well as for stage (a former Bruce Mason Playwright's Award winner), television and radio.
But this recognition is for her fiction work, which includes 2003's award-winning The Shag Incident, The Whistler and Belief.
Poetry winner Norcliffe also has proven himself across a range of genres,including as a fiction writer and educator. He has published 11 collections of poetry, a short story collection, a novel, and several award-winning novels for young people.
Norcliffe has also had a long involvement with takahē poetry magazine including as editor and was president of the New Zealand Poetry Society.
O'Malley's dedication to Aotearoa's history has produced best-selling and thought provoking results. Among his many accolades, he was named winner of this year's Non Fiction prize at the Ockham awards for Voices from the New Zealand Wars / He Reo nō ngā Pakanga o Aotearoa.
A founding partner of HistoryWorks - a group of historians specialising in Treaty of Waitangi research - O'Malley's work has made events like the New Zealand Wars and their consequences more accessible to many.
All three will be honoured in an event next year, as well as an online discussion and reading.
Departing director, incoming resident
Keeping with the literary world - and WORD Christchurch is changing their structure after news Nic Low (above) is stepping down as Programme Director.
The popular South Island attraction has seen three of its established leaders move on in the past 12 months, with Low following the likes of Marianne Hargreaves and Rachael King.
Low, whose body of work includes the acclaimed Uprising: Walking the Southern Alps of New Zealand, leaves his mark on the festival - with the organisation praising his mahi in building stronger ties to Māori writers and storytellers, and helping them to a new strength in livestreaming and innovative digital presentation.
"It's back to the writing desk for me," states Low, who will also be Partnerships Editor at New Zealand Geographic. "It's been a tough couple of years for festivals, but I've thrived on the challenge of helping steer WORD through the pandemic. Now it's time for a new team of programmers to take over, led by Kiran Dass. Her deep book knowledge and rock and roll sensibility will take WORD to new heights. I'm looking forward to returning to the festival as a punter and an author in the coming years."
Dass is the current Programme & Engagement Manager who will take on the new role of Programme Lead and the organisation will shortly recruit up to four Programmers-at-Large to bring new voices to the team.
Further north in Wellington, Victoria University's International Institute of Modern Letters (IIML) Writer in Residence for 2023 will be admired broadcaster and successful memoirist Noelle McCarthy (below).
Best known for her powerful Irish accent gracing bFM and RNZ over many years, McCarthy's ability as a writer has also been proven with her work published in many newspapers, magazines and websites - and most notably her first book Grand, a memoir of her relationship with her mother.
While holding the residency, McCarthy will work on a book tentatively titled Count on Dracula, set to mix memoir and criticism as it explores "the subterranean nature of sexual wanting" and considers the themes of Bram Stoker's classic novel and the vampire's impact on culture.
McCarthy says "twenty years since I last darkened the doors of academia, I can't believe I'm being allowed back in to work on a story about sex and vampires. It's a huge honour, I'm very grateful."
Game on
Did you know there's an industry within the creative sector that's revenue has grown by 47% in the last year?
The New Zealand Games Industry survey has produced some pretty interesting results, and is showing a pathway forward for many creative minds.
According to the 2022 survey, the industry's revenue has been $407 million in the past year - that's up from $276m at the last survey. There are 1070 full time employees recorded, with 101 new jobs in 71 studios nationwide.
But it should be noted, the industry is top heavy, with 12 studios making up 72% of total jobs and earning 92% of all revenue. And of concern, a third of them state they're considering a move to Australia, where more is done to support the gaming industry at a funding and development level.
Also of note - within the survey participants, 25% were female, 6% neurodivergent and 9% identified as LGBTQIA+.
McLeod's mastery
The passing of Jenny McLeod at 81 is being mourned across Aotearoa's music community.
A composer described as "one of the most naturally gifted" this country has seen, McLeod's thirst for knowledge, experience and creativity - along with sharing her talents and insights - were clear from early in her illustrious career.
After an education that saw her study across Europe with some of the 20th century's most renowned composers like Olivier Messiaen in Paris, Pierre Boulez in Base and Karlheinz Stockhausen and Luciano Berio in Cologne, McLeod came back to lecture where she studied - at Wellington's Victoria University. She soon became a professor there - all before the age of 30.
If you're in any doubt as to the prolificness of McLeod's composing career, you only need to scroll through her catalogue of work on the SOUNZ website - the 139 works listed there are nothing if not impressive.
When asked by The Big Idea many moons ago what path she'd choose if she could go back and start again, she declared "Why do I have to go back? I wouldn't have missed THIS life for anything in the world."
If you're looking to reminisce - or experience McLeod's music for the first time, RNZ has a playlist to peruse.
Rotorua set for revelry
The performing arts scene in Rotorua has received a big boost before Christmas with the newly refurbished, renovated and earthquake strengthened Sir Howard Morrison Centre announcing tickets are on sale for its Opening Gala in February next year.
It's a line up Sir Howard would have been proud of too - including singer- songwriters Ria Hall and Anika Moa, Howie Morrison Junior, Te Mauri Kapa Haka, opera singer Christian Thurston, reggae band Origin Roots, Thoroughly Modern Māori's Rutene Spooner and Rotorua Girls' High School and Western Heights High School Hip Hop crews.
Rotorua-born artistic director Taiaroa Royal (Te Arawa, Kai Tahu, Ngati Raukawa) will direct the Gala event and choreograph a special dance work for the show which will be performed by young local artists.
It will be followed by a free Rā a Whānau (whanau open day) with performances, workshops and behind-the-scenes tours of what is hoped to be a new creative hub for the Bay of Plenty.
But the site won't sit idle until then - already the New Zealand Aria competition has used the Sir Owen Glenn Theatre with Rotorua's Amjazz Christmas showcase to come on 10 December.