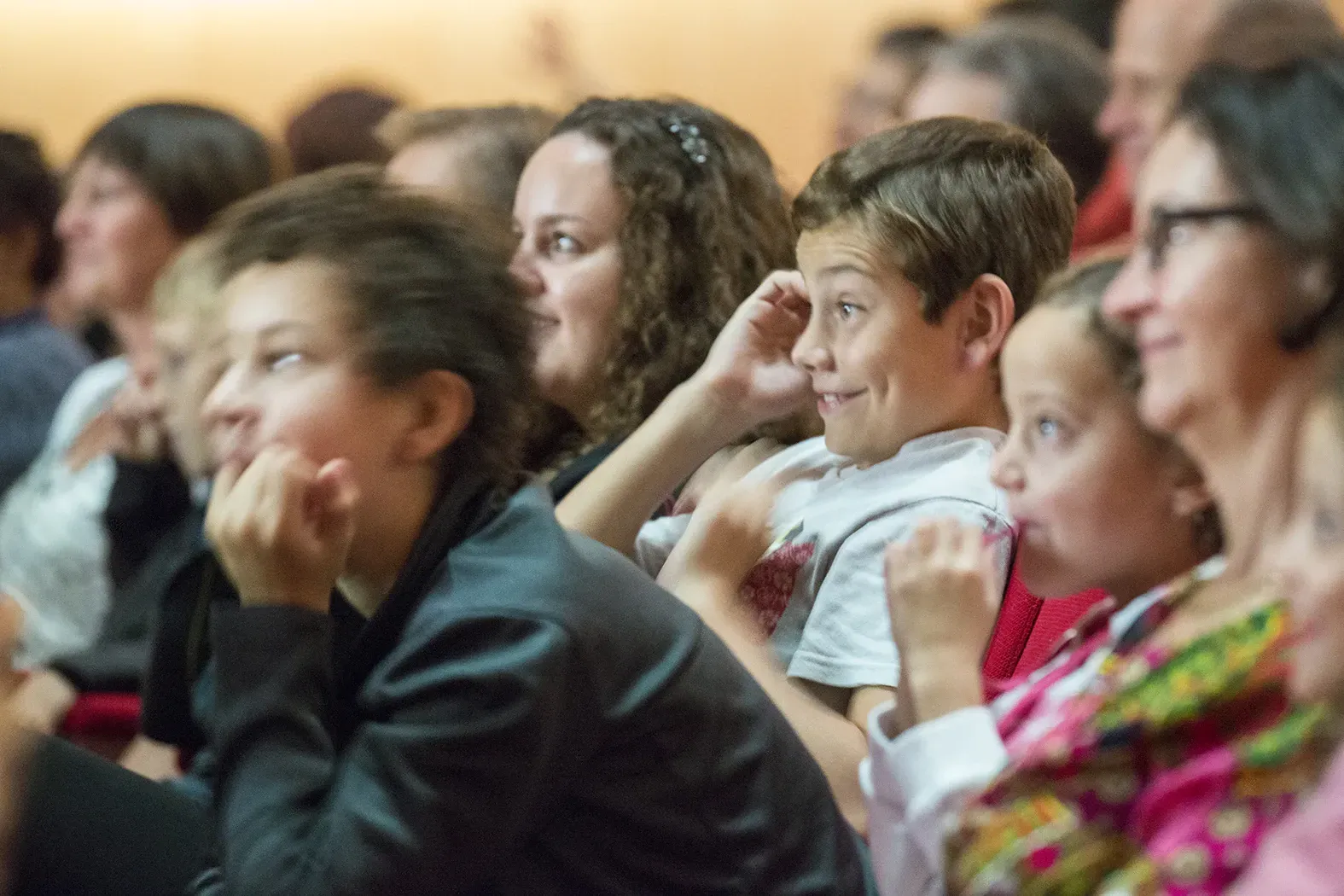 One of the most successful innovations of the Auckland Writer's Festival in recent years has been the free sessions. This year they seemed to have increased in both number and quality, and there was more seat capacity too. All the free sessions I went to were packed, with plenty of lively discussion during and after. Even the queues were a highlight, with lively chattering lines snaking across the Aotea Centre from morning until evening. A dumbed down population, dependent on reality TV? Not here, not now.
Another trend but not a new one…over the years, the Festival guest list has moved from being predominantly 'literary' authors, to hosting great thinkers (who happen to have written a book). Thus this year, long queues to hear about the Sri Lankan civil war, ripples from black holes, and Iraqi politics. (US politics seemed to creep in everywhere, unadvertised - someone quipped that Donald Trump had been mentioned in every session of the Festival.) Of literary talent, there was a good mix of international greats (Gloria Steinem's session sold out early) and local stars (Helene Wong's hard hitting Michael King Memorial Lecture also sold out before many could get tickets).
The family day has also been evolving, with the Topp Twins headlining this year and hordes of kids being every bit as starry-eyed about their authors as the grown ups. And the Festival has always been particularly good at reaching out to Auckland schools – with the Schools Programme starting early in the week, students get to meet international and national stars before anyone else.
So it was another early start for me and another packed-out room, this time to hear Xu Zhiyuan speak about the Culture Crisis in China. Unfortunately, Jeremy Rose, an otherwise genial and interested interviewer, kicked off with an extended anecdote about his time visiting China in the 60's. He even, to Zhiyuan's bewilderment, mentioned Tim Shadbolt and his concrete mixer. Why is it, whenever anyone speaks about anything Chinese in NZ, there is always someone who wants to reminisce about visiting China in the 60's? We came across as parochial, and when later on there were (inevitably) questions about the economic intent of the Chinese Government and their human rights record, Zhiyuan reacted with a polite sigh. "I always get asked these questions when I'm overseas."
He's written extensively on the evolution of the Chinese psyche in the modern era, and even acted as something of a social catalyst, setting up a string of cafes where people can go to discuss issues of the day. In the last 50 years China has undergone some of the most rapid social change of any country in the world. Zhiyuan says that the one child policy has resulted in generations of self centred individuals who prefer the distraction of consumer electronics to acting on any 'big picture' issues. "People are unable to express their emotions, through fear of losing everything." China's imperial past, and more recent purges, are also a shackle. "People still think that if something bad happens, it is the fault of the 'bad emperor' so they think the solution is to get rid of the malfunctioning leader. Whereas in fact we have to all work towards the pillars of a modern society, such as the right to speak freely, a modern legal system, and the power to self organise."
On a hopeful note, Zhiyuan says China is becoming increasingly 'normal', and opening up more and more – the mere fact he's in NZ being evidence. And he has a message for diasporic Chinese: "Lots of the diasporic community try to follow the Beijing path, to be more Chinese. But it's better to stick to your own identity and live between two cultures. Look at all the great leaders and entrepreneurs to come out of the diasporic community. When you are marginal, you transform that into creativity and sensitivity – it can give great power to society."
With this thought in mind, I moved to the Limelight Room for Questions of Identity – a thoughtful medley of readings from Serie Barford, Marlon James, Alison Mau (her debut as a writer) and Damien Wilkins. Here, the question of identity was explored in four contrasting but complementary ways – no dialogue, just some very fine writing. From Barford's warm, demanding poetry on growing up as a palagi in NZ, to Wilkins' comedic "Dad Tales' on fatherhood in Wellington; from James' unique Jamaican voice to Mau's sobering but funny non-fiction expose of what it was like to be transgender in the 1960s NZ.
My next session was The Moral Mixing Desk, a risky combination of a charity executive, a well known philanthropist and a UK philosopher trying to define the fine line between philanthropy, marketing and self interest. Kate Frykberg, Gareth Morgan and Julian Baggini were lively, but host Wallace Chapman was the real standout, roving the room with a microphone and quizzing audience members as if he was on live TV.
Among the things up for debate: should we be more like the US, where giving to charity (and boasting about it afterwards) is part of the culture, or like Scandinavia, where a high tax rate and high benefits mean that charity is unnecessary because the government is doing it for us? All but one person in the room raised their hands to be more Scandinavian, and Chapman zoomed in with the mic on the outlier: "Who are you?" Just a guy with the reasonable thought that he preferred control of his own money over trusting the government, it turned out.
Morgan, ever the showman, didn't disappoint: he revealed that he deliberately makes a lot of noise when he donates, to get media exposure for the cause he's donating to –the money does double the work. But he also questioned the increasing trend to look for private sponsorship. "What is going wrong when a sports facility needs private money to be built? We can't let the Government off the hook." Hoots of approval. The panel also dismissed sponsorship labelled as philanthropy, but as Baggini pointed out, "don't be too quick to condemn – motives are hardly ever pure." True. We all give for a reason, even if it's just to feel good that we are helping others. And there was sustained applause when an audience member said, "if we're lucky enough to live comfortably, why wouldn't we share what we have?"
From richness of the spirit to richness of the mind. In One Thousand Things Worth Knowing, after the title of the most recent collection, Irish-US poet Paul Muldoon was interviewed by 'last minute ring in' CK Stead. Muldoon kicked off the session by announcing that Stead's 'The New Poetic' had profoundly influenced him as a young poet. The two old acquaintances then had a leisurely chat, seemingly forgetting the hundreds watching. Muldoon on writing poetry with a jolt factor: "If I know what I'm doing, it's almost certain everyone else will too. If I write what I don't know, I might have the element of surprise." He and Stead wandered gently around the subject of poetry, with seemingly unrelated side trips: "Now, saffron. You could write about saffron forever."
Things became more lively when, with 20 minutes to go, Muldoon asked for the lights to be brought up on the audience. "Ah, there you are. You must have some things to ask?" Up first, a young man with a challenge: "I'm young, gay and Irish. Why are you talking about saffron? If you have that talent – do you not have a responsibility to use it?" Muldoon gently admonished him. "Subject matter is irrelevant. Any subject in the world could be illuminated through the prism of saffron. Or tea, for that matter. Now, a cup of tea is not a simple thing – it carries so much weight of history. Look at all the trouble tea caused in Boston Harbour." It was hard not to admire a man who can turn anything into a metaphor. I was envious that Muldoon seemed to have such a wealth of time and knowledge from which to contemplate his poetic moves, not like the rest of us, snatching poetry late at night after the kids are in bed. But maybe he's just better at contorting time.
The Diversity Debate was anything but, as the panel convened by Paula Morris – Marlon James, Victor Rodger and Stephanie Johnson – tended to agree with each other in what was a raucous and inclusive session. And unlike other sessions at the festival, in which the lack of diversity was noticed and commented on, this audience was diverse. An hour was always going to be too short for other than an introduction to the big topic of diversity (or lack thereof) on our stages, screens and pages. But Morris, the chair, covered her ground confidently: why, in this era, was NZ's portrayal of itself still so white? Why would you back diversity in characters when it's going to be hard to cast?
Rodger: "Diversity is the D-word of the day. But just look at Shortland St. Diversity is on screen but almost totally absent behind the scenes." (A recent report backs him up.) Johnson: "It's well known that even if you write a role for a woman over 35, they'll cast someone younger." Rodger again: "Talent is never an issue – but most don't find a bridge in. There's a lack of role models." James: "We call a lot of things diversity that are not. Diversity is an outcome, not a goal. It's a sign you're doing it right." As well as a lack of diversity backstage, a lack of diverse reviewers was seen as a problem. "They just never get called out (for bias)", Rodger said.
So is it OK to write a character if you're not from that culture? For example, can a non-Maori writer successfully write a Maori character? The answer is unanimously yes, but with caveats. "Here's the litmus test," Morris said. "Would you be comfortable reading your words out in front of a room full of Maori?" In other words, a writer has to be hyper aware of their own biases and how they project that onto characters. It is not enough to write 'diversity' within mainstream comfort levels and expectations, you have to research and consult. James: "There's a 90% chance you're going to fail (the first time – my add) – do it anyway. But do the work."
And finally: how do you make the diversity debate more visible? "I used to have a beer and a whinge with mates," Rodger said. "Now, I'm more likely to have that conversation in public." And James on the fear of saying something unpopular: "I think we have to be bolder about being criticised." But still, not much advice from the panel about how to speak out, in an environment still heavily dependent on 'mainstream' funds and programmers. So, why not ignore the gatekeepers altogether and create content that appeals directly to a culturally diverse audience and their dollars? Start a theatre, start a TV channel? People are already doing it. The panel approved: "Why not? Start small and build up." A great session, one limited only by the brief time frame and inability to continue the conversation. I saw a lot of people there who are not normally present at the various forums and readings already talking about this. Perhaps there's a way to draw them in.
In the last session of the Festival, poet Vincent O'Sullivan, this year's Honoured NZ Writer, continued with the theme of diverse richness. Speaking of NZ literature, he said, "Every writer comes from somewhere and is shaped by somewhere – everything they express is related. We cannot be global, if we live locally." His wry take on the NZ psyche pervades his writing: "The joke goes, you can always tell a New Zealander because if you stand on their foot they'll say sorry." But on the theme of war he became passionate, and serious. "With the writing I've done (opera libretto Brass Poppies and other work) I see it as an opportunity to explore the other point of view – not the stories we're told in the so-called 'celebration' of Gallipoli."
Writers as thinkers. Writers as commentators. Writers as iconoclasts and catalysts. The Auckland Writer's Festival certainly delivered again this year, if the huge and good natured crowds, the litres of coffee, the tons of book sales, and the waves of intellectual energy were anything to go by. Can we keep this kind of passion and debate going through the year? I hope and wish.