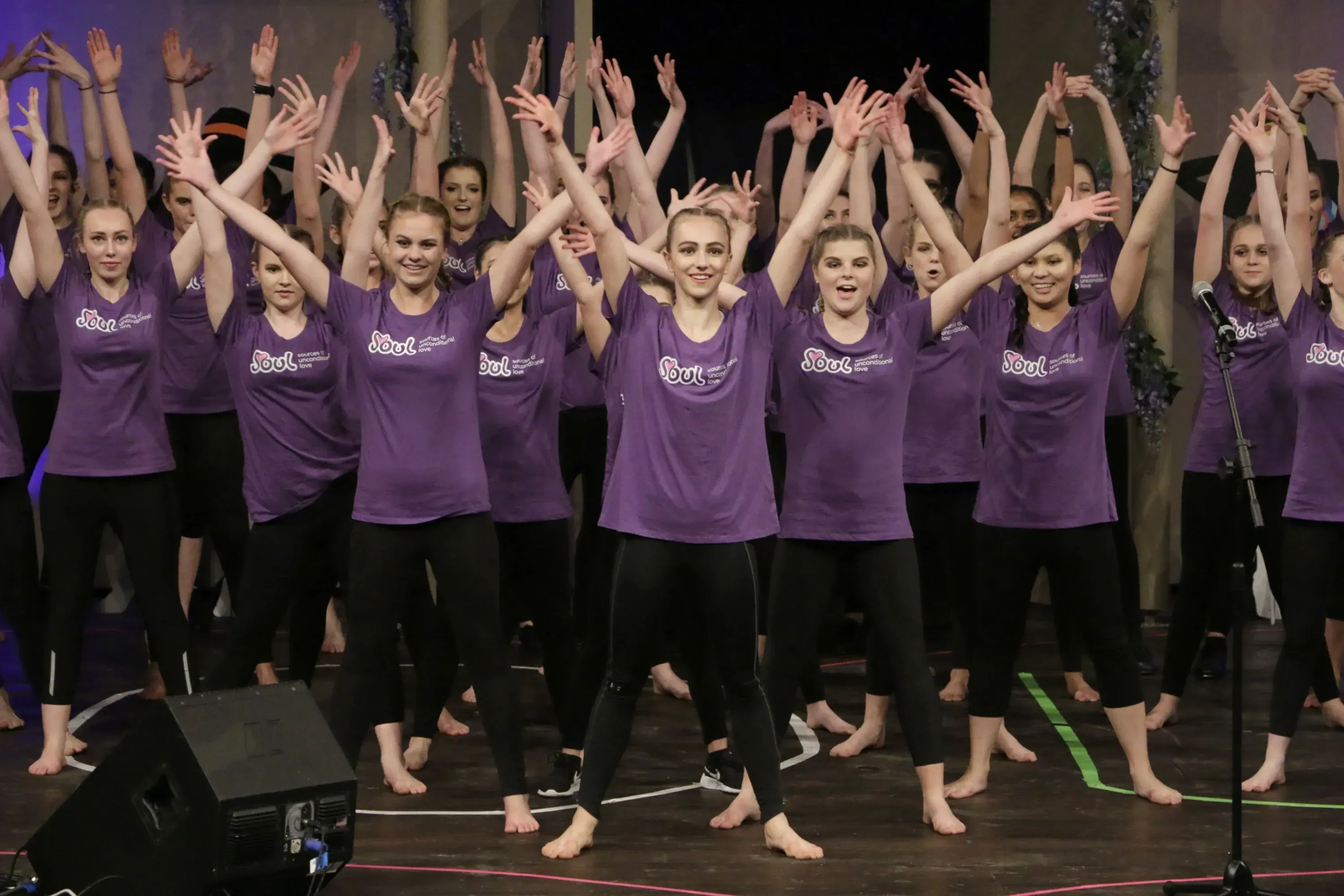 "I should feel comfortable being myself, free to be confident, loud, and smart.", cried 16-year-old Hana Galea of Mount Roskill Grammar, as her voice echoed across the enclosed courtyard.
"Instead, I feel just like a target. My strengths are my bullseye, constantly shot down. My confidence is called bossy. My loudness is called attention seeking. My intelligence is called know-it-all. I'm told to be me, but i'm also told that me is wrong."
Hana is one of 150 high-school students from six different schools who participated in Voice of Our SOUL, held at the Pop-Up Globe on 19th October. Throughout the two-hour performance, each school group – comprised mostly of girls between the ages of 13-17 – performed their own choreographed routines, spoken word pieces, and music that told the stories of their experiences of growing up as women.
Special exclusive performances by Tone 6, classical harpist Olya Ostasheva, and NZ's Got Talent winner Renee Maurice completed the evening. This was the first public event of its kind where Sources of Unconditional Love – or SOUL – has showcased its unique message of positivity and unconditional love.
Sources of Unconditional Love is a charitable trust founded by Julie Bartlett to replace prejudice and discrimination with unconditional love and respect. The organisation's programmes focus around building confidence and strength in young women, who can join an intimate community-based SOULcircle that offers support and real friendship, and they can also participate in a performance group – called a SOULsquad – through their schools and take part in productions like the Voice of Our SOUL event to have their voices heard on a bigger scale.
Julie's name is well-known in the community as a leader in social change. She founded of the award-winning charity, StarJam, where young people with disabilities' lives were transformed through being 'centre-stage" in performances and workshops. Now, with SOUL, Julie's determined to bring that same passion for empowerment by giving teenage girls the opportunity to find their voice and develop their resilience to prejudice.
The first round of SOULsquad programmes drew participants from Mount Roskill Grammar, Carmel College, Whangaparaoa College, Papatoetoe High School, Manurewa High School, and Paraparaumu College. No longer content for men to tell their stories, each group of girls composed, art directed, choreographed and performed their own segment of the Voice of Our SOUL production.
Programme director Andrea Swager was blown away by the breadth and depth of the topics they chose to speak about. "Slut shaming, bullying, rape culture, societal pressure, body issues, feminism – no story was too taboo or too scary to address on stage in front of their parents, teachers, and peers. All our performers demonstrated their emerging resilience to speak their truth in a safe, nurturing and positive environment. I'm so humbled and proud of everything they achieved."
Julie explained that the goal of the Voice of Our SOUL event was created to show young women that their voices are heard, valued, and acknowledged. "Being a woman – especially a teenager – feels like shouting into a void sometimes. These girls are giving a voice to the problems and pain that are part of their everyday lives, and that's a powerful thing. They don't want their daughters to grow up being passive and submissive."
Time for us to put our gender aside
Instead of seeing opposing ideals
We need to stop defining each other
Start defining ourselves by who we are
Will you succeed if most of you is held back
It's your life you choose what you think is right
Do what you love and do a lot of it.
– Arusa, Mount Roskill
Andrea added, "We wanted to show them that someone was listening and create an event where their voices were respected. Some of these girls had never been out of their suburb before. They're the talent, so we treated them like talent. They had full hair and makeup, a catered dinner … we organised buses to make sure they were all able to attend, and kept the majority of tickets between $1-10 so their families could afford to come along and support them."
I watched from my box overlooking the Pop-Up Globe's stage as 150 girls danced, sung, played, acted, rapped, and spoke their way through a journey of discovery and awakening. I couldn't help but note that the venue –a modern structure in steel and scaffold that seeks to recreate the immersive experience of William Shakespeare's Globe Theatre – was perfectly on point. It's part of a worldwide movement to bring to life Shakespeare's work for a modern audience, including inverting theatrical conventions with all-female and mixed casts, and confronting head-on issues of equality in both on and off the stage.
In the 17th century, women were not permitted to perform on stage at the original Globe Theatre – their parts were instead played by men in drag. Shakespeare wrote some of the most vividly drawn women of his era – Juliet, Rosalind, and Lady Macbeth – women with agency and desires of their own, but he was still a male artist, casting male actors and portraying the world through male eyes.
As a writer, the message of SOUL hit particularly close to home. In my industry, women still struggle with inclusion. Many of the most infamous female characters have been penned by men. Madame Bovary, Moll Flanders, Buffy the Vampire Slayer, the aforementioned Lady Macbeth. These are complex, vibrant characters, but they too often reflect a vision that's purely masculine – even Lady Macbeth demanded to be "unsexed" in order to perform her act.
Women also have less of a voice in theatre, music and the arts. From Ancient Greece to right up until the 18th and 19ths centuries, they've been banned from the stage – and even now, only a fraction of Hollywood films and Broadway plays are telling women's stories through their own words.
Voice of Our SOUL wasn't about silencing the voices of accomplished and imaginative male creators. Instead, it's about bringing another voice into the mix, a voice that's only going to get louder and more powerful. It's #ownvoices on a global scale.
And, judging by the excitement and smiling faces as the cast and crew gathered onstage for a joyous finale to Lady Gaga's 'Edge of Glory", it's very much needed.
Will "Voice of Our SOUL" be back for another year? Andrea laughed. "Ask me again after I've had a wine and recovered from tonight! But yes, we're so proud of the girls and everything they've achieved. We'll be back again, bigger, louder and bolder than ever – making sure the next generation of women get the chance to shine and have their voices heard."
Steff Green is the USA Today bestselling author of The Engine Ward series, as well as the Chronicles of the Wraith series (with Lindsey R Loucks). When not writing, you'll find her fishing cat hair out of her teacup or in the mosh pit at a metal show.
Find out more about SOUL on their Facebook page