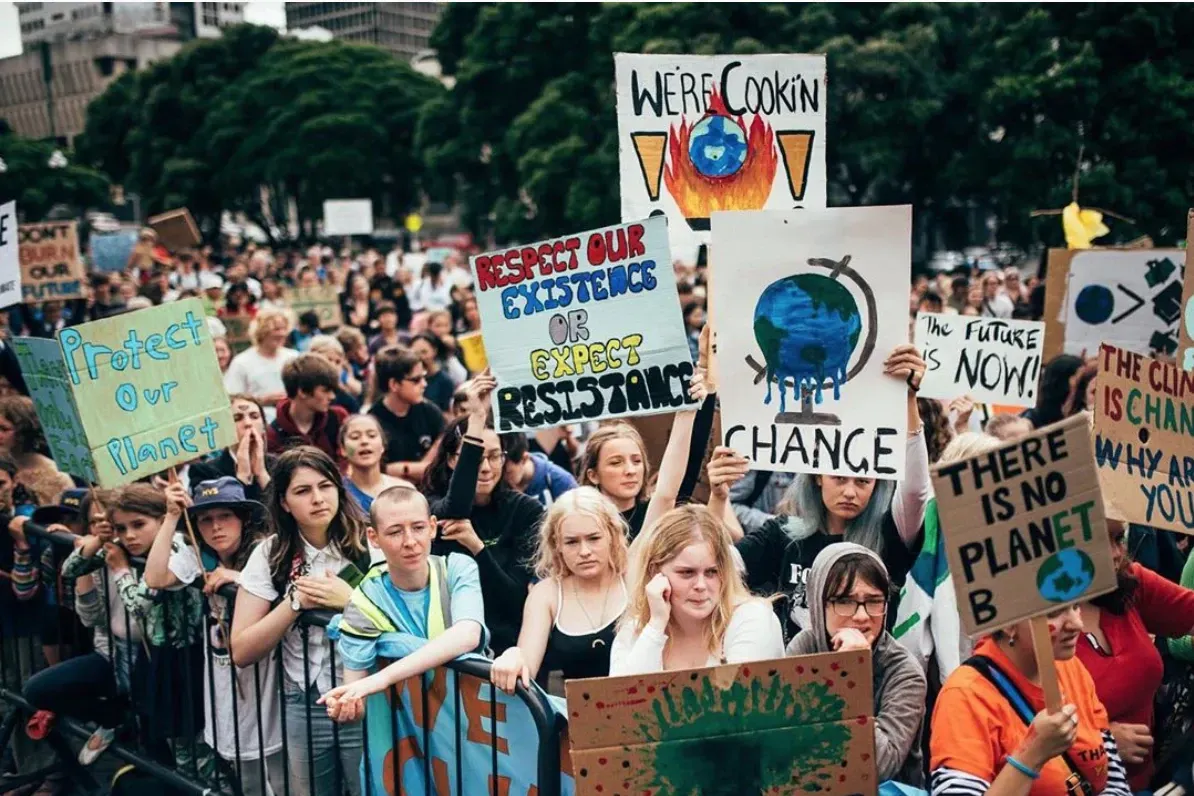 The narrative hasn't changed. It's the voices that have.
For decades, the discussion around climate change that's grown from a murmur to a roar has used the youth as a storytelling proponent; won't somebody think of the children?
But our rangatahi are done waiting - they're doing the thinking and the talking all for themselves.
You only need to ask anyone on the street who is the most famous climate change activist on the planet. A straw poll won't put a scientist or politician as top of the list - 17-year-old Swedish schoolgirl Greta Thunberg has that mantle. Here in Aotearoa, there are a rising number of young artists and activists who are making their own stand for change.
And as the final instalment of the Track Zero and PANNZ Art + Climate Innovation kōrero series put the spotlight on how youth are rising up to protect their futures, amplifying their message through artistic expression.
Eye-opening kōrero
The six-part series has offered an incredible insight into the importance of this kaupapa. It's established the link between arts and science has never been more crucial when it comes to winning the climate change battle.
Whether it's adding humanity to the cold hard facts or walking the talk by finding carbon-neutral ways to enhance your storytelling, arts practitioners have been enlightened with ways they can contribute.
The latest inspiration comes from a quartet who are young in age but their approach to blending their art and creativity with their desire to do their part to make a difference in the climate conversation is wise beyond their years.
Strong voices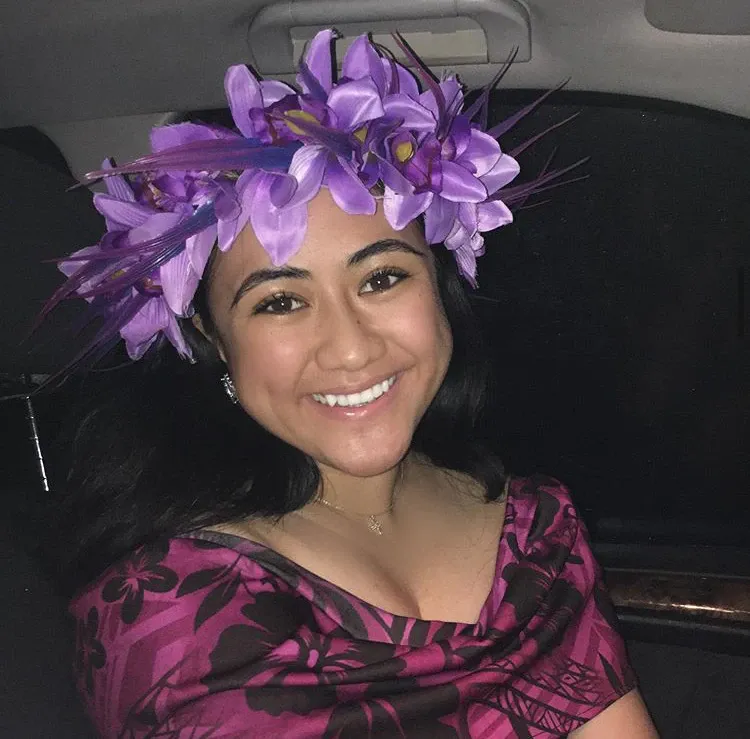 Aigagalefili Fepulea'i Tapua'i.
Young women like Aigagalefili Fepulea'i Tapua'i, the head girl at Aorere College and Chair of 4 Tha Kulture (4TK), a South Auckland Climate Change Activism collective that she helped to co-found).
An award-winning orator and storyteller, Tapua'i is a compelling and vocal advocate for the arts "in making sure the words and knowledge around climate change isn't just scientific, isn't elitist, and doesn't exclude those in communities who are being affected by it directly."
Accessibility to information is matched by the freedom to express their stance in whatever artistic form they like, Tapua'i stating "it wasn't something to be ashamed of if we couldn't express it in scientific words or we couldn't put it all in an essay. If we would rather say it in rap or we would rather go to a strike and pour our artistry on a sign, they're all valid ways of protest."
Fellow panellist Kahu Kutia (Ngāi Tūhoe) shares Tapua'i's sentiments and refuses to be a spectator in what's shaping as the defining battle for her generation.
"This is a kaupapa I'm really willing to fight for as a result of seeing in my own communities the effects of climate change."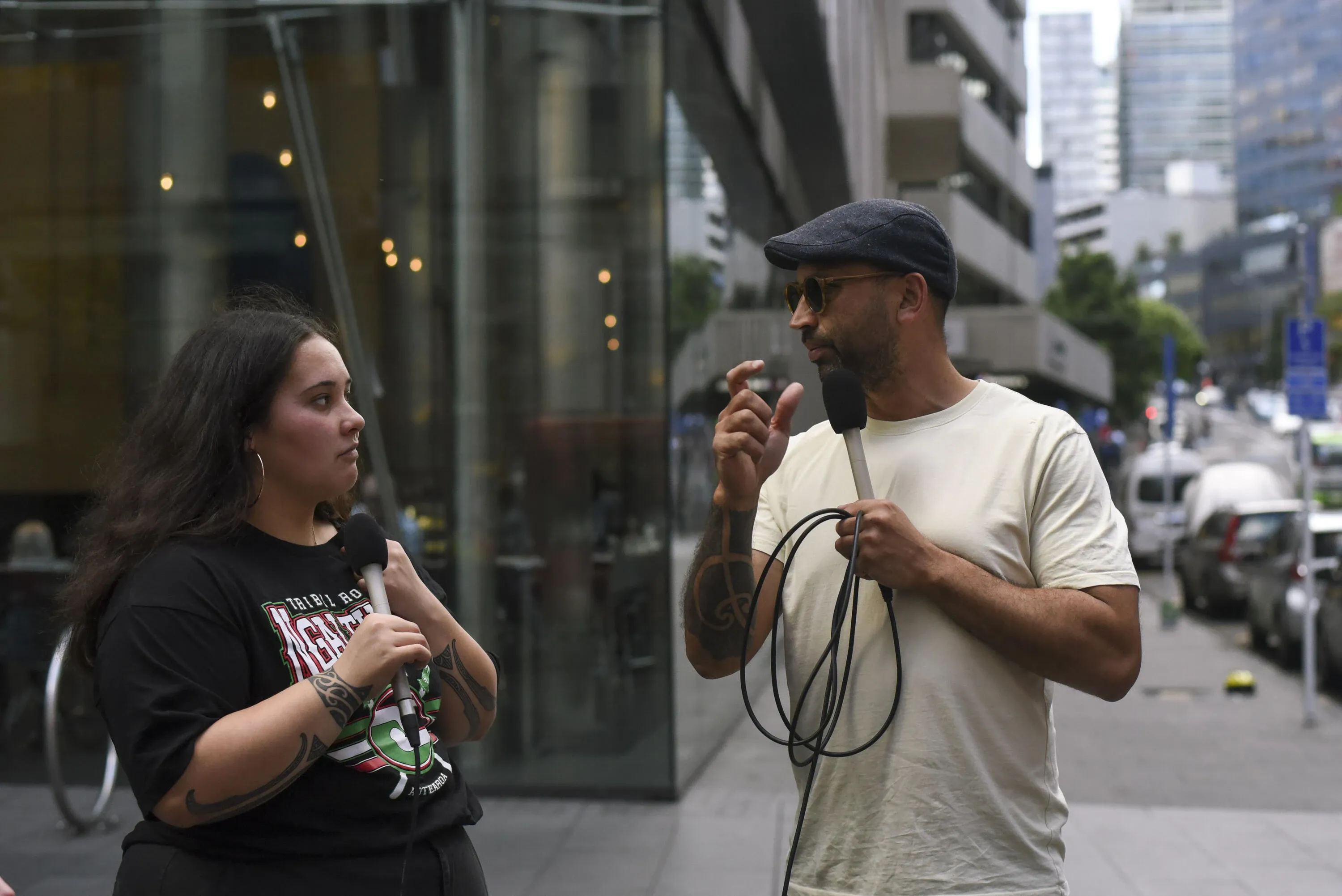 Kahu Kutia (left), host of Voyager Award-winning podcast He Kākano Ahau. Photo: Nicole Hunt.
A passionate writer, activist and acclaimed podcast host, Kutia sees protecting this whenua as part of her DNA.
"Young people understand that we have this burden of a really unjust future that we are going to have to tackle. The people we are always having to bring along on these journeys with us are those in power and those who are less oppressed than ourselves."
Kutia describes the engaged youth's role as needing "to push people to be more radical and more in line with a truly just future. It's about understanding that even if your community is going to be alright, we need to fight for this (climate change) target because our whanaunga in the Pacific are literally going to be losing the land that they come from to the sea."
Bringing art to the streets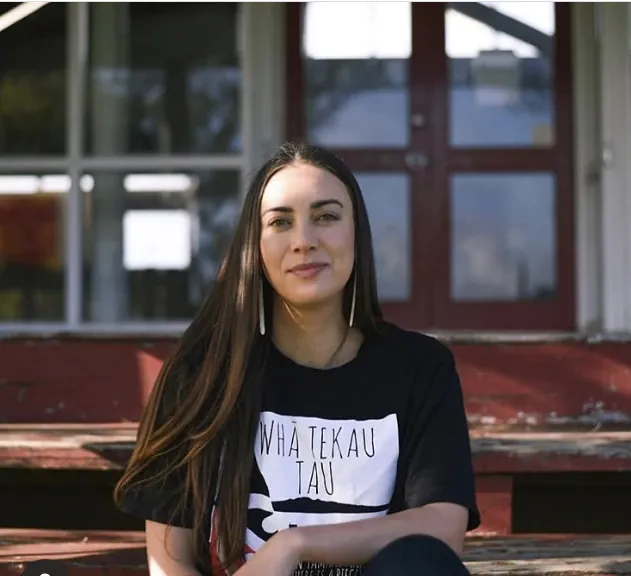 Hana Maihi.
Artist and activator Hana Maihi (Ngāti Whātua/Waikato/Ngāi Te Rangi) is direct in her assessment of the need for rangatahi to insert themselves into the conversation.
"If you're not at the table, then you're on the table and on the menu.
"That's symptomatic of a lot of colonial spaces that are still quite archaic in leaving out the most affected groups and communities that really need to be front and centre in these critical discussions."
Maihi has taken her dedication to the cause here in Aotearoa to the world, as a co-Founder of Te Ara Whatu — the first New Zealand Indigenous, youth-led delegation to the UN Climate Change Conference.
She's also ensuring the message is being passed on visually as well, contributing to powerful murals both locally and internationally. "Realising the power of bringing art to the streets and out of the galleries - making it accessible - has resonated with me recently," she explains. "Bringing to life that rich kōrero and history that lay under our cities, buried underneath the concrete."
Power of protest
In recent times, that concrete that paves our streets has become flooded with young people determined to get their point across. The School Strike for Climate movement has been embraced in New Zealand pre-COVID.
It has opened doors for the likes of Waitaki student and budding artist Tilly King to find her voice on climate change. After linking up with the national strike organisers, King decided to set up a regional chapter of her own.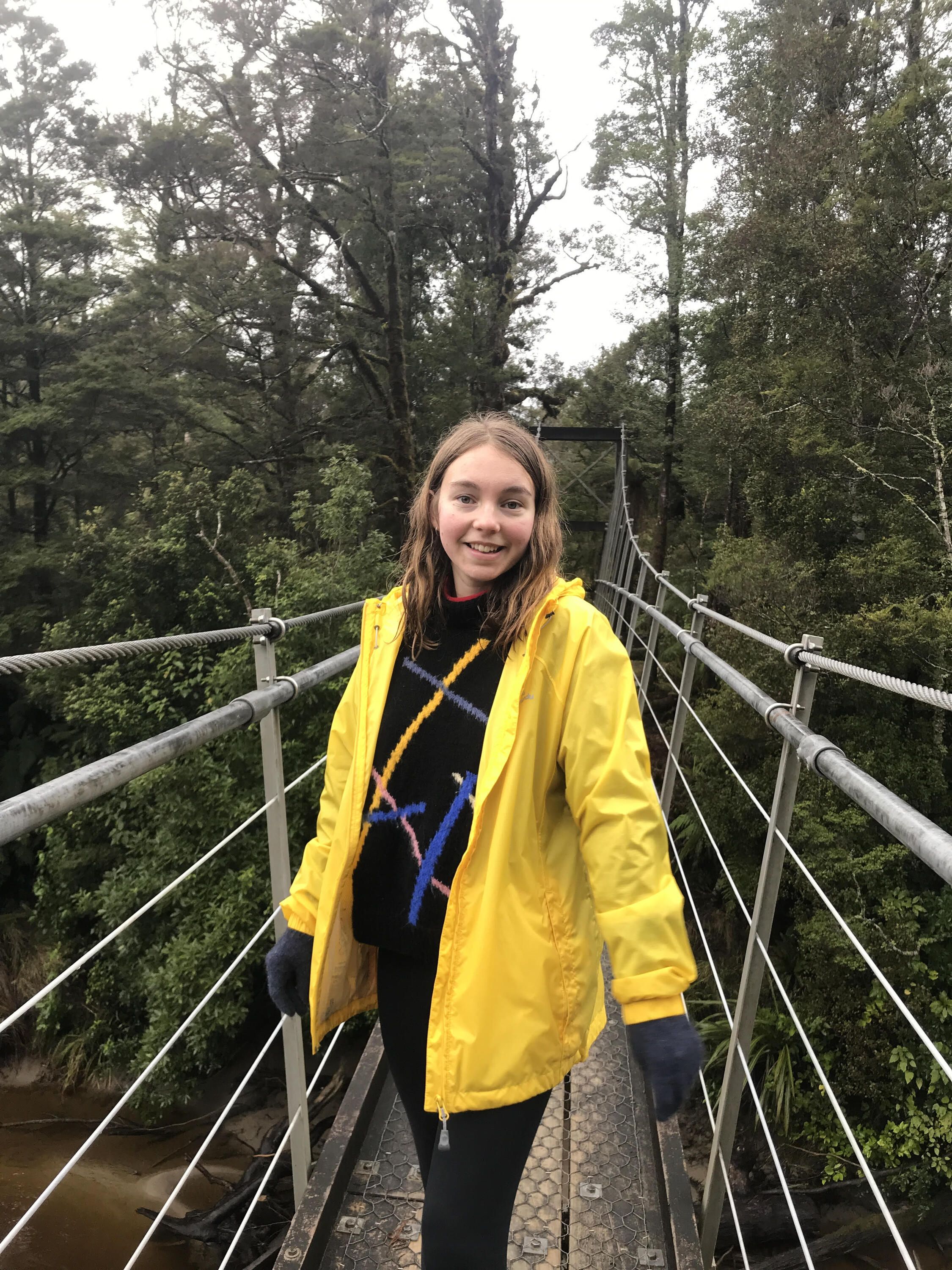 Tilly King.
"Waitaki is quite an agricultural community, quite conservative. There isn't really a space for youth to have their say, we're not really encouraged to speak up and we're not really involved," King explains.
"During lockdown, I was getting quite involved in the national team. Through social media, I made some graphics, got some friends to put them on their Instagram stories and had a few people reach out.
"It's so cool we've created this space where we can have these conversations in a town that's really suppressed our voices. We now have a voice and can have our say."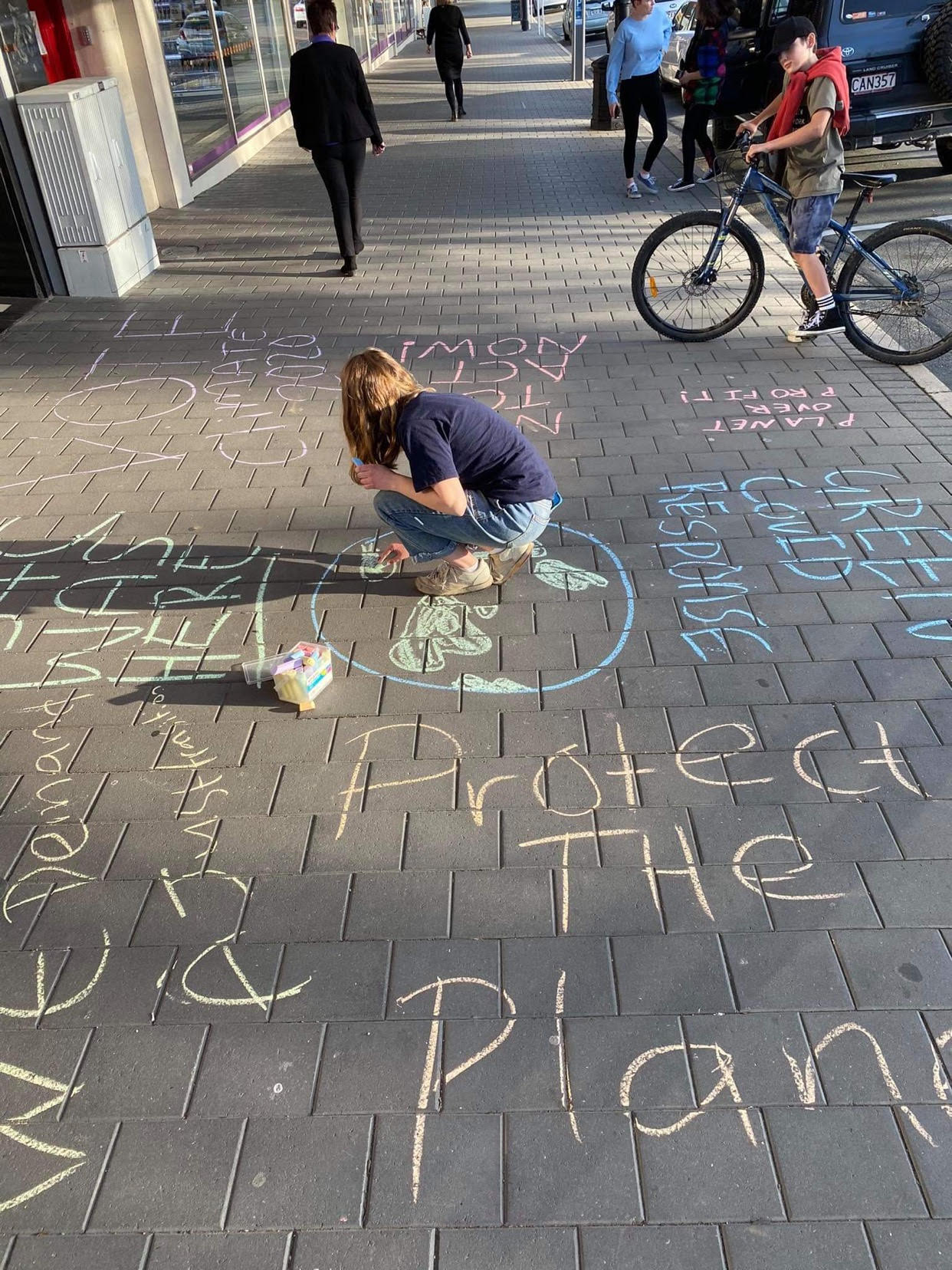 Tilly King taking her message to the street.
Take control of the narrative
That story is just another example of why social media has become the tool of choice for the youth.
King says the combination of social media and design is crucial for starting the dialogue. "What would our strikes be like without the big banners, the big placards?"
Kau Kutia. Photo: Nicole Hunt.
Kutia points to the impact social media has played in the Ihumātao protest "I learn so much every day just by being part of this online social media community."
But she warns of the perils of misinformation, encouraging people to be critical of what you're consuming and who from.
"This (climate change) isn't something that will happen in the future, this is a drastic issue happening right now. So often we need to turn to our own platforms because people aren't telling our stories right and actually shouldn't be telling our stories for us."
Tapua'i sees it as the opportunity to "give us the power to tell our narratives after many years of being fed negative stereotypes and negative representation through mainstream media. It's such a powerful tool to rewriting the ways that we're being perceived."
Youth inspiring academics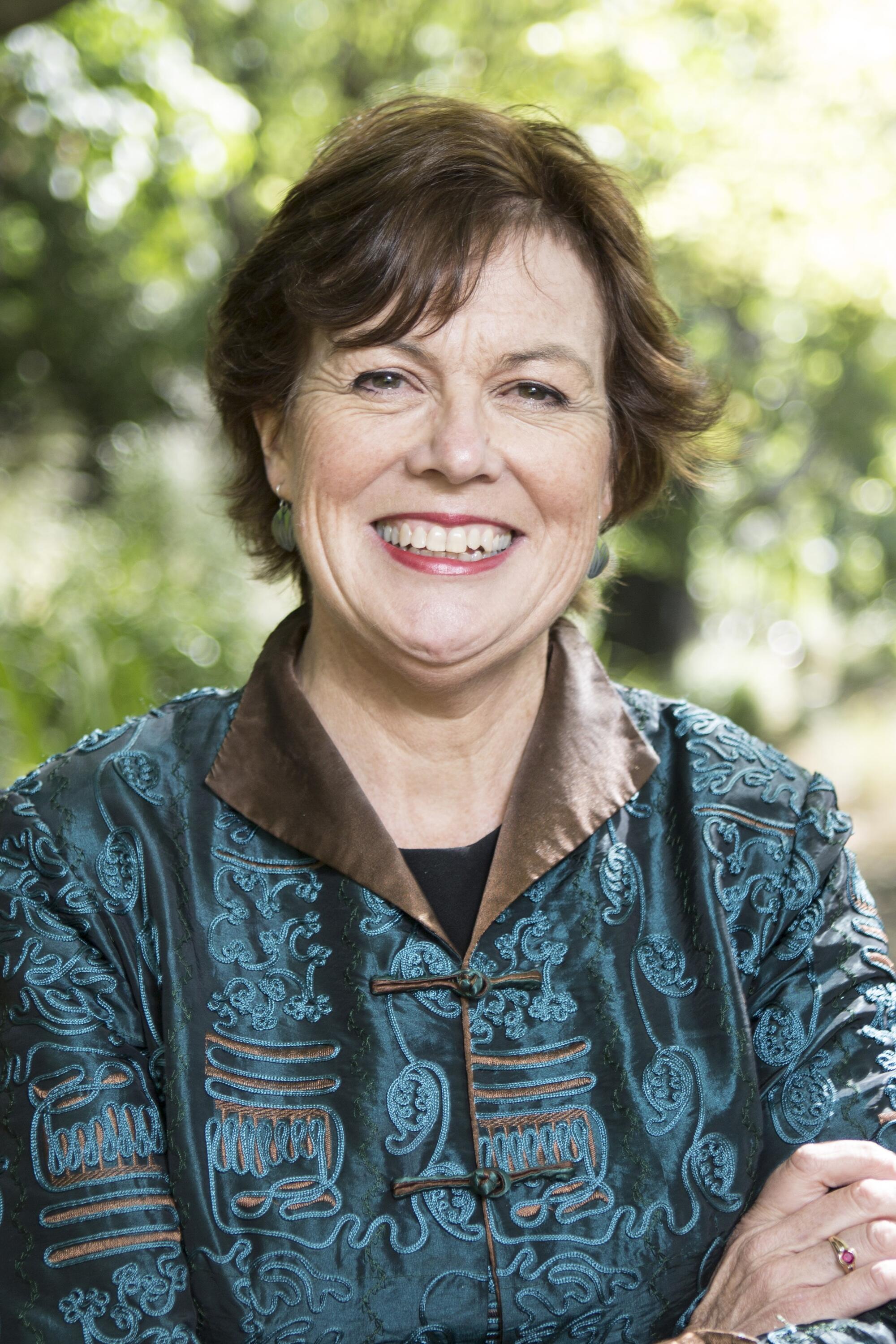 Professor Bronwyn Hayward.
It's sentiments like that that Professor Bronwyn Hayward finds so encouraging.
The Director of Hei Puāwaitanga: Sustainable Development and Civic Imagination Research Group at the University of Canterbury has been researching youth, sustainability and climate change for decades, both here and abroad.
She referred to this kōrero as "the most amazing panel she's been invited on in my career."
Hayward research has found "for many children and young people, their experience of being a citizen is a very silenced imagination. They're very scared, frustrated and angry and separate from the ability to make change."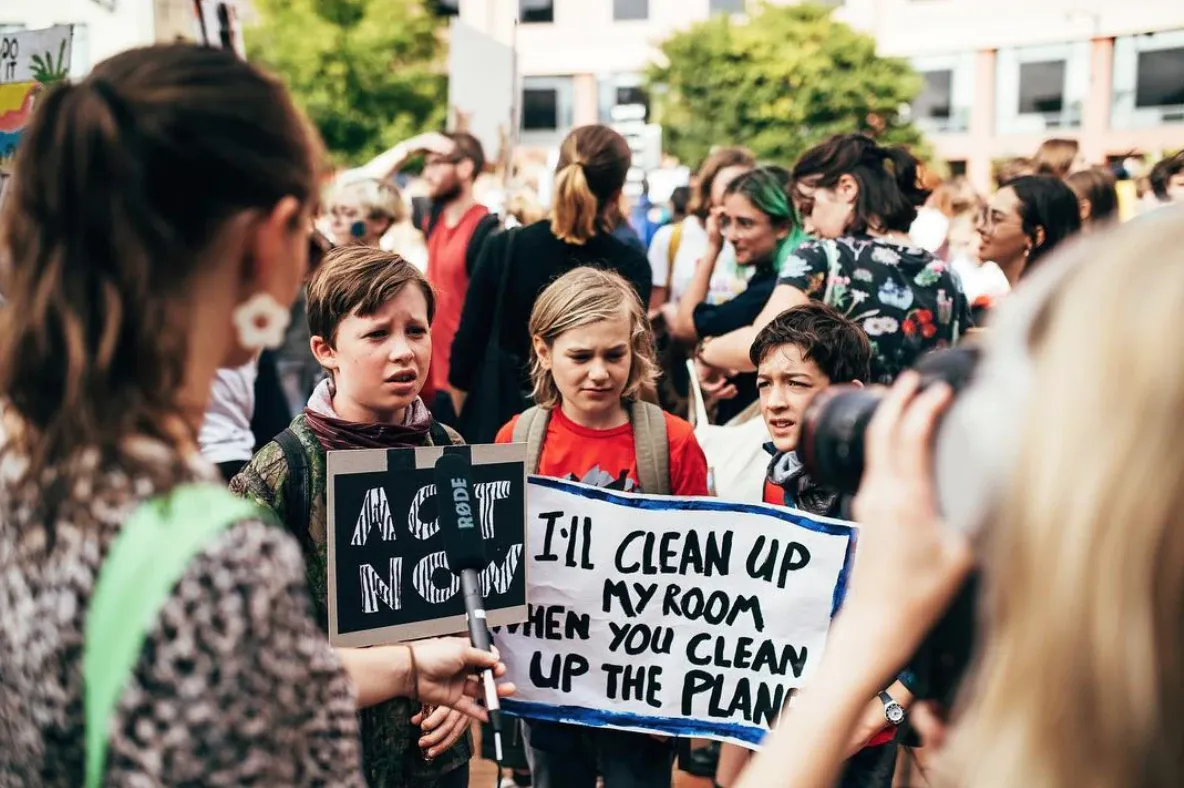 Children are finding their voice and speaking out.
But she notes for some there is "a strong sense of self-transcendence, that they are part of something bigger than themselves. That's vital because the climate problem that we're facing is huge. Art creates this moment, acting with other people creates this moment.
"If climate change was just about carbon, we would have solved the problem years ago. It's a really complicated way of thinking about how we relate to each other.
That's what is powerful about the mahi of all the women (on this panel). In their art, dance and movement and writing, they're bringing all the threads together in a way that people can start to understand it then think 'how can I make a change? I'm incredibly grateful to them."
It's your future
The hard work is far from done but many are hopeful the tide has started to turn.
Like the rest of the panel, Kutia is committed to both the arts and fighting climate change for the long haul. She views both those passions as intertwined.
"You always need to be clear on the future you want to see," she reveals. "You need to imagine your ideal future and the kind of change, the kind of world you want to see. Then you have to ask how am I going to get there, what are the skills I have to offer towards that vision and what's going to be my journey to achieving that."
Maihi says It's about "changing how we talk about climate change, changing how we frame these important kaupapa and topics so it's not just a data overload, that we're not stuck in our heads.
"That's the power and beauty of art. It drops us into our heart and when we're starting to feel with our heart and we remember that we have to care about that plant, that waterway, that ocean - that call to action is very different."
The Arts + Climate Innovation Livestream Kōrero is a partnership between Track Zero, PANNZ and Auckland Live, supported by The Big Idea and Royal Society Te Apārangi. To view this kōrero and other episodes in the series, click here.