Toipoto - Creative Career Development

What is Toipoto?
Toipoto (Closer Together) is our free creative career development programme for the Auckland creative sector. Toipoto has been expertly designed for those starting out or those looking to build momentum in their creative journey. We are driven to help you grow a sustainable and rewarding career in the sector.
You will join The Big Idea community, one that's experienced and motivated to help you connect to the people and pulse of the sector, to give you the tools and tips you need to thrive. This isn't about teaching you how to be creative (you have that covered already) - this is about arming you with the skills that are so often the hardest to acquire.
It doesn't matter what your experience or creative background is - visual or performance artist, event planner, producer, game developer, musician, or the countless other options throughout the sector - our programme embraces all disciplines. We have a team of experts with real-world knowledge and experience, and they are there to help build your career. Toipoto is designed to give you a different way of looking at your mahi.
This programme is for creatives who are looking to find employment or to forge success in self-employment.
The Big Idea exists to encourage artists to turn their big ideas into big successes. Toipoto could be what makes the difference for you.
---
What can Toipoto do for you?
We want to help you thrive and find your place in the creative community. While you work on your next project or to find your ideal job, Toipoto will help position you for success with a programme tailored to your individual needs.
Our programme includes:
Weekly peer-to-peer learning sessions or in-person
Personal Development Plan
Weekly lightning talks
Workshops with industry experts

Access to a Facebook collaboration group
Access to an ever-growing library of resources
Promotional opportunities
Networking
A supportive community
---

Is Toipoto For You?
We would love to hear from you if you are:
Highly motivated

Living in Auckland

A New Zealand resident

Aged between 18-64 years

Have a recognised creative qualification or relevant experience in a creative field

Have time available to commit to the programme

This eligibility includes established creatives and those working in the sector who have been affected by COVID-19, and recent graduates from tertiary education in a creative field looking for a job or self-employment in the creative sector. You may or may not be receiving Work and Income payments.






---

So what next?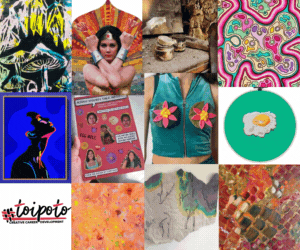 If Toipoto is for you, please fill out the form and hit the submit button below and you'll hear from us soon.
Welook forward to assisting you to build the networks and gain the experience you need to hit the ground running.