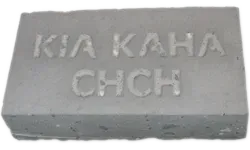 Like most people in Christchurch we are fed up with all the silt, and it appears there is no use for it. But we have come up with the concept of making a memento brick using silt from Hagley Park.
We have engraved KIA KAHA CHCH on the SILTY, which we think is pretty relevant at the moment!
The SILTY can be purchased for $15.00 plus $3.00 P&P, or picked up from Urban Paving for $15.00. We have started this fundraiser only making 1,000 SILTYS, so be in first to get one of the first editions! It will be a great memento of these tough times, - maybe something for your grand children, set it in your new pathway, put it on your mantle piece. You will receive a Certificate of Authenticity with your SILTY.
Proceeds raised from the sale of the SILTY will go to Greening the Rubble and Gap Filler, - two Christchurch organisations who are activating gaps in city streets created by the earthquakes with temporary, creative, people centred projects.