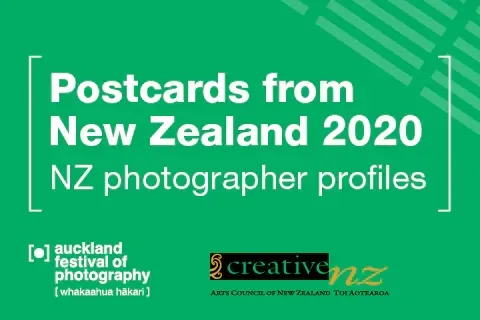 Outdoor, online and on air showtime at Auckland Festival of Photography (May 27-June 15)
The 2020 Auckland Festival of Photography launches in tomorrow with outdoor and online exhibitions, as well as specially curated material for a national audience on YouTube and Freeview TV Channel 200.
AFP 2020 highlights include Nikon Auckland Photo Day on June 6, and new work by Qiane Matata-Sipu, Saynab Muse and Raymond Sagapolutele for AFP's 10th Annual Commission. New Zealand-based photographers will feature exclusively on AFP's You Tube channel with a brand new programme for national audiences, the Postcards From New Zealand series going live on 28 May.
International photographers' work on show includes Werner Bischof's rarely seen USA series (displayed on Quay Street's Queens Wharf fence) and on lightboxes in Freyberg Place, with spirit animals by Judith Crispin on show and Australian-based Kerry Pryor, Helga Salwe, Ilana Rose, Nicola Dracoulis and Shoufay Derz.
Sixteen hours of programming is being made for broadcast on Freeview TV Channel 200 throughout the festival, screening in hour-long one-off TV episodes at 8pm Monday to Saturday, at 11am on Sundays (repeated at 3pm the next day).
"We developed a digital platform for the AFP 2020 programme in response to the current health crisis," says AFP director Julia Durkin. "We were committed to ensuring audiences could access outstanding national and international photography, and activities to engage and interact with."
AFP's YouTube channel is a case in point. "While there's nothing quite like speaking with artists and viewing their works in person, we are living in extraordinary times," says Ms Durkin. "The Festival is confident this year's festival on You Tube will act as a virtual gateway into the lives and works of photographers around the country. We are proud to support and contribute to our arts and cultural sector at this challenging time with Creative New Zealand ERF [emergency relief fund] support."
More than 150 New Zealand photographers' work is presented in 2020's AFP programme. Highlights include: Core and Satellite exhibitions, the Alex Mao Youth Photography award, the 'Talking Culture by Leica' public programme, and AFP's cash award – open to all presenting exhibition artists - with a 'Late Harvest' theme by winesearcher.com
Auckland Festival of Photography (May 27-June 15) on air and online
Freeview TV Channel 200 from May 27 to June 14
Nikon Auckland Photo Day, Saturday 6 June 24-hour photo challenge across Auckland. https://www.youtube.com/watch?v=wr68HG61giI&app=desktop
Festival 2020