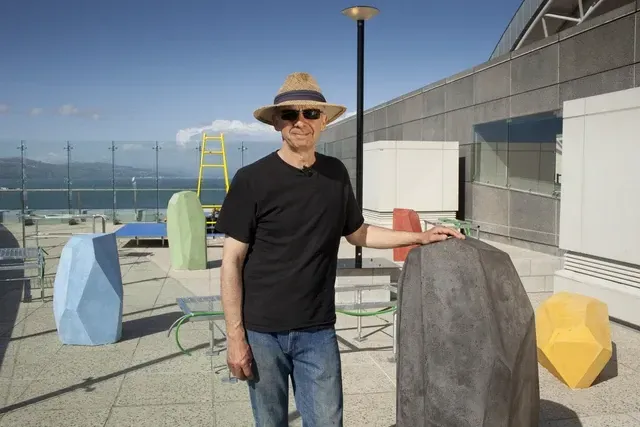 Visual artist, Paul Cullen, passed away on March 13. Paul has been influential in the New Zealand arts sector as both an artist and an educator. His last exhibition, Provisional Arrangements at Two Rooms, Auckland, closed on March 11. This final piece of work was a fitting tribute to a man who had dedicated his life to exploring the visible and the invisible, the stable and the unstable, enticing people to think beyond what they see in front of them. His work explored many forms - including, but not limited to, sculpture, landscape installation, furniture-making and architectural drawing.
Paul Cullen's life as an artist began at 21 when he attended art school in Christchurch as a requirement for his landscape architecture degree. This shifted his view of the world and set him on a path dedicated to sculpture and art. Throughout his life he also studied to receive a Bachelor of Science in Botany and a Doctorate in Fine Art. He incorporated his love of architecture, science and a deeper philosophical element into his work. A particularly striking example of which was captured on video at Waiheke Island. Here you see Paul in a wheelchair, a necessity due to motor neuron disease. Communicating through his ipad, he carefully and generously guides his assistants to create his vision of what he is hoping that the observer will experience upon discovering his sculpture.
"My project is intended, in part at least, to direct attention to the material world and to encourage reflection on the active participation of the forces of vibrant matter and events."
Paul Cullen's friends and colleagues speak of his great sense of humour and the vibrancy in which he approached his life and art. A tribute to him at EyeContact remarks upon his boundless energy for teaching his students at AUT where he was an Associate Professor and Head of the Department of Visual Arts. He had the capacity to creatively support students to move forward with their practice, supporting them and providing opportunities. His influence on his students and the wider artistic community made him a leader in the field, all of which was cut short too soon. He will be greatly missed.
Artist Paul Cullen talks about his work A Garden at the Museum of New Zealand Te Papa Tongarewa, John Hurrell and Andy Thomson tribute to Paul Cullen