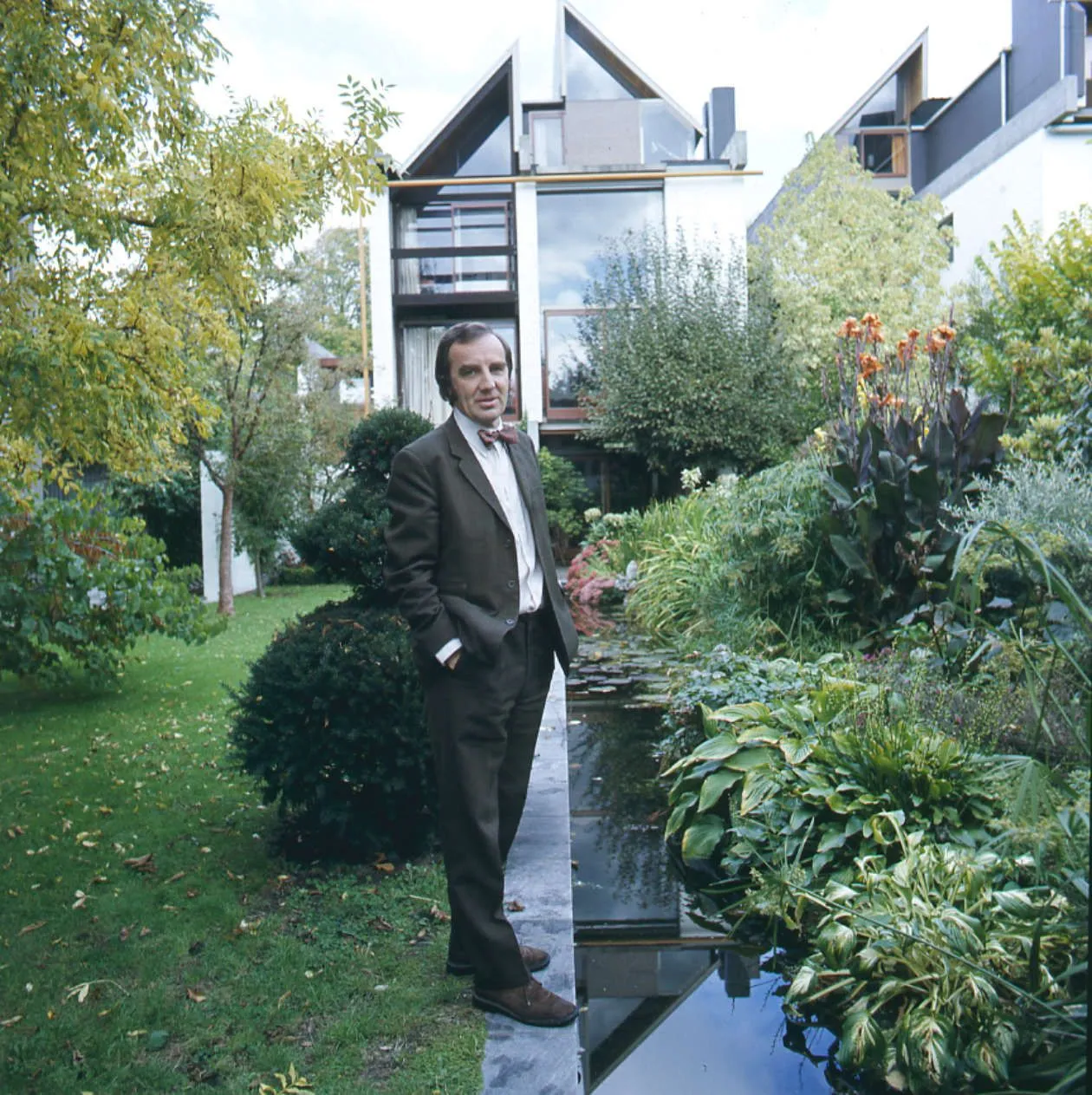 One of the country's true trailblazers is being mourned this week.
The passing of Sir Miles Warren at 93 was announced on Tuesday night, with tributes quickly flowing for his vision, his eye for detail, his generosity, wit and charm.
Sir Miles didn't just use creativity to make a difference, he encouraged other creatives to do the same.
He was the first New Zealander to be knighted for services to architecture, his partnership with Maurice Mahoney producing some of New Zealand's most recognisable buildings, including the Christchurch Town Hall and Wellington's Michael Fowler Centre.
A social media post from the Arts Foundation referred to Sir Miles as "our founding trustee, Arts Foundation icon and doyen of post-war New Zealand architecture."
It continues "the AF team are mostly based in Ōtautahi Christchurch, and Sir Miles' influence on the arts and architecture surrounds us everyday. However, we know his impact and legacy runs so much deeper than that; across Aotearoa, inspiring generations of architects and artists to this day.
"What a magnificent man, and magnificent contribution."
As well as his recognition as an Icon, Sir Miles was also immortalised by sculptor Mark Whyte with a bronze bust as one of 12 local heroes outside the Christchurch Arts Centre back in 2009.
The pairing of Warren and Mahoney spawned a crucially influential imprint on the aesthetics of Christchurch and many other parts of the country, with the company by the same name now employing over 400 people around the country and across the Tasman.
Sir Miles Warren. Photo: Warren and Mahoney.
Current Warren and Mahoney Principal Andrew Barclay - who first started working with the master architect 37 years ago - describes Sir Miles as having "generated a storm of creativity", adding "he has influenced - directly and indirectly – thousands of creative individuals across many decades."
Fellow Principal Peter Marshall points out "Miles was also an artist in his own right. His watercolours, particularly from his travels, were sublime and it was a joy to recently find many of these carefully stored in an upstairs Studio at Ohinetahi."
Bishop's bounty
Gavin Bishop might not be a household name like Margaret Mahy - but on his accolades alone, that should change.
Gavin Bishop. Photo: Martin Hunter.
He's claimed the coveted supreme award at this year's New Zealand Book Awards for Children and Young Adults - named after the iconic Mahy - for an incredible fifth time. No one else has ever achieved that feat, including Mahy herself (who claimed it twice).
Bishop's (Ngāti Pukeko, Ngāti Awa, Ngāti Mahuta, Tainui) talents aren't confined to the words on the page - it's also his third overall win for books he has both written and illustrated.
In fact, his latest success Atua: Māori Gods and Heroes cleaned up at the Awards ceremony held at Wellington college last night. As well as the $7,500 supreme award, Bishop also claimed the Elsie Locke Award for Non-Fiction ($7,500) and the Russell Clark Award for Illustration ($7,500).
The judges have labelled the book as "a taonga for this generation and the next" praised for its sense of magic and the way it validates matauranga and te ao Māori truths.
"Atua is an instant classic, a 'must have' for every Kiwi household and library, that is packaged in stunning production values," said convenor of judges Pauline (Vaeluaga) Smith.
"The book is much more than a list of Gods and legendary heroes – it's a family tree, presented with power and simplicity. The text is never overstated, with the glory of the illustrations as the primary mode of storytelling, rewarding the reader who closely examines them."
While entirely dominant, Bishop wasn't the only winner worth acknowledging.
The Picture Book Award went to Lion Guards the Cake by Wellington's Ruth Paul, Tāmaki Makaurau's Leonie Agnew won the Esther Glen Award for Junior Fiction, with The Memory Thief, Learning to Love Blue by Melbourne-based New Zealander Saradha Koirala was awarded the Young Adult Fiction Award, the Te Kura Pounamu Award for te reo Māori was presented to I Waho, i te Moana, Written by Yvonne Morrison, illustrated by Jenny Cooper and translated by Pānia Papa.
Former TV journalist and presenter Sonya Wilson was acknowledged for her opening foray into novels with the NZSA Best First Book Award for Spark Hunter.
Novel approach to poverty issue
While unlikely to feature in the children's book category, another multi-talented Aotearoa creative is dipping his toes back into the novel world and ready to make another impact.
Dominic Hoey's never one to sit still - his ridiculous list of achievements include being a highly regarded poet, a poetry slam champion and successful battle MC, winning last year's Sunday Star Times Short Story Contest, a champion for the country's youth through creativity, helping countless people build their confidence with his Learn To Write Good programme.
Oh, and you can throw 'talented novelist' into the mix, with his debut book Iceland a NZ best seller that made the long list for the 2018 Ockham Awards.
Tonight (Thursday 11 August) he launches his latest novel Poor People With Money at Auckland's Soap Dancehall at 12 Beresford Square from 6pm with a mix of readings and a DJ.
The book's described as being from the Breaking Bad, Trainspotting, Once Were Warriors and Ozark style of storytelling, it's definitely got high stakes and high tension in the plot that takes a confronting but honest look at life on the poverty line in New Zealand today, with an insight into the fight community that rarely gets discussed in this medium.
And knowing Hoey, a strong smattering of wit can also be expected with the twist and turns.
Hoey told The Lowdown "I've been working on this novel on and off for the last 4 years. It often felt like it would never see the light of day with COVID and various life shit so it's very exciting to get it out into the world.
"I love the form of (novels) because you can explore themes and really figure out what they mean to you if that makes sense.
"It's not autobiographical per say, but it's all communities and worlds that I've been a part of at some point in my life."
You can find a review of Poor People With Money here on RNZ.
Money matters
Creatives are still keen on the concept of a Universal Basic Income (UBI), if the latest survey findings are anything to go by.
The Housing for Artists survey, conducted by Point Chevalier Social Enterprise, drew 563 responses from artists and creatives.
While there are still more detailed findings to come, the early results indicate there is a strong interest in both community housing for artists and creatives (73%) and a UBI for artists and creatives (78%).
The results also illustrate artists and creatives have a lack of financial and housing security, with only one in six (15%) having permanent work in their field. Most survive on contract work, commissions, and casual work. Around half also work outside their creative practice, such as working in hospitality. Around half (47%) say their income has decreased since Covid-19.
Low incomes and poor income stability make securing housing or buying a house challenging for most of those working in the arts and creative industries.
We'll keep you posted on the further reporting of the study and what message will be delivered to officials.
Where to for NZFC?
Conflict of interest - it's an uncomfortable sentence to even look at.
It's something that can be hard to avoid in a country like New Zealand, in industries like film production.
But it can be easy to avoid in the situation that has led to David Strong standing down as Chief Executive of the New Zealand Film Commission (NZFC).
David Strong. Photo: Supplied.
Strong was passionate about his job with NZFC - even more so for The Pilgrim TV project that he's been working on for years that was given development funding from New Zealand On Air at around the same time he was being appointed to the NZFC position.
To be very clear, Strong has never been anything but completely upfront about his work with The Pilgrim - it just so happened two dream opportunities came up for him at the same time. While he may have been a little naive
NZ On Air have made it clear to The Lowdown that they don't see any need to change their processes in the wake of this saga, stating their decision-making processes are robust and independent and as such there was never any potential for David Strong's position to influence the funding decision.
So it could be concluded the fault on this occasion may lie with the NZFC Board for proceeding with the appointment. They had all the details and made the decision to appoint Strong - if that's the case, then hard to blame Strong for accepting those assurances.
An industry insider The Lowdown spoke to suggested that while it's good to be able to move on from this matter - the final results of the independent review into how conflict of interest saga happened in the first place is still crucial.
"When people know or have connections to others in the industry - those types of scenarios you can declare and manage. But you can't have the head of a funding agency actually working on a live project with one of the main production companies when they are also seeing all the proposals and other confidential information of their competitors because of their day job."
There's certainly a level of optimism with Alastair Carruthers coming in as the new NZFC Chair from the start of October.
As for who lands the job as Strong's permanent replacement - Mladen Ivancic continues to operate in the interim - an experienced industry figure hopes the saga doesn't lead to key appointments being complete ring-ins. "I'm certainly not hoping that the end result of all this will be that people with no industry experience get hired for NZFC jobs - that would be a backfire."
How closed this unwanted chapter is all depends on the cliffhanger that is the independent review.
Short and sweet
On the more positive film news front, Director Bala Murali Shingade (above) is a name that should be on your radar.
His powerful Perianayaki cleaned up in the jury prizes at the New Zealand International Film Festival, winning both Best Short Film and the Emerging Talent Award, netting a combined $11,500 as well as joining elite company in the accolade.
The judging panel described Perianayaki as "searingly truthful" and spoke of "Bala Murali Shingade's sensitive direction and authenticity towards the unseen experience of under-represented lives spoke genuinely to the purpose of this (Emerging Talent) award – and compellingly for the nurturing of his talent."
Actor Jeyagowri Sivakumaran was also singled out for a special mention for a "heartbreakingly honest performance".
Still from Perianayaki. Photo: Supplied.
The other prize handed out at the Auckland event was the Spirit of The Civic Award - presented to a filmmaker whose work indicates the possibility of a feature made by them being of the stature and quality to open a Festival at Auckland's The Civic in the future. Filmmaking duo Ben Bryan and Tom Scott (of Avantdale Bowling Club fame) claimed the $4000 prize for Trees.
The Audience choice award will be handed out in Wellington on Sunday at the close of the Festival.
Regeneration Fund update
The Cultural Sector Regeneration Fund has been open for a couple of weeks now - and Manatū Taonga Ministry of Culture and Heritage (MCH) are trying to get as many eligible ideas and projects through the gates as possible.
MCH Deputy Chief Executive Joe Fowler told The Lowdown "the Regeneration Fund is approaching 60 Expressions of Interest already, although we expect the bulk of Expressions to come in at the start of September.
"There are some really strong proposals already that align well with our ambition to find and fund strategic, sector-led initiatives that will have lasting benefits for arts, culture, and heritage in Aotearoa New Zealand.
"Our team is busy on the phones and on Zoom calls, clarifying aspects of the Fund and guiding people through the next stage. Our Regeneration Fund engagement and Q&A sessions have been well-attended with more than 400 people.
"We've added more of these sessions, so I encourage people to register for a session and check out the on-demand information webinar to get a sense of the opportunities of this Fund."
The Q&As last about 45 minutes, with an overview of the Fund and the Expression of Interest process, followed by breakout room question and answer sessions with MCH staff available to field inquiries in small groups.
Registration is important - the first of the sessions is today (Thursday 11 August, 3pm), with Friday 19 August, Monday 22 August and Monday 29 August to come.
Guiding the next wave of Pasifika visual orators
Mundane 'Ofa. Photo: Emily Mafile'o.
Speaking of Expressions of Interest, the door is open for Pasifika photographers to put their name forward for Creative New Zealand's visual storytelling programme.
In its second year, the 12-week programme is open to both Aotearoa-based applicants, and to those based in the Pacific Islands, with ten spots (including artists stipends) open to link up with the VII Academy during September-December.
The purpose is to "develop methodological and practical tools for the research and production of photo essays suitable for publication in an editorial context of international quality."
As well as being led by VII Academy head tutor Christopher Morris – a multi-award-winning photojournalist, Pasifika photography royalty Raymond Sagapolutele has been contracted to help to 'Teu Le Va' (adorn the space) between partners, with a focus on the wellbeing and support of participants.
Expressions of Interest are open now (details here) and close on 26 August.
From surviving to thriving
The flowers continue to grow through the cracks in the concrete that COVID poured all over New Zealand's live performance industry.
The return and positive heralding of events like Tauranga's Escape Writers Festival, the Nelson Fringe Festival and the Auckland Fringe is a sign that people are beginning to dare to dream again.
And we're finding out the 'drastic times, drastic measures' reaction that many produced when international borders were slammed closed are producing some longer-lasting silver linings than expected.
Anne Rodda, Executive Director of the Michael Hill International Violin Competition (MHIVC) Trust certainly felt it with the biennial event stopped in its tracks.
"The pandemic was a boot to the throat of all performing artists, but cruelly, it was the tip top of the profession's musicians that paid the dearest price.
"No longer able to travel for concerts, festivals, study, auditions, and competitions, it was the high-performance musicians that have lost critical years."
That period saw the Whakatipu Music Festival set up for 2021 and 2022, designed to "give back to the community of Queenstown that was adversely affected with the loss of tourists and to New Zealand musicians whose career paths and livelihoods were devastated." It evolved beyond just classical music, with jazz, singer-songwriting, and taonga puoro also featuring.
The same goes for the National String Competition that debuted this year (after a 2021 COVID delay).
Student from Papatoetoe East primary school. Photo: Tironui Music Trust.
And it's been announced that these events will be added to the classical music calendar permanently.
Each event will now happen triennially, respectively, starting with the return of the MHIVC in June 2023, followed by the MHIVC Winner's Tour and National String Competition in 2024, and then the Whakatipu Music Festival in 2025.
As the focus is moving away from just the promotion of violin music, the MHIVC Trust will be renamed The Hill Family Foundation for Art and Music.