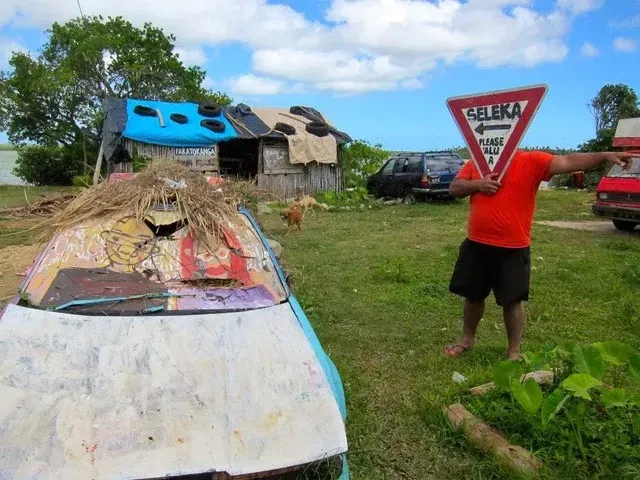 This is the second of a new bulletin on arts news and views in Aotearoa New Zealand, bringing together selections from online media you can follow through the links. For the rationale see the first Lowdown here.
International
For those who think Neil Finn joining Fleetwood Mac (a medley of 'Don't Stop' and 'Don't Dream It's Over'?) or Taika Waititi stating the obvious is important news, we direct you to Auckland's Renaissance woman Coco Solid making multiple art waves in this UK Guardian interview. Talking about the character of contemporary Maori and Pacific Island work, she's also not shy on calling Auckland a volatile city: "it's even critically harsher than some jumbo cities I've worked in. You know when Aucklanders aren't roasting you, you're in the clear and putting out something solid 'cos we are fucking mean!"
Simon Denny and Ella Sutherland have been selected for this year's Gwangju Biennale in South Korea, Asia's oldest biennial of contemporary art, as reported in Artforum. Rather than as is customary the biennale being curated by one or two major curators, Gwangju this year is notable for having been broken into a grouping of exhibitions organized by eleven curators. Sydney based Sutherland is also a graphic designer, her work interested in how to make language visible as she explains in this interview on Design Assembly.
"I am traversing an ancient empire selling strange antipodean fruit": beaming in from the UK via the Spinoff on German book tours, is a great example of screenwriter, novelist and playwright Antony McCarten's razor sharp wit and Gonzo journo style writing. There'll be a great memoir from him one day.
At Eyecontact Scott Hamilton has written a fascinating account of his interaction with Tonga's Seleka Art and Kava Club, and the recent exhibition of well-known New Zealand artists at Small Axe Studio Onehunga, to fundraise after the clubhouse was recently levelled by Cyclone Gita. You can help here.
Institutions
Southland Museum and Art Gallery closed indefinitely with just three days' notice on Thursday 12 April after their board received advice regarding the earthquake strength of their buildings as being less than 34% of the New Building Standard. No decisions have been made on alternative options, nor on options for relocation of staff or the collection. This despite it being reported in February in the Southland Times that the museum would have to be closed for up to 18 months if planned redevelopment went ahead. Southland Times also delivered this damning editorial this week. The institution's closure is a big loss in Southland, where it plays a huge role in the cultural life
Meanwhile it took Australian site Artshub to feature a strong 2018 article with Auckland Art Gallery director Rhana Davenport on recent funding woes and her vision for the gallery (you'll need to sign up to pass the paywall). It's been followed up by a radio interview with Davenport by Lynn Freeman at RNZ.
Not good news from University of Auckland where NZ Herald reporter Simon Collins reports on the plan to close their much treasured libraries in the music, fine arts and architecture schools alongside staff cuts. Radio New Zealand talked to staff here. The Fine Arts Library is considered by many as one of the finest resources of its kind in the Southern Hemisphere and pivotal in many art-lovers lives (I count among them). The Save The Fine Arts Library website gives more background on the proposal and how you can have a say.
On the other side of the coin, congratulations to Professor Deidre Brown who has been appointed Head of Architecture and Planning School at Auckland University (this according to the Indigenous Architecture Facebook group). Wonderful to see a woman who is a noted Maori art and architectural historian and writer head up such an institution. This week engineers and architects have come together to launch The Diversity Agenda a campaign calling for increased representation of women in their professions.
The Physics Room in Christchurch have made innovative institutional collaboration part of their 2018 programme. (Un)conditional sees them partner with public galleries across the South Island, with regional audiences exposed to a bunch of exciting contemporary artists, and work from regional collections brought to Christchurch. (Un)conditional I is at the Physics Room (until 29 April), combining collection items from the Aigantighe Art Gallery in Timaru chosen by the artists showing in those spaces later this year with work by those artists. At The Suter Gallery Nelson (Un)conditional II (until 27 May) has new work by Ayesha Green, Cushla Donaldson, Eve Armstrong, Gabby O'Connor and Rob Hood. An interview with The Physics Room is the latest on the Artists Alliance blog.
Theatre
Former artistic director of Silo Theatre Shane Bosher has won the annual Adam New Zealand Play Award for Everything After "a passionate, intelligent, modern epic grappling with the past and present of the HIV/AIDS epidemic and its effects". Lynn Freeman on RNZ's Standing Room Only interviewed him. Other winners at the Playmarket awards at Circa Theatre were Dr Angie Farrow for Best Play by a Woman Playwright for Before the Birds a community theatre piece set in Palmerston North, Albert Belz and Jason Te Mete sharing Best Play by a Māori Playwright for Little Black Bitch and Cradle Song respectively, and Suli Moa for Best Play by a Pasifika Playwright for Tales of a Princess, the story of a Tongan wedding set against the sinking of the Princess Ashika in 2009 in which 72 people drowned. More details here.
Doing something about reaching new audiences: in Dunedin Fortune Theatre has introduced a Pay What You Can night and a Pay It Forward initiative. Court Theatre in Christchurch implemented Pay What You Can last year. In Dunedin the scheme has been launched with a production also sure to widen audiences, an adaptation of The Iliad starring Michael Hurst with live music from Dunedin music stalwart Shayne P Carter. Its receiving outstanding reviews (this at Theatreview). As seen in this article on the production, Otago Daily Times is a national leader in mainstream video arts journalism.
And on the subject of new audiences, props to Auckland Theatre Company for the smart promos they've made for the three productions in their up and coming youth festival Here and Now.
New Zealand theatre hasn't been known for a high turnover of chief execs in recent years, so its big news that Court Theatre's Philip Aldridge – who led the theatre successfully over the difficult Earthquake transition period to new Addington premises – has moved on after 13 years. He is leaving "to lead the rebirth" of the historic Christchurch Arts Centre on July 2.
13th Floor has ramped up its video interview and review content for Auckland theatre since February (the site best known for founder Marty Duda's support of New Zealand music). Featured are screen interviews on everything from Giselle to From Scratch hosted by former TVNZ presenter Liz Gunn, and bound to appeal to a far different crowd than other arts sites. Here she is with actress Tineke Ann Robson on children's theatre stalwarts Tim Bray Productions upcoming Pippi Longstocking and Jennifer Ward Lealand on Flaxworks' Conversations with Dead Relatives.
Visual Arts
www.xxx.hockey is apparently the cheapest url John Ward Knox could buy. XXX is a new artist run space in Dunedin at 407 Princes Street. It has opened with work by Ed Ritchie, who also showed at Dirt Gallery in Dunedin late last year.
At Dirt Louisa Beatty is currently showing works every Friday night, adding weekly in the materials of glass, plastic, tin and paper. Dirt is also distinctive as young artist space for featuring a shopping cart on its website – a gallery where you can buy online. "Here, in the virtual world," they write, "DIRT is the substrate on which emerging artists and their artworks are invited to accumulate. Given time it will collect and cluster together a gathering of varied aesthetic pursuits."
There are times when audio just doesn't cut it. This Radio New Zealand series hosted by Noelle McCarthy is cloying and awkward, sounding like it should be television but is radio, with odd shifts between interviews. Still you do get to hear the ever interesting Anthony Birt on McCahon here.
Better are the art video resources Te Papa has been producing itself, like this with Tiffany Singh on her new Te Papa commission. We're not holding our breath for one with Michael Parekowhai.
On that opening suite of Te Papa Toi Art exhibitions recommended is this North and South piece on Lisa Walker.
For critical recommendations on shows in Auckland and Wellington a great go-to at the moment is Pantograph Punch's monthly Unmissables. Criticism short, lively and snappy – just like it used to be in the papers.
Two events I'd like to add that I'm coming to late are Mokopopaki in K'Road's energetic programme This Joyous, Chaotic Place: He Waiata Tangi–ā–Tahu
celebrating the life and work of poet and activist Heather McPherson and the women's art movement of the 70s and 80s – a significant capture of an important time. The show only has until 14 April to run but the documentation here is rich.
Finally Wellington collective Occupation Artists put out an open call earlier in the year for public projects by jewellers anywhere in the city over 9-14 April coinciding with the Dowse's symposium Unpacking the Language of Things. With anything going, the result is called No Filter and a map of the 14 sites can be downloaded here.
News is welcomed for future editions of Arts Media Lowdown. Please send to [email protected].
Want more of the lowdown? Check out Mark Amery's first issue of Arts Media Lowdown.