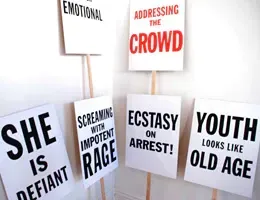 New York artist Gregory Sholette is currently in Wellington on a residency at Enjoy Gallery. Through the work he's been making with local artists, open discussions, and a public seminar this weekend on collaborative art practice, he's providing context and inspiration for artists here, says Mark Amery.
* * *
There are a range of givens about visual art that have come increasingly under attack by younger contemporary artists in recent years. That art is best made, or at least dreamed up, by one individual is one - as Helen Kedgley's current group show of collaborating artists at Pataka makes plain. Another is that art is best in a gallery, and that it ultimately leads to the creation of saleable art objects.
It also seemed a given that art was at its best somehow apolitical. That the more politically engaged and part of the world it was, the less complex and more obvious it was likely to be. No longer. More artists are picking up the challenges left behind from the 1970s. Artists who are comfortable working collectively, and whose art involves actions or temporary work outside the gallery that looks to make us think about the world differently.
Since the late 1970s New York artist Gregory Sholette has been a part of artists' collectives who've challenged all these givens and he has written about collaborative, socially responsive artwork extensively. Currently in Wellington on a residency at Enjoy Gallery, through the work he's been making with local artists, open discussions, and a public seminar this weekend on collaborative art practice, he's providing context and inspiration for artists here.
Sholette is interested in all that lies below the cult of the individual and the object. How art as an activity is the collective creative work that he labels 'creative dark matter', existing beyond the art market, which sees creative ideas communicated beyond their saleable value.
"Recently, this relationship began to radically change," writes Scholette. "Thanks in large part to the spread of digital networks dark matter is getting brighter. The once-hidden archive has split open, its ragged contents are spilling out into view."
Under the title The Wellington Collaboratorium, Enjoy has itself been turned into something of a ragged archival site, spilling out into the streets. Within the Collaboratorium (a title that emphasises it as a free laboratory for experiment rather than necessarily finished artwork) Sholette's The Imaginary Archive is an installation of books, brochures, and pamphlets brought together from collaborators in New Zealand and overseas that highlights alternate histories and imaginary worlds, as well as documenting a myriad of art collective's work. Like a digital web it sprawls out radically in all sorts of disorientating directions, Sholette resisting playing editor (though ironically he remains selector and initiator). And less the project end up being experienced only by artists, it has invaded displays in the city library and Quilters and Aunty Bees second hand bookshops.
At a time when the digital world also threatens to leave holes in our cultural memory the project highlights the value of alternative publishing, and the need for alternate views of society to be presented in public spaces. Libraries and second hand bookshops as trading spaces remain key. In the Quilters window are a range of selected books from the shelves mixed up with some made up by artists. Prominently displayed for example is a set of pages from a file that proports to be Lenin's promotion of avant-garde art (rather than the rigid realism he was known for). Such tactics ask us to question received knowledge, and be open to points of view we may be less familiar with. There's a lovely playful construction of narratives through the juxtaposition of different books referencing our history of collective action, from Tim Shadbolt's Bullshit and Jellybeans to a book about New Zealand coastlines.
By the time I got to the windows of Aunty Bees my political antenna were so raised it became difficult to discern whether the books had been rearranged or not. Inside the shop Sholette (also a modelmaker) had also made a sculptural insertion into a book - resembling a wormhole-like archaeological excavation complete with ladder into a copy of New Zealand Dramatic Landscapes, an ingenious symbol for encouraging an unearthing of our buried past.
At Enjoy Sholette with local artist Murray Hewitt has constructed a drying-rack shed like structure from which to hang pamphlets. Rather neatly the roof of the structure follows the design of an existing fire escape outside the window, as if encouraging us to escape the gallery out into the world.
The project's weakness is its brief, quiet bookish nature, with its short length likely to limit its impact. Unusually unruly, it is effective however in making you consider how constructed our view of the world is by who creates the signs or sets a shop window. It sets the challenge for Enjoy to further grow its activities outside its own gallery doors.
The Wellington Collaboratorium Seminar, 25-27 June, Victoria University College of Design, register online.

The Imaginary Archive, until 27 June, Enjoy Gallery and various locations