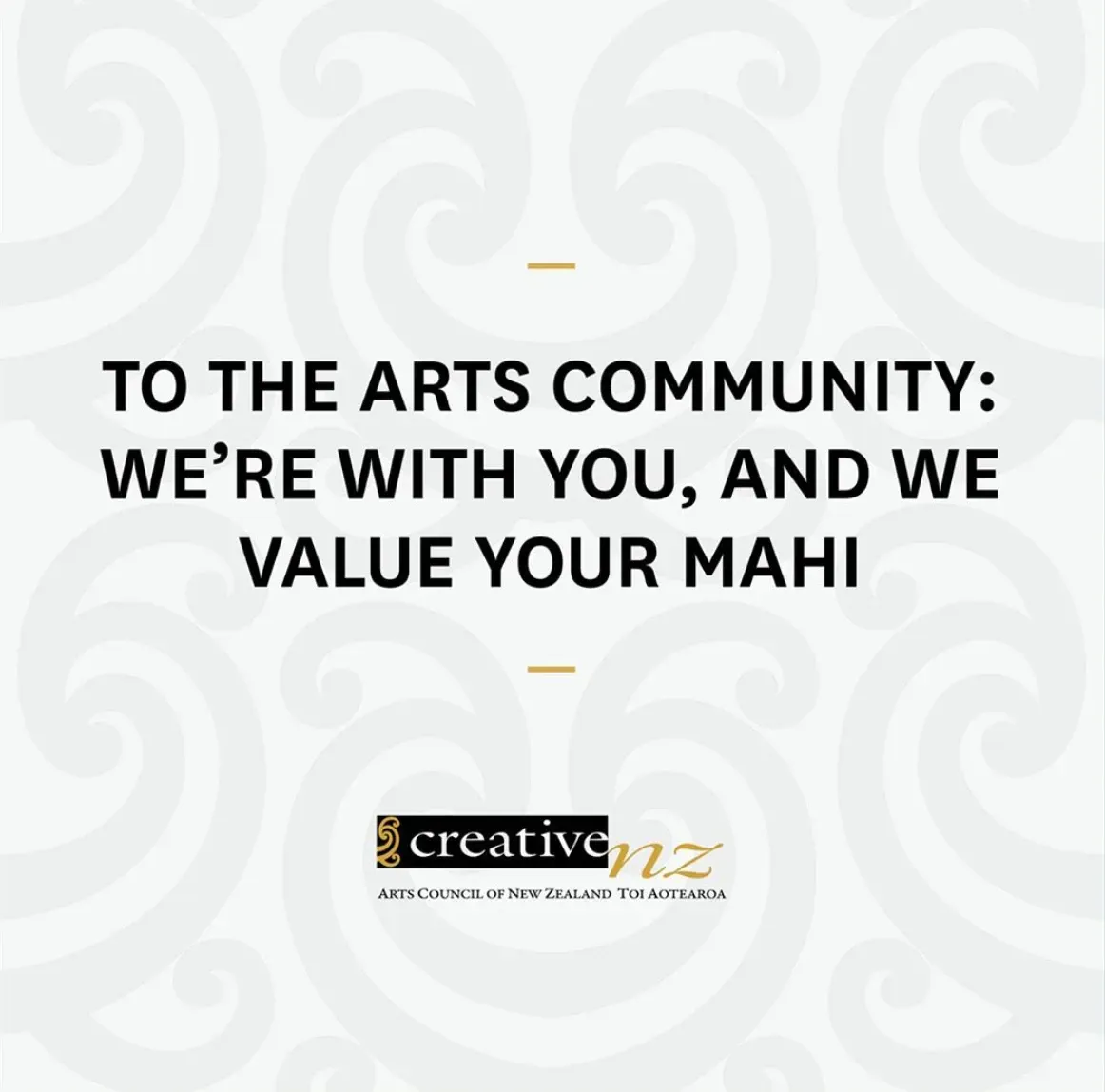 Cheap jibes
It must be election time.
That's the only excuse for the money and time being expended by activist group The Taxpayer's Union on a 'Dirty Politics' style Twitter campaign criticising the government for its funding through Creative New Zealand of varied arts grants.
As they write here, the group is questioning the value of the Arts Continuity Grant. Given these grants are not for things any different from what CNZs panels of assessors would usually fund - who know arts excellence from knowledge in their fields - it's below the belt, infantile behaviour, insulting to many.
Some examples tweeted are designed as comedy clickbait without any responsible research into the subject of the taunts. Their picking out of 26 grants, is in its selection borderline old-fashioned racist, sexist, homophobic schoolyard bullying.
It's further showed up in an unconsidered way in media prepared to give them a leg up - Sean Plunket briefly on Magic Talk and a quick op-ed from Duncan Garner on Newshub (the latter, inconsistently, agreeing for the need for the fund and some of the decisions made, while at the same time criticising it).
The rub for many a social media commentator, was that the Taxpayer's Union got this year's wage subsidy to expend time on belittling professional artists. Further, that this campaign has had the reverse effect than intended - it has highlighted the diversity of interesting work CNZ is funding right now.
Indeed, Creative New Zealand have taken the rare step of issuing a statement in support of artists in response. Government agencies aren't known for such direct empathetic comms action. "We're really shocked and disappointed at recent low blow targeting of artists we've funded," they wrote on Tuesday afternoon. "We stand by them and our decisions. We don't condone attacks on the arts whānau, or anyone for that matter. To the arts community and supporters: We're with you, and we value your mahi. We'll keep on doing the work we're mandated to do, by the people of New Zealand, through an Act of Parliament."
But let's also be transparent, and understand what this campaign is feeding: it is authored by their campaign manager Louis Houlbrooke, a former press campaigner for David Seymour of ACT (which itself stands for the Association of Consumers and Taxpayers). ACT would make no secret of their interest in doing away with funding for the arts. Their only stated arts policy is to abolish subsidies for the film industry.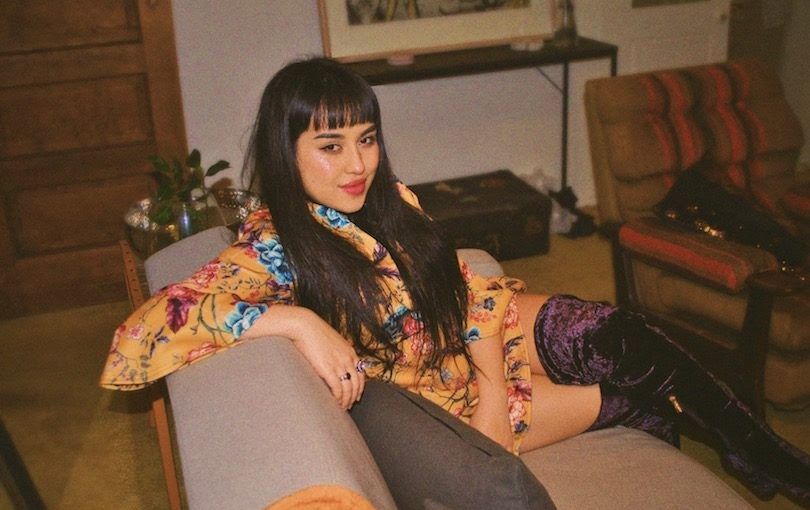 Tayi Tibble.
Small research by this group would have shown their list includes a national award-winning poet (Tayi Tibble), one of our most praised new novelists (Eamonn Marra), two of our most internationally acclaimed visual artists (Jess Johnston and Kate Newby) and a beloved musical group (Fat Freddy's Drop, whose entire Northern Hemisphere tour that they rely on for their survival, was cancelled due to COVID). That this group thinks it's a waste of money to design new Māori typefaces for print and digital media, clearly explains it has a very different worldview from my own.
Timely debate
It's been a month of forums and debates. No wonder that the ACT Party did not appear as part of the Screen Industry Election Forum run live by Film Auckland earlier this month, nor in last week's Election Forum on the arts organised by Auckland arts agency Te Taumata Toi-a-Iwi.
That last forum has offered a crucial insight into the arts policies of Labour, the Greens and National. This is must-see for anyone involved in the arts or creative sector before you cast your vote at the general election. I've put together a comprehensive review and tackled the meatiest of the topics here on The Big Idea.
Labour's lack of arts policy didn't come out of that forum looking good, while some key issues were missing.
One other takeout from that forum was the confirmation that, whether we are led in the majority by Labour or National for the next three years, there will be no u-turn on the significant $175 million recovery package the Ministry of Culture and Heritage are poised to drop.
The forum also got an excellent summary on Stuff, and on The Spinoff.
As for the Screen Industry Forum - which had the same players plus Jenny Marcroft of New Zealand First - I haven't seen a report online yet. Graham Dunster of Auckland Actors, however, commented on Instagram: "All you need to know is that the Greens and Labour will pass the Screen Industry Workers legislation if back in charge after the election but National won't. 'Nuff said."
Not just ticking boxes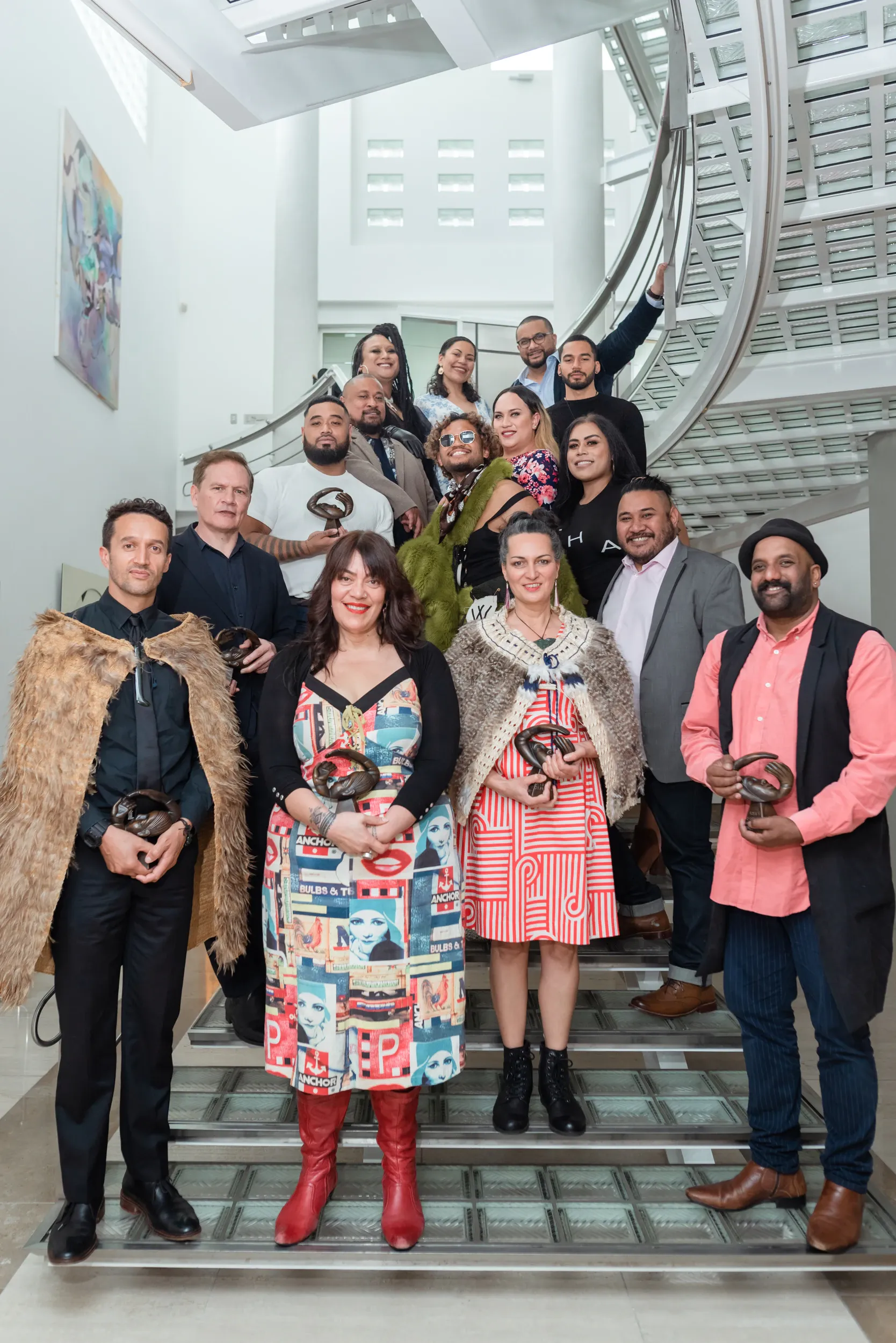 2020 Arts Foundation Laureates.
"I'm thrilled that the Laureates are a clean sweep of people of colour and not in any kind of tick boxy way," says new Arts Foundation Laureate Tusiata Avia in this article on The Big Idea with past and present laureates.
"Tick boxes do my head in, but we got [the Laureates] because of our art practice. We often get 'oh you only got that award because you tick the box'. As artists of colour, we all worry that's why we are getting an award and it's a horrible, nasty undermining thing that we can digest. But [with these awards] I was really thrilled – we are mainstream."
It is, as Garth Gallaway says, a great time to be announcing a suite of seven new laureates to the alumni of 100, who each receive $25,000. Crossing the arts disciplines, the laureates are Avia, Shayne Carter, Ahilan Karunaharan, Yuki Kihara, Moss Te Ururangi Patterson, Ariana Tikao and, the first ever collective to receive a laureate award FAFSWAG. And yes, Avia notes what is not often noted, Carter is Māori. Check here for great wee videos with each.
What is less acknowledged and deserves attention is the remarkable philanthropy behind the laureates, which has been the Foundation's key mission to encourage for over 20 years. Applause then for these seven laureate award patrons Jillian Friedlander, My Art, Sir Roger Hall, Theresa Gattung, and Adrian Burr and his late partner Peter Tatham.
Plenty of media to choose from on this - the Laureates are an annual good news day for the arts. The NZ Herald asked six of the laureates what inspired them growing up (paywalled), FAFSWAG were featured on Seven Sharp, RNZ's Saturday Morning talked to Ariane Tikao about taonga pūoro, and Standing Room Only to Moss Te Ururangi Patterson.
Meanwhile in Southland, the annual ILT Art Award has been won by 'botanical fibre artist' Lesa Hepburn, who took inspiration for her winning artwork from the 'ghost nets' (lost fishing nets) that wash up on Southland's beaches.
A sad loss to contemporary art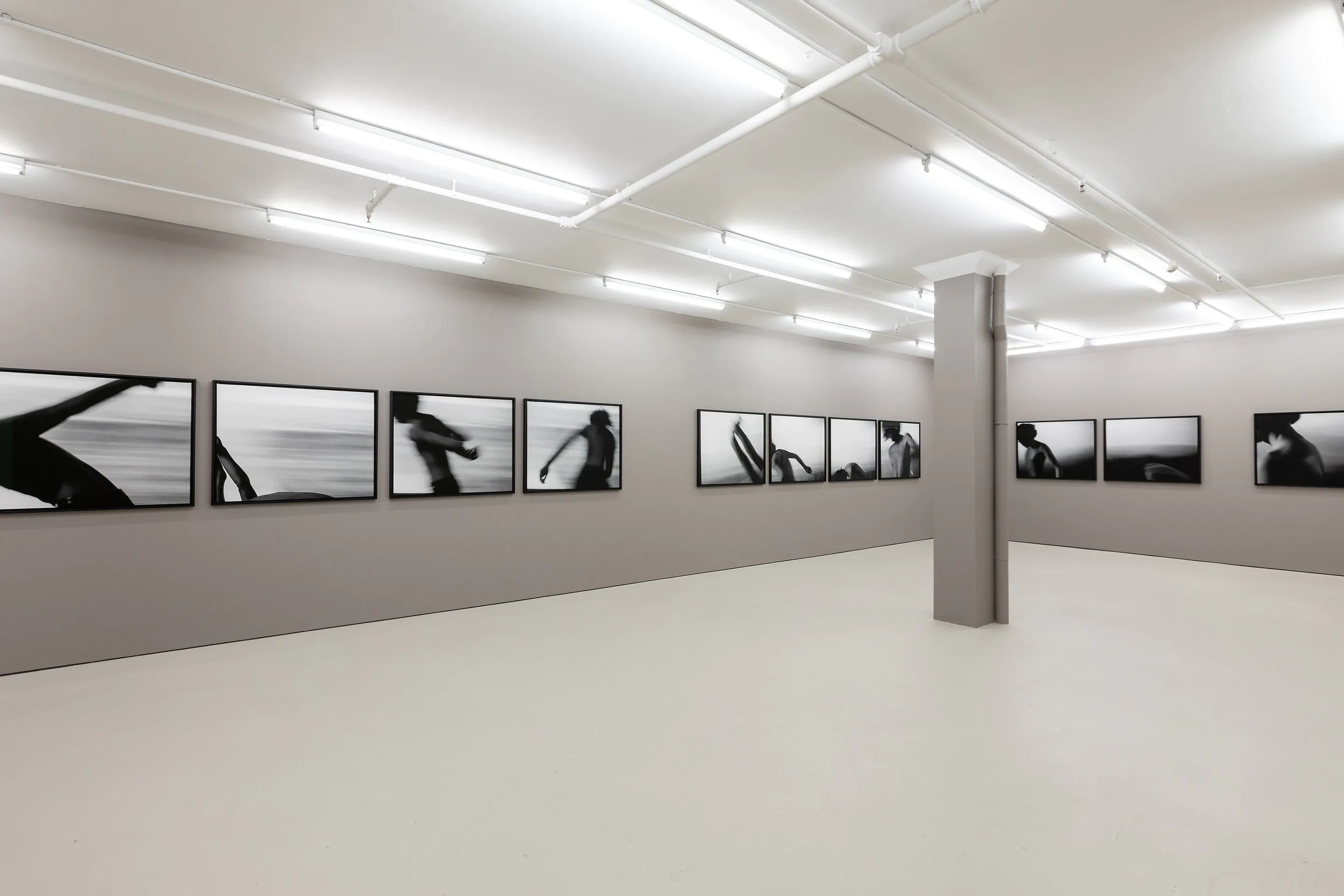 Shannon Te Ao, Mā te wā, 2020, installation view, Mossman, Wellington. Photo: Harry Culy.
A significant blow this month is the announcement that leading New Zealand gallery Mossman in Wellington is to close, just a year after a partnership split that saw the end of Hopkinson Mossman (which began in Auckland in 2010).
Mossman, like its predecessor, was distinctive for its representation of New Zealand artists of international excellence, many with strong careers based overseas. Not an easy time then, but I understand the gallery has closed principally for whānau reasons. The gallery closes at the end of Shannon Te Ao's beautiful looking exhibition (pictured), Mā te wā, on 10 October.
"We have been honoured to play a part in growing the visibility of critical contemporary art practices both in New Zealand and abroad, and we cherish what we have built and nurtured in this short amount of time," writes Danae Mossman in a letter to supporters.
Slipped away
Sad to learn over the weekend of the death of Max Merritt, a great New Zealand rock and soul leader, who passed away in Los Angeles, aged 79.
Tributes came in across the media in New Zealand, but I particularly appreciated the substantial obituary from legendary music historian John Dix published by Audioculture for RNZ. Merritt's career stretched right back to the early rock and roll days of the late '50s, through the '60s as a hitmaker with The Meteors in Australasia and onto LA and his '70s hit 'Slipping Away'.
A river of shared artist love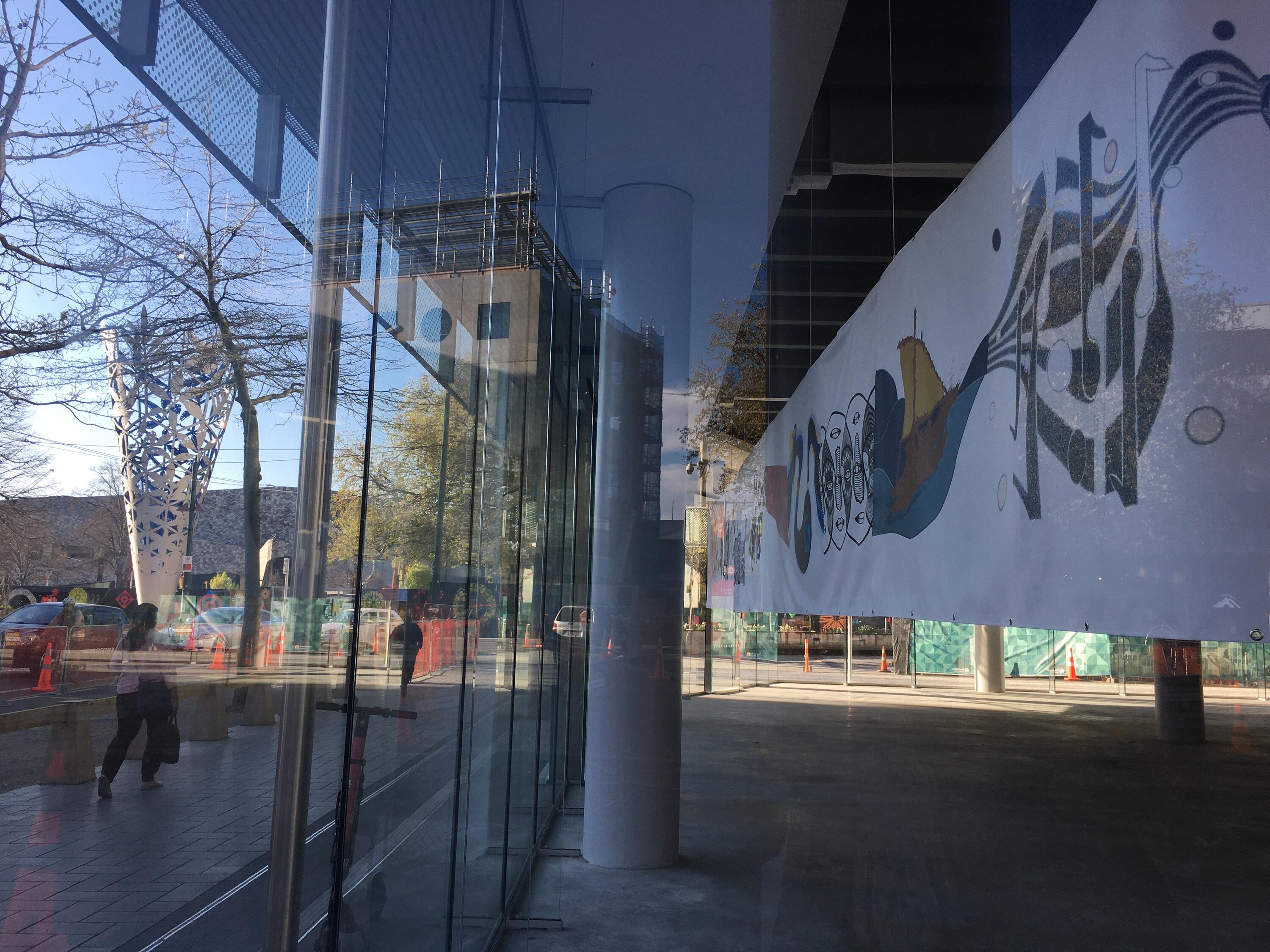 Shared Lines: Pūtahitangai, Cathedral Square. Photo: Mark Amery.
In Christchurch, a gargantuan 70-metre long 'river' of an artwork is turning heads. Pūtahitanga, featuring sixty artists from around New Zealand's regions, has been installed, abutted 'exquisite corpse' style as one long river digital drawing in the foyer of the new Spark building in Cathedral Square. It's there till Christmas. The work is part of the Shared Lines project and will also feature in a nationwide digital billboard campaign throughout October 2020, complimenting an online exhibition of the stream works which looks great on both smartphone and desktop. The original works have yet to be shown. Gathering an open community of artists just out of lockdown, the work celebrates new ways artists can work together in light of COVID-19.
Shared Lines is an apt literal descriptor for a large shared artist project, but it originates in the wider platform's work in Japan, Christchurch, Wellington and Kaikoura to see artists across these places share experiences and contribute to discussion about the role of artists in emergency response. Shared Lines, being across fault lines and the line we share - the ring of fire.
Also in Christchurch, long-running public art commissioner and public art festival Scape has changed its shape to match 'the new normal'. Rather than a gathered six week festival programme, it has a staggered release of new works over a three month period, beginning this Saturday, 3 October. Lynn Freeman spoke to Jamie Hanton, new Scape Managing Curator on RNZ's Standing Room Only. Scape executive director Deborah McCormick told The Press the event was scaled back because of a fall in sponsorship money and COVID-19 border controls making it difficult to bring in artists and sculptures from overseas. She says they have taken "a really conservative" view, choosing to halve their budget and work only with New Zealand artists. Natasha Matila-Smith, 'Frank, Love and the apocalypse,' 2020. Image courtesy of the artist and SCAPE Public Art.
The Scape programme has new work by a range of outstanding artists, starting around the city with Dane Mitchell, Martin Awa Clarke Langdon and Natasha Matila-Smith - pictured is a billboard from Matila-Smith's Frank, Love and the apocalypse 2020 which is on Hagley Park billboards and as a digital presentation at Christchurch and Nelson Airports.
Also in Christchurch, a new scheme led by Reuben Woods of street art company Watch This Space has seen 11 large murals around the city illuminated by solar-powered lights at night. It will be interesting to see if the initiative (partially funded by Christchurch City Council) is picked up elsewhere in New Zealand. Woods writes on the process of getting this going, with images of all the works on his street art blog.
The power of words
I am not only liking that The Guardian publishes a poem of the week but that they also discuss those poems down stanza by stanza and consider them critically. And what's not to like about this week - it's a beautiful new Bill Manhire poem, 'Huia'.
Tupuranga, a journal of new writing that started up last year, has just put its second issue out online. For Lua: A Whole New World, ten kaituhi (writers) paired with mentors for three months. ​I'm looking forward to reading what looks like a powerful line-up in a timely initiative. ​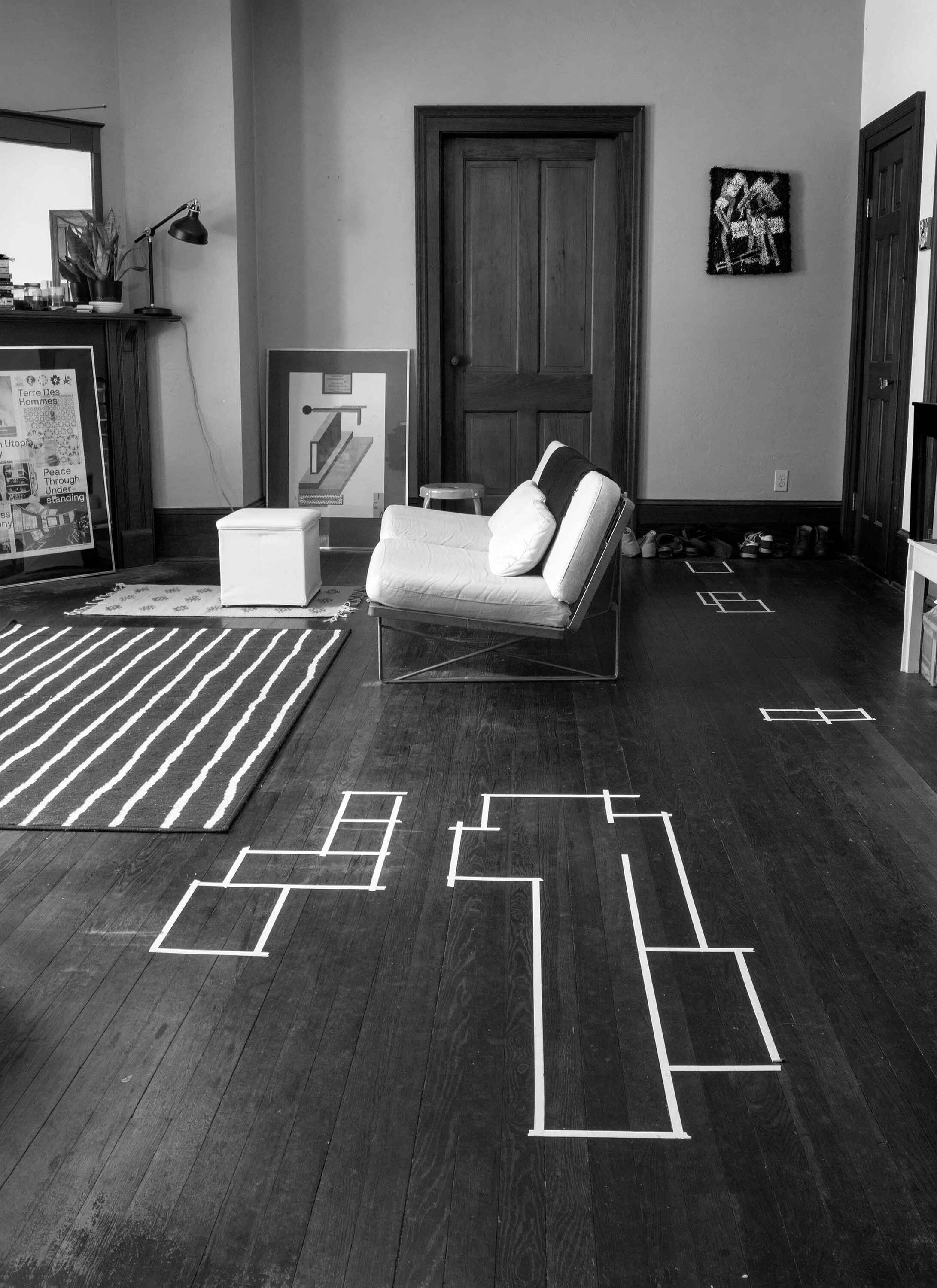 Living Room: February 2019, 2020. Image courtesy of Peter Gouge.
More of us should be writing letters to our partners. Mixing parenthood and arts practice, on Contemporary Hum artist Peter Gouge and his partner writer Chloe Lane share a series of short letters reflecting on Gouge's MFA project presented at the University of Florida: 'Everything Stops for the Baby'. Gouge's project initially consisted of "five painted pieces of carpet shaped to cover squeaky floorboards in the family's living room." (see pictured). The pair have now moved back to NZ, and Gouge is currently exhibiting the work at Melanie Roger Gallery in Auckland (until 10 October).
This last weekend saw the symposium ''Mapping the Anthropocene in Dunedin' at the Dunedin School of Art and Otago Polytechnic. Featured was artist in residence Tim Barlow, who is doing some interesting research and presentation (until 2 October) on the use of lime. Here's a fulsome interview with Barlow in the Otago Daily Times.
Last week, I wrote on John Ward Knox's double portrait of Jacinda Adern being up for the Archibald Portrait Prize in Australia. It didn't win, but this article on The Conversation 'At last, the Arts Revolution — Archibald winners flag the end of white male dominance' is an interesting read, considering how portrait prizes are more social history prize than art prize and how the times - as this week's laureates announcements also make clear - are changing.
Now if only someone could get that message through to the Taxpayers' Union...