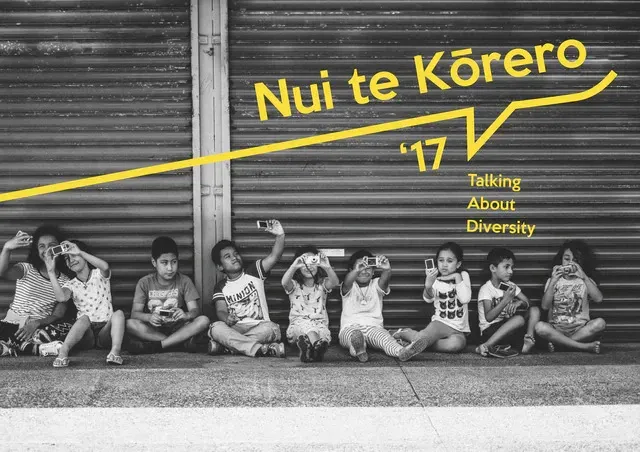 The barriers that exist for any creative entrepreneur who sits outside the dominant Pākehā mainstream have been visible and in discussion for what feels like a long time now. They weave through the stories that we tell at The Big Idea. Whether it is Victor Rodger explaining how he has had to write his identity into existence; Ahi Karunaharan pointing out that his Pākehā colleagues would receive more auditions in a month than he would in a year; or Gareth Farry developing new channels to amplify the work of musicians who sit outside the mainstream. These discussions are not new, and they are not limited to the arts. Take any sector of society, dig around a little, and you will find the same discussions: barriers to inclusion, a homogeneity of voices amplified (especially at leadership levels), and stereotyping that limits the scope of identity within a group of people of the same cultural heritage.
Last week, I attended the Creative New Zealand Nui te Kōrero hui which focused on diversity in the arts. The day was full of discussions around these same themes, considering the barriers to genuine inclusion and holding tight to the message that change is necessary. I spent the day listening to both the voices on stage and the participants, trying to hear the calls to action. Overwhelmingly I heard a need for change in how we (as in the mainstream) are listening, the language we are using, and the way that we are making decisions.
Diversity is a white word
It was common for speakers and audience members from 'diverse' backgrounds to premise what they wanted to say with a comment about how they struggle to relate to the word 'diversity'. Multiple speakers and participants referenced an article 'Diversity is a White Word' which explains how the concept of diversity has been created to "make sense of difference by curating, creating and demanding palatable definitions of 'diversity' as it relates to whiteness." This sentiment was reflected in the way that many referred to the trouble they have identifying themselves as 'diverse', and the road to understanding a foreign concept that has been assigned to them.
Keynote speaker, Karl Johnstone, began the day talking about his journey of understanding what the term 'diversity' meant for him. He hadn't considered himself to be diverse until he was asked to enter the discussion around diversity. To illustrate his point, he talked us through the complexity of his genealogy pointing out the ways that his family history has been significantly influenced by both Māori and Pākehā heritage. Diversity, he concluded, is a personal thing that must be understood at the "intra-level" and well as the "inter-level". If we consider the complexity of everyone's stories we can start to notice the connections between us rather than the divisions that make us different.
FAFSWAG is an Auckland-based theatre group that are an incubator for queer and Pacific art practitioners. They have been building representation and creating equal opportunities for themselves and their community outside the mainstream art sector because they found that opportunities did not exist for them within it. Through their Visibility Project they have been using artistic expression to restore mana to queer identity within the Pacific context. Their response to the conversation at the hui was, "we are still working out what diversity is, it changes every day." Diversity was not the issue for them, it was about self-determination and identity. They were using the arts to retell the stories of Pacific queer identity in a way that wasn't saying look how diverse and different we are, but in a way that gave them legitimacy as a recognised identity within the definition of Pacific culture. We are the same, and different. Again, I was struck by this uncertainty that representatives from 'diverse' communities carried around what the term actually meant for them. If 'diverse' individuals or groups don't recognise themselves as diverse, then perhaps the conversation needs to shift to focus on self-determination and identity across and within society and culture rather than continue to focus on the recognition of difference within the framework of diversity.
Diversity across and diversity within
There are two factors at play when considering diversity. The first is the lack of diversity across the sector, i.e. the amount of different voices that are articulated across the different artforms. This is a discussion that we are all familiar with: how do we get more and different voices amplified throughout the arts sector as a whole. The second, is slightly more complex. This is around a lack of diversity within, i.e. there is a homogeneity in the way that people of different cultural backgrounds are represented in the arts.
Across every 'group' in society, there is a myriad of different identities. Currently, within the Pākehā experience, throughout the arts there are many forms of diverse identities explored across geography, sexual orientation, gender etc - no matter how you view the world, you are likely to be able to find some form of literature, theatre or art that reflects your story. These have been the dominant stories that have been created, funded, and told throughout New Zealand's creative history.
For the many New Zealanders that sit outside the Pākehā identity, they are less likely to find the same deep exploration of different forms of identity within their cultural context, and as a result are less likely to be able to see themselves reflected in the society in which they exist. The impact of this is social isolation. Authors, Anton Blank and Dr. Paula Morris talked about the increased levels of depression and damaging societal impacts that not being able to see yourself reflected in literature can have. Anton commented, "If you don't see yourself reflected in society, it becomes deeply confusing. We're not just talking about literature, we're talking about social wellbeing."
Anton, speaking from a Māori perspective, commented on the added layer of complexity that exists for indigenous peoples who in order to combat colonial oppression have had to build and present a strong collective cultural identity. "Indigenous culture has become obsessed with tradition because we almost lost it. Because we've had to reclaim tradition, we've become fixed on what being Māori is." Anton sees the need for Māori to be able to morph culturally as identity shifts. He sees this changing, especially within the younger generation, as more space opens up for Māori artists and contemporary perspectives to become visible. He mentioned the work of artists such as Taika Waititi using his storytelling skills to expand the idea of what it is to be Māori in a contemporary context broadening the spectrum of Māori identity.
FAFSWAG's Visibility Project is another example of actively, politically and fearlessly demanding a more diverse understanding of Pacific Island culture so that it includes LGBTQ. Using art and events they have carved out an identity for themselves through the Auckland Vogue Scene, not because that identity did not previously exist but because it was not visible. "We are not afforded the luxury of making art that doesn't have a social purpose. We are always creating our identity and carrying a message." Artistic expression has been the tool that they have been able to harness to build a community and widen the Pacific identity to include their stories in an environment that previously did not accept or recognise them.
Changing the guard
There continues to be a lack of diversity at leadership levels which suggests systemic exclusion (in the form of conscious or unconscious bias) presenting barriers to non-Pākehā individuals within the sector. Dione Joseph from the Office of Ethnic Communities gave useful examples of how to create a framework of inclusion. Her Office provides a leading example of diversity in leadership, and yet across the public sector at large despite an incredibly diverse workforce, at a leadership level, there is still a lack of diverse representation. It was unanimous across the conversations, that unless we build diversity into our leadership across the sector, these conversations will not start changing.
Over lunch, I spoke with Anton Blank, who established the literary journal, Ora Nui, to showcase emerging and established Māori writers. Gatekeeping, says Anton, is one of the biggest forces that works against diversity in the arts. "Most gatekeepers are white and they don't recognise their own bias." They consider literature through a framework that is inherently Western, and it is tough for minorities to find a space within that sphere. As a result, the work that is produced and published fails to have relevance to all parts of our society, and as mentioned above, this can have far wider-reaching consequences for our social well-being as a nation. For Anton personally, he could find no examples in literature that related to middle-class urban Māori. "I have struggled to see myself in New Zealand and Māori literature, the experiences I read about don't reflect my life."
Working in the field, Anton couldn't see any real change happening in terms of gatekeeping in the industry. Instead of trying to fight the existing institution, he decided to make himself a gatekeeper so that he could make different decisions around who got published. Anton established Ora Nui in order to give a "greater sense of wholeness of Māori literature … My hope is that Ora Nui will encourage many more Māori to write so the multiplicity of our identities and experiences can be enjoyed and celebrated." The nature of gatekeeping is incredibly limiting for the sector at large and Anton's expression of frustration at the lack of change was common throughout the day. "I don't have the energy to tinker with the existing establishment. We need new gatekeepers and we need to follow our own model. I make different editorial decisions informed by my own experience. We all have bias, decisions are subjective, so there needs to be more of us making those decisions."
Unconscious bias
Upon arriving we were all handed a small book, Rewire: The Little Book About Bias by Carla Houkamau and Anton Blank. This book explores a theoretical understanding of how everyone is affected by bias. It advocates that we see the world through a lens that reflects our upbringing and our understanding of the world and this consciously or unconsciously affects the decisions we make. The topic of unconscious bias was something that came up over and over again across the course of the day. It was like a cry for action that permeated the event: please recognise your bias, because until you do, we cannot move forward with this discussion.
Sitting next to Amber Cureen, representing Te Pou Theatre, Auckland's home of Māori theatre, in a breakout session on making diversity real, I heard this cry the loudest. She explained how at Te Pou they consciously and openly acknowledge the position in which they stand. They are a Māori theatre company and this is the cultural framework from which they work to create theatre. It is common to hear companies premised by their culture if they represent an ethnic minority. For example, Proudly Asia Theatre or Prayas Theatre Company from the Indian community. Yet, you never hear people say, we are a Pākehā theatre company, or a Pākehā opera company. If we are going to frame our sector culturally, then everyone needs to first acknowledge consciously the cultural lens and framework from which they are creating and presenting work. From there, Amber said, the conversations can begin.
Voices and languages
It is common in the the diversity conversation to refer to giving different groups a voice. This is often framed as an offering. I noted a rejection of this concept. As explained so efficiently in 'Diversity is a White Word', "It is not about 'giving a voice', we already have one. It has been systematically silenced." What I heard was a demand that the mainstream arts sector go beyond amplifying voices, and actually learn to speak different languages. And from this, be open and prepared to have uncomfortable conversations.
One member of FAFSWAG gave a two minute introduction to the language of the Auckland Vogue scene. The importance of this was not lost on me when she said, "we're reclaiming language that is often used against us." Learning to use the language that this group works with is a sign of respect. It is a huge journey from reclaiming language that has been used as a form of abuse, to having their voices amplified loud enough that they can stand on stage at a Creative New Zealand hui and teach us a thing or two about what means what in the Vogue seen. She was saying, and with confidence, if you want to engage with this scene, you need to learn to speak our language.
The second keynote speaker, Amid Hussain, was beamed in via video from the Arts Council in England. He brought the conversation back around to the need for uncomfortable conversations. This is the only way that we can start to address the unconscious bias that is present across our society, and the most present way to initiate those conversations is through the arts. "Arts gives us a voice. A voice to challenges what we see, a platform where people can genuinely get access to different viewpoints and perspectives." He was making the creative case for diversity - that the arts can be the vessel through which these different languages can be shared and learned so that we can break out of stereotypes. The arts could well be the necessary road to actually address the systemic issues in our society that keep us coming back to the same conversations about representation and diversity.
Don't wait
After so many years of these discussions, there were a few key messages that these pioneers of diverse leadership presented:
For arts practitioners from 'diverse' backgrounds:
Don't wait for the mainstream to change: start doing your thing and push until you get noticed and accepted. Be brave and become the new gatekeepers. Actively change the guard.

Don't be too passive in waiting for funding streams to become available: if you have an idea that you believe in, have conviction that it will work and be innovative in your approach. Karl Johnstone's words ring through here, "My approach is to create opportunities first, then find the funding. If you're not courageous, you'll never know."

Don't be afraid to challenge convention: prove that there are many different ways of approaching success and don't be afraid to try and fail. As Kim Tuaine of the Pacific Business Trust said, "Failure is a good tutor. Be aware of it, note it, learn from it. Then, celebrate success."
For the rest of us:
Check your bias: recognise the cultural framework in which you stand and consider that when meeting others. There is mutual benefit to understanding one another.

Dig deep to understand the kaupapa of diversity: listen and engage on a platform of humanity. Value and respect the different ways that people approach and organise in the world.

Diversify leadership: for real change to happen in this sphere we need to see leadership that is representative of diverse identities and worldviews. Get out of your comfort zones and don't be afraid of having uncomfortable conversations.
Creative New Zealand Nui te Kōrero