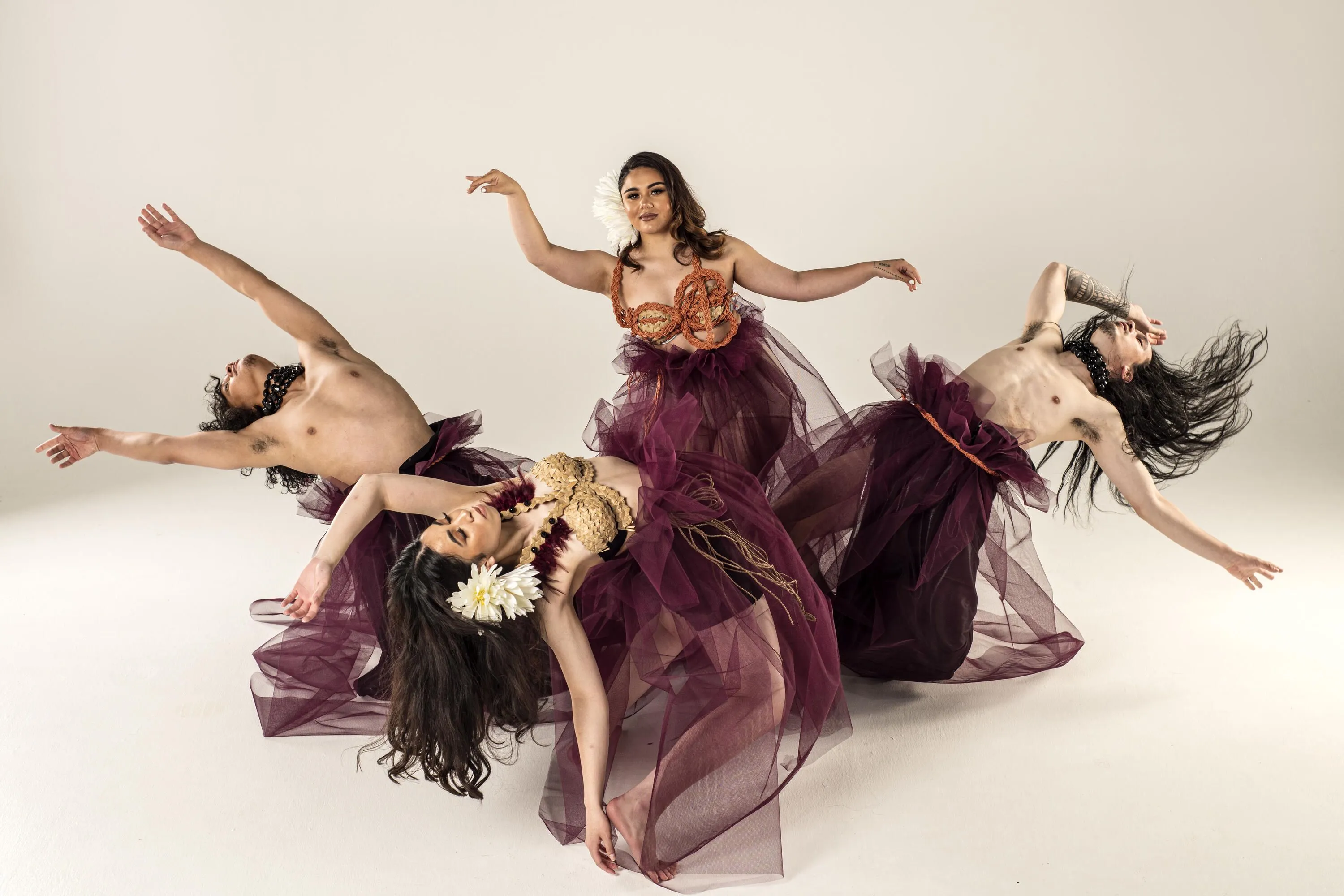 Not a single person in Aotearoa's creative community can challenge the Pasifika influence on the arts.
Whether it's part of a more multicultural approach or a specific Pacific lens, Moana creatives are breaking clear of siloes that once contained and restrained them, in all forms of arts and culture.
Just look at what's been happening in the last few weeks to see how the long journey to the respect the Pasifika community deserves continues to evolve.
In the next few days alone, Oscar Kightley's watershed play Dawn Raids will make its Auckland Theatre Company debut at ASB Waterfront Theatre, 25 years on from its debut. Kim Meredith has garnered an excellent insight from producer Tanya Muagututi'a on what it means to bring the show back to the spotlight and pass on to the next generation starting tonight (18 August).
And that's sharply followed by the long-awaited world premiere of Pacifica - The Musical, performed at the grand Civic Theatre, opening tomorrow (19 August).
One of the driving forces behind the show, the highly-regarded Therese Curran told The Lowdown "This is an historical occasion, we have been told by Auckland Live. It's a first for a Polynesian based story/musical, completely comprised of original NZ songs, and a cast drawn from an overflowing Pasifika talent pool here in Auckland - the biggest Polynesian city in the world. It's big.
"It's thrilling and about time."
Pacifica - The Musical. Photo: Supplied.
Curran's not kidding about the talent pool. The show has the likes of NIck Afoa - best known for his performances as Simba in The Lion King musical - as co-director and vocal coach, Jacob Nansen as musical director and Hadleigh Pouesi as choreographer.
She explains that it hasn't been easy getting to this monumental and rewarding moment.
"Pak Peacocke, my brother in law, and our producer and writer, has been knocking on doors for support since 2000. It's been a long process. There has been resistance. However, Pasifica creativity is constant and has always been present in Auckland. - In all of the arts. Now is the time to share this positive and uplifting show to all people who want some fabulous and heartfelt entertainment.
"This is a story about falling in love, loss, friendship, family ties that go back centuries, and most of all, a celebration of joy and gratitude, when you find it."
"Pasifika creativity thrives always, but it's not seen by most New Zealanders.
"I don't personally have the answer for how to advance a thriving creative community of Pasifika people. However I'd hazard a guess: the communities are strong, through churches, craft and artists.
"In terms of performance, I do know that unless people see themselves on a major stage, in their hometown, they may well feel overlooked. That's our vision for this show - a celebration for all Kiwis, from whatever your cultural background. We are all living in the great Pacific Ocean."
There's been plenty more to crow about in terms of performance, with the recent successful running of the Pacific Dance Festival - largely online - bringing much pride for their respective communities and driving headfirst and unflinchingly into the digital space.
Then there's the OG of all Pasifika performance groups, the internationally admired and highly sought after Black Grace, who have just returned from another successful trip to the United States.
Masterminded by the inimitable Neil Ieremia, COVID may have grounded their ambitions and ability to showcase their talent around Aotearoa and the world, but given the accolades flowing from their most recent trip, they're making up for lost time.
13 shows in 21 days - with 13 standing ovations, including a remarkable third time performing at the prestigious invite-only Jacob's Pillow Dance Festival.
The efforts of Pasifika filmmakers are also garnering plenty of praise - with the New Zealand International Film Festival announcing Tongan writer and director Alex Liu's Smog (above) as the winner of the Ngā Whanaunga Māori Pasifika Shorts best film in the weekend at Wellington's Roxy Theatre - complete with a $3000 cash prize.
There's been a windfall for Auckland-based Pacific Kids' Learning, as one of two Aotearoa projects chosen for the Screenrights Cultural Fund that supports initiatives on both sides of the Tasman.
Pacific Kids' Learning will receive $55,000 for two-day stop motion workshops provided to 40 year six Pasifika primary school students through the 'Young Pasifika Animators' program, which is designed to teach practical skills that will open up young minds to the possibilities of animation and screen industry careers.
On receiving the funding, the Pacific Kids' Learning team (above) says "in addition to seeing how their culture can be an integral part of their success in the workplace, Pasifika youth can see how their innate love of drawing and art can be turned into a career in digital screen production and animation.
"We have seen from a business perspective how hard it is to find qualified Pasifika animators in our industry, and we want to inspire the next generation of Pasifika to see the screen industry as a viable career path that is within their reach."
On the visual arts front, Pasifika talents continue to shine, and opportunities are regularly presenting themselves to help raise the bar and build a supportive community.
Yuki Kihara's standout exhibition representing both Aotearoa New Zealand and Samoa at the Venice Biennale this year has proven the glass ceiling can be shattered.
Tautai Contemporary Pacific Arts Trust are currently inviting Moana practitioners across all creative disciplines – visual arts, music, dance, design, film, fashion, writing and emerging art forms – to put forward proposals for exhibitions and projects to be presented between March-December 2023.
The talent pool isn't so much a pool - as much as an ocean.
Calling out bias
There's been an interesting story playing out involving one of the leading names in New Zealand literature and Creative New Zealand - and it has the potential to change how arts funding is treated.
Paula Morris was successful in a complaint claiming bias from the external assessors who reviewed her arts funding application, as reported in Stuff.
Morris - who's just launched Wharerangi, the online Māori literature hub as a resource for Māori writers and for anyone who wants to locate contemporary Māori writing - read the comments of her assessment and was "horrified" as "they revealed bias, reliance on assumptions rather than concrete evidence, and a dismaying ignorance of the literature sector."
Anyone who misses out on funding might feel aggrieved, but how do you decide if a complaint is the right route to take?
Morris told The Lowdown "it's important for artists who are turned down for funding to ask to see their scores and the two assessors' comments. This is not at all unusual, and CNZ are required to give you this information if you request it.
"Seeing the scores and comments may give us useful information and guidance for a revised or future application. It also helps to keep assessors accountable. If they assign scores that aren't supported by their comments, or make comments that reveal bias, ignorance, assumptions or lack of attention to the application's materials - then a complaint is vital.
"It won't mean an artist gets funding in that round: all the funding has been assigned. I asked for the particular assessors to be re-trained, and for more robust training and assessment oversight generally. Assessors are changed and added all the time.
"Lazy or prejudiced assessors should not be making these decisions. If you have a real, fair, evidence-backed complaint to make, rather than just general moaning, then your letter may make a difference for other artists and other applications.
"If you do nothing, you may end up with these assessors again in the future.
"We need, as artists, to be proactive but not deluded. Not everyone can get funded because there are too many applications and not enough funding. All assessments will be subjective. But assessors should meet CNZ's own criteria for the job, including thorough engagement with all support materials in an application, and generosity and clarity in their comments.
"Rather than sit around seething, read the comments. If you think there's a case to be made, make it. Nothing will change in the way assessors are trained or managed if we all remain silent."
The Lowdown approached CNZ for comment as well - with Senior Manager, Arts Development Services Cath Cardiff responding and explaining the importance of the external assessors:
"Paula Morris has been an assessor for CNZ and has a deep understanding of our processes; she's entitled to make a complaint about the application process, and we genuinely take on board her feedback.
"Over the years we've provided more training for assessors and a big focus for our team is to ensure the feedback they give is as fair and robust as possible.
"Seeking out knowledgeable assessors across the many disciplines within the arts is a top priority for CNZ – because these are the people who help advise which projects should receive funding.
"It's crucial work because it helps maintain the integrity and transparency of our processes – part of this transparency is sharing the feedback from assessors with applicants anonymously. Anonymity provides the assessor with the ability to be free and frank, which is important, especially within Aotearoa's small arts community.
"We know sometimes it is tough to read assessors' feedback and do offer applicants the chance to discuss how their applications have been assessed.
We're aware as an organisation that applying for funding is a lot of work for artists and our processes are set up to give applicants options to discuss their projects with us ahead of applying; we also make as clear as possible the many steps involved in approving or declining an application.
"We are currently looking for more assessors. Anyone can nominate themselves, or nominate someone else (with their agreement), to be an assessor. We always need more people from varied backgrounds within the arts to share their experience and expertise."
This is clearly a complex issue - and one that needs deeper discussion. This is a system that needs to work for both parties.
Back in the big leagues
The pinnacle of Aotearoa's media award season happens this weekend - and finally the arts has a seat back at the table.
This year's Voyager Media Awards feature the inclusion of Best Reporting - Arts and Culture. This is a big deal, as it's been some time since culture and creative sector writers had a section of their own.
The last time a similar award was offered at the Voyagers was the Best Reporting - Arts and Entertainment prize back in 2018 - the return this year coming off the back of feedback the category deserves to be recognised. There was also a Features category called – Best arts, entertainment and/or lifestyle portfolio back in 2019, which is yet to return.
Up for this year's arts and culture prize from an impressive list of entries are Steve Braunias (Newsroom/NZ Herald/NZME), Emily Brookes (Stuff), André Chumko (Stuff, Dominion Post), Mark Crysell (Sunday/TVNZ), Kim Knight (Weekend Herald/NZME) and Moana Maniapoto (Te Ao with Moana/Māori Television).
Gone but never forgotten
Two important figures have sadly left us this week.
One of the great supporters of creativity in this country, Jann Medlicott (below) has passed away after years of battling cancer.
She's perhaps best known for being the titular backer of the richest prize in New Zealand literature, the Jann Medlicott Acorn Prize for Fiction. But her Acorn Foundation gives so much back to so many aspects of arts in the country, including many youth projects in the Bay of Plenty. Her name is synonymous with helping encourage young New Zealanders to be involved in the arts and to help launch promising careers.
Another crucial figure for the country and his community, Sir Toby Curtis has also passed away.
Taa Toby's influence on Māori and the people of Rotorua cannot be underestimated.
Among his many accomplishments and contributions, Taa Toby was the chairman of Te Māngai Pāho, the Māori Broadcasting Agency, having previously chaired a Māori broadcasting advisory committee in the late 1980s, which led to the establishment of Radio Aotearoa, iwi radio stations and Māori Television.
Men and women like these two incredible New Zealanders help make this country a better place for all - they'll be fondly remembered and sorely missed.
Something to sing about
Some news to celebrate for a handful of talented musicians this week.
APRA has just announced a half dozen recipients of this year's Professional Development Award (above).
Gabriel Everett, William Philipson, Jessica Leov Edwards, Katie Sharp, Joel Tashkof and Tali Jenkinson will each be provided with $5,000 to contribute toward the next phase of their career - not to mention some incredible development opportunities. They range from international publisher pursuits and screen compomposer mentorships, to production and instrumental training, alongside tertiary study in video game composition and electro acoustic sound scaping.
An anonymous panel of industry experts assessed over 70 robust applications to determine the winners.
And there are new Tūī winners to congratulate - with Aotearoa-born, London-based jazz musician Myele Manzanza announced as the Recorded Music NZ Te Kaipuoro Tautito Toa | Best Jazz Artist, while Los Angeles-based Lauren Ellis won the award for APRA Best Jazz Composition for Papatūānuku.
While in good news for the rising classical music talent in this country, a new leadership project has been confirmed.
NZ String Quartet play side-by-side with the Youth Orchestra Waikato string section. Photo: Marcus Norman.
After a successful pilot workshop earlier this year, the NZ String Quartet and Orchestras Central have combined to create an initiative with the string players of Youth Orchestra Waikato.
The focus will be on developing leadership and communication skills within an ensemble setting - with young musicians pairing with more experienced performers in a series of annual side-by-side mentoring workshops and unconducted performance projects in Hamilton.