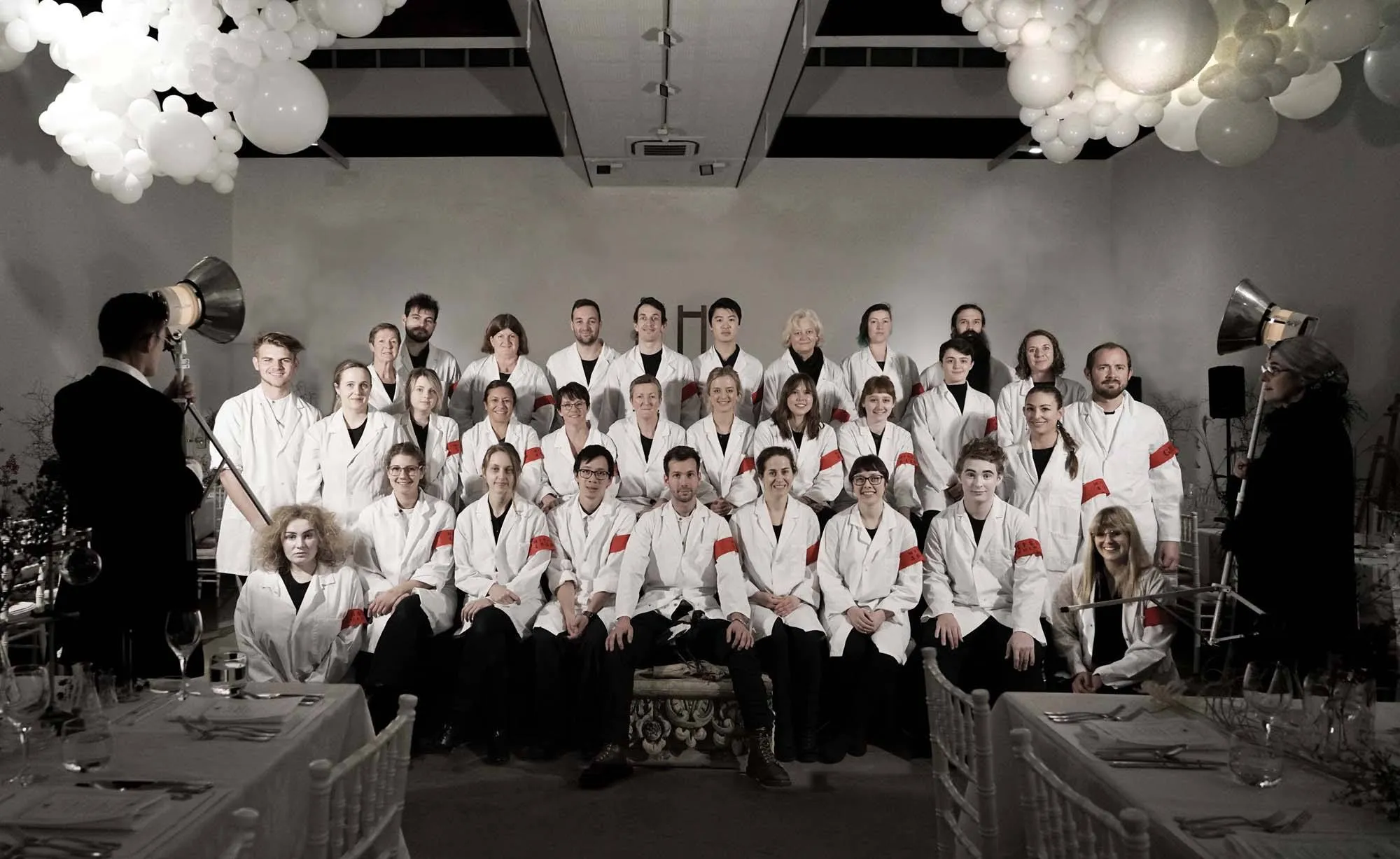 Ko tenei te wiki o te reo Māori. Ka pai!
Artist Advocacy Strife
New Zealand looks shortly to be without a national body providing professional development and advocating for the professional rights of visual artists. The board of Artists Alliance have announced that they are recommending the organisation close. Their press release indicates the principal reason as funding. While the organisation receives income from various public bodies and its members, it has received significant reductions in funding from Creative New Zealand in recent years. Established in 1991, Artists Alliance was taken out of the CNZ Kahikatea programme, providing annual funding, in 2013 and last year received $9000 from CNZ for a specific project (in 2010 their CNZ grant was as high as $158,000).
Artists Alliance's mentoring, intern and volunteer schemes have - alongside the organisation's news' service - been amongst the most visible of the organisation's recent work (principally funded by Foundation North). "We are very disappointed that Aotearoa New Zealand will be left without an organisation that puts the individual visual artist at the centre of its concerns," wrote Maggie Gresson (Executive Director since 1999) when asked for comment.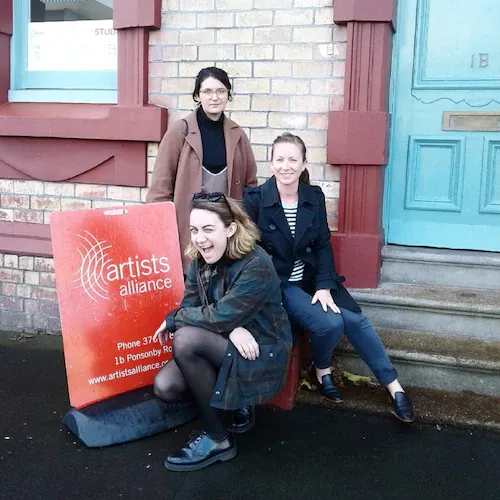 Emily, Julia and Amberleigh of Artists' Alliance. Photo by Maggie Gresson.
In SOUNZ, DANZ, NZ Society of Authors and agency Playmarket other sectors of the arts in New Zealand have bodies that the visual arts now do not. In Australia the Arts Law Centre provides legal and business advice. In New Zealand Artist Alliance board member and lawyer Caroline Stone has recently been part of the establishment of Creative Legal Services, providing legal services to the creative sector (some of those services free to Artist Alliance members).
The reduction in Artists Alliance funding suggests CNZ has not had confidence in Artists Alliance in its current form as the right model. Question is, given the significant growth in the visual arts beyond dealer representation and the variance in the way artists get treated by public galleries, is the lack of such an organisation an issue for our artists' welfare? Creative New Zealand was not willing to comment.
Meanwhile, big changes in governance and management have occurred over the weekend at significant Pacific Island arts trust Tautai. A group of ten members had called for the board to stand down and the organisation to be restructured, as reported by Radio New Zealand on Friday. The group called a well-attended special general meeting on Friday and then at Saturday's AGM, a new Director was announced, Courtney Sina Meredith, and a new board put in place. Previous director Christina Jeffery resigned earlier in the year. Coconet reported on these changes with images of the gatherings on Monday.
This is significant news as Tautai do a lot of work in the promotion, advocacy and development of Pacific artists, many of whom don't have representation elsewhere. Tautai's contribution is recognised in substantial annual funding through the Creative New Zealand Totara scheme. Tautai's media release giving full details of Meredith's appointment has been published.
In Christchurch
A classic building significant to the arts that withstood the Christchurch earthquakes is the CoCA Centre of Contemporary Art. This classic award-winning purpose-built modernist gallery from 1968 has just celebrated its 50th anniversary with an adventurous programme of events complementing what from afar has looked like an exciting 2018 exhibition programme. Among the events a dinner where "ambience was orchestrated and conducted" by Madame and the Bastard (artist duo Julia Morison and Heather Straka) and their "minions" (pictured), the evening evolved around a life drawing tableau.
Also in Christchurch: artist Steve Carr is known for sensitively exploring new approaches to moving image through stunts, but his new Christchurch Art gallery Te Puna or Waiwhetū commission was particularly complex in execution. Chasing the light, which has just opened at the gallery, saw six drones fly through a firework display - a logistical challenge involving four months of cancelled drone flights, as Carr told Radio New Zealand's Lynn Freeman. The resulting work Carr says is not a simulation of a fireworks display, but works with the sequencing and different approaches of six films working with different cinematographers, presented over different surfaces, resembling drive-in movie screens.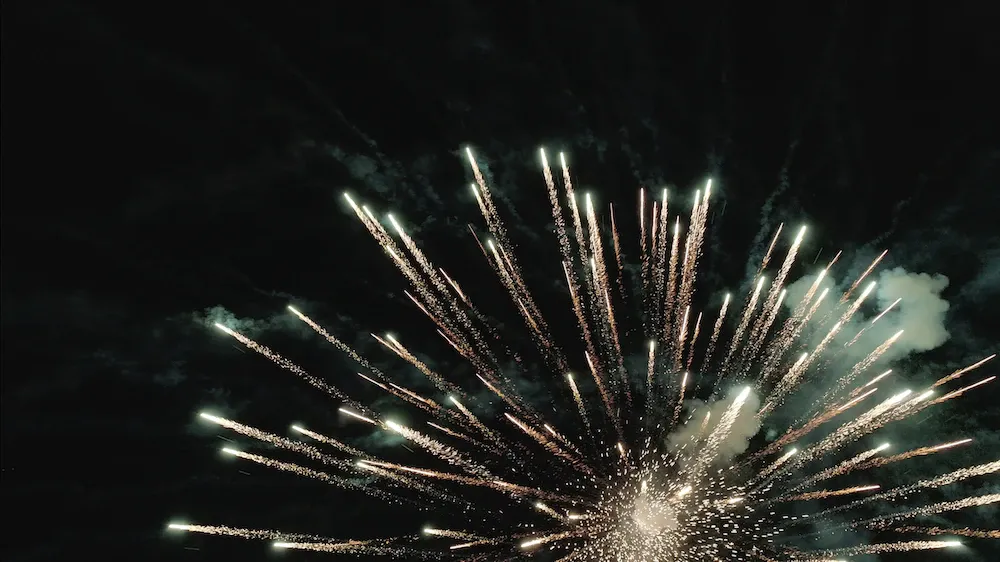 Steve Carr, still from Chasing the Light. 2018. Six channel video installation. Commissioned by Christchurch Art Gallery Te Puna o Waiwhetū.
To coincide with the work the gallery have published online Anthony Byrt's essay on Carr's work that was last seen in his book This Model World: Travels to the Edge of Contemporary Art.
In short
The Elam School of Fine Arts Students' Association at University of Auckland have been given a month to pay more than $6000 in unpaid rates on their iconic lodge at Huia out west, or risk losing it. The rich history of the lodge for artists recent and long past was written about by Eloise Callister-Baker in Pantograph Punch last year.
James Wilson is the new manager of Baycourt Community and Arts Centre in Tauranga (pictured). James was until recently CEO of Q Theatre in Auckland, and chair of the Performing Arts Network of NZ (PANNZ).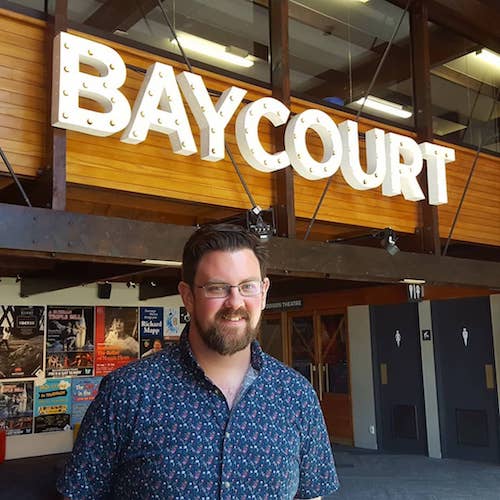 James Wilson, manager at Baycourt Theatre, Tauranga. Photo supplied.
Dirt Gallery, formerly of Dunedin, is now established in Wellington - yet another new burst of emerging gallery activity in the capital (where for years there was none). Dirt is by appointment in level 2, 30 Courtenay Place, formerly gallery 30 Upstairs.
Palmerston North poet Paula Harris recently won the Janet B. McCabe Poetry Prize, a US prize organised by literary journal Ruminate. RNZ's Jesse Mulligan invited her to read her winning poem.
The International Institute of Modern Letters in Wellington has announced Auckland playwright Leki Jackson-Bourke as inaugural Emerging Pasifika Writer in Residence for 2019, with mentorship from Victor Rodger. He will complete his play For the Likes—a script about an insecure Tongan girl who seeks validation by attempting to go viral online. As NZ Herald reported earlier this year the honour comes to Jackson-Bourke on the back of an impressive 2017.
Finally, it's been some time since we've heard from New Zealand 's extraordinary Mau company, directed by Lemi Ponifasio - arguably our most successful performing arts company internationally. For Mausina Mau Wāhine return, a group of Māori women artists who are working with women from Wellington's Pasifika communities to perform on the steps of parliament, rain or shine, Wednesday 19 September 2018, 3pm - part of the celebrations of 125 years of women's suffrage. Here's an excellent interview Ponifasio did with DANZ's Anton Carter back in 2016.
Online Media
Back in May prolific Wellington street artist D-SIDE had his first gallery exhibition, for one-night only called Extincted. People thought for the first time they'd get to buy this popular artists work, but then during the evening painters came in and painted over all the meticulously-created works in grey – D-SIDE's comment on the way we've allowed animals to become extinct. The project has been documented in this short film.
Ashleigh Young writes beautifully this month of her attempts to write about Nigel the first gannet to live on Mana Island for 40 years. Which I can't help segueway to this RNZ story in the same week about Nuie's first duck and the puddle locals maintain for it.
Word Christchurch Festival - from the looks of this sweeping glowing theatrical review by Steve Braunias was a great success, but multiple hats off to the librarians of Christchurch libraries who filed this incredible catalogue of reviews - perhaps the country's librarians need to take up reviewing nationally to abate our critical coverage woes.
"How can we encourage Pasifika to review Pasifika. Maybe review and criticism are the wrong words?" So writes Pākehā–Māori writer David Geary of the Palagi co-authored history of Pacific Island Theatre Floating Islanders writing on Landfall review online.
NZ Musician has long been a valuable monthly freebie staple of New Zealand music news and reviews, and it now features a lot of content online. Here's an interesting piece by Warren Maxwell on implementing Māori values into music teaching.
New Zealand Festival has shared this lovely photo essay of Neil Ieremia working with Whitireia dance students for an upcoming show in his hometown of Porirua. Just a pity the photographer's credit has been neglected.
Finally, Wellington theatre review site Art Murmurs have recently completed a successful modest Boosted campaign to cover their maintenance costs, and have just published a smattering of new theatre reviews including Modern Girls in Bed in Circa's WTF!, Women's Theatre Festival, which continues until 27 October. This coming weekend 15-16 September Circa host the fourth annual Women in Theatre Hui.
Want more of the Lowdown? Check out Mark Amery's past Arts Media Lowdowns here and subscribe here to our weekly bulletin so it comes straight to your inbox. News and content ideas are welcomed for future editions of Arts Media Lowdown. Please send to [email protected].