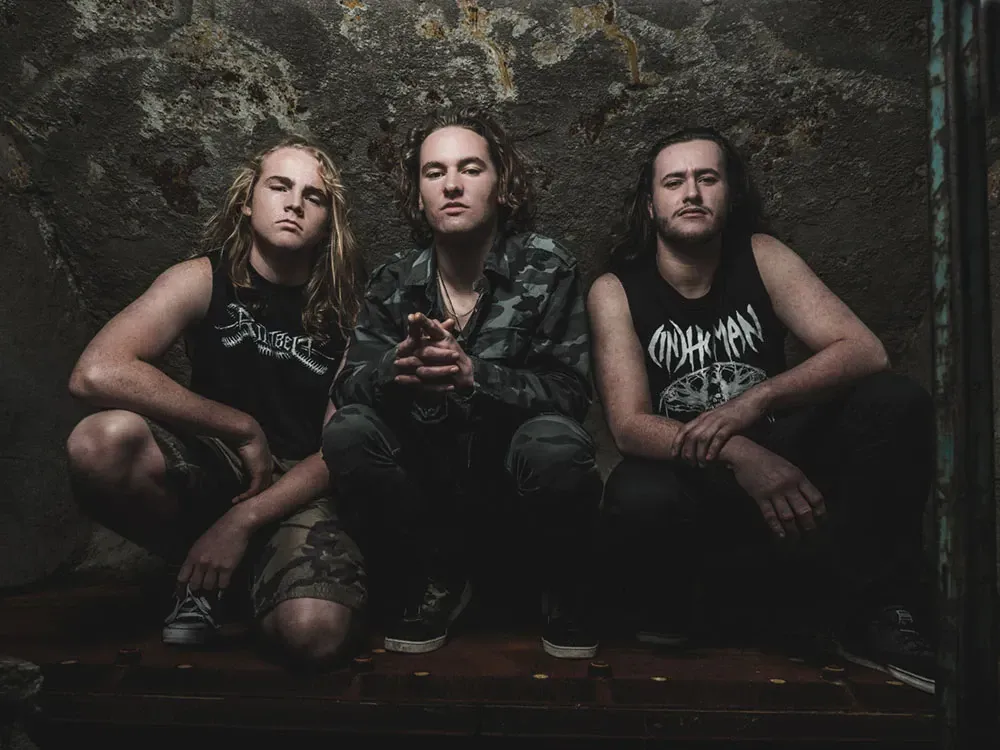 Kiwis growing wings
Big Kiwi heavy metal announcement this week: Waipu's own Alien Weaponry have scored a support slot with industrial metal gods Ministry for 22 dates across the USA and Canada from November 21 to December 21. Here's this week's Youtube announcement. It's on the back of their stonkingly good te reo album Tū and ahead of a big European tour next year.
Also listed in the big-time support announcements is Auckland band The Beths, who follow on from a current American and European tour with a support slot for Death Cab for Cutie in Europe early in the new year. Here's an RNZ story on the band and their K Road studio from September.
Meanwhile K Road's The Other Ways Festival and Flying Out have this week released this great wee doco about the festival online by Gwen Issac.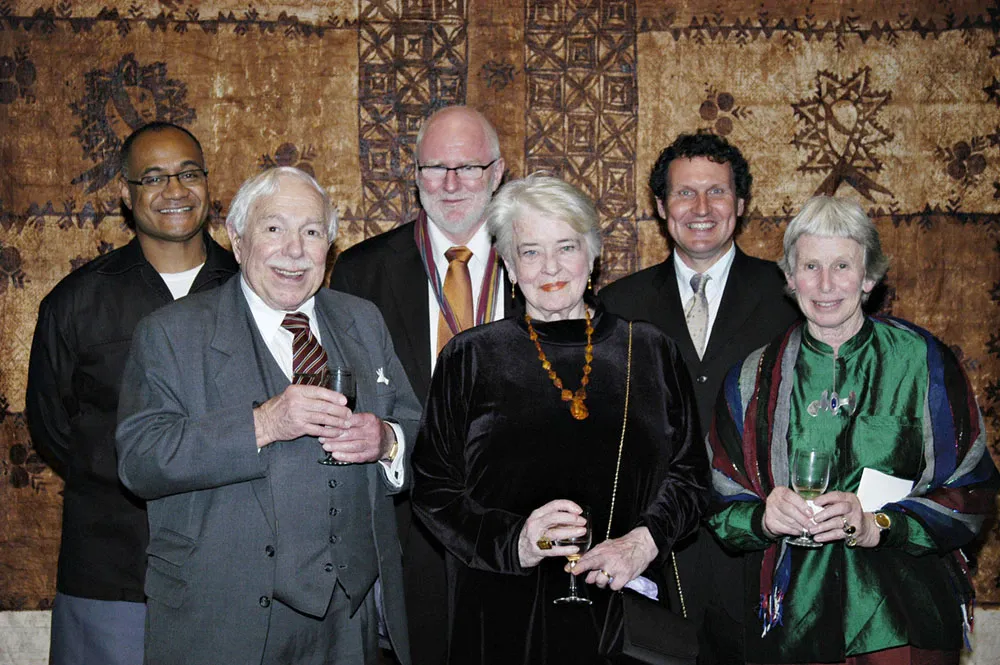 Verna and Denis Adam with Oscar Kightley, Tom Scott, Dave Armstrong and Tanya Ashken at the 2006 Award for Patronage at Government House, Auckland. Photo- Scott Venning
Brokering the Arts
By my reckoning there are approximately 1,000 insurance brokers in New Zealand, but only one who made it his life mission to provide important bedrock support for the arts.
This week saw the passing of Denis Adam aged 94 in Wellington (here are reports on Stuff and RNZ). Denis cared passionately about supporting emerging artists, but left the selection to those who knew more about their chosen fields. The Adam Foundation - which he founded with his wife Verna - kick-started the Adam Art Gallery with a $1 million donation, and sponsored the Adam Playwriting Award, the Adam Foundation Prize in creative writing, the Adam National Portrait Award, the Adam Chamber Music Festival, to name just a few. Other spaces like the Adam Auditorium at City Gallery and Adam Concert Room bear their name.
Let's hope that others of similar means can put their name to even half so many pieces of arts infrastructure.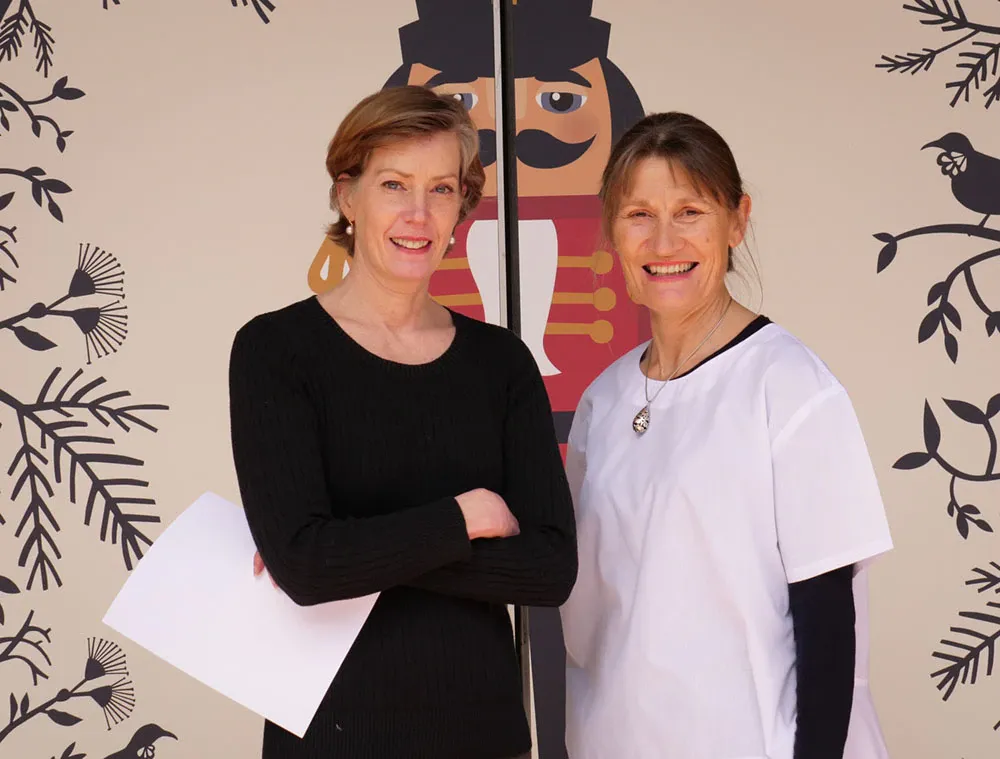 New RNZB interim executive director Celia Walmsley with artistic director Patricia Barker
Dance positions
Celia Walmsley has been appointed interim executive director at the Royal New Zealand Ballet. A permanent appointment is to be made in 2019 and we understand from RNZB that the employment process is well underway (Stop the press: rather more quickly it seems: on 25/10/18 Lester McGrath announced as new executive director, more in the next Lowdown). This is of interest right now as Walmsley replaces Frances Turner whose time at the head faced trouble when the Ballet's board late last year commissioned an independent review to investigate claims of workplace bullying and foreign dancers being preferred over New Zealanders. The review cleared RNZB of those allegations but made recommendations on improving its workplace complaints process.
Walmsley is well respected in the arts community having had a long career working as an arts manager and professional dance photographer. She was director of Tempo Dance Festival and Taupo's Erupt festival as well as CEO and head of programming at St James Theatre and Opera House.
The appointment comes at the very time the St James has closed for earthquake restrengthening, until next year. The St James is home to the ballet, so they're preparing to move into a temporary space currently being built on the Michael Fowler Centre carpark site. The new WCC building is open to other future uses according to this story, so arts managers complaining of lack ofspace might be wanting to collar a councillor or two. The ballet is about to tour perennial Christmas favourite The Nutcracker to nine centres nationwide.
Award-winning director Lisa Taouma
Making Pacific waves
Over the weekend in Toronto Lisa Taouma's documentary Marks Of Mana won best long-form documentary at the international indigenous festival imagineNATIVE festival (the world's largest presenter of Indigenous moving image). I had the pleasure of talking to Lisa for RNZ and seeing the film, considering female tattoo across the Pacific, and how it asserts the role of women as leaders in their communities. It's tremendous and screens soon on the Pacific web platform that Taouma cofounded: www.thecoconet.tv.
Meanwhile She Shears, directed by Jack Nicol ("five female sheep shearers in the gruelling world of competitive sheep shearing") and Maui's Hook directed by Paora Joseph ("following Tama, a young man fuelled by drugs, alcohol and violence") have their international premieres in November at the Hawaii International Film Festival. Both are currently in New Zealand cinemas. Joseph has been nominated for the festival's inaugural Kau Ka Hōkū Award (Emerging Filmmaker Award). Heperi Mita, director of Merata: How Mum Decolonised the Screen, is to be awarded the 2018 Pacific Islanders in Communication Trailblazer Award. Last year's winner was Taika Waititi.
Other great content online
"Show off our mums. They're the shit!" say Auckland arts collective Coven, with their Queer Pacific take on suffrage celebrations at Mangere Arts Collective this month. It's "a tour of a South Auckland not often seen in the media: warm, loving, personal, nurturing." Here's a Vice photo story on the show by James Borrowdale.
The Arts Foundation has published this video interview with composer John Psathas who announces that he is leaving Te Kōkī New Zealand School of Music at Victoria University after nearly 25 years as a lecturer to pursue composition full-time.
"Museums are dangerous places" writes Puawai Cairns in a recent Te Papa blog, following a recent meet and greet with Moana Jackson, the renowned lawyer, researcher and Mātauranga Māori specialist. Lots of interesting thoughts here on decolonisation and "reMāorification", and provocations aplenty for museological approaches to indigeneity.
And on the topic, this week Pantograph Punch has published a piece by Amber Aranui on the inclusion of Ta Moko in the current Toi Art exhibits. She mentions Michael Parekowhai's ambitious Détour installation. Note to visitors - it closes 4 November.
Following last week's Lowdown Francis McWhannell has published an open letter to Creative New Zealand on Pantograph Punch about the voluntary nature of the advertised attendant positions at next year's NZ and Venice exhibition. He spoke with myself and arts board chair Michael Moynahan on RNZ's Standing Room Only at the weekend.
In this just published piece in NZ Festival's online Article magazine, Walters Prize nominated artist Jess Johnson shares the books that have inspired her. No surprises that science fiction feature strongly.
Want more of the Lowdown? Check out Mark Amery's past Arts Media Lowdowns here and subscribe here to our weekly bulletin so it comes straight to your inbox. News and content ideas are welcomed for future editions of Arts Media Lowdown. Please send to [email protected]