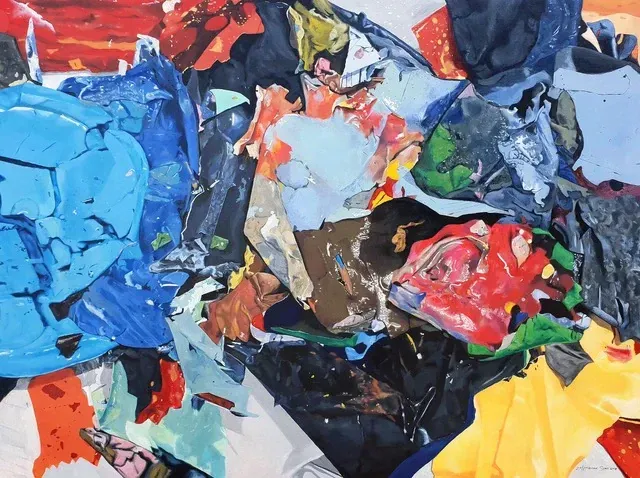 As-salāmu ʿalaykum – Peace be upon you
This painting is by Zulfirman Syah. A victim of the shooting at the Linwood Mosque in Christchurch on Friday Zulfirman is due to exhibit this and other works at the Auckland Art Fair in May with Indonesian art agency Redbase Foundation.
Zulfirman's is just one story, but each matters in understanding our strong diversity as a country today and in coming to terms with this tragedy.
Zulfirman, Alta Marie Sacra and their two-year-old son Averroes recently moved to Christchurch from Indonesia. Zulfirman and Averros were among those injured and at the time of writing in a stable condition in hospital. Alta Marie Sacra reported that her husband had shielded their small son during the attack, sustaining "much more severe injuries" from a hail of bullets. He has been labelled a hero in media worldwide.
Zulfirman graduated from the Indonesia Institute of Art Yogyakarta in 2006. An abstract painter, on the Saatchi Gallery website his exhibition history includes the Siena Art Institute in Italy and the National Art Museum of China in Beijing. Recent work can be seen at the end of this Redbase Foundation portfolio for the Auckland Art Fair, and is pictured.
A givealittle page has been set up to help the family, as Zulfirman's recovery will be long. Nancy Nan, Director of Redbase:
"Just before the day of the shooting, he sent me a text with his new almost-finished artwork, which we will show at the Auckland Art Fair. He also sent his confirmed flight from Christchurch to Auckland for his attendance at the event. His family was happy with their newly settled life in Christchurch and he had just started these latest paintings (a continuation of his 20-year career as a fine artist in Indonesia) to be able to support his family living in New Zealand."
All love to Zulfirman and his family - we look forward to seeing you at the art fair. Kia kaha.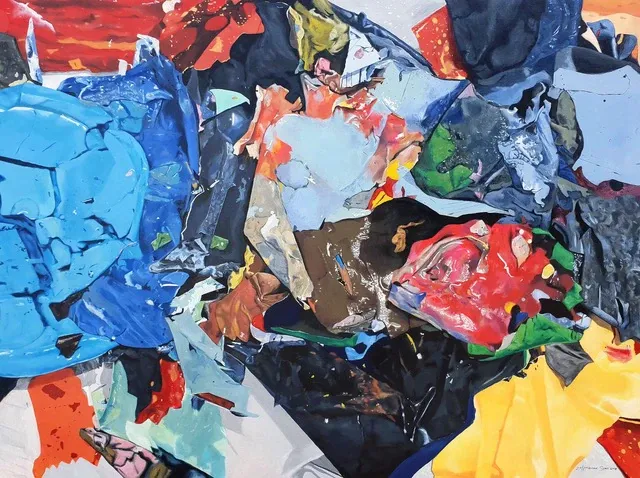 Hope and healing
When we're faced with what is difficult to come to terms with, the arts provide solace, connect us and they also help express the complicated.
The work of Ruby Jones, a young Wellington artist, of two women embracing, one in a hijab, was shared across the world and employed as a symbol of love and comfort. Buzzfeed collected some of its use on and offline.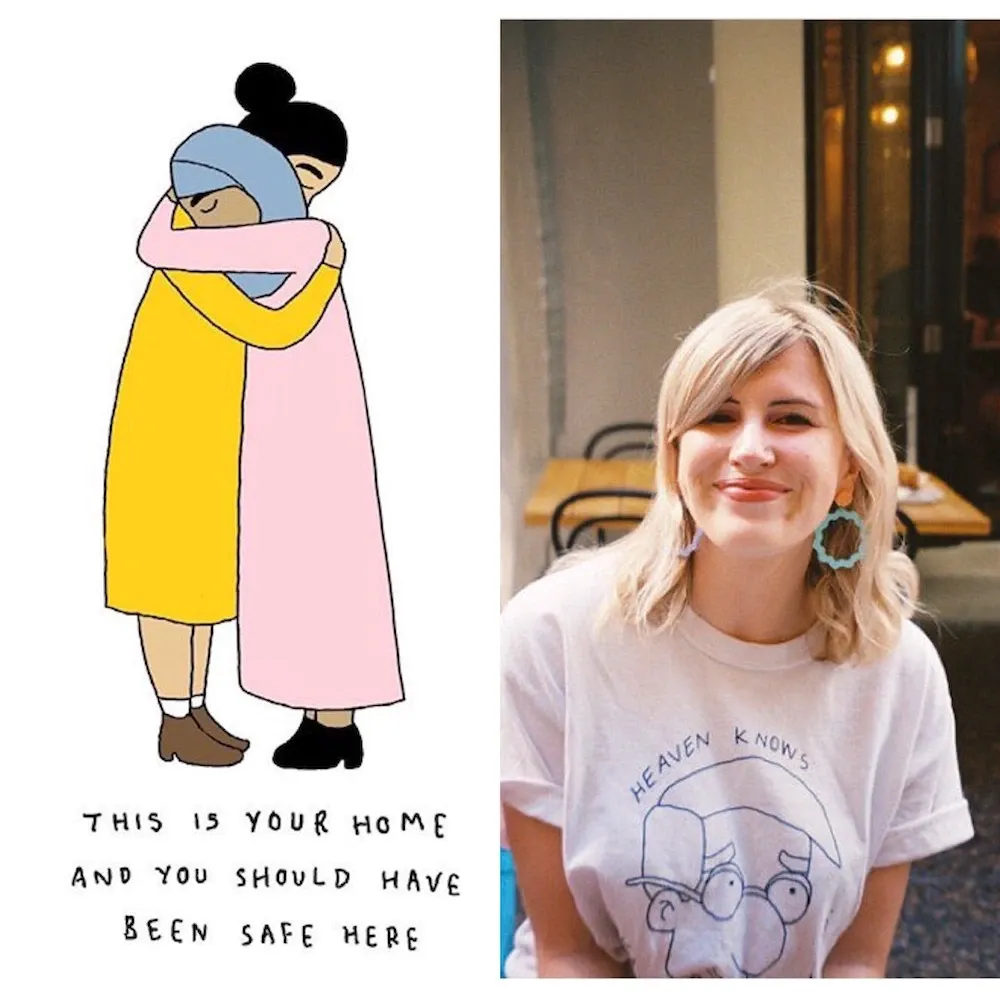 Similarly Southland cartoonist Shaun Yeo's image of a tearful Kiwi went viral, even turning up as my parents temporary Facebook profile pic.
And artist and journalist Toby Manhire has not held back on The Spinoff in pointing to the media and individuals who in recent years have indicated that this is in fact 'us' when it comes to our treatment of the Muslim community.   
When I attended a vigil in my own wee community of Paekakariki it was song that united everyone, shuffling fragilely together, as it was elsewhere. In 'No Words' Peter O'Connor wrote of this on The Big Idea commenting that "The arts will be the way we resist and claim back the spirit of who and what we might be as a nation", and referring to the arts as "potent healing balms that remind us of our common humanity". On Sunday Peter spoke to RNZ's Lynn Freeman of the role of theatre in healing.
As mourners stood silently outside the Al Noor mosque in Christchurch, a man performed an emotional haka and then on Monday a group from Christchurch Boys High School performed a haka for the Muslim community as reported here by ABC News Australia.
Stepping back
Gregory Burke has withdrawn his application for the position of Director of Auckland Art Gallery while, he told the NZ Herald on Tuesday, he awaits the opportunity to address the "unproven allegations against me" of harassment by a former work colleague in Canada. Burke had already been announced as the gallery's new director and that means they are "recommencing a search for a new gallery director".
Aotearoa's newest festival breaks
Aotearoa has a new significant arts festival. Te Tairāwhiti Arts Festival opens in Gisborne in October, directed by experienced festival programmer and artist Tama Waipara. The festival was launched Thursday at Auckland Arts Festival, bringing some of Tairāwhiti to Tāmaki Makaurau. The full programme will be announced mid-year but there's more information at the Gisborne Herald including the inclusion of a new Nancy Brunning work, Witi's Wahine, based on excerpts from Witi Ihimaera stories with a focus on female characters.
"Wahine Maori are so often dumbed down for the big screen," Brunning told the Herald, "and many have their stories altered or diminished in order to bring the male characters into the spotlight."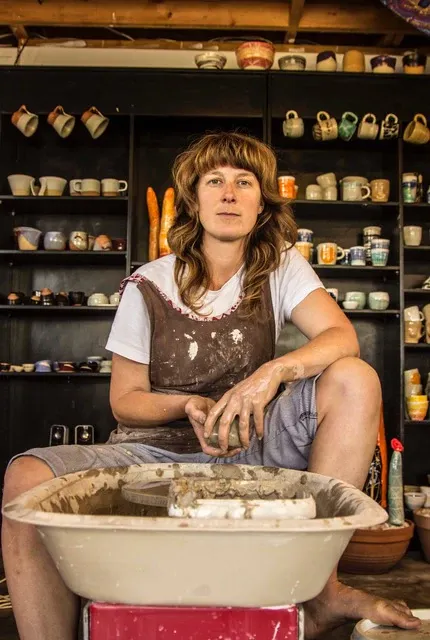 And in the late summer rush of other arts festivals let's not forget a few pearlers in the regions: Raglan Arts Weekend has moved from Auckland Anniversary event to Easter with 37 artists opening up their studios (including the above pictured Hope Didsbury). Upsurge the Bay of Islands Arts Festival and Wanaka's Festival of Colour are both on first week of April.
Arts Grant Changes
Creative New Zealand have announced significant changes to their grants structure. The good news, the amounts you can apply up to are going up: major art grants from $65,000 to $75,000, and in a new category for smaller grants replacing Quick Response Grants, from $7500 to $10,000.
It has also been "approved in principle" CNZ's Cath Cardiff tells RNZ's Lynn Freeman that next year artists will be able to apply for grants of up to $150,000 for year-long projects. This speaks, Cardiff says to some artists having to currently apply multiple times every year for a continuous programme of activity.
It looks like the merge of quick response grants in with main arts grants isn't as drastic a change in options for artists as it might first appear. It was only ten years ago that quick response grants were introduced as a separate stream in response to complaints about the form filling, infrequency and length of time it took to apply for relatively small amounts of money. As a result the process became simpler, shorter and application times more frequent if you were applying for less than $7500. Decisions were made within five weeks and applications weren't externally assessed.
The opportunities to apply for these grants has been reduced but decisions will still be made within five weeks, for up to $10,000. Interestingly Cardiff notes that, contrary to what might be perceived, the successful strike rate for artists was actually lower in Quick Response next to other programmes. It worked well she says for "quick smart projects", and massively increased the numbers of people applying.
Cardiff's hope is that the change will also allow for more funding to be available: "the intention here is not to give more to fewer but to genuinely fund as far as possible the best projects at the level they require."
Pushing the boundaries
Public gallery Te Tuhi continues to geographically stretch its tentacles beyond its building in Pakuranga.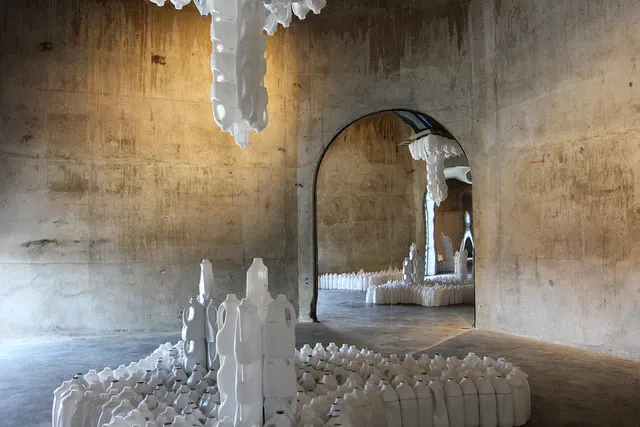 UK artist Gayle Chong Kwan's plastic milk bottle work Wastescape is currently installed in Silo 6 on the Auckland waterfront and in May they present UK artist Faisal Abdu'Allah's haircut performance work Live Salon (previously created at London's Hayward and Tate Modern) at the impressive, inclusive inner-city 'citizen's information hub' and gardens Pā Rongorongo in Wellesley Street.
Then there's currently The True Artist Helps the World by Asking for Trust a collaboration with wee dynamic K Road space Mokopōpaki, extending across both galleries.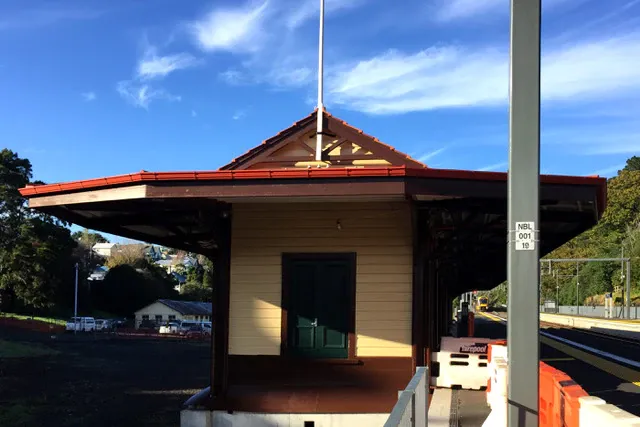 A train station is also to become an artist space. Te Tuhi have a three-year licence to use the Parnell railway station building in Cheshire Street as studios with a "test" exhibition space. It's a project initiated by Auckland Art Fair co-director Stephanie Post and developed in partnership with Auckland Transport. Beginning in April it will allow for eight artists in four shared spaces for tenancies of up to three years, with the opportunity for open studios, exhibitions and events. Expressions of interest from artists are now being called for.
Breaking announcements and surprises
There's a cracker artist team behind a new stop-motion claymation TV series launched this week for three to seven year olds, Kiri and Lou. Created by Harry Sinclair and produced by Fiona Copland (the film director and producer duo behind Topless Women and Price of Milk) its stars the likes of Olivia Tennet, Jemaine Clement, Rima Te Wiata and Jaquie Brown, and the music is by Harry's old Front lawn pal Don McGlashan. The animation team is led by another Kiwi recently returned to Christchurch Antony Elworthy (Wes Anderson's Isle of Dogs). It's now screening on TVNZ On Demand and Heihei. Sinclair, Copland and Elworthy's Christchurch-based animation studio Stretchy are working on a second series. And as Star-Kiwi report the series is behind a drive to start an artist in residence programme at the historic Mona Vale gatehouse in Christchurch.
Joanne Brookfield has interviewed 60 women for a book on women in comedy called No Apologies, which will be released April 1. It features a number of Kiwis including Cal Wilson and the Fan Brigade. A Melbourne based journalist, Brookfield has covered the New Zealand International Comedy Festival and performs stand-up herself.
An eclectic programme of excellence for the May Auckland Writers Festival has been announced. Surprises range from musicians Jeff Tweedy (Wilco) and Shayne Carter (upcoming memoir) to Jacinda Ardern. Even glorious senior abstract painter Gretchen Albrecht features, with Massey University Press launching a survey publication of her work (sneak peek on Issuu here)
Performing artists Pelenakeke Brown, Rodney Bell, Katrina George and Owen McCarthy are creating Te Kuititanga (The Narrowing), which takes them from devising in Te Kuiti to New York in April for its premiere. Brown has been selected by the Artists of Color Council at Movement Research – New York's leading exploratory dance laboratory - to curate a series of dance works and he has asked Bell (Meremere) to present the work around the themeof  body sovereignty. The work is in association with producers Everybody Cool Lives Here, who are also developing a new work Tinana with siblings Jared and Ana Hemopo from Katikati, that combines Jared's dance and building industry experiences.
Great Arts Commentary Online
The new crew at Auckland's Gus Fisher Gallery talked to 95bFM's Artbank about their April reopening, with a refreshing reveal about what they do. "Artists should have meaning and relevance to all people's lives and reach out to the city," says curator Lisa Beauchamp, on their renewed mission to provide something new for Auckland.
Over on The Sapling Eileen Merriman writes on taking young adult fiction as seriously as adult 'literary' fiction.
Setting the Youtube bar: Matakana gallery The Vivian have produced another excellent video introduction to an artist: interviewing printmaker Marian Maguire.
An excellent review by Matariki Williams of the photography of Chevron Hassett in The Children of Maui at Wellington's Meanwhile gallery.
The first publication of its kind, Samoan Queer Lives is a collection of short stories from fa'afafine, transgender and queer Samoans, edited by artists Dan Taulapapa McMullin and Yuki Kihara. Pauline de Souza reviews it on Contemporary Hum.
Ngā Taonga Move
Fraser Pettigrew from Ngā Taonga Sound & Vision wrote after last Lowdown's item on the movement of the archive to the National Library from its current Taranaki Street premises. "I wanted to correct the impression in your piece that Ngā Taonga is in some way "reducing" or that New Zealand is "losing a taonga". Nothing could be further from the truth. The move to the National Library enables us to continue our most valuable work – the collection, preservation and cataloguing of New Zealand's audio-visual taonga – in a building which we understand more than meets the current earthquake code. That gives us great security and stability. No one is losing any taonga. In all respects, bar the cinema, it will be business as usual for us at Molesworth Street. And we are still exploring avenues that will enable us to resume screenings in Wellington."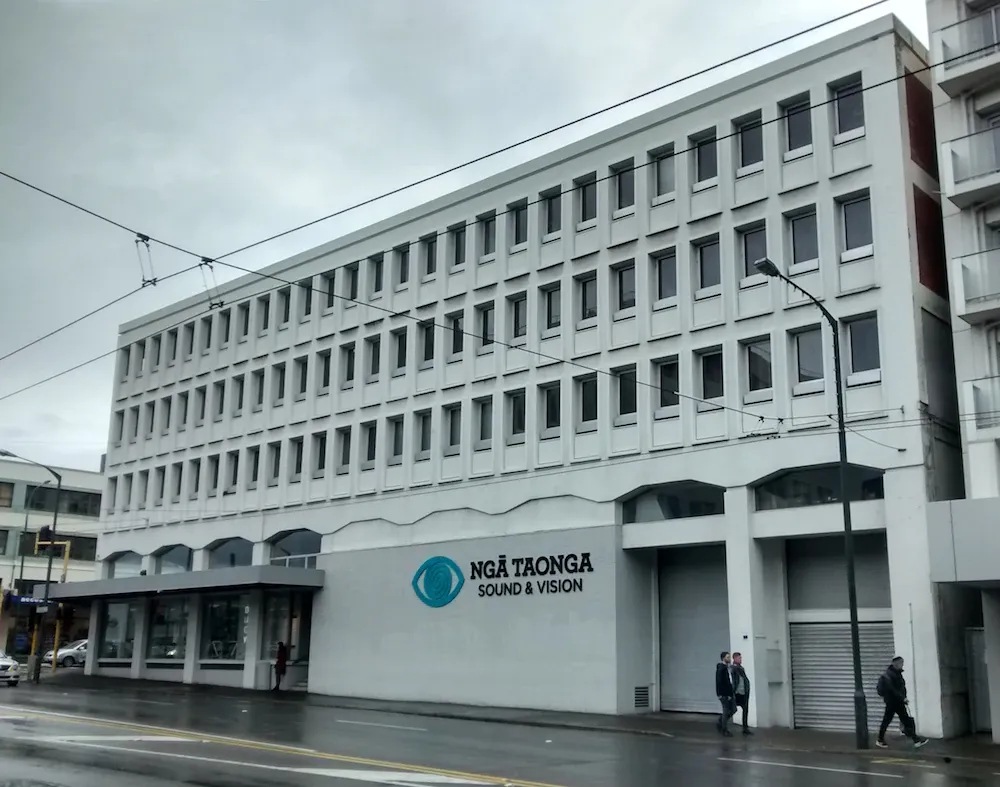 Want more of the Lowdown?
Check out Mark Amery's past Arts Media Lowdowns here and subscribe here to our weekly bulletin so it comes straight to your inbox.
Our Annual Directory of Arts Online can be found here.
News and content ideas are welcomed for future editions of Arts Media Lowdown. Please send to [email protected].
Image credits, top to bottom:
Zulfirman Syah, Grow, 2018, Acrylic on canvas. Courtesy of the artist and Redbase
Artist Ruby Jones and her illustration
Hope Didsbury, one of the artists who is part of Raglan Arts Weekend 
Gayle Chong Kwan's Wastescape - weaving landscapes of politics, dairy and waste, 2019 (install view), Silo 6, Auckland. Photo by Andrew Kennedy 
Parnell Train Station, now an artist space
Scene from Kiri and Lou
Ngā Taonga building