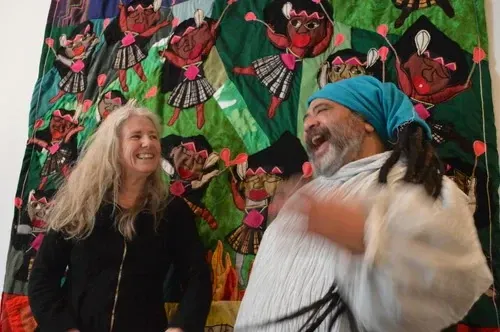 Speaking up on Arts Education woes
Writer and teacher Mandy Hager has broken silence on Scoop Media over Whitireia Polytechnic's plans to cancel the oldest and one of the most admired of New Zealand's creative writing courses. It's one of 29 programmes missing from an "indicative programme" for Whitireia fior 2020, Stuff reported, with a decision expected in July. We understand that Visual Arts (including jewellery and photography) is also dropped from that 2020 programme (except for enrolments in a standalone Jewellery diploma).
It's only 18 months since Jacinda Ardern was on hand for Whiteria and Weltec to open Te Auaha, the flash looking 'Institute of NZ Creativity', a creative programmes campus in central Wellington (equally flash video here). It comes complete with theatre and gallery spaces which have been embraced by the arts community.
That build is now looking foolish. A spokesman for Minister of Education Chris Hipkins talking to Stuff noted that Whitireia was in serious financial difficulty with total enrolments having fallen by 25 per cent in the three years to 2018 and international enrolments halved.
"Now that the overseas students have dried up, our institution is failing," writes Hager. "And those at the top have pulled up the ladders, allowing tutors and students to flail while they protect their high-paying jobs. In the process they are dismantling several of their most high-profile and successful courses, such as ours. At the end of this year, my job will be disestablished."
Other course cuts have not yet been made public. But there's anxiousness. In my arts experience Whitireia has long been a leader in its applied arts and performing arts courses, and publishing training.
Sponsored Stuff!
It's a long way from the newspaper visual arts commentary of old. Sponsored content for visual art is now on Stuff, with the support of the Dowse Art Museum, who've also supported content on Pantograph Punch. A pity given the quality of that sponsor that 'Meet five contemporary artists who are changing our world' is led by clickbait - Banksy, Hirst and Weiwei ahead of NZers Lisa Reihana and Simon Denny - with no mention of these artists' current work.
Instead we have to rely on the ABC and now The Guardian for substantial writing on Simon Denny's large installation Mine, that's just opened at MONA Tasmania.
The Dowse has also sponsored this essay on Guy Ngan for The Spinoff.
Fighting for the Manawatu Art Gallery
Last year in the Lowdown we featured the fight to reopen the Manawatu Art Gallery in Palmerston North and a call to council for it to have a separate governance structure from museum Te Manawa. Under pressure the gallery reopened, but still remains in a holding pattern. Some good news, care of local art dealer Bronwyn Zimmerman: council is preparing a consultation document, allowing community feedback and further consultation on governance models
Bloggers and challengers
51 Lowdowns and we've never featured the Victoria University Press's blog - here's the brilliant Ashleigh Young interviewed by Kirsten McDougall.
Ace young peoples' literature website The Sapling has a new editor, Briar Lawry, and confirmation of another year's CNZ funding. A new feature now running celebrates the life of Margaret Mahy, with writers responding to some irreverent Mahy-themed questions written by daughter Bridget Mahy: Barbara Else, Sally Sutton and Gareth Ward have so far answered. Favourites: During the height of adolescence, was it good changeover? And, A pirate for a mother or a jester for a father?
And more stabs at the government for a lack of strong action in the recent budget for the welfare of artists. Amanda Jane Robinson interviewed eight young women artists for Vice.
Welcome home, we love you
Last Lowdown was dedicated to Matariki Puanga. This week we couldn't resist a couple of additions and in particular this image.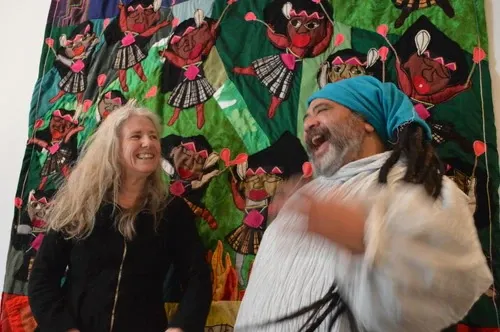 Ron Te Kawa and Janet Bayly at Mahara Gallery Waikanae
This is ACE Maori Educator of the Year Ron Te Kawa, a brilliant storyteller and quilter from Woodville, currently Māori artist in residence at Waikanae's Mahara Gallery. He's pictured with Mahara director Janet Bayly and the quilt pictured is 'Welcome Home We Love You' part of the many responses in their Matariki exhibition to the events in Christchurch seeking "to harness art's capacity to support emotional healing and renewal."
In another interesting small regional artist in residency scheme Erica Sklenars brings Selwyn residents inanimate objects to life this month at Leeston Library - working with 3D printers, projections and film
A year ago during Matariki a Māori art writers wananga was held. Now a year later a significant moment - particularly given the paucity of opportunities - editors Bridget Rewiti and Matariki Williams have launched Ate an annual journal of Māori art at Dowse Art Museum Lower Hutt. Issue one includes writing on Cath Brown, Rachel Shearer and Sandy Adsett. It's available from the Dowse.
Momentum in Film
Outgoing NZ Film Festival director Bill Gosden has already dubbed it a classic and Sydney Morning Herald said it's as "warmly wistful as a Crowded House song". First reviews are out for New Zealand feature The Bellbird, which had its world premiere at Sydney Film Festival last week, ahead of our own. Variety has reported that overseas sales rights have been bought.
Meanwhile New Zealand Film Festival has announced 13 NZ film premieres. They include documentaries on three artists: the late photographer Peter Peryer, master carver Rangi Hetet and painter Michael Smither.
And over on Pantograph Punch Doug Dillaman is in Cannes asking why, 26 years after The Piano, New Zealand films are nowhere to be seen at Cannes. "The Piano remains the last New Zealand film in Official Competition; the only Kiwi feature to screen in Cannes this century is 2001's Rain in Directors' Fortnight."
Aotearoa in Prague
The Prague Quadrennial is considered the premiere international event for performance design and scenography, and NZ artists and designers have for a long time now played a lead role in the event. Yet this time round participation has not warranted media back home. So I got in touch with artist Sam Trubridge. His work in Prague, Night Walk is a large ball of black plastic that contains a human walker.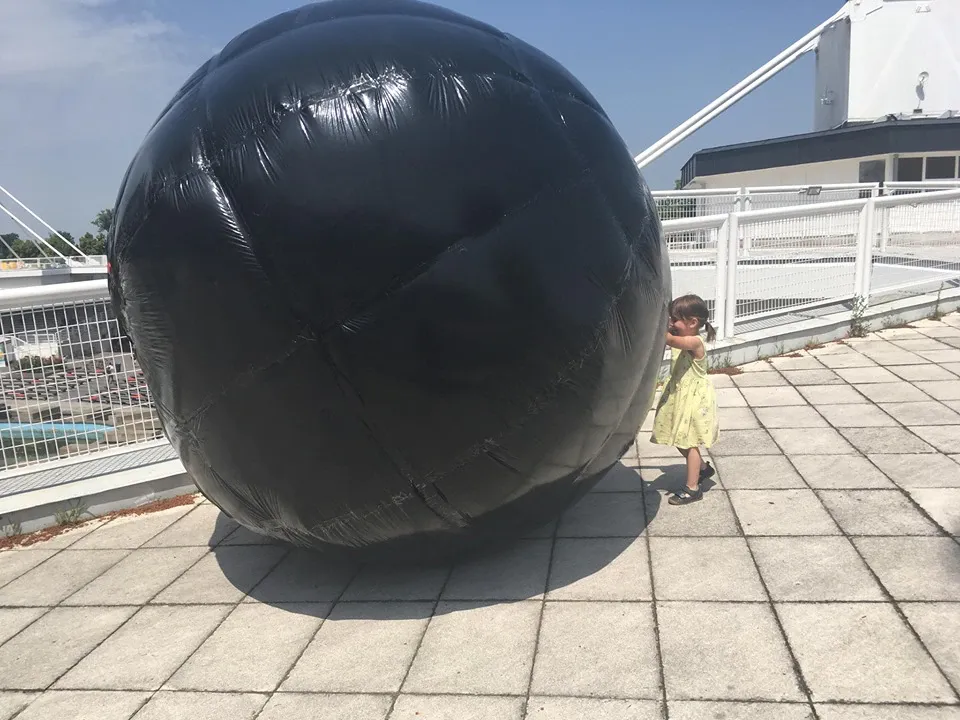 Sam Trubridge's 'Night Walk' at the Prague Quadrennial
Trubridge notes that New Zealander Dorita Hannah published one of the first texts on performance design, and Massey University with Toi Whakaari ran one of the first courses in this field. Hannah exhibited in the Fragments exhibition in Prague as one of the 'living legends' of scenography and performance design. The New Zealand National Exhibition Te āhua tū wātea was curated by Stuart Foster and Sven Mehzoud and featured Meg Rollandi, Daniel Belton, Martyn Roberts, Stephen Bain, and Kasia Pol, Anna Marbrook and Hotrod Barclay-Kerr. Here's a link to a story Dominic Hoey has written on Waka Odyssey as part of the Prague Quadrennial. The exhibition, says Trubridge, "consisted of several 'islands' or 'rafts' of engagement, fitted with high sail structures modelled on traditional ocean going waka." An NZ Emerging Designer's exhibition was curated by Meg Rollandi, and featured nine emerging artists and designers.
The Performance Arcade which Trubridge heads also featured in the Performance Space exhibition, Antony Nevin had his work Tangled included in the Formations programme and then there was Trubridge's Night Walk.
"Like those mythical characters who roll boulders up mountains every day,:" writes Trubridge "the work continues to throw itself against each landscape and die there - each time gathering new materials and meanings within the seams of the plastic, and within its 'auto poetic' gathering of references. One sphere is now stored in Berlin due to gathering too much biomatter to be allowed back in NZ. It awaits a new performance in that continent."
Mother of Modern Dance
Last week saw the passing of New Zealand's "mother of modern dance'', Shona Dunlop MacTavish aged 99. An inspiration to new generations, as Jono Edwards writes in the Otago Daily Times "She would choreograph works with social justice themes well into her 80s, and often had them performed in churches, believing dance to be inseparable from her spirituality."
Now, Then, Next
"Time is a problem in the contemporary world, " writes senior Christchurch Art gallery curator Lara Strongman. "There is simply not enough of it." Lovely writing in this piece, where Strongman looks back at how time operated differently when she first started working in art galleries. Its coincides with the gallery's new collection show Now, Then, Next, on different ways of looking at time.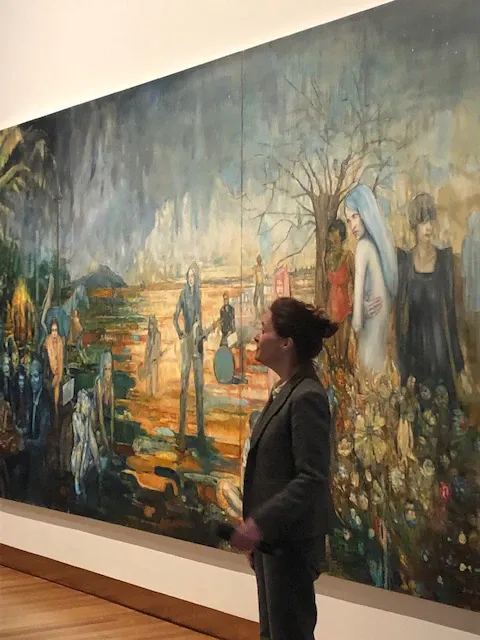 Lara Strongman with Everything that's old is new again (2011) - Séraphine Pick
Haka for Alien Weaponry
Here on Newshub are 6,000 or so Danish heavy metal fans providing Alien Weaponry with a haka, this last weekend at Copenhell festival. It was led by Kane Harnett-Mutu, who has been teaching haka in Copenhagen for two decades.
Homage to an iconic landmark
And in an interesting new art initiative. Mercury Plaza just off Auckland's Karangahape Road has been a centre for the Chinese community and the area's fruit and vegetable sellers for years. It's now to be bowled for the City Rail link but not before Joni Lee and Jia Luo create Origins + New Beginnings an exhibition of local emerging Chinese artists developed to pay homage to the space. There's a Boosted campaign underway and entries open currently through TBI.
Monuments, musicians and museums
Interesting comment on the appropriation of Māori knowledge in architecture. Rebecca Kiddle on The Spinoff writes that while the new Christchurch library Tūranga has been widely praised for its indigenous motifs and design references, when it won a major award at the Property Industry Awards last week, the significant Māori input into its design wasn't mentioned. Nor was it last month when the Tirohanga Whānui bridge in Auckland won an award at the 2019 Auckland Architecture Awards.
Also stemming from Christchurch Libraries this stellar blog on musician Shayne Carter's conversation with Rachel King as part of Word Christchurch.
Here's an impressive New Zealand web project. The JoM bills itself as is New Zealand's first Jewish museum, and the first online Jewish museum in the world. Its governed by a charitable trust and designed and built here. It features an arts section, with a bevy of interviews and texts with artists and writers.
Craving podcasts
Crave is a NZ film, music and entertainment review site new to me, run by Simon Mercep and Steve McCabe. As well as written reviews Mercep and McCabe do a review podcast every week, already now up to an impressive #84.
Then there's NZ Entertainment Podcast which features an array of theatre and film reviews (Mike Beck on the Prayas ATC theatre collaboration A Fine Balance). The podcasts turn out to be video interviews (not the same thing!).