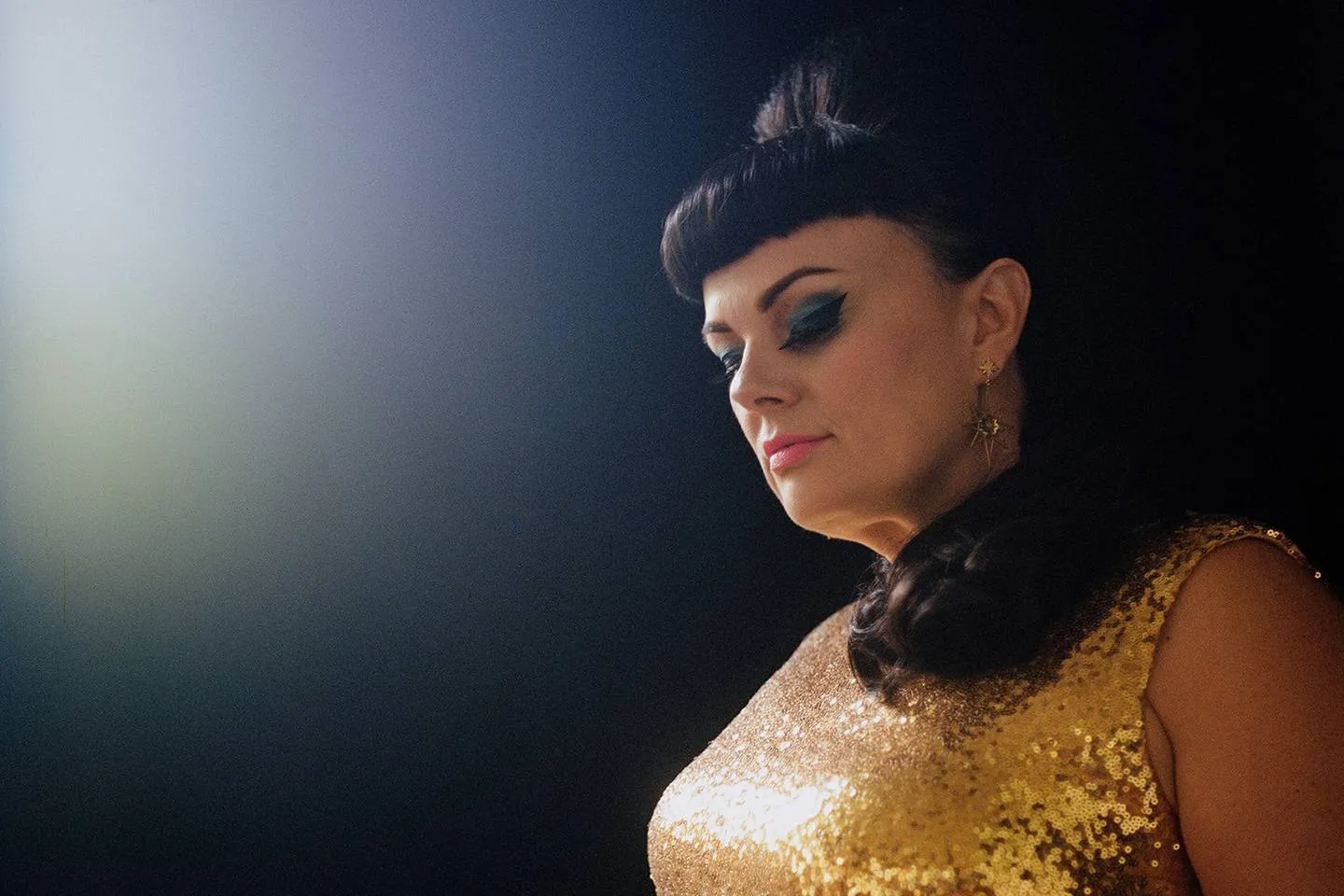 Tami Neilson has never accepted the status quo - and for that, she's accepting some major honours at this year's Aotearoa Music Awards.
The 2022 winner list has been revealed this morning, with some of the local music industry's heavy hitters rewarded for their outstanding mahi by Recorded Music NZ.
The headlines on mainstream media will likely focus - deservedly - on the history made by reggae group L.A.B. after they secured the same four Tūī for the second year running. V claimed Album of the Year, Mr Reggae Single of the Year, along with bagging the Best Group and Best Roots Artist gongs.
But Neilson's incredible 2022 - which has included recording and performing a duet with the incomparable Willie Nelson and releasing the no-holds-barred Kingmaker album - has brought with it three Tūīs.
Country Music Artist of the Year is a familiar title - winning it for the sixth time. But Neilson has bashed down the confines of genre barriers to be crowned Best Solo Artist.
She told The Lowdown "To be in a category with Lorde and then win seems actually quite ridiculous to me and I'm sure it will be to others who love Lorde (laughs).
"It's just that acknowledgement of being viewed by my peers as being at that level - that's really special to feel that acceptance and feel that celebration from my music community.
"Being labelled a country artist in New Zealand, it's often pegged as very niche. So for me to be nominated in seven categories - I think it's the first time any country artist has been nominated that many times in the mainstream categories. 
"It's really rewarding and it's humbling but the fact is that it's bigger than me, it's something really special that I feel had to happen for country music in New Zealand."
But one award stands out.
Neilson has been crowned Best Producer after taking full creative control on Kingmaker.
Tami Neilson. Photo: Sophia Bayly
"Between you and me, this is absolutely my favourite award ever because it's a category that is dominated by male producers and has been for decades and decades. 
"A friend of mine, Dr. Jada Watson, is a Professor of Musicology at the University of Ottawa. She runs song data, which is research into gender representation in music.
"So I sent her the archives of the Music Awards - just for the category of Best producer - and in the 50 years that they've been giving out that award, only five women have won and four of those women, it was in a collaboration with the male members of their bands.
"She sent through this graph, Women make up 4% of the Best Producer winners. And 3.9% of Best Producer nominees - and on two occasions, it was the same winner, Bic Runga.
"So it's very, very special to join that very small number of women who have won Best Producer. But for me, when I look at the talent of women producers around me; Dianne Swann, Anna Coddington. Aaradhna, Bic Runga, Holly Smith, Steph Brown of Lips, Emily C. Browning - these are just a few women off the top of my head - and it's just crazy to me that we're so underrepresented in that category.
"It's not just New Zealand. There was a study by the Annenberg initiative that showed that only 3.9% of producers are women even in the States.
"I've always co-produced all my albums, but this was the first time I decided to take the reins myself and produce. I didn't step into my confidence until I saw all the women I just listed - and other women overseas who I love the production of. Until I saw it, I didn't feel the confidence to be it. 
"The conversations I had around making this decision to produce the album - with Victoria Kelly, who arranged all the string arrangements on the album, with Anna Coddington and all the women that I spoke to said 'you don't need anyone else, you know exactly what you want. You can do this.'
"I think that representation is so important, so I really felt compelled to do it and be visible. To win that category is just such a real stake in the ground, I feel, for myself but also for hopefully other women seeing me winning and going, 'Oh, why didn't I enter that category?' or 'why don't I produce my own album' and feel like that confidence of 'if she can do it, I can do it.'" 
That isn't the album's only success, with Simon Gooding's efforts landing him Best Engineer.
Neilson's been touring Kingmaker around the world, including in Canada, USA, Australia, France, Denmark and the Netherlands, Dunedin and Nelson (17 and 19 November respectively) next on the list.
She explains that this year has felt like "after being landlocked  for two years, suddenly, it's like we've all hit the ground running. I think everybody's really trying hard to get back the opportunities lost and the time lost."
But having made this album in the midst of lockdowns, it's actually quite a surprise to be touring it, gathering with others and getting to perform it.  When I wrote it and recorded it, I did it with the intention that if I couldn't tour, that hopefully I could make an album good enough that would go around the world for me."
It's certainly achieved that.
Among the other Aotearoa Music Award success stories, Silver Scrolls winners Rob Ruha and Ka Hao have added to their trophy cabinet - Ruha for Best Soul/RnB Artist while Te Tairāwhiti's talented group won Best Māori Artist and the Mana Reo Tūīs.
While established acts like Lorde (Best Music Video Content with Joel Kefali), BENEE (Best Pop Artist) and Six Sixty (Highest Selling Artist & Radio Airplay Record of the Year for Someone To Be Around) extended ownership of their respective categories, there was some first time success for others - Georgia Lines has scooped Breakthrough Artist of the Year and LEAPING TIGER won Best Electronic Artist.
Chelsea Jade Metcalf showed off her all-round creative talents to win Best Album Artwork for her album Soft Spot (above), Alien Weaponry claimed Best Rock Artist, Vera Ellen is Best Alternative Artist for 2022, Robert Ashworth and Sarah Watkins added to Rattle Records impressive tally of wins (including all the nominees once again) for Best Classical Artist and two-time 2022 Pacific Music Award winners Diggy Dupé, choicevaughan and P. Smith were collectively named Best Hip Hop Artist for The Panthers OST.
Speaking of Dupé, he's just dropped his new EP titled HUES, his first solo effort in two years.
It's a highly creative and bold concept from the Unitec Art student turned hip hop performer - as he describes it "HUES is all about the process of creating, guided by colour in response to sound. Each song has an individual piece of artwork attached to it." (EP Cover below).
Best on the globe
Another music prize - but this time it's on an international scale.
From over 150 applicants, Auckland City of Music has been named Best Global Music City at the 3rd Annual Music Cities Awards at a ceremony in Tulsa, Oklahoma.
The Awards are designed "to acknowledge and reward the most outstanding applications of music for economic, social, environmental and cultural development in cities and places all around the world."
It's the second successive win for Tāmaki Makaurau at these awards, following on from last year's Best Global Music Office.
Mark Roach, Director of Auckland City of Music states "By designing and embedding music-friendly policies in city planning; creating & protecting the spaces and places that music needs to thrive; and caring for the unique sounds of this region, we can create a sustainable music ecosystem for all. There is still much mahi to do, but in winning this award, I am confident we are on course to realise Tāmaki Makaurau Auckland's potential as a global creative capital."
Impending icons
An elite accolade will be handed out to three New Zealand creatives this weekend.
And clubs don't come much more exclusive than the Arts Foundation Icons - only 41 New Zealanders have ever held the honour, that list is set to grow to 44.
The Icons are capped at 20 living New Zealand creatives, with the likes of Patricia Grace, Sir Peter Jackson, Greer Twiss and Dame Kiri Te Kanawa in this impressive cohort.
Like the many exclusive clubs, the only way to get in is when someone else leaves. And sadly, three places have opened up this year or so.
Arts Foundation General Manager Jessica Palalagi told The Lowdown "as we celebrate our three new Icons, we also remember the monumental impact of Billy Apple ONZM, Sir Miles Warren ONZ KBE FNZIA and Russell Kerr ONZM. They were all so different, and yet each have left an undeniable mark on Aotearoa New Zealand.
"Their work took us to new places, and that is really what our Icon awards are all about – to honour the artists who changed us in some fundamental way.
"The Icons Whakamana Hiranga are significant particularly because they are embodied in a living circle of 20 artists. It's an interesting concept, and unique in that it represents the full diversity of the arts, as opposed to one specific sector. It's a nod to the past, while acknowledging the present and looking to the future."
If you're looking to crack the code and work out who might be in the running to be bestowed with the lofty title, this is the criteria the selection panel had to work with:
- Reached or are working at the peak of their careers
- Been demonstrably dynamic and influential in their field
- Made a major contribution to the artistic and cultural life of Aotearoa and our understanding of ourselves as New Zealanders
- Made a major contribution to their own art form – and possibly also to others
- Produced a significant and distinguished body of work, of outstanding quality and excellence
- An international standing or reputation (or in the case of an art form unique to Aotearoa, have demonstrated a mastery in their discipline equivalent to world standards)
- Taken work of Aotearoa to the world and brought the world's attention back to Aotearoa by demonstrating what is remarkable and special about us – and are therefore representative of this country and its people and our hopes and achievements as a nation
All will be revealed Sunday - The Big Idea will have the announcement covered.
Arts funding cuts mirrored across hemispheres
If you're part of the creative community, you don't need to be told the impact funding cuts are having on the sector right now.
But it's worth pointing out, New Zealand is far from alone.
This week Creative NZ's British equivalent, Arts Council England (ACE) announced their 2023-26 Investment Programme.
It's come with plenty of controversy - sound familiar?
The BBC has described it as "the most dramatic shift in funding for decades, diverting investment from London towards other parts of the country."
Responses have included calling it "a sad day for the arts in Broken Britain", "a terrible series of vandalising decisions by the Arts Council" and claiming "the irreparable damage done to the cultural fabric of the UK in these recent arts cuts beggars belief."
(note, all the below figures have been converted into NZD)
Over 1700 organisations applied for the $860m a year available in funding with 990 supported. 276 of them are new to the programme and reports of around 100 previously funded organisations missing out this time around, including Britten Sinfonia - who lost 50% of the orchestral organisation's budget and will receive not a brass penny from this round.
But again, even for those accepted into the funding umbrella, the news isn't all rosy.
Soloists take a stand during a curtain call to back English National Opera through their 'Choose Opera' campaign. Photo: Kathy Lette.
Among the backlash, English National Opera (ENO) performers and backers have hit out at the decision to turn their $24m a year funding into just under $39m over 3 years - that's a slashed support of $33m.
ENO Chief Executive Stuart Murphy has labelled it an "an absolute travesty", stating they are "completely shocked" and "bemused and baffled". Already, highly regarded Welsh performer Sir Bryn Terfel has started a petition to the government to revisit the decision, declaring "the careers of singers, musicians, technical staff, creatives and other skilled workers, both permanent and freelance will be at risk."
Interestingly, the ENO and others are being encouraged to move their HQs out of London, in this case to Manchester to see the country more broadly catered for.
The sentiment seems best summed up by an open letter in the times from Artist management agent, Sue Spence.
"The less we invest in the arts, the less important they will be for future generations."
Much like the situation here in Aotearoa - the reverberations are just beginning inside the British creative community. Watch this space.
Topp man
Chris Parker and the Topp Twins. Photo: Supplied.
It's not often you get a surprise Zoom call from some of your creative idols. It's even less common that they tell you that you're the inaugural winner of an award in their name and the recipient of $15,000.
Comedian Chris Parker's been given the prestigious role of being the first winner of the Topp Prize, named after and presented by the Topp Twins themselves, Dames Jools and Lynda Topp through the New Zealand Comedy Trust.
Parker responds "this is a huge honour. I've always truly idolised the Topp Twins and I spend an alarming amount of time watching them on YouTube.
"A performer like myself is a product of the work, advocacy and representation that they've put out into the world with such positivity and respect for Aotearoa. I'm so touched."
On top of the honour and the cash, Parker also gets his mitts on two iconic milk bottle lolly artworks from Simon Lewis Wards - housed in a double hot pink crate to match Camp Mother's pantsuit.