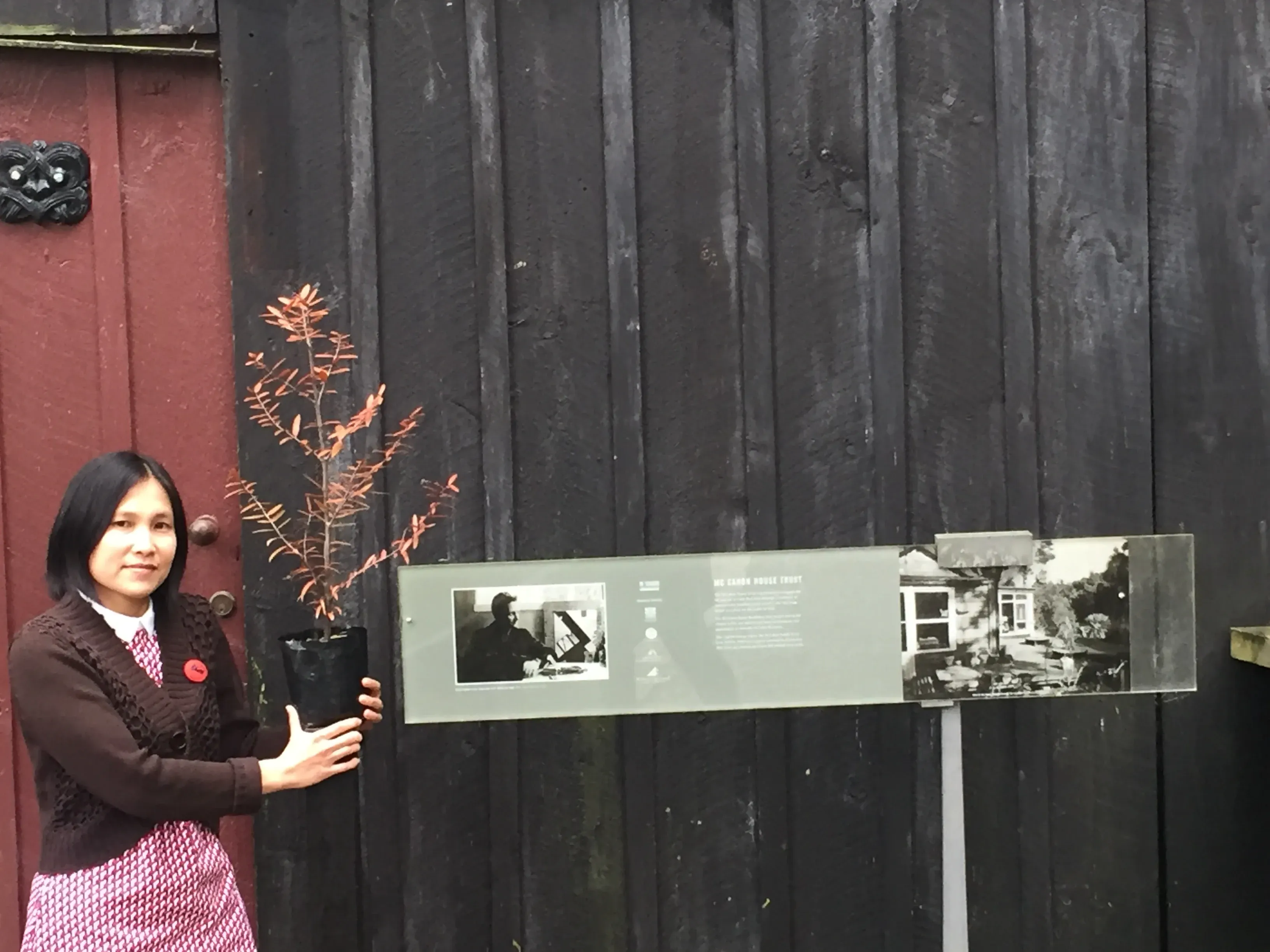 Colin McCahon was enamoured by the majestic kauri. Hailing from the South Island, he had never seen a kauri tree until he moved to Titirangi, Auckland in 1953. He painted a total of 50 works featuring the kauri tree inspired by the hundreds of mighty kauri on the grounds where he lived. Now home to the McCahon House Trust, in 2010 these same kauri tested positive for kauri dieback disease, and the majority have died. The McCahon Kauri Project is a collaborative effort to maintain the legacy of these trees that inspired Colin McCahon so greatly.
In 2014, seeds were harvested from the remaining 27 trees on the property. McCahon House, Auckland Council biosecurity and arborists from Treescape joined forces to collect cones from tree tops. After testing negative for kauri dieback disease, these seeds were transferred to the Auckland Botanic Gardens where they have been carefully tended into healthy saplings.
There are now 600 limited edition disease-free 'McCahon kauri' saplings available for purchase harvested from the original trees. "Some of the trees the cones came from have become a lot sicker, or even died. It's wonderful to have their history preserved in some way, and to have been able to harvest seeds from the very kauri trees McCahon painted and loved," says Vivienne Stone, director of the McCahon House Trust.
Alice Ng has been working as the administrative coordinator for the McCahon Kauri Project at McCahon House. With aspirations for a career in arts management, she is thrilled to be working on a project that utilises and builds her skills, with a focus on something so close to her heart. "I personally love the tree and this project gives me hope that there are still healthy plants out there even though they are harvested from trees with the disease. The legacy of tane mahuta is not dead, it carries on."
This project highlights the essential place that the environment plays in any artist's work. The intersection between the two, Alice says, is unavoidable. "When I look at the word 'environment' it means what is happening around you. When you make art you're breathing in that air, you can't escape from your environment. Whether it's translated directly or indirectly into your work, you can't escape it."
For McCahon, the landscape in which he painted was often directly translated into his work, providing a massive source of his inspiration. "His painting is almost entirely autobiographical. You can look at the lineage of the work and you can pinpoint where he was at a given point in time." Within his depiction of his environment there is reference to his emotional state at the time. Looking at McCahon's kauri paintings, Alice says, you can tell that this was joyful in McCahon's life. "These are some of his happier paintings with bright colours. This is a period when he is painting for himself."
The money raised from selling the saplings will go towards the work of McCahon House Trust and The Kauri Project. However, the greatest impact of all will be the planting of 600 healthy kauri trees across New Zealand. "I think this is a good chance for us to spread the word and bring awareness of kauri trees", says Alice, "by encouraging people to plant them in different parts of New Zealand that are disease free, we all become a good part of contributing to kauri survival."
The McCahon Kauri Community Day is on Sunday 6 August 2017, from 11am – 4pm at Titirangi War Memorial Hall, 500 South Titirangi Road, Auckland.
It is free to attend. The trees are $50 each. If you don't have room for a tree in your backyard, you can be a sponsor and the tree will be provided to a suitable home and you will recive a commemorative numbered booklet about the project.
To reserve a tree in advance, email [email protected] or call 09 817 6148
Find out more at: www.mccahonhouse.org.nz/Kauri
Learn more about The Kauri Project, Learn more about kauri dieback disease