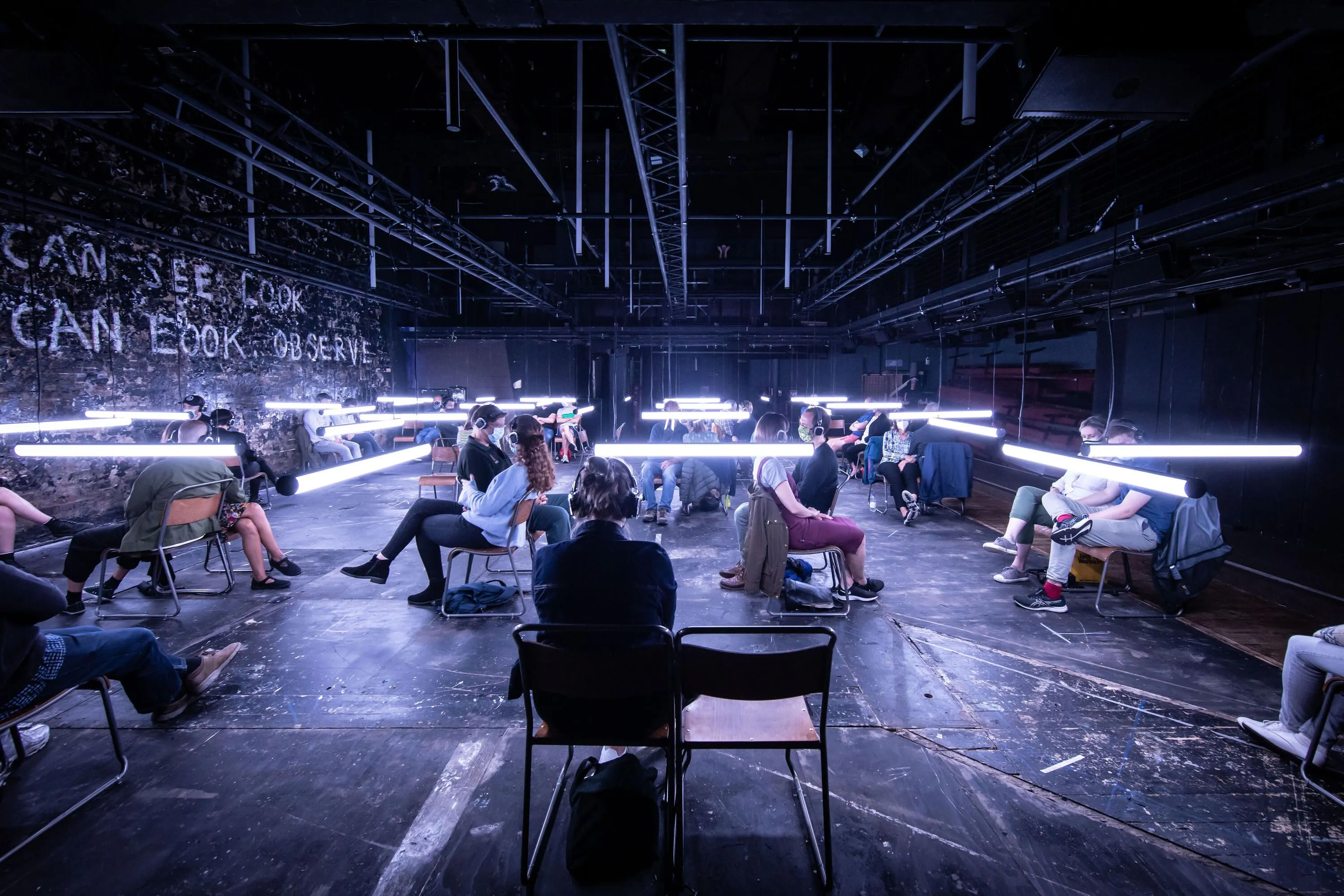 Artist Ai Weiwei, novelists Kazuo Ishiguro and Isabel Allende, and actors Gabriel Byrne and Juliet Stevenson - all interesting international artists appearing in the just-announced Auckland Writers Festival programme, but without actually stepping foot in the country. 
After last year's festival COVID cancellation, there'll be relief with the release of this programme, and hope for an uninterrupted run: 11 to 16 May, with 200 writers due to be assembled. A few internationals will be here in person - no surprises reunited Neil Gaiman and Amanda Palmer will still be here - but others are appearing in ways that see the festival broaden its arts brief, taking up COVID-borne opportunities. 
While Weiwei and Ishiguro stream in live, Juliet Stevenson appears as a recorded voice in headphones in a socially distanced sound and light experience in the Donmar Warehouse London production Blindness - Simon Stephens' adaptation of Jose Saramago's novel. 
This is a major theatre event. Back last August, it was the first ticketed theatre production following the UK's first lockdown. Appropriately, Blindness is about an infectious blindness spreading across the globe as an overnight pandemic, with Stevenson the only one left who can still see. 
It's had strong West End reviews (here's The Guardian) and opens In New York 2 April - among the first productions to open there since COVID shut theatres a year ago. With sound and light but no live actors, in New York, the season also offers theatre producers a new commercial proposition: the open-ended run. Production there has no end date. 
An exciting prospect, the festival has confirmed that the Auckland dates negotiated are fixed. They have a license for 32 performances over six days (theatre capacity 62 seats) with an option to extend for one further week. Theatre is changing!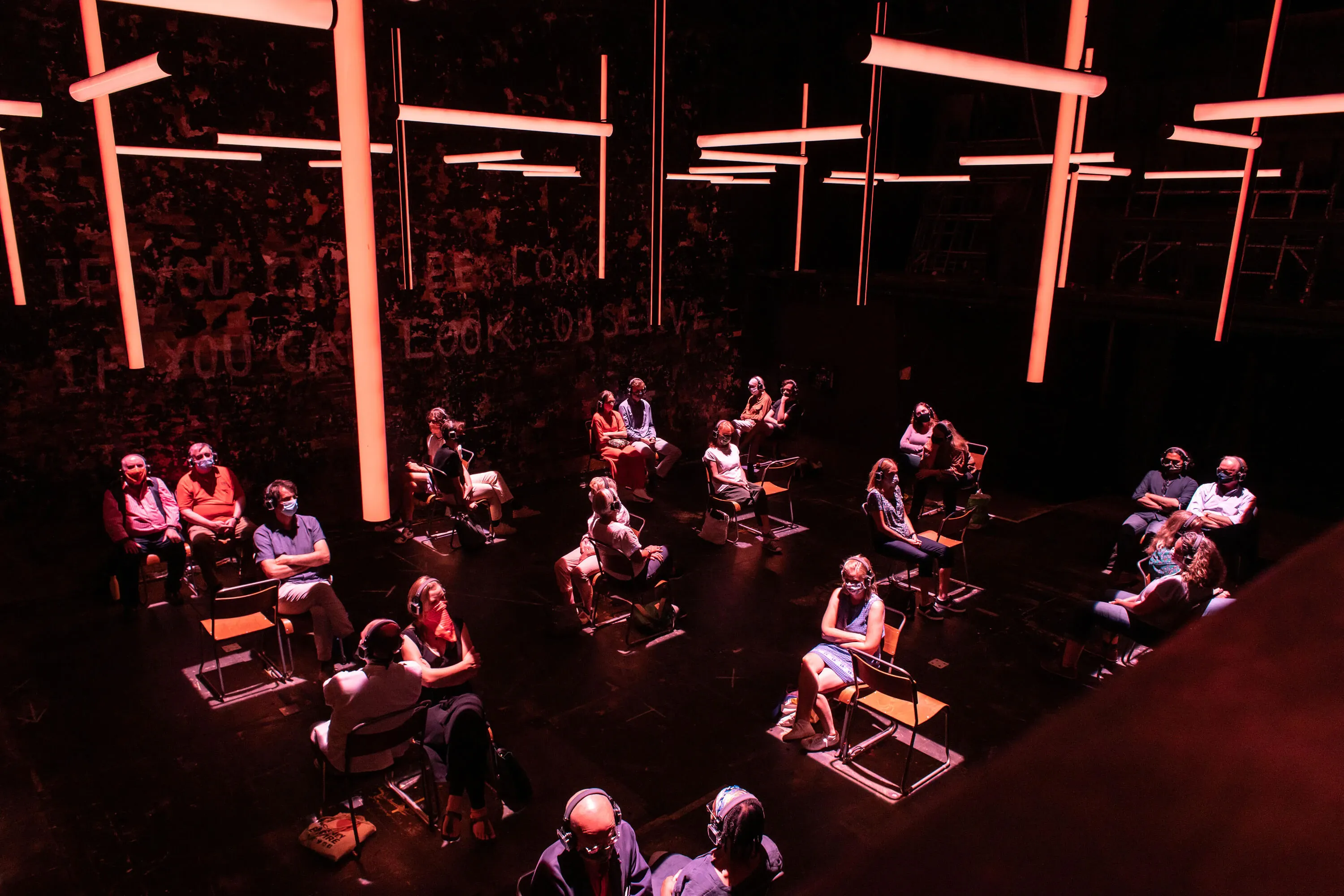 Blindness at the Donmar Warehouse. Photo: Helen Maybanks.
Note the smart literary programming of that theatre piece in a writers' festival. So too is the programming of Hapai Productions' Witi's Women, written by the late Nancy Brunning, which has thus far bypassed other festivals since its production at Tairawhiti Festival Gisborne in 2019 and 2020.     
Spot the irony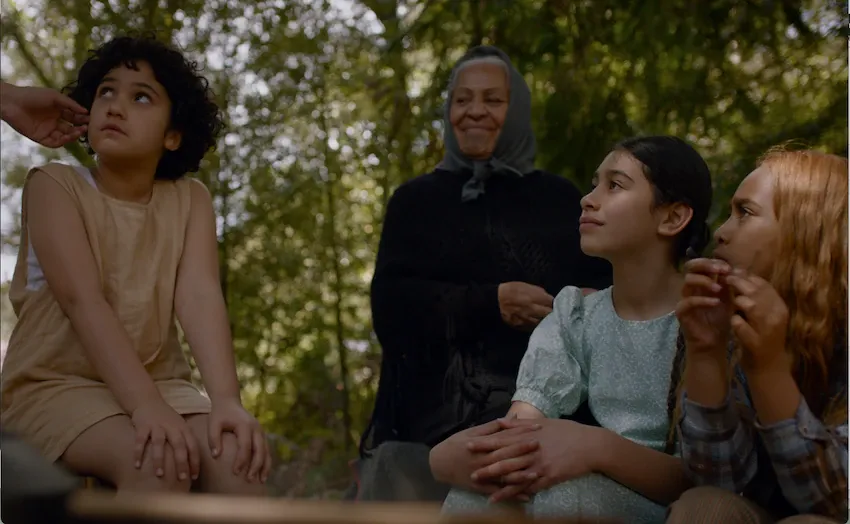 A still from the film Cousins.
In its first week of release, feature film Cousins is being lauded for its groundbreaking empowerment of Māori women, but that also should spell a warning of a need for change in Pākehā and male domination of film criticism.
The NZ reviews flying in are positive for Ainsley Gardiner and Briar Grace Smith's feature. Dominic Corry comments on the significance of its focus on wahine Māori in the NZ Herald (paywalled) and in the Dominion Post, James Croot says "Cousins is a timely and vital look at the importance of identity, family and institutional inequalities, some of which shamefully still exist today." Steve Newall over on Flicks calls it a "deeply-moving, dramatic triumph" and Simon Morris at RNZ's At the Movies says the wait was worth it.
Yet, the irony here is easy to spot. Our film arbiters of taste remain mostly men and, on the face of it, Pākehā. No disrespect to these critics, but when we talk about inequalities and empowerment, there is outstanding work to be done. 
We have fared occasionally better in the television space - Kate Rodger gives Cousins five stars at Newshub. Over on The Spinoff, Charlotte Muru-Lanning notes that Cousins is the first feature-length film directed by Māori women since Merata Mita's 1988 film Mauri. That's a telling fact. Muru-Lanning's piece, her first for The Spinoff, is excellently written. She has a BA in sociology and film and media studies and a Postgraduate Diploma in Journalism. Need I say more. 
Meanwhile, E-tangata have marked the premiere with the publishing of an extract from Patricia Grace's novel on which the film is based.
COVID finally gives back
For everything COVID has taken away, it continues to gift us back some of our leading visual artists whose careers usually revolve around public gallery shows in Europe and North America. 
Summer has already given us major survey shows from Zac Langdon Pole at City Gallery Wellington and Kate Newby at Adam Art Gallery, with the artists heavily involved on the ground. Now in residence in Christchurch is the UK-based Francis Upritchard.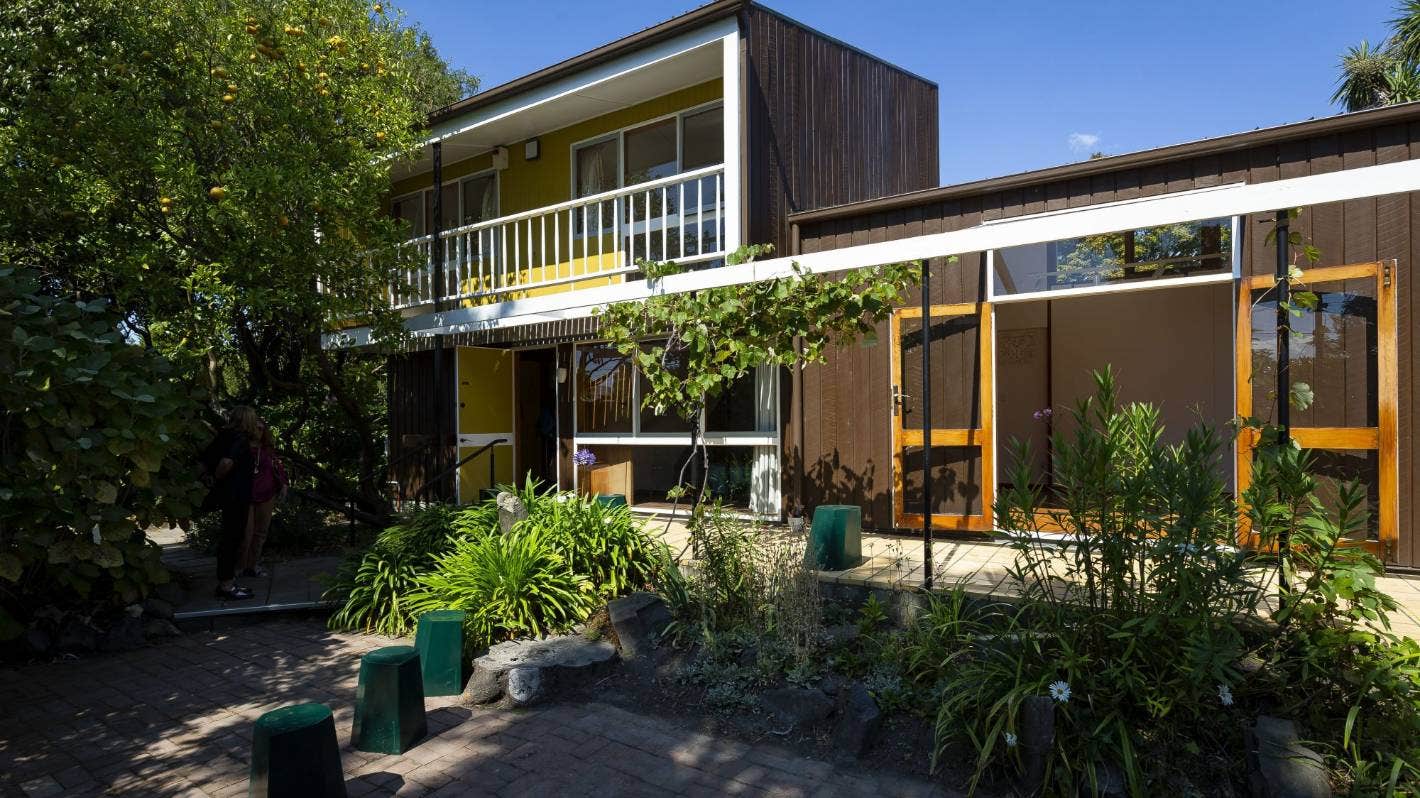 Artist Bill Sutton's home in the red zone is now an important artists residency.
Upritchard is the first artist in residence at the restored home of late painter Bill Sutton, one of the first homes rebuilt in Christchurch's residential red zone (and one of the few saved). The residency at the house has been a long-held dream, and might be considered something of a southern bower to the McCahon House residency in Auckland's Titirangi. Former senior curator at the Robert McDougall Art Gallery, Neil Roberts purchased the house after Sutton's death with the idea for a residency and it's now owned by council.
Upritchard is working towards a show later this year at the Christchurch Art Gallery, as reported in The Press. She moved to London in 1998 after graduating from the Canterbury School of Fine Arts.
The good, bad and ugly news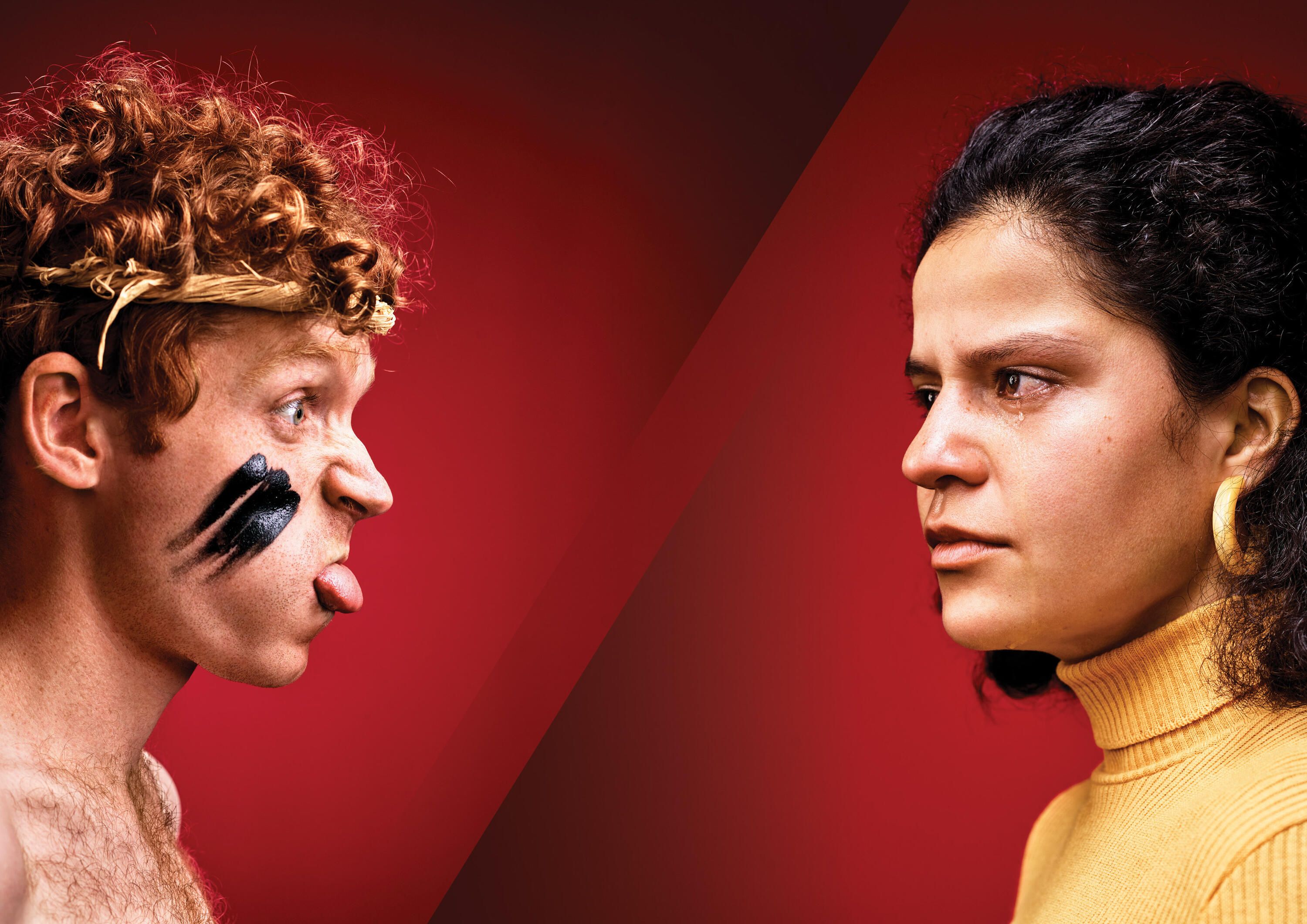 Katie Wolfe's The Haka Party Incident.
While the shift back to Level Two for Auckland is a big relief (and to Level One a relief elsewhere), the crippling restrictions on the performing arts this still entails get scarce mention in the media. The level shifts at 6am on Sunday saw, as well-publicised, the America's Cup and big cricket, rugby and netball events back on. Arts events of any reasonable size don't fare so well.    
After being delayed last week with many shows having to cancel, the Auckland Arts Festival relaunch is our day of publication Thursday, but with seating restrictions and 'cautious optimism' for the weekend moving to Level One. The festival is regularly updating here, and there are many cancellations and amendments. 
We still await news on delayed premiere dates for major, significant new NZ made works, like brand new ballet company BalletCollective Aotearoa with Subtle Dances. Meanwhile the delayed premiere with Auckland Theatre Company of Katie Wolfe's The Haka Party Incident has just been announced today as 30 March-10 April.    
The havoc Level Two plays with performing arts companies is evident with the changes announced to the Royal New Zealand Ballet's beloved Tutus on Tour outside of Auckland. Their Whanganui date was cancelled entirely, Manukau is postponed indefinitely (until we know where Auckland alert levels are at) and other centres pushed out to 19 March and beyond. 
There was also bad news from the Pop-Up Globe enterprise last week. As Stuff and RNZ reported, the company has gone into liquidation. Those media stories were a little unclear that, unlike other major performing arts producers, the Pop-Up Globe had been lucky enough to get through most of a farewell NZ production before lockdown struck, but it has scuttled their big international plans. As some involved in production at Pop-Up Globe noted to me this week, those plans did involve hiring New Zealanders in many different roles and working with schools.
There was some good news however for Haka Party Incident playwright Wolfe last week. Wolfe won the Best Play by a Māori playwright at the Playmarket Adam New Zealand Play Awards (results here). Wolfe's play is verbatim theatre, recreating the 1979 battle between University of Auckland engineering students and members of activist group He Taua. It also won the inaugural Dean Parker adaptation or non-fiction award, which remembers one of our leading playwrights who passed away a year ago.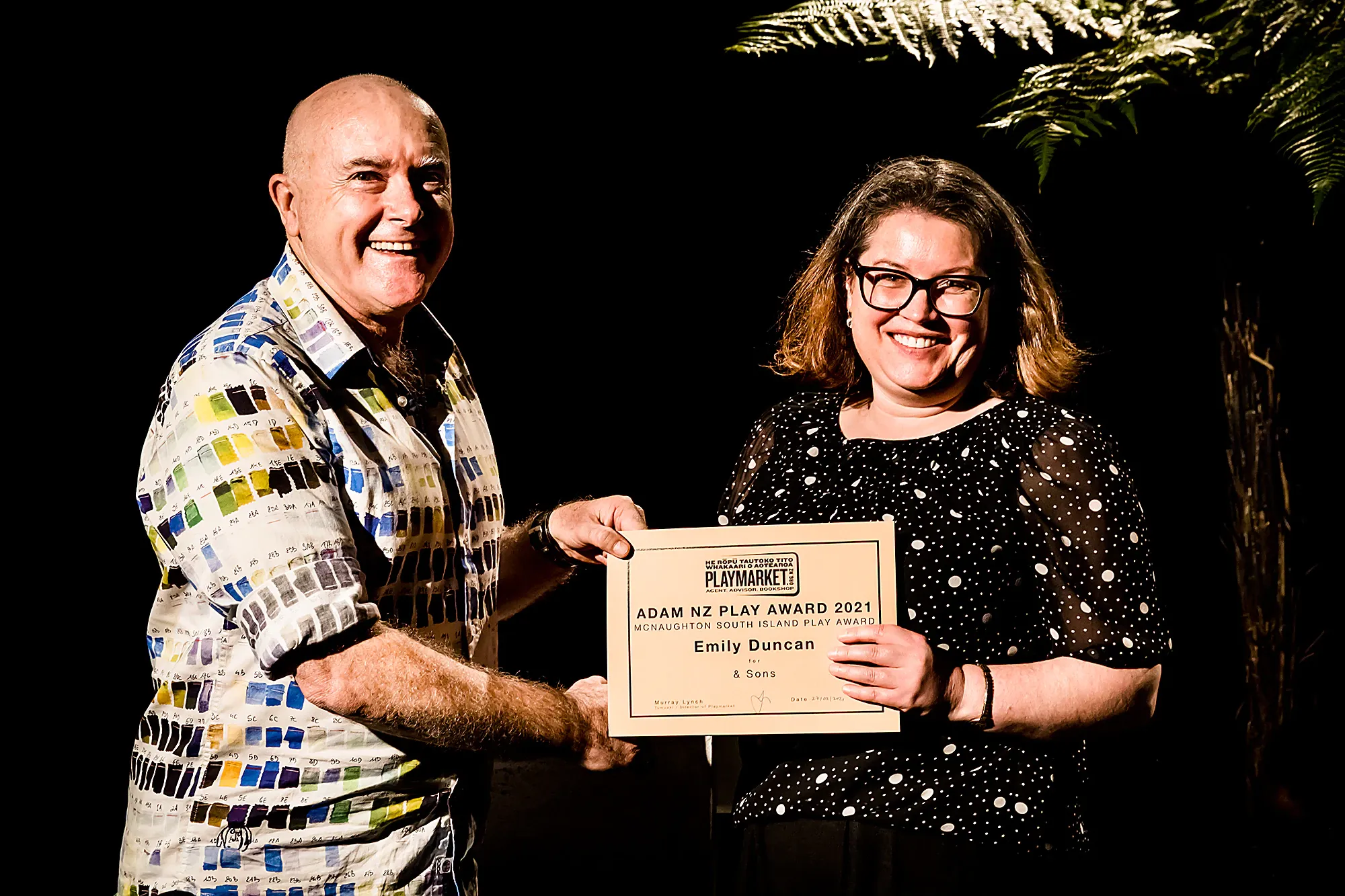 Playmarket director Murray Lynch with award winner Emily Duncan.
The top Adam NZ Play Award and Best Play by a Woman Playwright went to Emily Duncan for & Sons - Duncan was interviewed in the Otago Daily Times and on RNZ's Standing Room Only.
The world is so changed these days that news that a heavy metal band is to collaborate with that bastion of classical music the NZSO has not yet made the media. Two giants in their fields: the orchestra will play two concerts with acclaimed young Te Reo Metal group Alien Weaponry in metal heartland Hamilton and Christchurch in May.
 
Colour, culture and an emasculated penis
Fafine Niutao I Aotearoa is a Tuvaluan arts collective who have just opened a joyous show at Whangarei Art Museum. One look at this Northern Advocate story on the opening will give you a sense of the colour and action of this event.   
This month's Artbeat newspaper in Christchurch leads with a feature look at the work of photographer Janneth Gil, who has developed close relationships with the city's Muslim communities over a series of projects since the 2019 Mosque attacks - creating and developing a series of projects that respond with affirmation to a greater understanding and tolerance by all communities to others. Current exhibition Darkness into Light is at PGgallery192 until 19 March.  Charlie Gates at Stuff also spoke to Gil and shares some of the images of the daily life of grieving widows.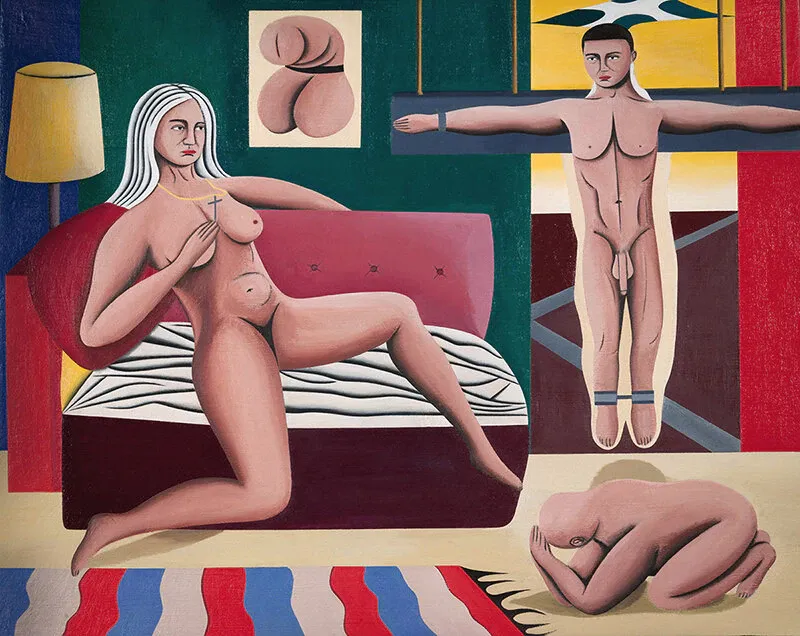 Family by Jeffrey Harris at Suite Auckland.
Speaking of Artbeat, arts reviewers remain an endangered species, but the old ones (including yours truly) find ways to keep going. Auckland-based John Daly-Peoples has been writing about visual and performing art for 30 years, and for 20 years of those - up until 2019 - at the National Business Review. 
He hasn't stopped: since July last year he has been publishing regularly on his own blog The New Zealand Arts Review. His latest is on new paintings by Jeffrey Harris at Suite, and seniority hasnt dulled either painter or writer. Take Daly-People's last paragraph as an example - "[Painting] "Family" has a much more ambivalent sexual content with a Christ figure into bondage confronted by a religious dominatrix. There is also an emasculated penis image on the wall."    
The Sapling continues to provide a clever, welcome window on books for young people in New Zealand, and an example is a review by Simie Simpson this week of three NZ picture books. They include Sarah Johnson's The Garden's Secrets, a rather interesting looking picture book look at the marvellous Hamilton Gardens.