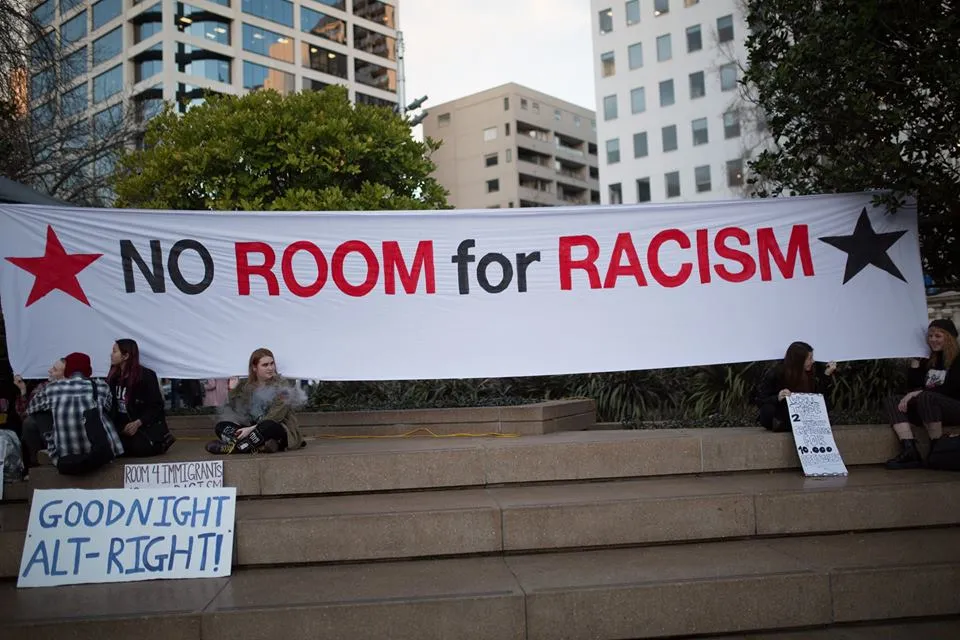 Small gallery, big issue
It was the show that many people in the art world either wanted to quietly go away, or simply didn't want to give any oxygen - until, that is, its last day on Saturday.
People of Colour by Mercy Pictures ran at the small Auckland artist-run space of the same name from 16 October to 7 November. It exhibited representations of many and varied flags, including Tino Rangatiratanga and Ngāi Tūhoe's flags, placed near neo-Nazi and white suprematist flags, including that used by the man guilty of carrying out the Christchurch mosque attacks. All this built a pyre of protest on social media from Saturday.
By Tuesday night, it was the subject of Stuff and RNZ stories, escalating wider attention. The irony became a familiar one when art hits the headlines: the key complaint in a further Stuff story on Wednesday was criticism by the Jewish Council that the imagery may be traumatising.
Yet until the mainstream media took it up, no images of this show were easy to find online. Many in the art world had deliberately not spread them and the artist-run space is small. A review published Wednesday by John Hurrell on Eyecontactsite - which essentially defends the gallery as a site for the freedom of this kind of work - doesn't carry images of the work (and neither will this column).
None of this exonerates Mercy Pictures.
The exhibition's clear and hardly groundbreaking provocation was to question the limits of current social liberalism and the gallery, while discussing the potency of the visual iconography of flags. UK cultural critic Nina Power wrote lightly on the show's rather familiar art historical context around flags on Index (which has since been taken down). Power has been accused in all this as being a far-right supporter and TERF. She has denied involvement in the production of the show, and yet provided the only text representing it. Power has been in contact with The Big Idea and has stated she "absolutely refutes these claims."
Stuff stated that criticism of the show came from people outside the art world in its last week. They omit the fact that the alarm was actually sounded by young concerned artists who likely could see with concern the interest mounting around the exhibition from elsewhere in the art world.
The Tāmaki Anti-Fascist Action group led a call on November 7 for action, but this came in concert with an open letter with demands by artists Quishile Charan and Jasmin Singh, together with Anevili (they also spoke on 95bFM on Monday). Their letter is squarely directly at the art world. "The fact that this wasn't a discussion brought forward to the wider public until the exhibition was nearing the end and was kept within art circles," they write, "shows how complicit the art world is in perpetrating and upholding harm and violence…"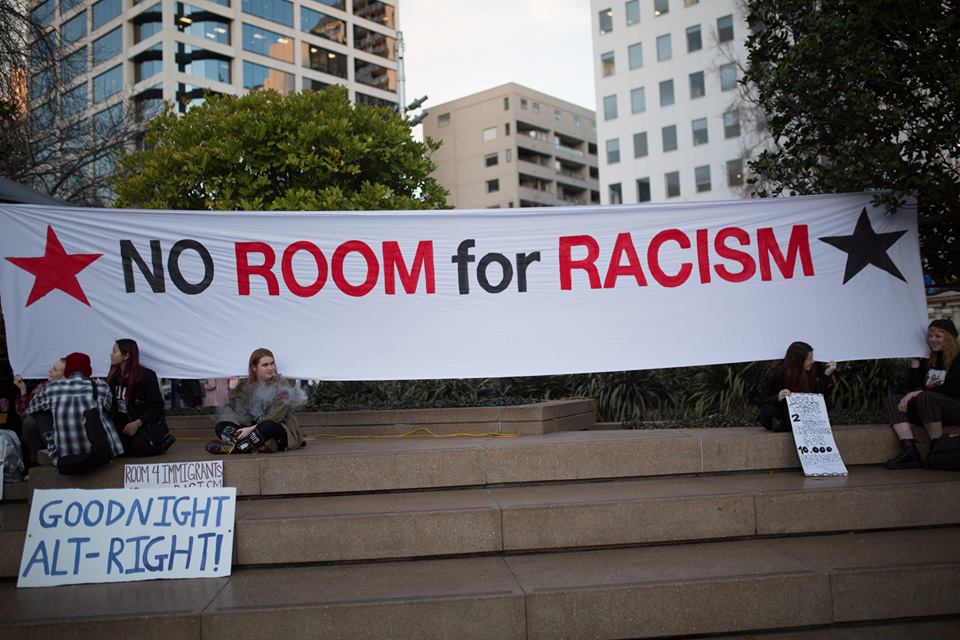 The nation's narrative towards anti-racism and anti-fascism has been strong in the past 18 months. Photo: Tāmaki Anti-Fascism Action Facebook page.
By Monday, co-director of Mercy Pictures Jerome Ngan-Kee had written to the Tāmaki Anti-Fascist Action group apologising for organising the exhibition and accepting the demands of the open letter (the apology in part features in this RNZ story). In a further twist, the group confirmed this apology was from Ngan-Kee personally, and stated he had been locked out of the gallery's Instagram.
Indeed, an image of Ngan-Kee with a screenshot of him half-naked with the words 'fake news' was then posted by Mercy Pictures, as if this was some art strategy game. I believe it has now been deleted.
On Monday, Mercy Pictures further responded: "We stand by the artwork; in large part because we are passionate about the freedom of artists…" Then another Instagram account - mercypicellectuals - also popped up to further stoke the ire of those it calls 'libtards'. It's plain nasty, abusive and purports to be from the gallery's 'fan club' - all suggests it's from Mercy Pictures itself, but that's not verifiable. A pile of Insta-art does some horrid, teasing 'admin reveal' suggestions of who might be behind the new account. Essentially, it seeks to gather social media followers through outrage, as an art project. All this putting into question the ethics of running art projects through the anonymity enabled by social media.
Established by Elam art school graduates Ngan-Kee and Burt (as outlined in this May Denizen piece) - now joined by Jonny Prasad, Mercy Pictures has gained a strong reputation since opening early 2018. "Mercy Pictures is so on the pulse, it can be confronting," wrote Eloise Callister-Baker on The Spinoff a year ago. "Teghan and Jerome are young and strategic hustlers – art world players to keep an eye on."
This whole disturbing episode is interesting for how it tests the insulation of the small gallery to enable 'safe space for unsafe ideas'. Independent artist-run spaces are fueled by pushing boundaries within the perceived safety of factors like out-of-the-way real estate, limited promotion and media and little governance beyond the precocious charge of the young and smart. That's vital developmental cultural space - but public freedom still comes with ethical limits.
You can be smart, strategic conceptual players but there's an arrogance in not recognising your own privilege and being responsible for the hurt you cause others.
Mercy Pictures have defended the work, telling Stuff "what we could have been better at is providing some more context to the show".
No context would have made this OK. Rather than going deeper into their charged themes, they ultimately leave themselves open to being accused of fetishising politics through abstraction. On Wednesday Mercy Pictures issued another statement on Instagam. Again it doesn't apologise, but expresses their concern at causing upset and clarifies that the then three artists were responsible for the exhibition, are not affiliated with other groups and find "extremist groups of any kind malevolent and evil."
In an essay on Eyecontactsite a year ago, Terrence Handscomb wrote about Mercy Pictures in relation to the impulses of fashion, and the dynamics of self-inflating after art school. "Culture wars at Mercy Pictures are not racial," he writes, "nor are they Identitarian; they are social and sartorial, and above all they are tentative."
Handscomb put the space in the context of past notable artist-run spaces like Gambia Castle, with boundary-pushers like Simon Denny, and Teststrip with Giovanni Intra and Daniel Malone. They could equally demand headlines. They went on to bright careers. But the cutting edge between the fashionably 'too cool for school' provocative and being seen to propagate extremism can be thin.
It's almost as if Handscomb could see all this coming.: "Due to the resistance and unwillingness of social media's magnates to eradicate from their platforms hate speech and false political advertising, internet bullying of the young and the anonymous trolling of anyone unpopular — it's too lucrative to do otherwise — we have become the victims of social and political impotence which has made us inured to the corruption and craziness around us."
Loss of a film icon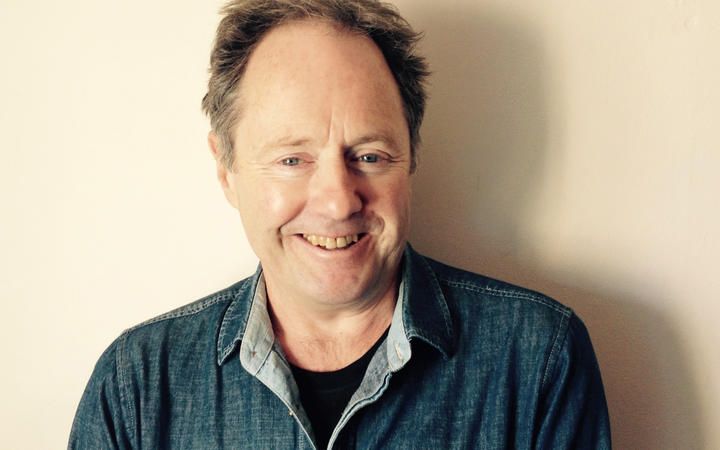 Bill Gosden. Photo: Rebecca McMillan.
To something more sadly unifying - the New Zealand film community is collectively grieving the loss of one of its absolute key figures.
Tributes have been flowing for Bill Gosden, former head of the New Zealand International Film festival who finally lost his battle with cancer on Friday, just ahead of his 67th birthday. Gosden led the festival for almost 40 years before retiring due to ill health last year. Here's the RNZ tribute, which includes an extended chat with RNZ's Standing Room Only at the time of his retirement - while Kate Rodger highlights his legacy with a video tribute on Newshub.
Bill Gosden was an inspiring art form leader. Generous, patient, calm, critical, able to deftly sort the wheat from the chaff, he maintained that golden balance of being open - prepared to support the radical in programming when no one else would - yet decisive in holding work up a high-quality bar. I worked under him as film festival publications manager way back in 1998 and marvelled at the accessible, fluid intelligence of his writing on film and his incisive editing. His support to a diversity of filmmakers in New Zealand was vital.
A colleague of Bill's for many years at the festival, Anthony Timpson meanwhile shared some good news this week. As reported in Variety, Hollywood stars Adrien Brody and Vera Farmiga will star in his independent mystery thriller The Salamander Lives Twice. Timpson directs, executive produced and co-wrote the story with Toby Harvard. The film involves New Zealand producer Firefly Films, whose website ably demonstrates the exciting array of films they have in development or production.
Bones of brilliance - and contention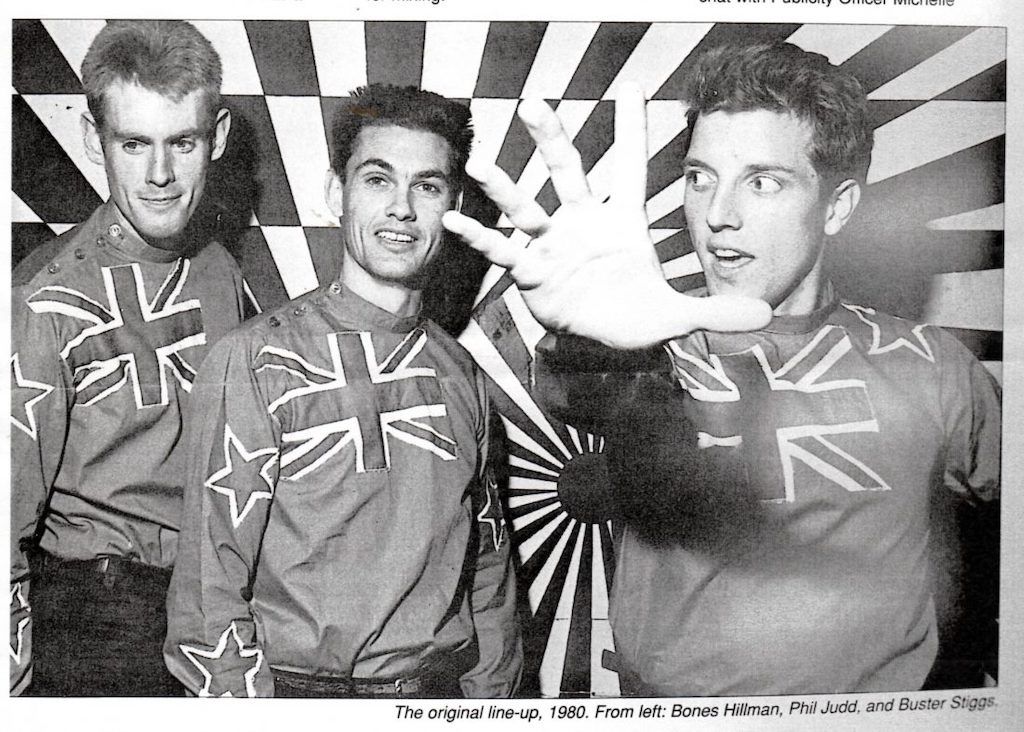 Bones Hillman in The Swingers.
Another significant loss this week was excellent rock bassist Bones Hillman. A member of Australia's Midnight Oil since 1987, Hillman had already contributed significantly here with seminal '70s Auckland punk band the Suburban Reptiles (Audioculture story here) and then with former Split Enz co-founder Phil Judd in The Swingers. From Australia, here's a Guardian tribute to Hillman, who died aged 62 in Milwaukee, Wisconsin. And here's local music critic Gary Steel with the full interview he did with Hillman back in 1987 on Witchdoctor as a tribute.
A year ago, there was consternation that the lineup announced for New Zealand music festival Homegrown featured a mere 3 women within 27 bands. That festival was cancelled due to COVID, but the March 2021 lineup has been revealed (most of them roll over contracts from last year), and at least it does feature the addition of two women, Ria Hall and Ladi6. The gender imbalance continues to be a much talked about issue online, so it's welcome to see two weeks after Homegrown in Wellington, a new female-focussed festival Peachy Keen with a line-up that includes Benee, Gin Wigmore, Ladi6, Ladyhawke, Stellar*, The Beths and Chelsea Jade (Dominion Post story here). Splore have also announced that for the first time their mainstage programme will have acts all featuring women over three days (13th Floor release here).
When it comes to women in the New Zealand rock scene, as a DJ and presenter Karyn Hay (a novelist and now at RNZ) was one of the most prominent of the 1980s. Just how strong a voice and writer she is is clear in this excerpt published in the Dominion Post this week from her 2020 Lilburn Memorial Lecture at the National Library last week.
"In my own experience, the group of musicians and songwriters who are my peers," she says, "those I have observed over the years – from backstage, first-hand – didn't live the dream, aren't living the dream. I've seen where that dream has taken them. Some of them are dead, others jumped ship after one gruelling tour too many, or it all ended acrimoniously over 'creative differences' which is thinly-disguised code for "F-you", or maybe someone slept with someone (that should have actually been top of the list), or they just got tired of each other, of trying to survive…" The entire excellent lecture is also available at the link.
In another sign that the New Zealand music scene is no longer what it monoculturally was, Jon Toogood of Shihad spoke to Sam Wicks for the ABC about his conversion to Islam for the women he loved.
A tenor drama of two halves
Tenor Amitai Pati of musical trio Sol3 Mio has been named the inaugural recipient of a new $50,000 annual opera award that "aims to give young New Zealand opera performers a boost when they most need it", says Stuff. The award marks the 30th anniversary of the Dame Malvina Major Foundation.
Alas fellow Sol3 Mio tenor Pene Pati​ has had a far worse week. Pati is stuck in a transit limbo in London for six weeks after new UK and Germany lockdowns ended his shows in Europe and he was denied an emergency application for quarantine in New Zealand. Stuff reports he had performances booked in Europe until mid-January, now all cancelled or postponed, leaving him no option but to return home to New Zealand - very slowly.
Awards and aroha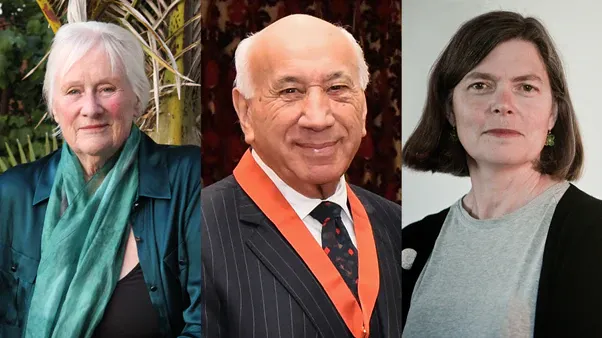 Tessa Duder, Sir Tīmoti Kāretu and Jenny Bornholdt. Photo: Creative NZ.
The 2020 Prime Minister's Awards for Literary Achievement have been given out this week (here on NZ Poetry Shelf). In non-fiction to Sir Tīmoti Kāretu, a leading academic of Māori language who has written on Māori dance in te reo, in poetry to Jenny Bornholdt and in fiction to children and young adult writer Tessa Duder, who spoke to Kate Powell about being truly "astonished and grateful" here on The Big Idea. The full list of those who've won these gongs since 2006 can be found on Wikipedia - and the current crop of winners will be part of a live online panel on 24 November, broadcast on The Big Idea's Facebook page.
Also this week the theme - aroha - and the first three acts for the first Auckland Arts Festival under Shona McCullagh have been revealed. They are: Taonga Moana, a homage to our oceans through wide-ranging live music, Pūmanawa with four leading kapa haka groups, pertinent given annual kapa haka competition Te Matatini has been cancelled for 2021, and a concert celebrating the 20th-anniversary of Che Fu's signature album Navigator. The full programme is out 25 November.
Terrific Tavola
Dynamic curator Ema Tavola's gallery Vunilagi Vou has reopened, keeping things closer to home - in a renovated garage on her whānau's property - after lockdown saw her unable to continue to rent commercially. Here she is with Torika Tokalau in a story and video of the space and garden on Stuff.
Tavola is one of the first in the Pacific Arts Legacy Project series of stories building a history from an artist perspective on Pantograph Punch. She writes on Ōtara's seminal contemporary art space Fresh, which she helped found in 2006.
Putiputi, pigs and poison
There's a lot of good reading on Pantograph this week. Kerry Ann Lee provides an excellent account of Candice Lin's Pigs and Poison at Govett-Brewster Art Gallery and Thomasin Sleigh writes on the work of a range of contemporary embroiderers.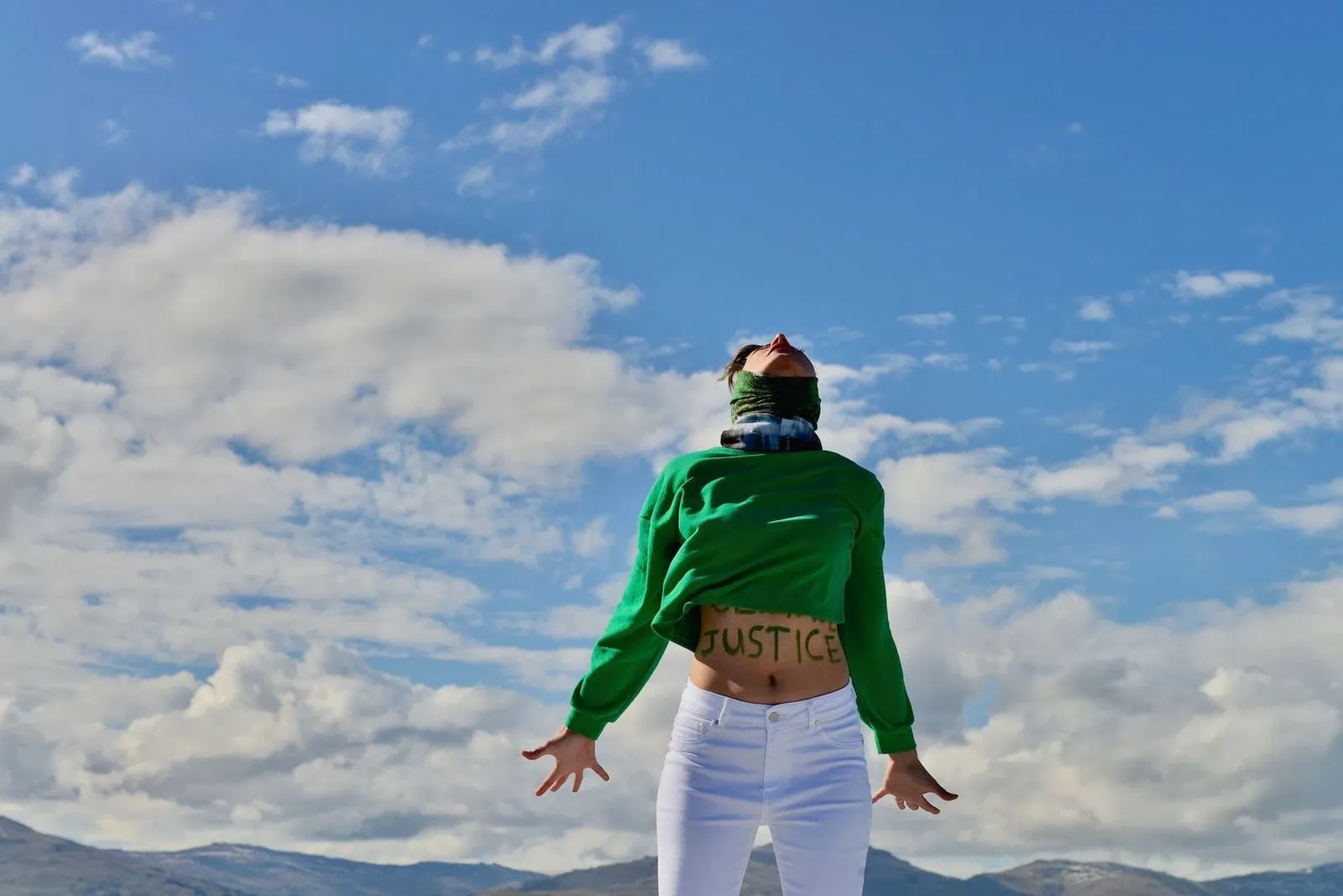 Doing the long haul digitally has been Auckland dance festival Tempo with a series of free seasons online. The third Putiputi has just launched. Never has contemporary dance been so accessible, there are no less than 15 new works viewable online progressively, either live or as videos - programme here. Pictured above is a still from dance video LungSong by Carol Brown Dances.
Moving on
Finally, theatre news this week that after seven years of significant growth, Elise Sterbeck is resigning from her position as Chief Executive at Basement Theatre. She leaves big shoes to fill. She spoke to Simon Morris on RNZ's Standing Room Only.