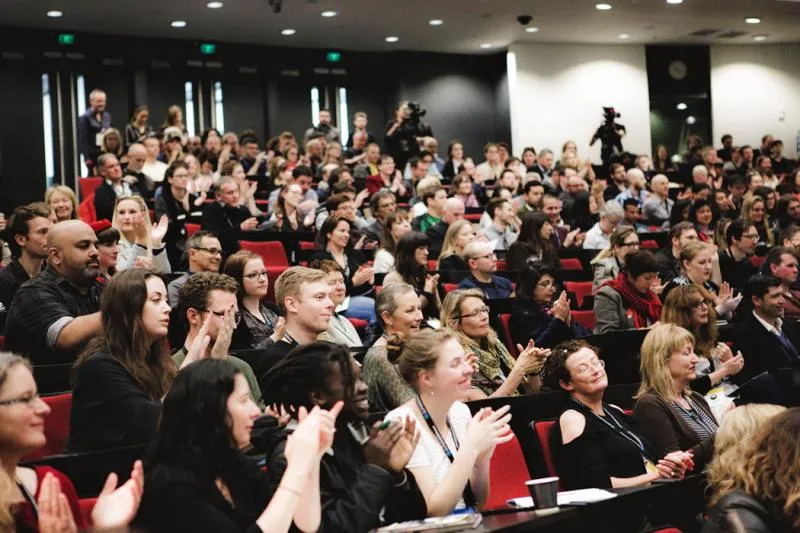 Ande Schurr reports back from a weekend of learning and inspiration at the recent Big Screen Symposium, with tips to promote yourself and your work.
The Big Screen Symposium is the most satisfying learning and networking experience in the annual New Zealand film and TV calendar.
The newbie filmmaker who thinks our creme de la creme of producers, directors and decision-makers live only within the end credits of their own TV shows or films, will find themselves on a level playing field for the weekend as the learning, inspiration and sense of community is accessible for all.
Where else can you learn how Avatar producer Jon Landau works with James Cameron to achieve his vision, the harmonious way in which score composer Graeme Revell integrates music within the sound FX track, or the social media marketing savvy of Anna Dean who helped mockumentary What We Do In The Shadows rise to considerable public awareness.
Read more about her brazen approach in promoting What We Do In The Shadows. At the Big Screen Symposium, she spoke on marketing and publicity - and painted an involved picture of the many factors filmmakers must consider. Her Masterclass provided the inspiration for this article.
Her company doubledenim.co.nz approaches marketing in this way:
"Marketing explores the relationship between your customers and your product, taking into account your competition and other factors (such as the economy) that affect how your audience makes purchasing choices. Marketing tells you what your customers like and dislike, want and need. Then you decide how to adjust your Produce, Price, Place, and Promotional Message"
Here are the seven key lessons any self-employed person might use to promote themselves or their products. The emphasis is 'use', or, as a wise man once said, let us try to do a little bit more than nothing.