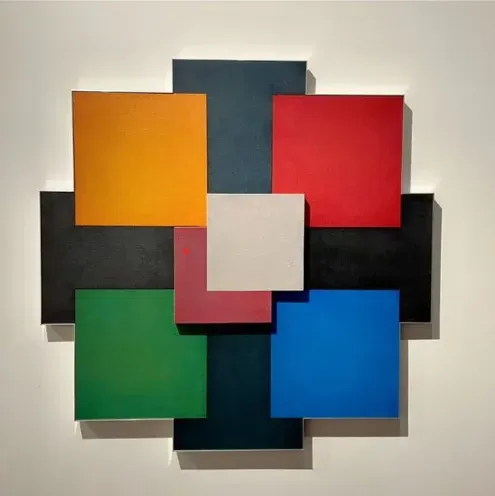 The Resale Royalty Scheme can't come soon enough.
Record sales price for Aotearoa artworks is always a wonderful headline to read - and the news that Colin McCahon's much-loved Is there anything of which one can say look this is new? (1982) fetched a new Aotearoa high of $2.5 million is a sign of not only how valued this seminal artist is, but also how appreciation for art made in this country is growing.
Of course, it's something auction house Webb's should tout - it's an outstanding achievement in their industry and the $13.5 million of New Zealand art sold in a single auction is remarkably impressive.
It's part of the BNZ collection - with the artworks considered part of the sale when the bank was privatised back in 1992 - which is now being reviewed by the Government in light of the record sales.
It also means that the money of said sale isn't going to the artists - or in the case of McCahon his estate - rather a large corporate entity. In complete fairness, that large corporate entity is planning to use the proceeds to "support the establishment of the BNZ Foundation, a philanthropic entity designed to help accelerate the work organisations across New Zealand are doing to help communities thrive."
Good will most likely come of it - just not to those who actually created the art.
Colin McCahon, Is there anything of which one can say look this is new? (1982).
Scott Lawrie - director of Scott Lawrie Gallery - has echoed the sentiments of many in a well-received social media post.
Lawrie states "while I've nothing against the auction houses in New Zealand - they're nice enough people and run good businesses – it feels like a timely reminder to highlight the role independent galleries play in supporting artists in Aotearoa.
"Put simply, auctions support lifestyles. But independent galleries support livelihoods. There is a massive difference.
"No other sector of the arts in Aotearoa plays such an important role in keeping the (visual) arts alive, especially when it comes to showcasing young and emerging artists.
"Institutions rarely buy emerging artists (nor senior, truth be told - in 5 years, I have never had a single acquisition come my way) nor any form of direct funding from Creative New Zealand.
"That's why it's essential that you see beyond the back-slapping headlines and big dollar sales, and make a real effort to fund the arts where it really counts; in the independent galleries, big and small, across this country.
"From art fairs to solo shows, I can personally vouch that the gallery doesn't make much of a profit (if any) after costs. But I'm really proud to have helped just over 260 artists with funds from direct sales of their work. To pay rent. Buy materials. Further their careers. And to try and just keep up with the cost of living.
"Keep that in mind next time you get excited about seeing million dollar plus sales in the headlines. And remember, if you have the money to buy expensive artworks, make a special effort to support the ecosystem at the other end of the spectrum soon.
"Who knows, you might end up selling that work for over a million bucks in years to come."
In the Dom Post, Mark Amery states he hopes "this sale serves as a call for action to our government in better preserving our visual art heritage."
Amery adds "In truth, we've become increasingly negligent in keeping our modern taonga in public hands. The BNZ collection is but a big chunky tip of a privatised iceberg.
"The collecting power of our museums has eroded dramatically over the decades (particularly in the regions), leaving them often to stagnate or be dependent on private collectors (take a bow the Chartwell Trust and Jim and Mary Barr)."
Records are nice, change that helps the creatives and protects the sector is even better.
Status update
There has been much shock and justified gnashing of teeth from the creative community as the impact of Creative New Zealand's major funding decisions starts to sink in.
The Big Idea have gone into a deep dive for reaction for those feeling the pain of unsuccessful - or successful but underfunded - applications.
But no one is begrudging that this should also be a moment to celebrate those who have been supported - including the quartet who have gained promotion into the Toi Uru Kahikatea funding pool.
The three-year funding cycle is a game-changer for those who get the green light - it's second only to the six-year Toi Tōtara Haemata Investment Programme in the CNZ funding ladder.
The four who have been elevated to Kahikatea level bring fresh approaches for communities who deserve the spotlight.
It includes some of the rising stars of the Aotearoa festival scene - who have made a big impact in a short period of time.
Te Tairāwhiti Arts Festival is a celebration of the people and place of Te Tairāwhiti, held in October each year (besides COVID interruptions and extensions). The festival elevates the kōrero, taonga and talent of Te Tairāwhiti and creates world-class artistic experiences and makes them accessible to as many people as possible.
Tama Waipara. Photo: Strike Photography.
Director and creative community thought leader Tama Waipara told The Lowdown "Te Tairāwhiti Arts Festival is excited to have achieved Kahikatea status.
"It comes with a great deal of goodwill and hard work and represents a real chance at some stability in what had been a truly challenging time.
"Māori organisations in the investment programme now number 11 out of a total 84 - and while we are very grateful for the opportunity, it is worth remembering there is a fundamental imbalance that exists across the sector and our society."
Grateful is also how Hone Kouka - producer of Kia Mau Festival - describes the elevation of the biennial contemporary live performance experience.
Freshly minted Arts Laureate Kouka founded the festival with Mīria George to provide Māori, Pasifika and international indigenous theatre and dance companies and artists with opportunities to present their work on mainstages throughout Wellington.
He told The Lowdown he feels "privileged to be in this position."
Kouka explains "from a budget of $5,000 in 2015 to becoming a Multi year client not only with Toi Aotearoa by 2022 is testament to not only the work of Kia Mau Festival whānau, but the artists and communities who are its beating heart.
"Kia Mau Festival was created for the seldom seen and heard voices of Aotearoa and the globe and has quickly become a central point for global indigenous performance.
"The (CNZ) resource creates stability and the ability to plan and nurture. In its short history, our artists have constantly created world class performance. With Kia Mau they were given the opportunity to do this where many other festivals felt our artists and their work was too much of a risk.
"The biggest learning for us is that our diversity and people are the most powerful tools we have. This resource will give us more opportunity to present these artists."
Another newcomer is Te Rākau Hua o te Wao Tapu - Aotearoa's longest surviving independent Māori theatre company, established in 1989 by Jim Moriarty and Jerry Banse with a trust deed inherited from the Māori Theatre Trust.
Moriarty and Helen Pearse-Otene create theatre productions, run workshops and build capacity and health within the groups and the communities they sit within.
And rounding out the four is Toi Ngāpuhi, who work across Te Taitokerau to uphold and revitalise Ngāpuhi-nui-tonu distinctive culture, cultural heritage and cultural expressions to support wellbeing and foster talent, creativity and opportunities.
CNZ Chief Executive Stephen Wainwright told The Lowdown "One thing we've tried to get sharper on is communicating to people who are engaging with us our efforts to ensure that what we do keeps pace with the very rapidly changing way New Zealand is evolving. We're also acknowledging our own whakapapa of being part of a cultural system that when public funding first came to be in the 50s-60s, it was still very Eurocentric.
"The (Arts) Council said clearly that it was very interested in finding ways to support groups that hadn't been traditionally supported. But having said that, the onus is then on the people applying to the contestable process to produce really compelling proposals. In the case of the entities that we were able to support for the first time, they all did a fantastic job.
"You want a system that doesn't occupy any space, you want a system that can respond to the new, that strikes the balance between predictability and change. We think we've done a reasonable job of that and it's really exciting to see the new communities and practitioners that - for the first time - will be able to work with reasonable confidence to deliver programmes for three years."
Window closing
There's been a big response to the heavily discussed Public Feedback window for the $28 million Cultural Regeneration Fund.
The first of four rounds of funding initiatives from more than 70 organisations - including from The Big Idea - has been garnering plenty of attention.
Manatū Taonga Ministry for Culture and Heritage Deputy Chief Executive Joe Fowler told The Lowdown "we've been really encouraged by the strong engagement from the arts, culture and heritage sectors for this feedback opportunity. There's been 1,475 pieces of feedback so far, with all proposals receiving at least one response."
They're interesting reads - even if you don't intend to get involved, it gives a good insight into what topics are front of mind for some in the creative community. It's remarkable to think there are about another 600 expressions of interest that could be turned into proposals for the next three funding rounds.
There have been plenty of positive flow-on effects so far, with several of those up for consideration telling The Lowdown the opportunity has seen healthy amounts of support coming directly to them to discuss potential collaborations and offering their services.
Whether you're a fan of the large-scale long term funding style and allowing public feedback or not - there can be no challenging that it is already helping to start conversations that may mean the world to some creative careers.
Fowler is quick to point out "I would encourage anyone who hasn't checked out the proposals on our website yet to have a look. People have until midnight on Monday (26 September) to give some feedback before the first round closes.
"We want to hear from people or organisations who have expertise in their field, especially if they might benefit from a particular proposal."
Fringe benefits
After three frantic weeks, Auckland Fringe came to a close with a bang - with their awards do.
A ton of gongs were handed out - with a few stand outs.
Tatiana Hotere's Skin Hunger brought with it high praise during its run, and was followed up with Hotere winning the outstanding Individual Performance awards in both the Theatre and Writer categories. Hotere - a mentee of the Toipoto Creative Careers programme was also awarded the PANNZ Pitching prize, which is well received for her dreams of touring the show.
Comedy Shoes Off (at the door) also came away with a swag of awards, including Kura Turuwhenua as Outstanding Individual Newcomer, Courtney Dawson for Outstanding Individual Comedy Performance, the Overall Outstanding Comedy Show and best named award going around, the Overall Unf**k The World prize.
You can find all the winners on the Auckland Fringe Facebook page - all worthy of kudos and support, especially in these challenging funding times for independent artists.
Awards buzz
Accolades were flowing freely at the PANZ (That's the Publishers Association of New Zealand, not the performing arts network with two 'n's - I hate to think how often they need to swap unintended mail…) Book Design Awards.
With a raft of different categories, there were many to celebrate - again, too many to fit into The Lowdown, check them all out for yourself here.
But one stood tallest, with a book about bees hiving all the fun (I'm sorry, I couldn't help myself).
Conversātiō — In the company of bees (above) claimed a swag of major awards for the design efforts of Anna Brown & Matt Law, including the supreme award, the Gerard Reid Award for Best Book, Best Illustrated Book and the People's Choice Award, decided by the event's attendees.
The judges referred to the book as a "cabinet of wonder" as well as a "ravishing blend of science, art, and book design in a volume devoted to the honeybee".
Major moment for Muru
And fingers crossed a big prize awaits for more Aotearoa creatives.
Locally made gem Muru has been nominated to be New Zealand's nominee for the Best International Feature Film Award at next year's Oscars.
The judging panel to decide our nation's entry - led by the New Zealand Film Commission - knows all about the Academy Awards themselves. It's a glittering line up; producer Carthew Neal, directors Niki Caro, Sir Peter Jackson and Taika Waititi, writer Dame Fran Walsh, actress Keisha Castle-Hughes, film editor David Coulson, costume designer Ngila Dickson, and art director Grant Major. The Chair of the jury was Mladen Ivancic, the NZFC's Acting CEO.
Muru's writer and director Tearepa Kahi has been busy touring it around the world. While on theatrical release here, it's been shown off at the Toronto Film Festival and next be seen at at the prestigious Busan International Film Festival.
"To see this level of support, recognition and resonance with our film, so early in its release, is incredibly humbling. It encourages faith and pride in our Māori language and story voice and is a testament to the commitment and belief so many people in Tūhoe and Aotearoa put into bringing Muru to screen life" enthuses Kahi.
If it manages to win that statuette, just remember the first people in the world to see were right here at the NZ International Film Festival.