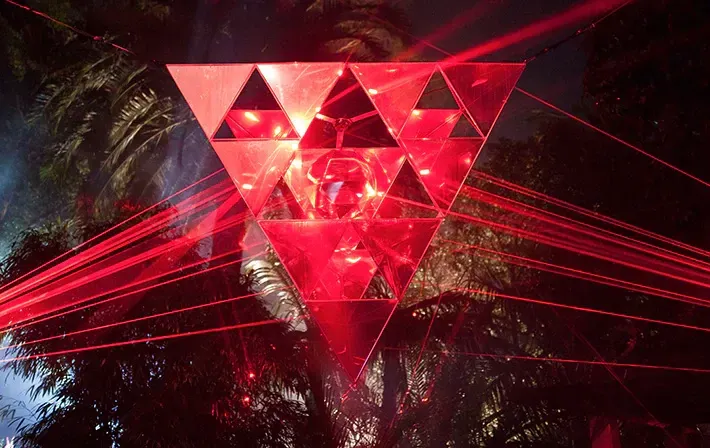 Tēnā koutou, me ngā mihi o te tau hōu Māori kia koutou katoa! Ae rā, ko te wā o Matariki tēnei, o Puanga rānei. Greetings of the Māori New Year.
In this week's arts media Lowdown (our 50th) we look at some innovative activity occurring nationwide as part of Matariki Puanga, through a star chart's-worth of links online. There's plenty to surprise, and so much going on. But don't forget the most important activity: that happening in your own community at your local school, marae, museum, and hall, or in your own business. The opportunity for sharing, learning from others and reflection beyond usual daily business is one of the gifts of having this festival.
Puanga or Matariki?
While to some iwi the new year is heralded by the appearance of the constellation Matariki (the Pleiades), for others it is the rising of the star Puanga (Rigel). Che Wilson of the Whanganui iwi at the Te Papa site explains why.
Taranaki iwi awaited Puanga's rise earlier in the month at Parihaka with the now annual Parihaka Puanga Kai Rau Festival (Stuff article here). Puanga celebrations have become common in Taranaki and this year stretch to Whanganui.
The Ngåi Tahu South Island variation of Puanga is Puaka, and Ōtepoti Dunedin have been running the Puaka Matariki Festival for many years now, focussing on a myriad of workshops and gatherings (opening June 22). Ōtepoti also has a new Piata Mai Matariki Festival (26-29 June), produced by Creative Natives Aotearoa with an array of artists showing and performing over four days. Artist Chris Flavell will work with local weavers to construct a Manu Aute (kite) on site.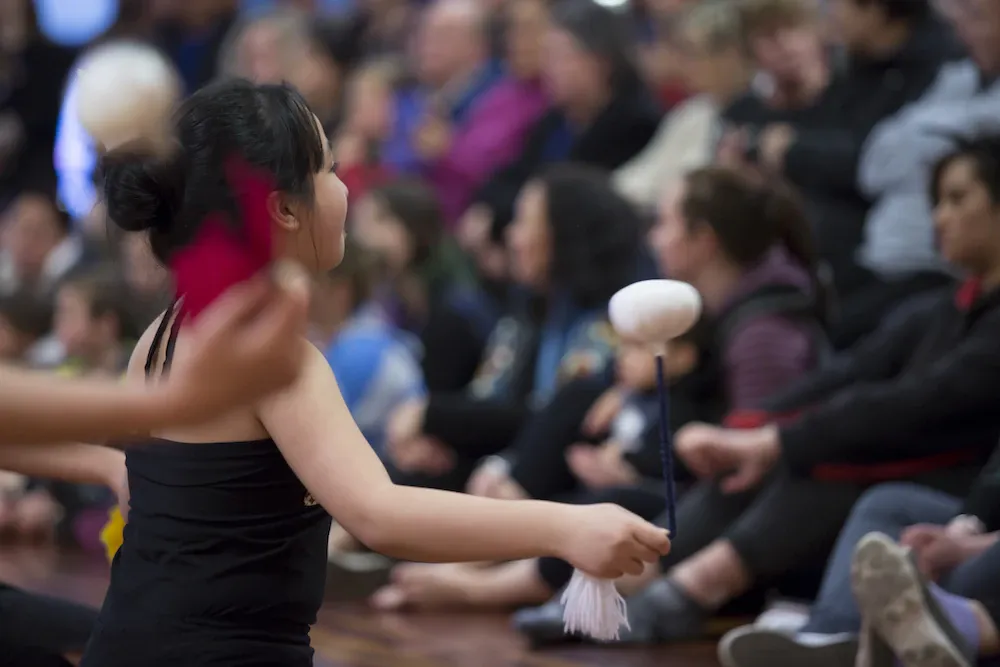 At Pukaka Matariki Dunedin - last year's closing event of the kapa haka rakatahi, Te Aho Paihere. Image: Rewa Pene
New Year New Positions
It seems appropriate at this time of renewal to note that not one but two significant cultural organisations are now being headed by Māori women - the representation of Māori leading major arts institutions has been poor.
Honiana Love has been appointed Interim Chief Executive of Ngā Taonga Sound & Vision. Love spoke to Waatea News and among other things she raised the challenge for Māori that some taonga might be safer stored offshore. She was previously Senior Adviser Māori at Manatū Taonga, Ministry for Culture and Heritage.
Toi Whakaari New Zealand Drama School have meanwhile confirmed Tanea Heke as their new head. Much respected as an actor (check out those opening minutes of Waru), an arts administrator and producer Tanea has been interim director since Christian Penny left at the end of 2018. This moving TVNZ Te Karere piece earlier in the year highlights the significance of this news and she also spoke to Bryan Crump on RNZ National last week. Heke's production company with Nancy Brunning and Mitch Tawhi Thomas Hapai has just wrapped up a premiere season of Thomas's electric drama Pakaru at BATS as part of the indigenous Kia Mau Festival.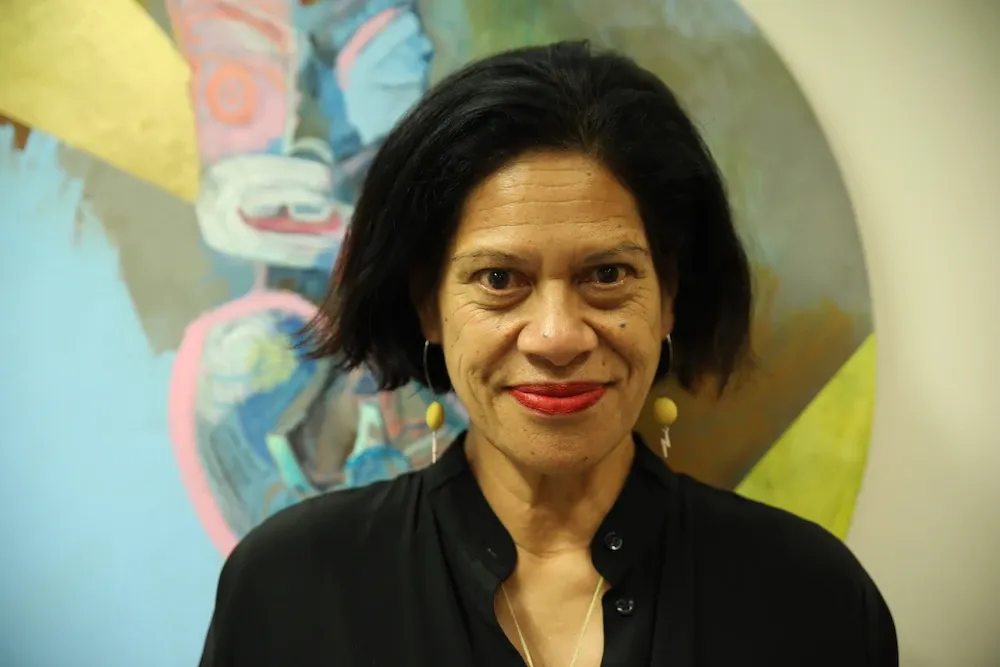 Tanea Heke
Classical meets māoritanga
Taking a bicultural lead in the classical world the Dunedin Symphony Orchestra is celebrating Puaka Matariki on 28 June with the premiere of Huriawa by Peter Adams, evoking the Karitane peninsula just outside Dunedin (Otago Daily Times story here).  
In Wellington, Chamber New Zealand with NZ Trio, Horomona Hono and Wellington Museum have a family Matariki concert featuring new commissions from Dame Gillian Karawe Whitehead, Martin Lodge and Jeremy Mayal that combine taonga pūora and a piano trio.
Known for its classical buildings once a bastion of colonialism, The Christchurch Arts Centre Te Matatiki Toi Ora continues to ramp up its bicultural events calendar since reopening, with a Matariki programme from June 25 now launched. While the big gig is a rare, fundraising concert by Bic Runga there's a great array of smaller sharing events at the centre, many involving kai.
Surely the most quickly-sweeping performing arts tour ever: travelling the country to 14 centres over Matariki is the Matariki Glow Show, a glow in the dark 'giant scale' puppet show. It's estimated it will be seen this Matariki alone by over 20,000 tamariki. It's the brain-child of Sarah Burren. Burren handmakes the puppets, and takes pride in her father, Neville Burren, having been the designer of Wellington's Cuba Mall bucket fountain. Video from Stuff here and for the tamariki, TVNZ's Heihei have their latest music video 'I'm a Taniwha'
 
Great online Matariki content
Ewen Nicholl on the Te Ara Signposts blog noted that in 2009, Māori Party MP Rāhui Kātene's Te Rā o Matariki/Matariki Day Bill would have made Matariki a public holiday. It had a first reading but was not supported to go to the select committee.
Professor Rangi Matamua has launched a new web series explaining what's happening in the stars: Living By The Stars: Matariki. It brings Rangi's popular 2017 Huia published book Matariki, the star of the year to life. Webisode 1 and Webisode 2 are out now. Rangi talks about the series on TVNZ's Te Karere.
The Spinoff have published a handy FAQ for Matariki, as have Te Wananga o Aotearoa.  Here on The Big Idea, a collection of articles has been commissioned for this week: Kerry Warkia, co-producer of films Waru and Vai, writes on why stories matter, and there is history, art, song, music and opinion.
NZ on Screen celebrate Matariki with a collection of "iconic" Māori television, film and music.
RNZ have a collection of audio regarding Puanga Matariki music and korero.
Puaka Matariki Festival in Dunedin has a range of podcasts reflecting on Matariki and a handy star chart of the Eastern dawn sky.
Want to educate? Te Papa have a big resource of education guides to Matariki.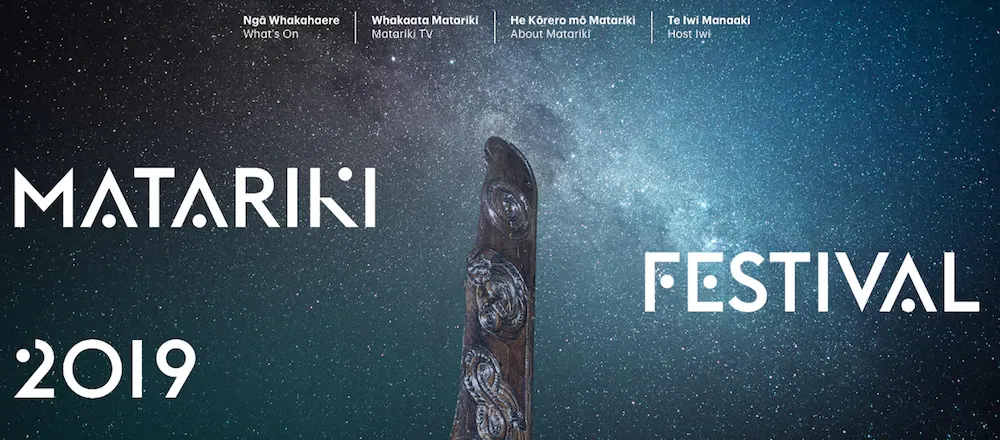 Matariki Festival banner
Tamaki Makaurau
Ataahua Papa, Matariki Festival Director in Auckland (June 22 - July 14) spoke on RNZ's Saturday Morning show. Ataahua has previously organised Matariki festivals in New York for eight years. Each year there's a different host Iwi, and this year its Waikato-Tainui.
Light Festivals have become an increasingly popular part of the winter season (though inexplicably one of the greatest, 26 years old, in Pukekura Park, New Plymouth is still held over summer).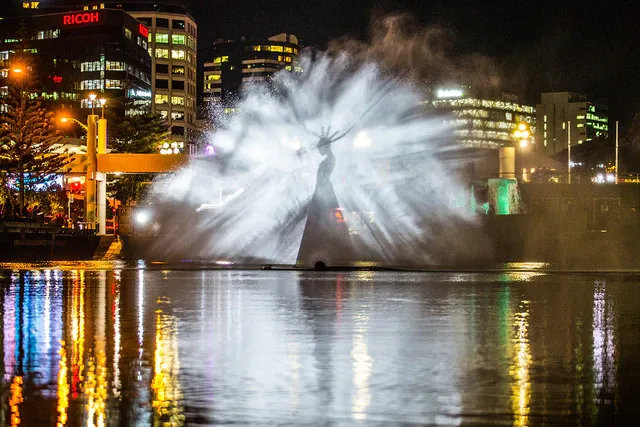 Mana Moana, Frank Kitts Park, Wellington. Image from Lux Festival 2018
In May, popular Lux Festival in Wellington announced it wouldn't be back until 2020. That's putting all the more glow on Auckland's new light festival Tūrama. Announced this week,  it aims to turn Albert Park in the city into a "winter wonderland"  (26-28 July) - not hard given the inner city park's windy paths, nooks and crannies and impressive old trees).
Lapping up the loss of Lux, the artist and music lineup is impressive. It includes Michael Joseph (known for the stunning ice-cracking 360-degree projection Antarctica: while you were sleeping on the exterior of the Auckland War Memorial Museum) premiering Hōpara, which utilises scan data imagery from Tane Mahuta and other significant Kauri in Waipoua forest. A little concerning is the minimal acknowledgement of Matariki and mana whenua Ngāti Whatua, beyond the iwi being noted at the bottom of the 'artist and project list'.
Bright Light! Bright Light!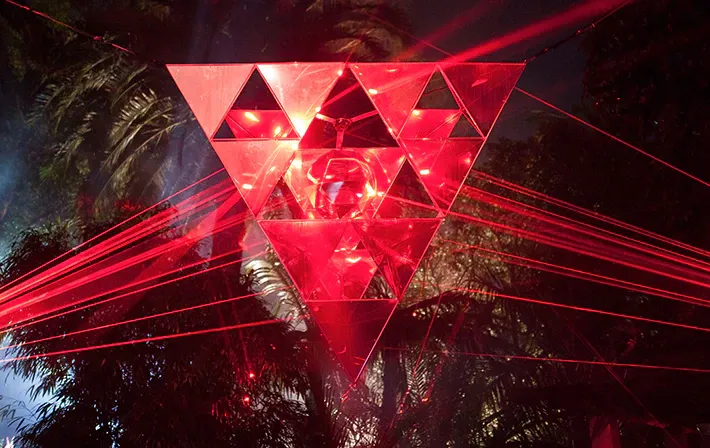 Image from Pentakis by Jon Baxter for Tūrama Festival Auckland
Tūrama is part of Elemental AKL, a new Auckland region-wide festival "illuminating Tāmaki Makaurau during winter" 1-31 July. More feasting, more light shows, including Pūanga celebrated in Manukau with huge projected light works by local young artists. The Elemental website is a good place to check out Matariki events in Auckland.
At which point I remember the shrill alarm call of Gremlins from the '80s "Bright light! Bright Light!". In a genius move Great Barrier Island is encouraging you to take the ferry to 'Lights out on Great Barrier' with events planned for July to highlight what is now a Dark Sky Sanctuary.
I was on Barrier over summer and can attest to the power of viewing the constellations whilst watching the wet sand light up with phosphorescence below your feet as being one of the most astonishing light show experiences to be had. Here's a gorgeous time lapse of the Barrier's night skies.
And on the darkness bent, back in Dunedin where the nights are all that much longer at this time of year: from 21 June installation Becoming Darkness celebrates "shadowy long nights and the gothic carnivalesque aspects of Dunedin". The artists are Esta de Jong, Lance Strickland and Brendan Philip. "A predominance of black finds its way into the art, music, fashion, and literature of this place," writes Philip. "There can be seen at work a metaphysics born of a bleak climate, rugged landscape, dominating architectural heritage, and post-colonial alienation."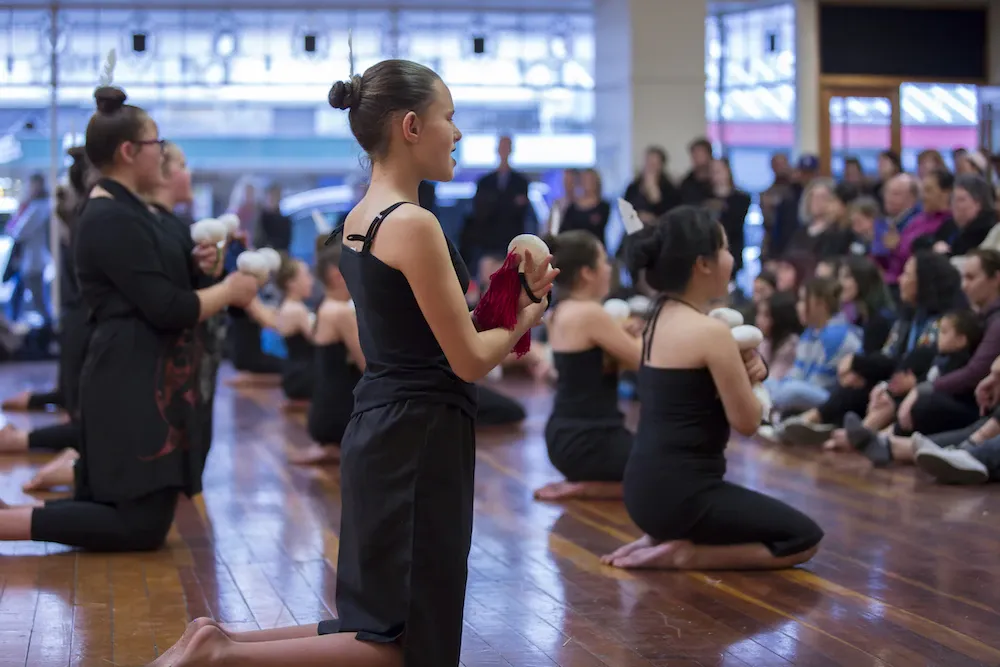 At Pukaka Matariki Dunedin - last year's closing event of the kapa haka rakatahi, Te Aho Paihere. Image: Rewa Pene
Te Whanganui a Tara
Remember the sensation that was last July's whale stay in Wellington harbour, cancelling Matariki fireworks? It made international headlines and charmed the pants here off many of us.
Matariki in Wellington this year has received significant funding boosts through council, so there's a lot of different arts activity, including more connections to the moana. Until 1 July Tape Art are creating stingray, penguin and other maritime visitors in tape on the walls of Whairepo Lagoon, on the waterfront (where stingray may sometimes be seen doing mating dances). And a notable new art programme at the lagoon is Mana Moana, commissioned video artworks from an array of significant artists to be projected onto a water screen (the screen was tested at Lux Festival last year to much delight).
There's a wealth of exhibitions. Piquing my interest at Pataka Porirua is Iho involving 25 models, 15 writers, seven stylists and 16 artists in a large scale exhibition about Māori hairstyles and hair traditions. And, providing a medieval European influenced feasting winter counterpoint to Matariki, Loemis festival. Now in its fourth year, produced by the clever Pirate and Queen, it marks solstice with an array of one-of-a-kind events and rituals.
Then there's a brand new national kai festival Feast Matariki, with a lot of creative food events around the country. Following seasonal availability, there are quite a few different approaches to mushrooms, truffles and other fungi.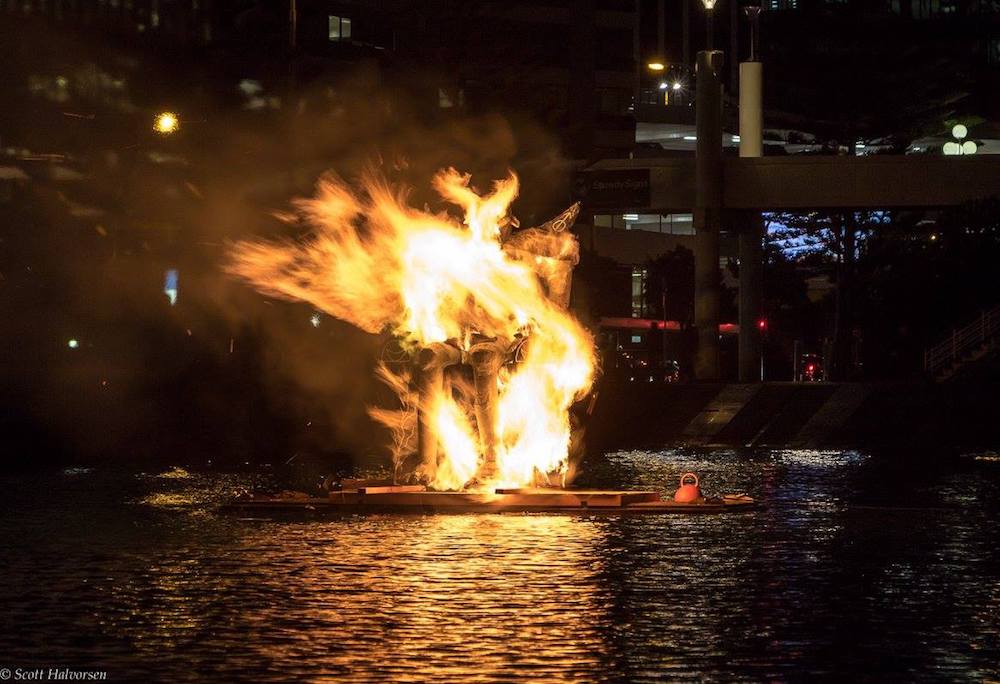 Ritual burning at Lōemis Festival, 21 June 2017. Image: Scott Halvorsen
Want more of the Lowdown?
Check out Mark Amery's past Arts Media Lowdowns here and subscribe here to our weekly bulletin so it comes straight to your inbox.
Our Annual Directory of Arts Online can be found here.
News and content ideas are welcomed for future editions of Arts Media Lowdown. Please send to [email protected].