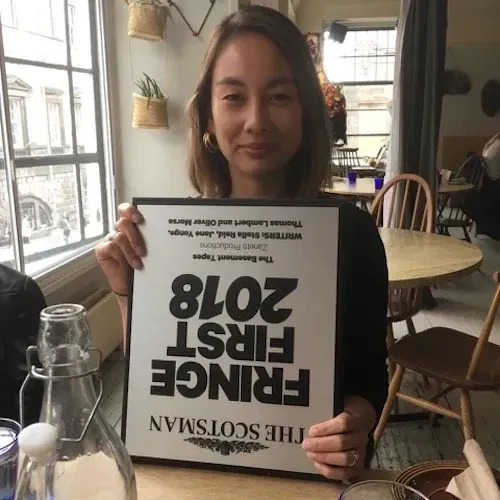 This week: Timaru goes posh in London; NZ theatre gets local; Auckland Live celebrates suffrage; and big treats in Edinburgh and the philanthropy scene.
Driving in London
For her show Hotel Jaguar, Swedish-based Timaru artist Amanda Newall has grandly taken over a London disused building that once housed Britain's oldest Jaguar car dealership. Newall, writes Garth Cartwright on eyecontactsite.com, purchased three Jaguars and made use of workwear, office furniture and engineering tools left behind by the former staff. Hotel Jaguar is a "conceptual space where 'guests' can reflect on Donald Trump, Brexit, neo-liberalism, post-colonial corporate practice, the power of brands and much else." Cars in the showroom now provide beds (with soundscapes by Finnish sound artist Antti Sakari Saario) while "specially embroidered bean bags are situated around a witches' circle." As usual Eyecontact provides an excellent image gallery to get the feel. London friends have until 4 September to check it out.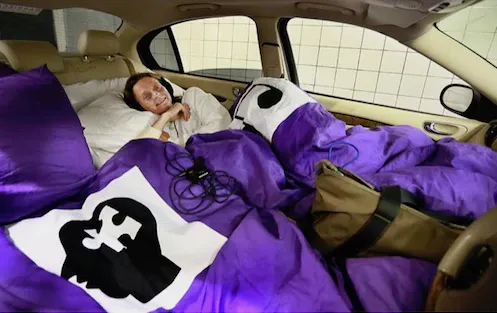 Amanda Newall, Hotel Jaguar, 2018. Hotel guest listening to soundtrack preparing for sleep. Exposed Art Projects. Photo: Alex Wagner on EyeContact.
New Zealand plays with local content
A new report shows that New Zealand theatre is really good at New Zealand content. This week New Zealand's playwrights' agency Playmarket, who license the bulk of NZ work for the stage worldwide, released figures of NZ works produced for NZ professional theatres in 2017.
Of the 221 works produced, almost 80% were New Zealand works, with nine companies creating seasons of 100%. No theatre company staged less than 50%. How things have changed.
The survey results in entirety make for interesting reading. It covers the seasons of all theatre companies funded by Creative New Zealand under the Tōtara and Kahikatea schemes. That means they range from the big producing houses, like ATC and Court, to producing companies, ranging from Red Leap and Capital E to Tawata and Silo. Of note: BATS and the Basement staged the most work by NZ women (58% and 57% respectively). BATS staged the most by Asian practitioners (9%), and Pasifika work accounted for 16% of Basement's programme.
Of the producing houses, Circa produced the most by NZ women (56%) and women of any nationality (64%). In total 174 New Zealand works were produced by all these companies in 2017.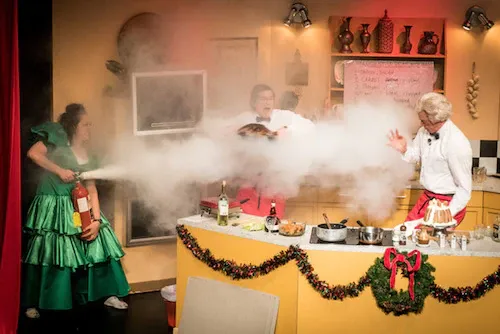 Hudson & Halls Live! by Kip Chapman, Todd Emerson and Sophie Roberts, Silo Theatre. Image: Andrew Malmo.
Production markets and suffrage at Auckland Live
Auckland Live is one of those strange council public/private branding exercises that efficiently brings together the management of a gaggle of important venues in the 'supercity' (remember forerunner 'The Edge'?). Though the shared programming across them seems limited.
Nonetheless the individual venues have their own strong programming initiatives, no more so than the Aotea Centre (let's call it what it is). Women 20-18: Celebrating the way women change the world is a great looking programme in time for Suffrage celebrations (that dash might prove pesky, but '20-18' acutely was the vote count on 8 September 1893). Included in the programme on that date Speak Up! features everyone from broadcaster Karyn Hay to actors Miriama McDowell, Alison Quigan and Nancy Brunning discussing issues facing women today.
Of further interest to the performing arts industry, Auckland Live is also hosting the annual conference of the 2018 Association of Asia Pacific Performing Arts Centres at the Aotea Centre in September, with representation from more than 40 performing arts venues in 20 countries. Featured is a new initiative to give members opportunities to develop and foster new work with potential collaborators and touring partners. NZ producers: please form an orderly queue in Aotea Square.
If New Zealand media treated arts news the way we treat sport you would have heard about it by now: The Basement Tapes has picked up a much sought after Fringe First Award.
Rejuvenating the historical house museum
Last week I had a unique 'colonial collage' experience that deserves emulating. The Rooms is a collaboration between Tauranga Art Gallery and mission house The Elms, where diverse fine artists have been given remarkably free reign to respond to the historic house's history, rooms and objects with installations, often telling less visible stories.
Maureen Lander has turned the home's library/man cave into a feminine shade of pink. The work references a traditional fabric dying technique, popular amongst women of the house, using the pigments found in the coloured covers of newspapers in the early 20th Century. Vita Cochrane pays tribute to the remarkable embroidery of Euphemia Maxwell in a series of illustrative tapestries, and the Crystal Chain Gang have done wonders with mirrors and glass in the dining room. The project is partly documented on the art gallery website and, clearly inspired, Samantha Wilkie writes on it at length for the Bay of Plenty Times where there's a video interview with Crystal Chain Gang's Leanne Williams.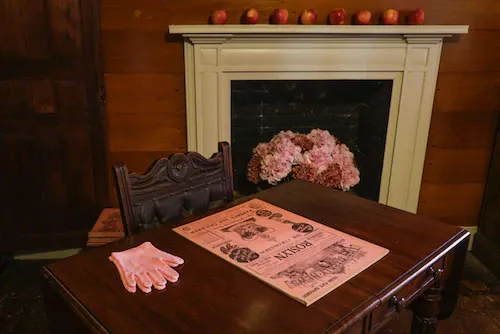 Maureen Lander, Shades of Pink (detail), 2018. Photo: Andrew Warner Photography.
Awards News
Vital arts philanthropy is not always as prominent in social media as your average Boosted campaign. Every two years The C Art Trust quietly awards $50,000 to a midcareer visual artist, providing support at a time many most need it. That's the same sum as the much vaunted Walters Prize. This year's winner is Anoushka Abel. Abel appears this month in a group show with Ruth Buchanan and Meg Porteous at Hopkinson Mossman's new Wellington gallery.
While word trickles in of some performers in Edinburgh getting small audiences in small venues in the gargantuan Fringe programme – almost a Kiwi performing arts OE rite of passage - there's also word of spoils of victory.
If New Zealand media treated arts news the way we treat sport you would have heard about it by now: The Basement Tapes has picked up a much sought after Fringe First Award (pictured director Jane Yonge). We featured Jane's travel plans in Lowdown #7 and Pantograph Punch featured her as one of their Loose Cannons earlier in the year. Meanwhile, here's that valuable Edinburgh gold dust, Scottish news coverage for Kali Kopae's Not in Our Neighbourhood. Arthur Meek's Erewhon meanwhile has been called "a sublime achievement".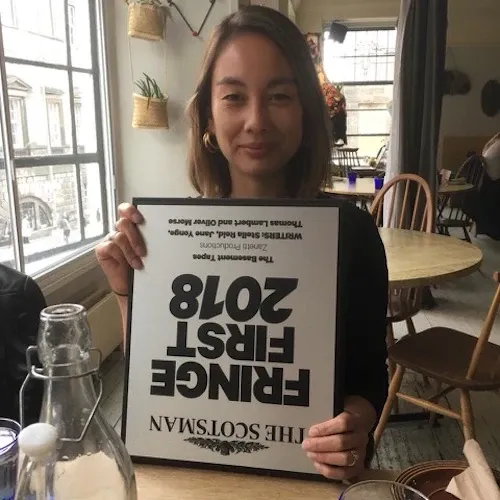 Basement Tapes Director Jane Yonge shaking it up at Edinburgh. Photo supplied.
Congratulations also this week to national illustrator treasure Gavin Bishop who has taken out the top award, the Margaret Mahy as well as the non-fiction prize at the New Zealand Book Awards for Children and Young Adults, with his illustrated history Aotearoa: The New Zealand Story . Gavin was interviewed by Donovan Bixley at The Sapling last year, which features examples of the wonderful illustrative work.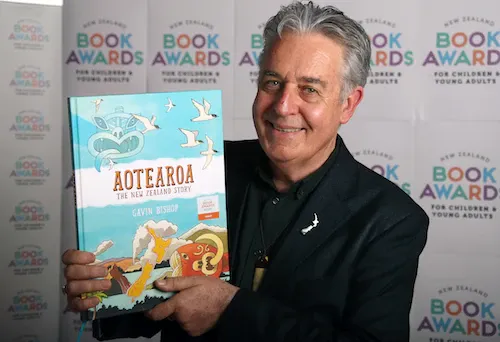 Multiple award winner Gavin Bishop, with his book Aotearoa: The New Zealand Story.
Online offline
City Gallery Wellington have just opened an interesting suite of new exhibitions, among them 'On Reflection' by New Zealand-born, Melbourne-based Patrick Pound that mixes items from his own collection with that of Te Papa's. He talked to Noelle McCarthy of RNZ National about his work. Amongst the anecdotes, he speaks about his work 'People who look dead but (probably) aren't'. Things took a bad turn in terms of context: it was being exhibited at Paris Photo at the time of the 2015 terrorist attacks, which effectively closed it down (Pound at the time interviewed by the Guardian).
Pantograph Punch have this week published a strong piece by curator and writer Emma Ng on the role of the artist in public space, the benefits and the problematics. It is wide ranging, from John Reynolds' design work with Auckland's Freyberg Place to Bronwyn Holloway Smith's work with the legacy of E Mervyn Taylor. It's light generally however on the remarkable diverse range of this work that artists in New Zealand have been testing out as public agents. A history to be written. Speaking of which…
Not everything that's short is online. A case in point is a recently published text I'm recommending: Towards a History of the Contemporary by Christina Barton, her 2017 Gordon H Brown Lecture. In this Barton doesn't pretend to encapsulate all the myriad threads of contemporary art practice but rather neatly posits a history from the 1960s around the "arrival and evolution of mass-communication technologies".
In the big yawning gap of publishing on contemporary New Zealand art history, this very readable booklet is valuable - available to order through the above link. Given the 'mass-communication technologies', isn't it about time the entire lecture series went online?
Want more of the Lowdown? Check out Mark Amery's past Arts Media Lowdowns here and subscribe here to our weekly bulletin so it comes straight to your inbox.
News and content ideas are welcomed for future editions of Arts Media Lowdown. Please send to [email protected].