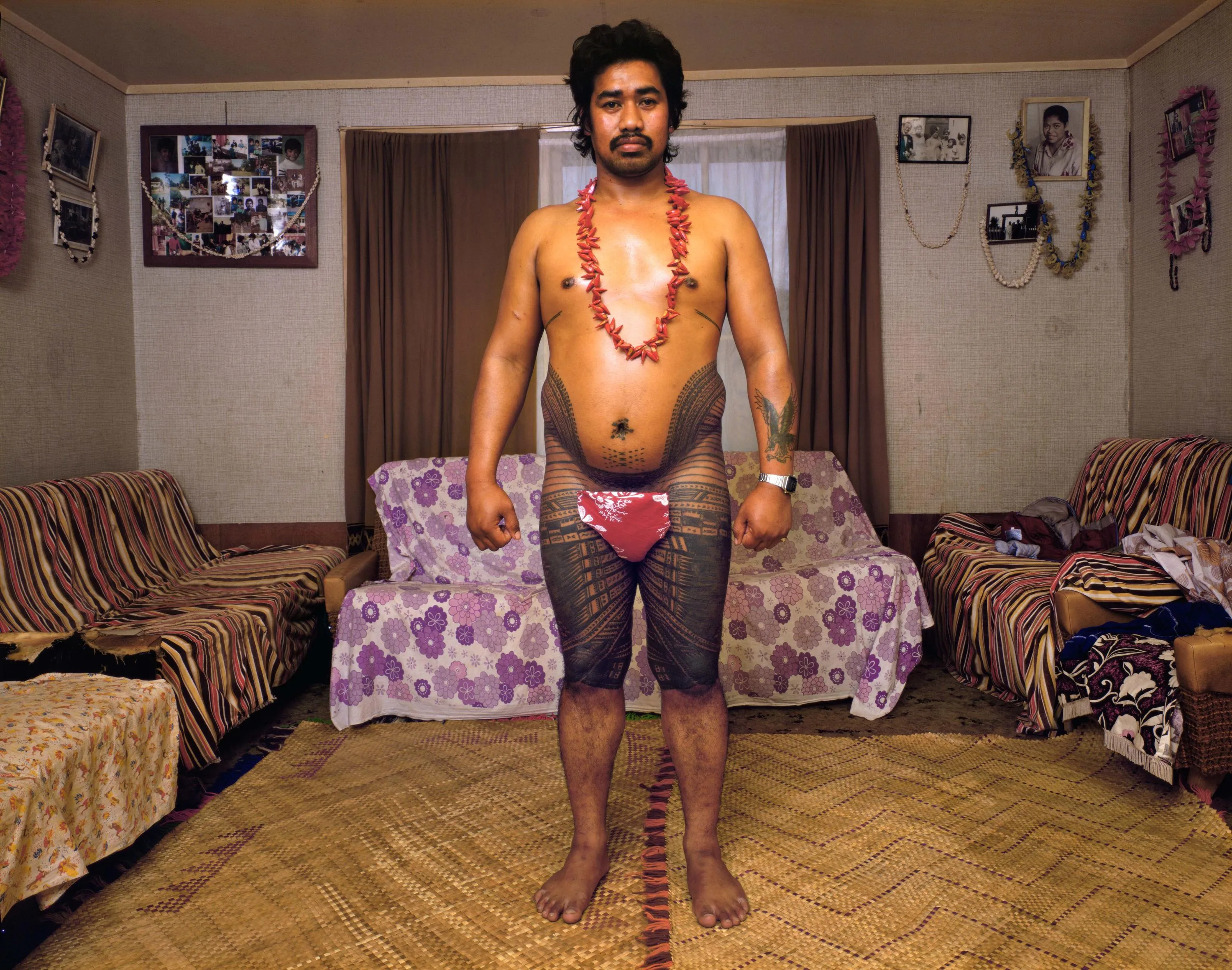 Otago bins art history
Art History at Otago University is the latest victim to the toxin that's wiping out tertiary arts programmes faster than you can say "Rogernomics". The reason is simple: student enrolments have plummeted from over 80 in 2014 to fewer than 20 now. The programme will be closed in 2020, just as the last of the current students fulfils their final course requirements.
The decision has been made by the University Senate, but if you wish to add your voice to the growing number of people who'd like them to reconsider, here's the online petition.
Otago's move follows an outbreak of similar self-mutilations at AUT, Unitec, Manukau Institute of Technology, and University of Auckland. Victoria University of Wellington (or whatever they call it now) appears to be next in line.
We hope the minister of Arts, Culture and Heritage Jacinda Ardern took in some of Peter O'Connor's speech at the recent WeCreate conference, wherein he unpacked the enormous contribution that the arts make to education, which we published right here on TBI a week ago. We hope Education Minister Chris Hipkins picks up on it too.
There's a phoenix in the ashes of University of Auckland's specialty libraries: a new independent arts library relying on gifted books: Samoa House Library (also on FB). And here's audio of founder Shiraz Shadikeen discussing the kaupapa on the podcast Pacific Media Network. They're open for donations, and the library's communitarian neighbour in Samoa House on Karangahape Rd, Strange Haven, will have a donation table at their Spring Art Book Fair, part of Auckland's Artweek on October 11, 6pm.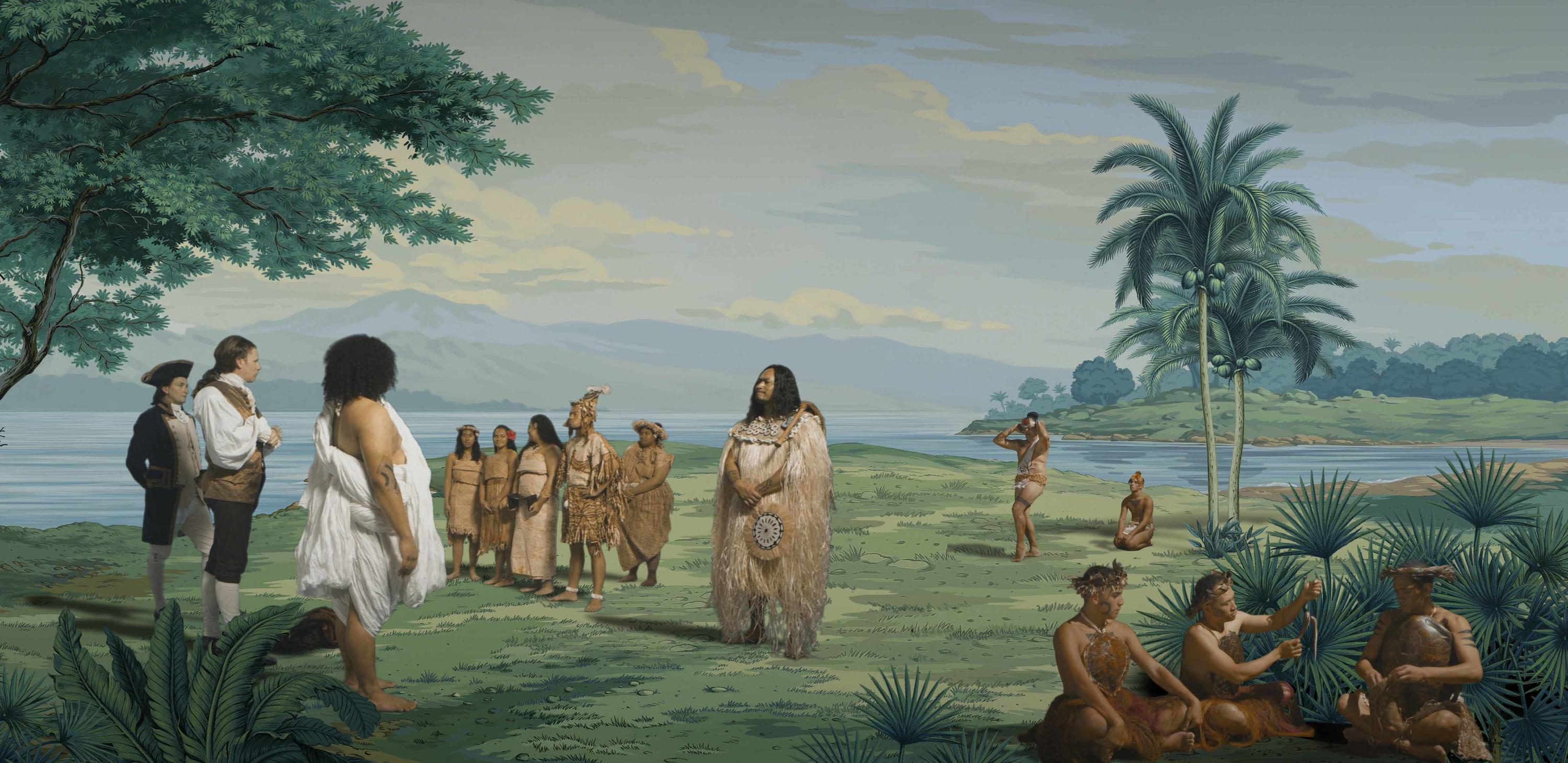 Lisa Reihana - in Pursuit of Venus [infected], 2015–17 (detail). © Image courtesy of the artist and ARTPROJECTS
Oceania in Britania
On the other side of the world, the Oceania exhibition at the Royal Academy opened on September 29 to a bumper crop of glowing reviews, including this nice one in the Guardian. Writer Jonathan Jones generously fesses up to centuries of European pilfering of Pasifika taonga, starting with James Cook and Joseph Banks and reaching a peak with the modernists of the early 20th century. "The creativity on show here displays a freedom that had Picasso, Matisse and the rest running to catch up," he says. And: "I don't just like this art. I want to live in the world it portrays." Good stuff.
"I don't just like this art. I want to live in the world it portrays… Now gone, of course.
However, he may reconsider his assessment that Pasifika arts and culture are all "now gone, of course." He's right to bemoan the plunder and destruction which still plays out on any number of levels. But to say - or imply - that Pasifika culture is over and out flies in the face of much of what's good in this place at this time, not to mention several decades' worth of postcolonial theory.
Jones laments such reverse colonial appropriations as the likeness of the comic hero The Phantom appearing on a Papua New Guinean shield in a way that makes him sound very much in love with the noble savage. Would he also bemoan Lisa Reihana's technological innovation and creative adaptability displayed in In Pursuit of Venus (Infected), itself a part of the exhibit?
Regardless, if you're in London with a passport issued by the government of a Pacific nation, including New Zealand, you can make up your own mind, since you get free entry until the show closes on December 10.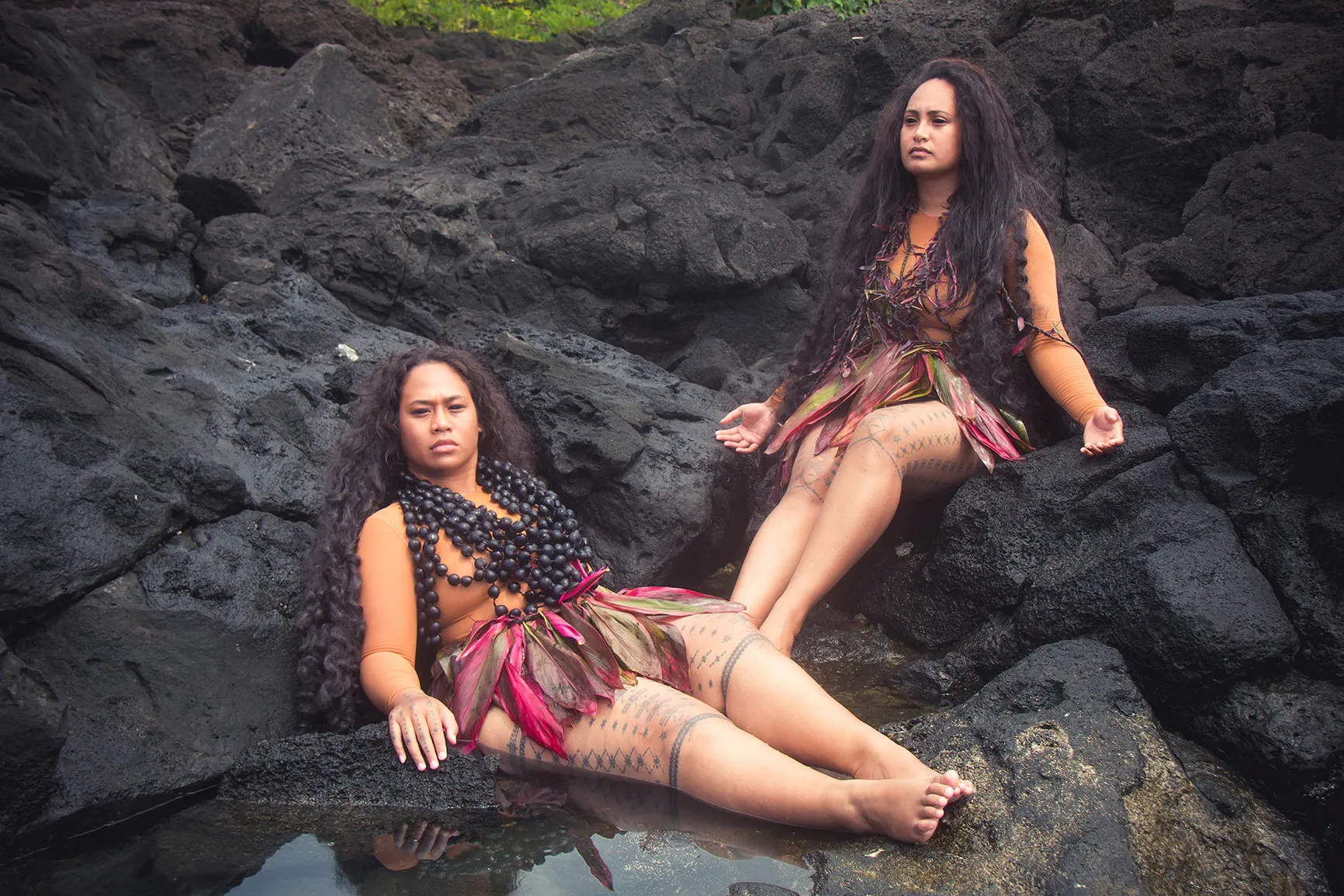 Lisa Taouma, Marks of Mana (2018)
Foreign films and cultural capital
Heavy subsidies for overseas film projects look set to continue, since Economic Development Minister David Parker said so last week. In a deal brokered by the previous National-led government, Hollywood movies produced in New Zealand enjoy a 25% contribution from Government. The running bill for this not-so-little perk has clocked $575 million since 2010. The next Avatar film alone is looking likely to top that up by another $125 million. Here's Matt Nippert's article in last Saturday's Herald.
For a totally random comparison, Creative NZ runs on about $44 million in the current financial year.
Another film project with perhaps stronger cultural bonds with Aotearoa is The Luminaries, a co-production just announced by trans-Tasman Southern Lights along with the Universal Pictures subsidiary Working Title (whose own heavy-hitting co-founder - Tim Bevan - hails from "the land of gold": his cute description of central Otago).
The Luminaries will be filmed in New Zealand (imagine if it wasn't), starting November. It will screen on BBC Two and TVNZ 1 as a six part mini series. So with Hollywood clout, a BBC screening debut and an Australian director with the same company that produced Mr Pip, the project looks set to continue the tricky argument about what exactly constitutes a New Zealand film. Here's Eleanor Catton on her equally fraught experience of identifying herself as a New Zealand author. Whether the mini series will reflect the novel's structural preoccupation with the golden formula and astrological derring-do remains to be foretold.
Meanwhile, Nga Taonga Sound and Vision - the nation's museum of moving images and sound - is about to launch the fifth annual Siapo Cinema: Oceania Film Festival, starting Friday, October 12 until Saturday, October 20. Drawing on the Samoan word for tapa cloth, and a word-play on "sepia", the festival boasts an impressive and diverse array of Pasifika features, shorts and documentaries from Aotearoa and across Te Mana Nui a Kiwa, the oceanic continent in which Aotearoa sits.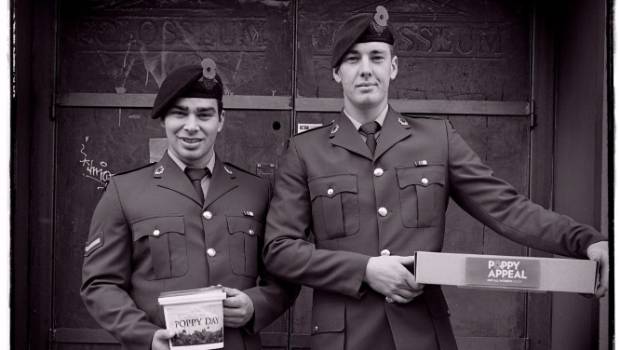 Tony Reddrop: Random Images (2018), part of Palmy Fringe Festival.
Manawatu bounces back
Back in July, The Lowdown #12 reported serious concerns in Palmerston North since the city's museum incorporated the regional gallery Te Manawa, raising fears that its significant collection wasn't getting to see the light of day. Well, the council, the museum and the gallery appear to have listened to community concerns, and normal service has resumed. Stuff has run these two informative and jubilant pieces, presumably thanks to its local media networks. The rest of the media seems largely oblivious.
But wait, there's more: the first ever Palmy Fringe Festival is set to kick off on October 6. The week long cultural event features over 75 events and artists. And with ticket prices maxing out at $25 the organisers have clearly ticked the box: "making arts accessible". Here's an interview with the innovative photographer Tony Reddrop over on Standing Room Only, produced by The Lowdown's very own Mark Amery.
The hopeful argument
If the hegemony of capitalism has been getting a bit much to stomach lately, citizens of the capital should head to the show Hybrid Spring at the gallery Enjoy Public Art in Cuba Street, where artists Deborah Rundle and Layne Waerea may have just the antidote, starting October 4. In Free Arguments, Waerea offers exactly that. The artist herself will be present and promises "contention and contradiction, but no predetermined outcomes." Her other work Blue Pacific Takeaways serves up a menu of options for natural resources. Meanwhile Rundle's installations Hope Against Hope and A Distant Cry use a range of media including LED and text to reconsider the revolutionary moment in contemporary Aotearoa.
Comings and goings
Tauranga Art Gallery director Karl Chitham has quit and will take the reigns at the Dowse Art Museum in Lower Hutt.
Want more of the Lowdown? Check out past Arts Media Lowdowns here and subscribe here to our weekly bulletin so it comes straight to your inbox.
News and content ideas are welcomed for future editions of Arts Media Lowdown. Please send to Lowdown editor [email protected].