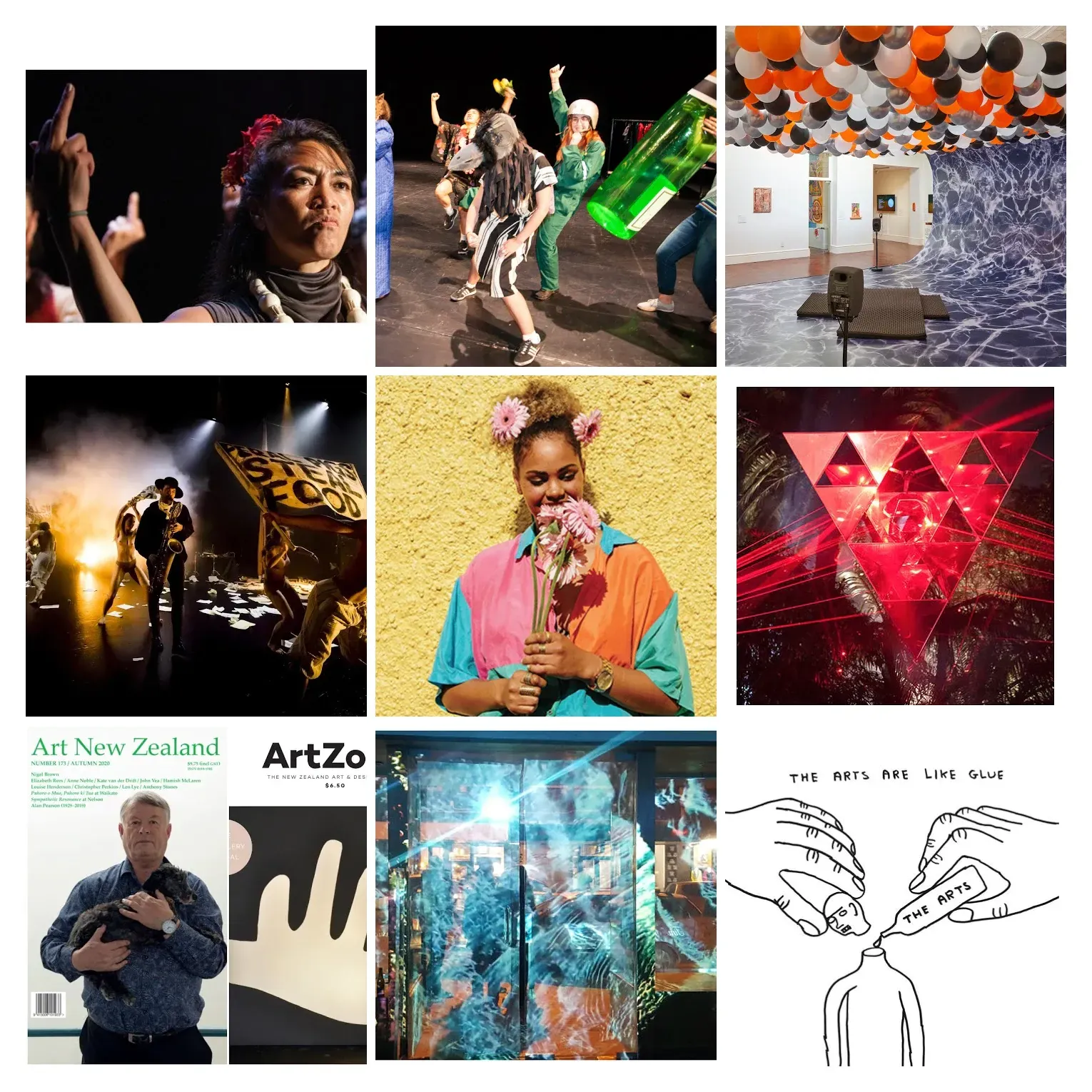 The Arts matter.
Now more than ever.
As the creative community rallies together after the monumental - and ongoing - impact of the COVID-19 pandemic, supporting those who support the arts and artists has never been more important.
The Big Idea's weekly arts media bulletin, the Lowdown, has been celebrating the successes and shining a much-needed spotlight on those who deserve it for two years now. It links readers here in Aotearoa and internationally directly with great new online content.
The Lowdown ironically owes its existence to the decimation of our arts media, born from a concern about the erosion of easy access to the increasing wealth of material out there, albeit in a fragmented digital media environment. That hasn't been made any easier by the recent closure of Bauer media and some of Aotearoa's key magazine titles.
This bulletin's job has never been more vital. The Big Idea has long championed the value of collaboration in our community, and the Lowdown will continue to back New Zealand's arts media.
So we're launching the second annual Lowdown Directory of the platforms offering regular NZ arts coverage online. This year's edition has expanded significantly (there is so much we've discovered out there!), offering sections for general news media and different artforms.
We hope the two years of online foraging from our bulletins provides you with some new gems to add to your regular reading. Bookmark this page - and help support the arts media.
We want this to grow even further. If you know of regular arts media channels not mentioned – be it a blog, review site or podcast - let us know so we can include them in future weekly Lowdowns - and next year's updated directory: just email [email protected]

Online Arts Magazines
Artbeat - Launched in 2018, a newspaper about the visual arts in Canterbury with lots of news and reviews online.
Article - New Zealand Festival's smart online publication.
Awa Wahine - Sharing the stories and creativity of NZ women.
Coconet.tv - A remarkable resource for the arts and culture of the Pacific.
Contemporary Hum - Edited from Europe, articles on NZ visual artists and those working in other disciplines overseas.
DANZ Magazine - The quarterly voice of NZ dance with a directory of stories online.
Hainamana - Ace commentary, writing and interviews about Asian New Zealand arts and culture.
Pantograph Punch - The only independent publication platform outside of The Big Idea solely dedicated to lively commentary online across the NZ arts.
Playmarket Annual - An annual print magazine published in September dedicated to issues and the voices of our playwrights and from theatre. A monthly bulletin with lots of arts links and news is available here.
The Big Idea - Yours truly, the online hub for the creative community, posting stories daily.
The Sapling - Beautifully edited, dedicated to books for young people.
Toitoi - Site dedicated to writing and art by young people.

Radio
There is radio on-air and streaming, and then there is audio on demand. Here's some podcasted art radio to subscribe to, or dip into for stories of interest.
Artache - A smart regular NZ arts podcast with Aimee Ralfini.
Artbank - The longrunning Auckland arts and cultural two-hour Sunday morning show On 95bFM, podcasted weekly.
Art Happenings with Matt and Preston - On Christchurch's RDU.
Art Not Science - A Physics Room podcast in Christchurch begun in 2019 with Plains FM
Bcasts - Outside of RNZ, bFM leads the way in podcasting the arts on radio and there's plenty more arts content across their 'b-casts'.
Crave! - Simon Mercep and Steve McCabe's film, music and entertainment review podcast.
KickArts - Auckland art news, reviews and interviews on Planet FM's Sunday 90 minute arts show. Still broadcasting in lockdown!
Radio Active - In Wellington, another long-running weekly (Saturday morning) arts show Caffeine and Aspirin is occasionally podcasted, and cinema and book reviews are uploaded to Mixcloud.
Radio New Zealand Arts - There's strong arts coverage across RNZ programming, all handily podcasted. How to find it? Well, whether it's Kim Hill, Jesse Mulligan, Jim Mora or Te Ahi Kaa, this RNZ arts link should find most of it. You'll struggle on other radio station websites.
Standing Room Only - Items from Sunday's RNZ arts and culture show with Lynn Freeman available online.
Upbeat - Concert FM's lunchtime arts and music show with interviews and stories online. Its future has looked precarious in early 2020 with planned changes to RNZ Concert but we're hoping this excellent programme has got a reprieve.
Waatea News - This site for urban Māori radio in Tāmaki Makaurau is a great media source for arts stories.
Wide Angle - Podcast series interviewing New Zealand photographers and cinematographers.
Television
If this category didn't exist, you might fail to notice that TV coverage of the arts - not so long ago a staple - pretty much no longer exists. How did we let this happen!
NZ on Screen Arts/Culture - For proof that it used to exist, visit this treasure house of hundreds of items from the past: from arts magazine series Kaleidoscope (1976-1989), through to Backchat and Work of Art (1990s) to more recent TVNZ art series like Artsville, The Big Art Trip (2001), Frontseat (2004), New Artland (2008) and independent The Gravy (2009).
One News items on the arts are catalogued here.
Te Ao Māori - There's great cataloguing of 'entertainment' news items.
Boosted - The Arts Foundation's crowdfunding arm is about to launch a pay-for-view service in response to the COVID-19 lockdown.
Channel 39 - Southern New Zealand's own television channel. You'll find arts stories in the categories under the 'more' button.
Visual Art Reviews
ArtAsiaPacific - This bimonthly art magazine continues to ensure a strong, if occasional, New Zealand presence in the online review section.
Artlink - Occasional NZ articles in this Australian magazine available through subscription.
Eyecontactsite - A web platform dedicated to art reviews nationally, edited by John Hurrell.
Photoforum - Photography reviews, essays and photographic portfolios, edited by Geoffrey H. Short and Mary Macpherson.
The Spinoff - A visual arts section, publishing weekly, established in July 2010 edited by Megan Dunn and Mark Amery.

Theatre and Dance Reviews
All my own words - Experienced dance critic Raewyn White lists and links to reviews of dance performances and publishes her own.
Art Murmurs - Wellington theatre review site.
Broadway World New Zealand - A range of Auckland theatre reviews feature.
DANZ - National dance organisation has a review programme online.
Theatre Scenes - Theatre and dance review site with more than half a dozen critics.
Theatreview - Theatre review and news site with links to other reviews of the same productions, plus heated discussion boards.
The Theatre Times - Since 2018, Hilary Halba and David O'Donnell have published a string of strong reviews on this international theatre site.
The Wellingtonista - Even more Wellington theatre reviews.
Visual Arts Content
Art Map - A guide to Wellington galleries with tasty illustrations.
Art News - National art magazine provides some features online and what's on listings.
ArtZone - Wellington-based magazine provides some well-presented artist interviews online.
ArtNow - Smart new listing site for selected galleries and their events nationally.
Artsdiary - Auckland gallery listings and Sait Akkirman's 'Been There' photo documentation of gallery openings.
Art Collector - Australian based magazine with regular NZ content, some online.
Art New Zealand - You can go to the newsagents or download through the app store, but you can read the first 30 issues, beginning in 1976, here.
Christchurch Art Gallery - Still ahead of the public gallery pack nationally in providing strong editorial online.
Circuit.org.nz - Reviews, articles and the Circuitcast podcast dedicated to moving image artists. Many hours to be had watching video art here.
Design Work - A regular design podcast with Idealog.
Designers Speak (Up) - Excellent designer-led blog.
Extended Conversations - Publishing platform from 2018 for emerging art writers - lots of great content.
Frieze - International art magazine features occasional New Zealand reviews.
Hamster - This visual arts magazine published by Christchurch's The Physics Room is now online with an audio component.
McCahon100 - Over 40 contributions on Colin McCahon artworks commissioned for the centenary of his birth.
Ocula - A huge catalogue of news and online viewing galleries from around the world, including New Zealand galleries and artists.
Book Reviews, News and Chat
Academy of New Zealand Literature - A writer-led initiative with features, conversations, interviews, excerpts and essays.
Auckland Writers' Festival - If you're missing your festival fix this year they have all their past sessions up on Soundcloud to listen to.
Beattie's Book Blog - Unfortunately this blog by Graham Beattie has gone silent after many years of great service to the literary community, providing a steady stream of book news and announcements.
Better Off Read - At the time of writing this directory, Pip Adam was up to episode #6946 - talking to writers about books they've both read, and recently providing writing exercises.
Landfall - The classic literary journal publishes its reviews online.
Motif Poetry - Cool young spoken word platform for events with videos of performances.
Newsroom's The Reading Room - Great section set up in 2019 edited by Steve Braunias for reading on writing.
New Zealand Book Council - News section and also a pretty comprehensive writers bio section. They have just started a great Blokes v Books video series hosted by Victor Rodger.
NZ Poetry Shelf - Poems and news with poet Paula Green.
New Zealand Review of Books Pukapuka Aotearoa - Another 2019 casualty, an immense archive remains online.,
NZSA - Oral history podcasts with senior New Zealand writers.
Ōrongohau/Best New Zealand Poems - Online anthology annually since 2001. They're all online, and 100s of poems are available performed by the poets.
Te Rito o Harakeke - A collection of writing as artistic response to Ihumatāo.
The Reader - Great portal: the Booksellers blog with reviews, blogs and links to individual writers' blogs,.
The Spinoff - garnering a strong reputation for literary review and publication online.
The Starling - "Well presented new writing from young New Zealanders".
Sweet Mammalian - Fresh smart poetry online now up to issue #6.
VUP Blog - Largely quicksmart Q and As with Victoria University Press authors.
Word Christchurch and Verb Wellington - Podcasts of many Word and Verb literary events.
Music
Ambient Light - Dedicated not just to reviews and interviews but, established by two live concert photographers, also to gig photography.
AudioCulture - The great indispensable guide to the stories behind New Zealand music.
Dunedin Sound - Dedicated to Dunedin gigs, artists, venues and articles.
Elsewhere - Graham Reid's legendary music review and 'elsewhere' site.
New Zealand Musician - The stalwart magazine has got stronger with its online content.
Radio 13 - Marty Duda's energetic collective enterprise reviewing and previewing music.
Rip It Up - Now online through Paper's Past, New Zealand's iconic monthly free street music newspaper, issues from 1977 to 1985.
Sounz - An audio and video library of NZ composers work and the latest news from the world of NZ composition.
Under The Radar - News, gig guide and tickets.
General news media
e-tangata - Quality profiles on the Māori arts.
Newshub - The multi-media platform covers some of the more mainstream exploits of New Zealand Arts, particularly performing arts and music, in their entertainment section.
Noted - Selected cultural content from the likes of NZ Listener, Metro and North and South. The magazines have been closed by their owner but content remains online - for now.
NZEdge - Regularly harvesting news stories from overseas media about Kiwis doing well overseas, with a clear bent for the arts.
NZ Herald Culture - Another handy link to arts coverage from Auckland's Herald to the busy team at the Whanganui Chronicle and a dozen or so other newspapers.
Otago Daily Times - A NZ newspaper still doing some strong arts coverage including good use of video stories.
Salient - Longrunning Victoria University student magazine has a historically strong arts review section.
Stuff Arts - A handy link to all stories tagged arts across Stuff's phalanx of newspapers nationally, from big centres like Christchurch (where Warren Feeney still does a visual art must-sees) to the Hamilton Garden Festival and new street art in Palmy.
Vice - RIP another international media for the NZ arts in the last year: great past New Zealand content continues to be available online beyond the closure of the NZ office.
Wellington Scoop - Independent news site has its own art news section.
Blogs and Articles
Arts Access - Writing on experiences about access to the arts and culture.
Black Creatives Aotearoa - Excellent stories, information and learning about and for creatives of African, Caribbean and/or mixed descent in Aotearoa, New Zealand.
City Gallery Wellington - Occasional strong interviews and pieces from staff and guests.
Design Assembly - Great regular articles on NZ graphic design and the design community.
Equity Magazine - occasional great NZ content about Equity New Zealand members.
Gauge - The blog of New Zealand's audiovisual archive Ngā Taonga has plenty of regular new content.
Kiwi on Screen - Comment on NZ screenwork from a Māori point of view.
Objectspace Journal - Featuring regular pieces on objects and interviews.
Tautai - The organisation advocating for Pacific artists across arts disciplines has an exciting new website launch March 2020 with lots of great content.
Toi Māori - Their blog with stories and writing with a focus on emerging Māori artists and writers has been quiet this past year but Toi Māori pānui can be accessed through the site. .
Te Papa - The national museum does a good job through its blog in letting their experts tell us good stories about works in the collection.
Watch This Space - Reflections on the street art scene in Christchurch,.
Bulletins
AA(e)-C(19)C - Aotearoa Arts and Events during the COVID-19 Crisis - As we write, a key resource Facebook page for the arts during lockdown.
Playmarket eBulletin - For news and articles on new New Zealand theatre.
Weekly Dance News Bulletin - You can view past issues and subscribe.
Arts Infrastructure
Arts Foundation New Zealand - Some strong content regularly published connected to award winners and philanthropy.
Creative New Zealand - New stories every week and there's a newsletter you can subscribe to.
Cultural Icons - Video conversations with outstanding artists, a project from Depot Artspace.
The Big Idea - Publishing news most days of the week on its web and social channels with a comprehensive job board.
Want more of the Lowdown?
Check out past Arts Media Lowdowns here and subscribe here to our weekly bulletin so it comes straight to your inbox.
News and content ideas are welcomed for future editions of Arts Media Lowdown. Please send to [email protected].