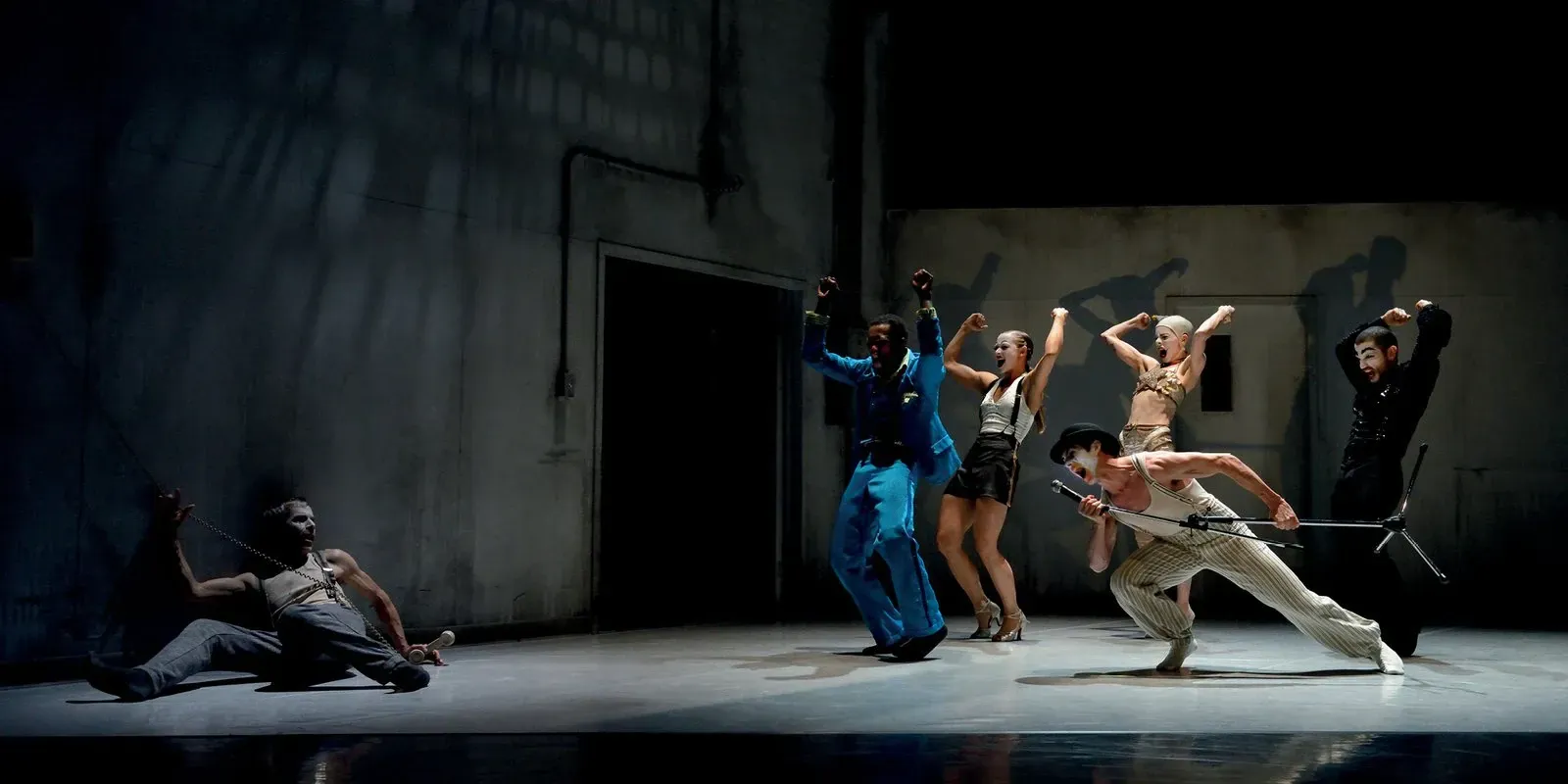 The New Zealand Festival is back in 2018. A splendor of incredible acts from around Aotearoa and the world. Wellington is always buzzing at this time. The extreme plethora of choice is almost so overwhelming that one can find themselves in a state of indefinite indecision and regret not making it to anything.
Worry not! To ease the burden of decision-making, we have asked a selection of trusted Wellingtonians fully immersed in the arts to scan the programme, and advise us on their top three unmissable shows. There are double ups so if you're a majority wins kind of person then you'll find the choice easy. For the rest, happy exploring to you.
Starting with none other than the Artistic Director herself, Shelagh Magadza … take a deep breath in ... here we go:
Shelagh Magadza has been the Artistic Director of the New Zealand Festival since 2014. This is her final year at the helm of the magnificent festival, so expect big things! I'm sure you can imagine that selecting just three was a huge challenge, but here they are, direct to you from the top:
BETROFFENHEIT
Saturday 03 March - Sunday 04 March
For lovers of dance and powerful theatre, don't go past this astonishing collaboration by Choreographer Crystal Pite and theatre-maker Jonathan Young. Combining exquisite choreography, brilliant design and virtuosic performances – the staging is brilliant. Pite and Young take you through the landscape of the human mind with great intelligence and empathy. It's a riveting journey and one that stays with you long after the show has finished. It has won every major dance award in Europe and the U.K. and this is its final world tour.
À Ố LÀNG PHỐ
Thursday 08 March - Sunday 11 March
This production oozes charm as top notch circus skills meet the streets of Vietnam. Using bamboo, baskets and Vietnamese music, this company creates beautiful images and physical theatre to paint a portrait of their world. The bustle of village life is played out with great humour and clever observations that delight audiences of all ages. It's simply a lot of fun and a great one for the family.
ORPHEUS – A DANCE OPERA
Friday 16 March - Saturday 17 March
This new work by Michael Parmenter and the New Zealand Dance Company is an ambitious new work. Michael is one of our foremost choreographers and he brings a deep intellect to this work, as well as his ability to create beautiful movement on stage. With live music performed by an international cast of musicians and singers this production is richly layered and will appeal to opera lovers as well as dance fans. It's great to see New Zealand Dance Company working at this scale and having been privy to Michael's rehearsal process, I am already in huge admiration of what has been achieved – I can't wait for the premiere of the work during the Festival.
Karin McCracken is a theatre-maker and actor who has been catching the attention of the Aotearoa arts world. Just last week she took out the award for Most Promising Newcomer at the Wellington Theatre Awards for her performances in Body Double and Wine Lips. Having recently returned from performing at the Edinburgh Fringe Festival, she has her eye in on what is experimental, hilarious and thrilling in the 2018 line-up:
THE SELECT (THE SUN ALSO RISES)
Saturday 24th February - Thursday 01 March
The Elevator Repair Service are a renowned New York-based theatre company that make experimental, devised work, more recently using famous novels as a baseline to work from/with. For instance, Gatz, involved an actor reciting the entirety of The Great Gatsby on stage for 8 hours, from memory. I've never managed to see any of their shows live, so am very excited to see how they cut up and repurpose Hemingway's The Sun Also Rises.
ZOË COOMBS MARR: TRIGGER WARNING
Friday 02 March - Saturday 03 March
Coombs-Marr is an Australian comic, and well worth seeing. I actually caught this show in Edinburgh this year, and I will 100% be going again and taking everyone I know. This was the hardest I laughed at the Edinburgh Fringe Festival, which is *literally* famous for its comedy shows. It's hard to say more without spoiling the conceit of the show, so - just go.
VALERIE
Wednesday 07 March - Thursday 08 March
Shout out to our New Zealand shows! Again, I was lucky enough to see this show last year in Auckland, and it was exceptional. Blending original song (performed by a live band and extremely talented singer Cherie Moore) with a searing narrative through-line about the nature of genetics, family, and shared histories, this show was utterly moving, kind, and incisive. I was thrilled by it.
Meg Rollandi is a Performance Designer and lecturer at the School of Design at The College of Creative Arts at Massey. Working across dance and theatre, she designs the worlds that capture our imagination and brings a unique perspective to the wholeness of creating performance art. If immersive, magical and gritty are words that speak to you, her recommendation might be right up your ally:
RUSHES
Friday 23 February - Monday 05 March
I heard a lot about this work when it was performed in Auckland, about how immersive and integrated all of the performance elements are and the very satisfying experience this creates. I am interested in performance that implicates the audience in the event of the performance through gentle participation and framing of their bodies within the whole performance environment. I'm very excited by the invitation to walk around and have a completely individual, intimate experience of the work that you find for yourself.
HOME
Wednesday 07 March - Sunday 11 March
The magic of creating a transformative structure that is inhabited by performers and then by the audience is very intriguing to me! I am also interested in how the collective experiences of the audience - their memories of their own dwellings and homes - add to a sense of lived-in-ness that seems to be created through the duration of the performance.
BETROFFENHEIT
Saturday 03 March - Sunday 04 March
I must admit I know very little about the creators of the work and their previous projects but having now watched trailers and excerpts I am even more intrigued by it, it looks gritty, surreal and stunning - so much gushing (sorry), but I am actually so taken by it, I think it looks gnarly and heaving but still very beautiful!
Sam Trubridge is the Founding Director of The Performance Arcade, one of Wellington's finest summer offerings where a line of shipping containers house performance installations, live art, music and digital media on the waterfront. We'll forgive him for being somewhat biased as history proves that it is undoubtedly deserved, Sam brings a mix of theatre, dance and performance art to his selections:
HOME
Wednesday 07 March - Sunday 11 March
A whole house built in front of your eyes. Families and generations come and go. What I love about this work is that it does something that can only be done in theatre. If it were on film then the camera would be telling you where to look, but in Sobelle's work there are things happening in many rooms at the same time, objects and spaces become invested with the stories of those who have lived there, and everything is done in real time and real space - in front of your eyes worlds, homes, and lives are made. I can't wait!
RUSHES
Friday 23 February - Monday 05 March
This project was a big success in Auckland at the beginning of this year and I heard a lot about it at the time. It's the brainchild of choreographer Malia Johnstone, AV artist Rowan Pierce, and musician Eden Mulholland, who have been working together for a while now and have a really beautiful style. In this project they have mashed live music together with contemporary dance and stunning design elements, all in the context of a mobile, immersive, on-foot experience where you are free to choose your own way through what you see. A kind of indoor Performance Arcade for dance. Malia really is one of the most exciting choreographers working in NZ these days.
THE PERFORMANCE ARCADE 2018
23 - 25 February and 01 - 04 March
A free event that has broken all conventions for presenting performance and has attracted artists from all over the world to Wellington every year since 2011. I have been working on projects around the world and I haven't found an event like this anywhere else - it really is a product of the unique way that we do things in Wellington, and our innovative vibrant creative community. There is a high calibre selection of works next year, and we are really grateful for the support of the NZ Festival in this most ambitious presentation yet. There is dancing in darkness, vacuum-sealed performance, performances floating in the harbour, miniature caravans, a meeting with the wind, an artist putting memories in food processors, a wall of arms to hug you, lie music, and culinary performance.
Andrew Laking & Claire Mabey of Pirate & Queen are the duo that lighten up Wellington's longest nights in the depths of winter with Lōemis (a hearty mix of feasts, dance, music, wild creatures at large, and a fiery waterfront procession), and the incredible weekend in November when we get to bask in literary genius with LitCrawl Wellington (Nov 2018). Short and sweet, these two know what they're excited about:
HOME
Wednesday 07 March - Sunday 11 March
Geoff Sobelle is super clever, and this is a rare chance to see his newest creation.
BETROFFENHEIT
Saturday 03 March - Sunday 04 March
This looks both epic and stunning, not to mention dark.
WRITERS & READERS
Thursday 08 March - Sunday 11 March
Hard to pick one session in particular from a great bunch, but well worth getting along to!
Check out the full New Zealand Festival Programme at: https://www.festival.co.nz/