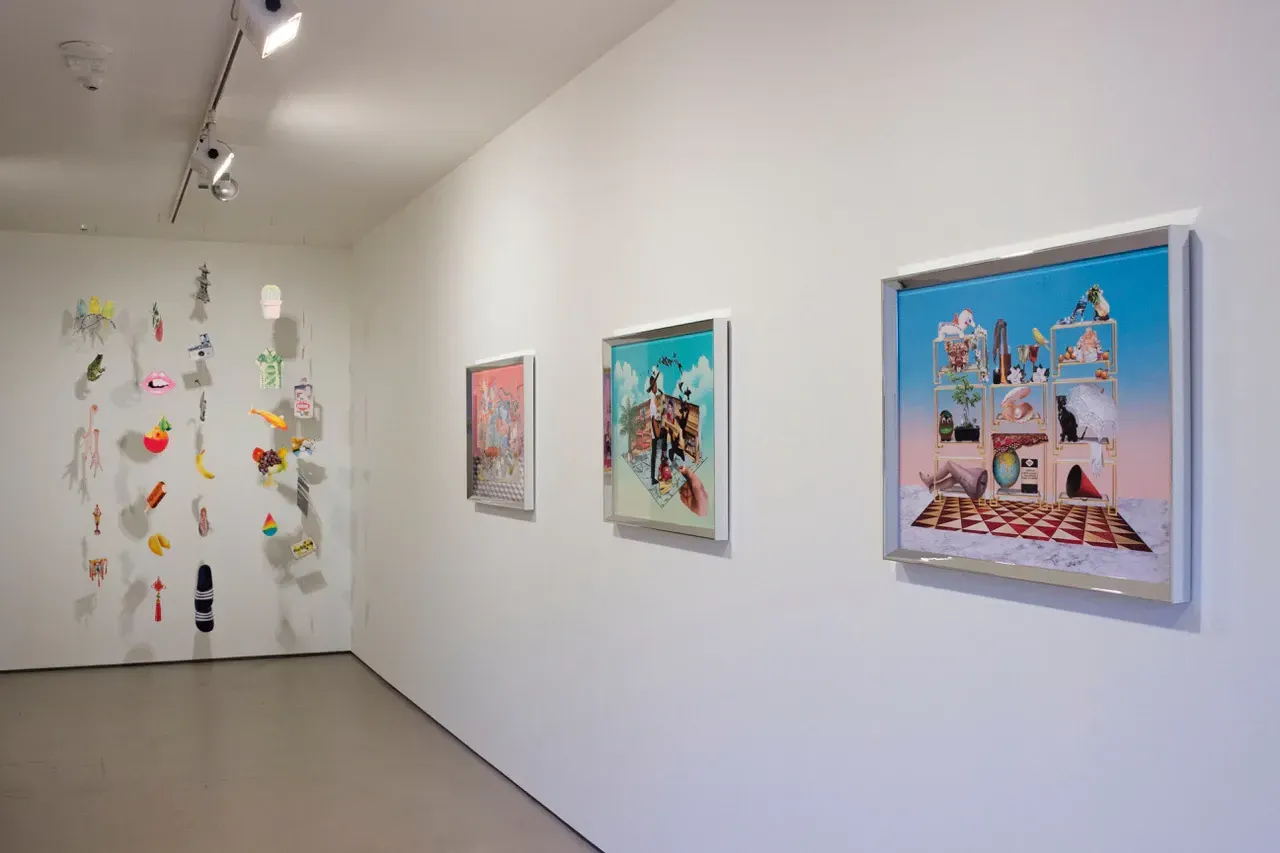 It's to art we increasingly look for a valuing of the material. Amidst a popular culture increasingly rooted in weightless digital space, it's in art we might still recognise the object as embodying the spiritual, the precious – however it may on the face of it seem banal.
Because of the way they touch the world, with magical flair objects can escape the data mesh. Their value is not easy to compute, or to categorise. Surreally, an object can transcend the function for which it was intended.
This plays out in the work of two strong New Zealand artists Kerry Ann Lee and Erica van Zon.
As collagist Kerry Ann Lee is increasingly sophisticated in the splicing together of different cultural threads. Her work builds on the alternative webs between objects we weave as families and communities, escaping those most watched or visited website numbers.
In her latest exhibition an image of a banana dangles as part of a mobile. Sustenance? An offering at a temple? A joke prop? Or personal icon, representing the seminal Velvet Underground and Nico album currently celebrating its 50th anniversary? With Lee its likely all these things.
A post-punk magpie lover of how pop objects can hold reverence; she is also much travelled. Her exhibition 'In Praise of Weird Wonders' at Bartley and Company takes inspiration from a 2016 residency in Mexico City. Mexico has a culture which, like Lee's Chinese roots, is one where the mass produced object can take on overt spiritual significance. But the same goes here for a cassette tape of 80s goth band Bauhaus. Through playful juxtapositions the exhibition gets us to actively consider the value we place on objects beyond their commodity line.
The large mobile in one corner brings the exhibition together in a clever yet simple animated dance, but the finest works for me are the first few hand-cut framed collages to its right.
Nothing in Lee's work is handmade, but hands hold pop-up tableau as if made of card, or hands are used as product placers. There are adventurous plays between two and three dimensions, riffing off shop window displays. Lee is unabashed in her embrace of nostalgia, because she understands that in that nostalgia lie deeper things than the advertisers ever intended. Suddenly those perfectly manicured hands hold feeling.
Lee's surreal, comic juxtapositions of objects succeed because they are neither just ironic, or sentimental but rather stand in for the mysteries of human love and connection. The work feels at once global and deeply personal.
PICKING AND UNPICKING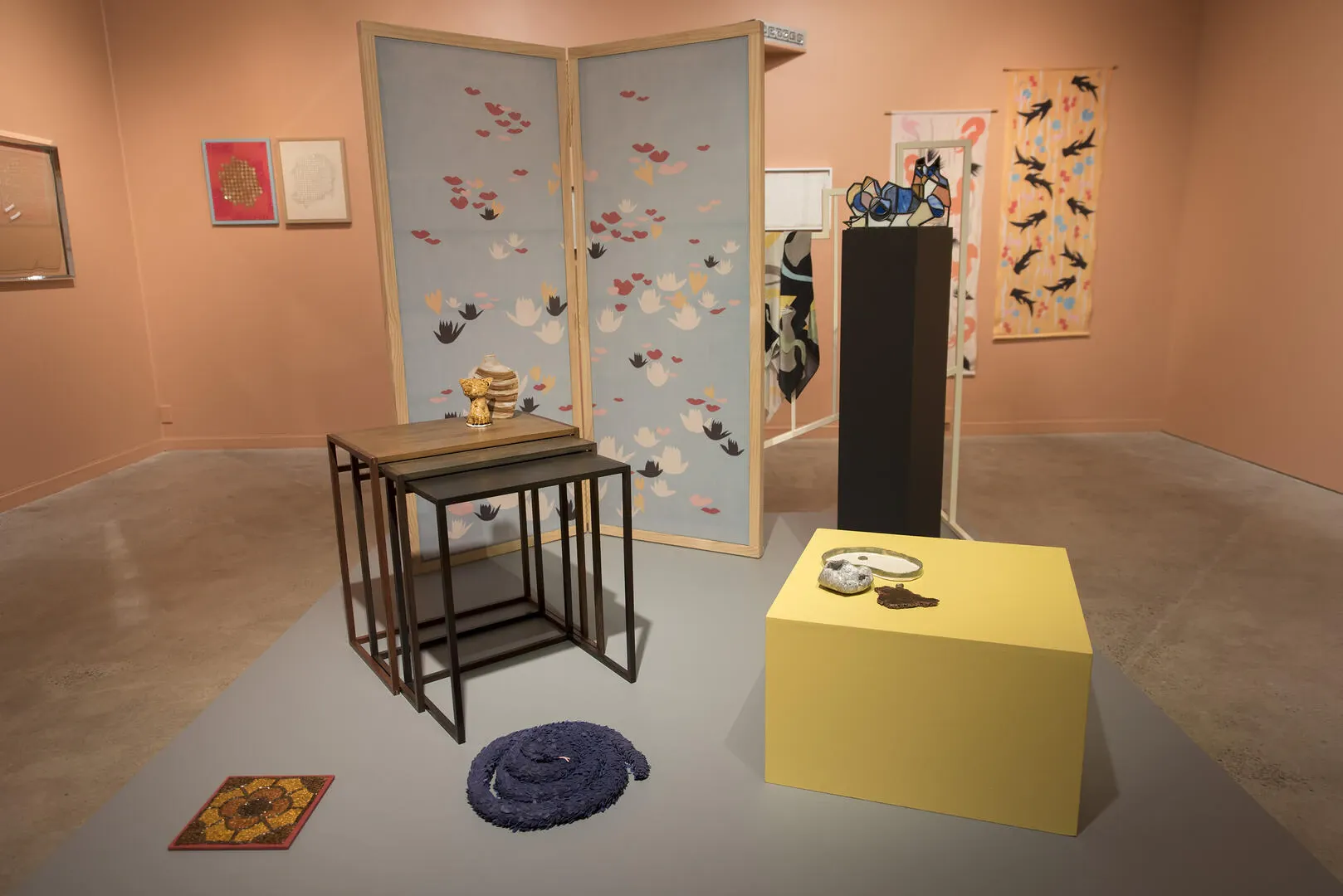 One of the best shows of the summer has a similarly charged and animated human quality. Erica van Zon's 'Coffee Perhaps' at the Dowse is also Interested in the power of the object, and unpicking history. van Zon works back by thinking through how things are made and, through objects, how histories are constructed.
Presented is a playful cornucopia of domestic handmade craft objects – from lead lighting to stitching. In its inventive installation of frames, fabrics and screens it recalls how so many of our parents or grandparents used to attend night classes in some craft or other, or admired the unique designs of local artisans. Quite a loss, I think.
van Zon gives this concern a strong local historical focus: celebrating Helen Hitchings Gallery. Hitchings opened a gallery in Wellington in 1949 to promote an awareness of "good domestic design (as Te Papa curator Justine Olsen recalls here). Hitchings went so far as to commission work to meet the gaps in the local market.
There's an important political point here: Hitchings and the legacy of women creating outstanding craftwork is far, far less recognised than the big painting work of mid 20th century men, or the art dealers that followed.
Yet it was Hitchings, not Peter McLeavey who first showed Colin McCahon and Toss Woollaston in Wellington. Van Zon's work title 'Coffee perhaps' is taken from a comment on their exhibition invitation back in 1949.
This is cleverly made a point of with an embroidered version of a Woollaston painting from that exhibition, 'The Red Shed, Jackson's orchard, Mahana'. The embroidery is on a frame, but the fabric base remains unfolded in, threads and fabric untidily waving like a handkerchief outside the frame. History remains incomplete.
A different history of New Zealand modernism is asserted. Other work fills out the conversation: green fabric, scented with a perfume custom produced by George Bowler for the show (much as Hitchings made commissions) hangs from a gold ring. Above, a frame is flipped over and hung on its diamond shaped edge – the hand stitching of a chair seat bottom (perhaps) given the status of a modernist minimalist painting. In discussion: how we judge the hierarchy by the way art is hung.
There's an appealing jocular, jostling energy. Everything flows and is in animated play, never settling into one emphatic position. Design is shown as fluid. The maker remakes, playing the magic tricks of the hand, as a brilliant cartoonist or illustrator might.
Humour is key – latching you in to think more. In fabric, a snake is in a curled formation with a cat (fabrics here recalling the work of Avis Higgs). Punctuating the centre of a fleshy coloured silk handkerchief - hung behind glass in a frame - are two smouldering cigarettes, evoking a mid-century romance. Look closely at this work and you'll note that the diagonals of the wooden frame are deliberately not meeting in one corner. Nearby what I take to be outlines of France and Germany are made out of glittery embroidery patches.
You'll get some things, miss others, depending on your cultural references. I miss the individualised bean casserole pot van Zon refers to in interview.
And it's here where trying to make these objects work as exhibition installation display is problematic. You need to get up close and touch some of these things to really start to engage with their back stories. The spare gallery hang isn't always useful for that. There's plenty that doesn't sing as strongly as individual elements for me,
van Zon makes collections of things – celebrating the multitudinous way things might be made and how they might play together. Homes, van Zon reminds us are made of our play with the diversity of things.
But it's also a treasuring of the importance of design. van Zon encourages us all to value the way we arrange the things around us. Like Kerry Ann Lee and Helen Hitchings, she appreciates the importance of orchestrating space.
In Praise of Weird Wonders, Kerry Ann Lee, Bartley and Company, 1-25 March 2017
Solo 2016, Erica Van Zon, Dowse Art Museum until 2 April 2017