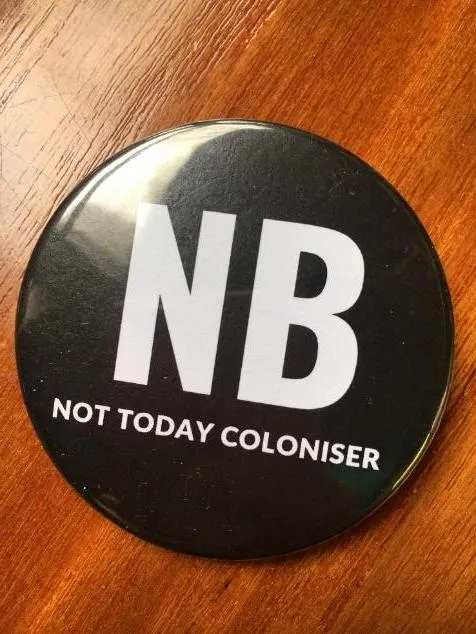 Making a Stand
This story has been brewing.
Concerned buzz started to make its way through the art world in mid-November, a few weeks out from the opening of what Auckland Art Gallery Toi o Tāmaki's director Kirsten Lacy (then Paisley) has called the largest exhibition of Māori art ever staged in the world, Toi Tū Toi Ora:
The man behind the exhibition and the gallery's curator of Māori art Nigel Borell had resigned. And then also stepping down in November, Elizabeth Ellis who has been the chair of Haerewa, the gallery's Māori advisory group since its formation in 1994.
Like some kind of unspoken pact, the story stayed out of the media until now, less it tarnish something regarded as so significant as Toi Tū Toi Ora (including here at The Big Idea).
Instead, support for Borell was made quietly clear by some at the opening - wearing badges that said 'NB" (for Nigel Borell) with "Not today coloniser" (which Dina Jezdic commented on in The Lowdown here at the time).
Indeed, filling all of the gallery's exhibition spaces (taking out collection works to do the largest exhibition in the gallery's history), it's a long time since I can recall a show having received as positive word of mouth as this one. Unusually, no announcement was made by the gallery of either resignation.
The story instead broke this past Saturday, headlining the NZ Herald's Canvas 'lifestyle' magazine supplement. It's telling of the way the arts are treated that this hadn't made the news pages previously, as might an America's Cup boat capsizing. Yet Joanna Wane's story ('Why I couldn't stay') is welcome in its wide interviewing and consideration of systemic issues.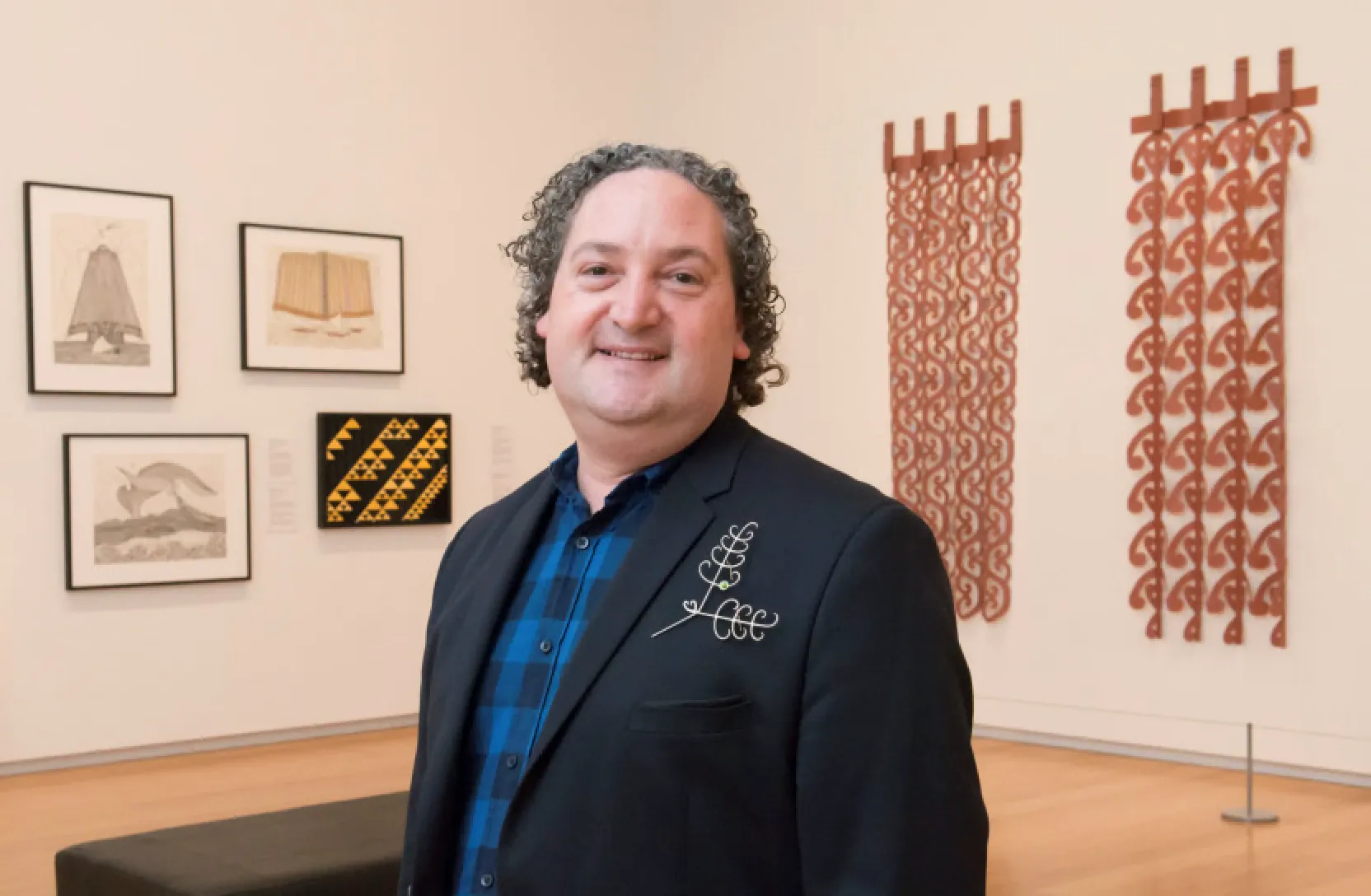 Nigel Borell. Photo: Auckland Art Gallery.
Borell speaks of tensions with Lacy over the gallery's future direction and their "different ways of viewing aspirations for Māori." Borell asserts his and advisory group Haerewa's push to play a stronger role in the gallery's future.
"If we can't shape that future," says Borell, "in this moment of Black Lives Matter and everything else that's gone on in the past year, if that can't be made visible now, when can it?"
Ellis commented that she agreed "categorically" that the role of Māori art curator should be a Māori as part of the management team.
Borell has in fact managed to make a strong act of personally both the first media story the exhibition itself (this tour of the Toi Tū Toi Ora with The Spinoff's Ātea editor Leonie Hayden) and now the very issues that concerned him the focus of the story, rather than himself. RNZ has followed up this week with the story 'Auckland gallery Māori arts curator calls out colonial institutions after resigning', co-authored by Ella Stewart and 2020 Henare te Ua Māori Journalism Intern recipient Te Aorewa Rolleston.
An important line is being drawn here, as an assertion of tino rangatiratanga that demands that our institutions deal with how they share power to better reflect Māori values. And it again highlights the relative lack of Māori in positions of power in our cultural institutions.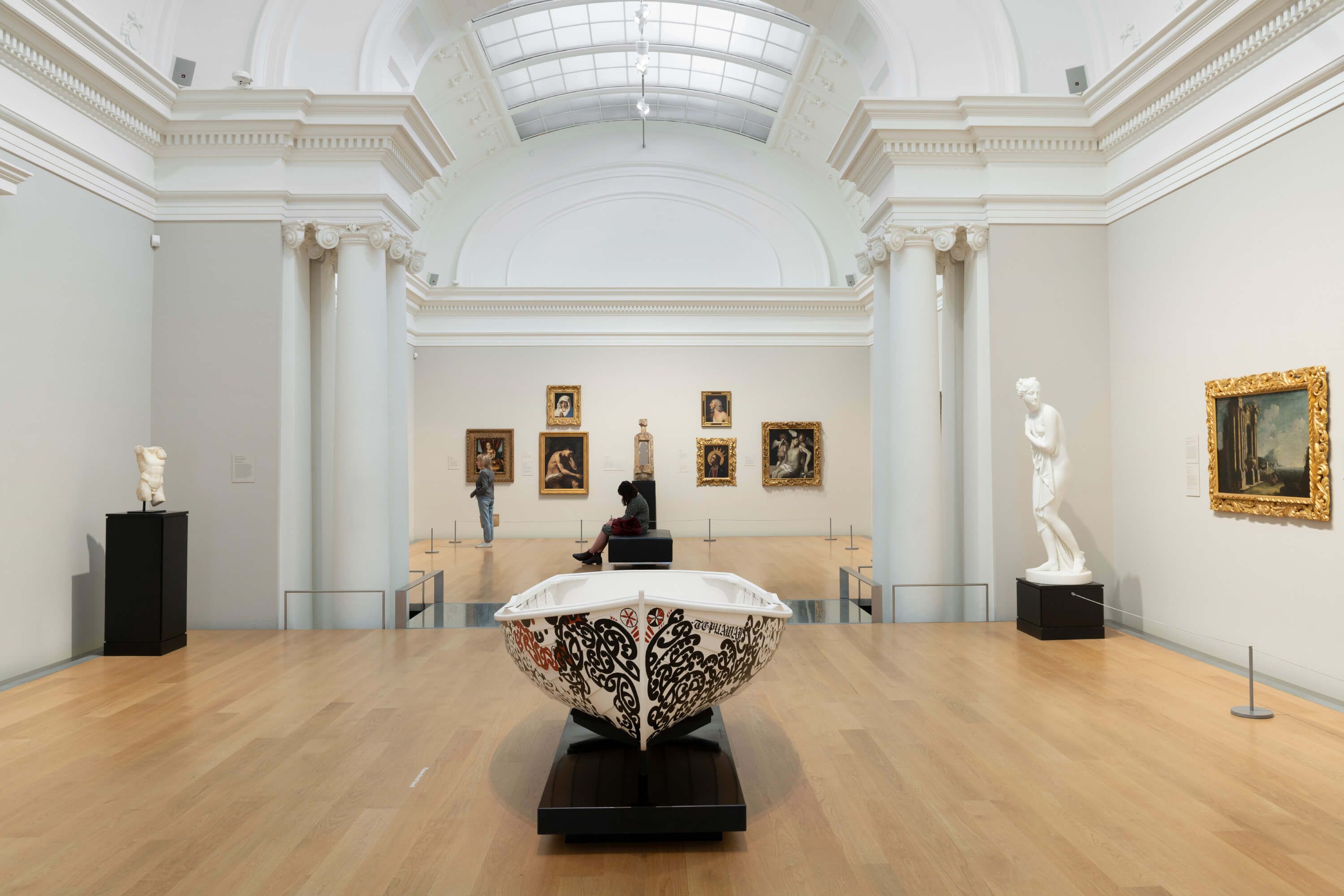 That it's taken so long to come to this is rather sad.
It's been 23 years since Te Papa Tongarewa recognised the Treaty of Waitangi in establishing co-leadership between a Chief Executive and Māori co-leader (something being reasserted by current co-leaders Courtney Johnston and Arapata Hakiwai). In the NZ Herald story, Ellis says her resignation after 25 years was not a protest vote. Yet, that Ellis did not stay on to help the ride through this storm after all this time, with this groundbreaking exhibition on, says it all.
In August, I commented in the Lowdown on Lacy's establishment of an advisory panel to help the gallery's strategic growth in being "the leading arts institution in the Pacific." I was critical of the absence of both Pacific Islanders, mana whenua and Māori, beyond Ellis on that panel. I interviewed Lacy (then under the married name Paisley) about her laudable call for better leadership in the arts sector in New Zealand.
It would be easy to make Lacy, an Australian who took on the job in 2019, the scapegoat - but this goes far deeper than the latest director. This is a problem she inherited, at a difficult time.
Auckland Art Gallery has taken a national lead several times to survey Māori art. We need to look at governance.
The number of non-New Zealand directors of major arts institutions (let alone the absence of Māori in the top jobs) has received much comment in recent years. It's been a particular criticism of Auckland Art Gallery Toi o Tāmaki with, as Wane notes, only two of 11 directors since 1952 (one of whom was just an acting director) being New Zealanders. An overwhelming number have been Australian. Lacy took on the job when the director first selected, New Zealander Gregory Burke had to withdraw.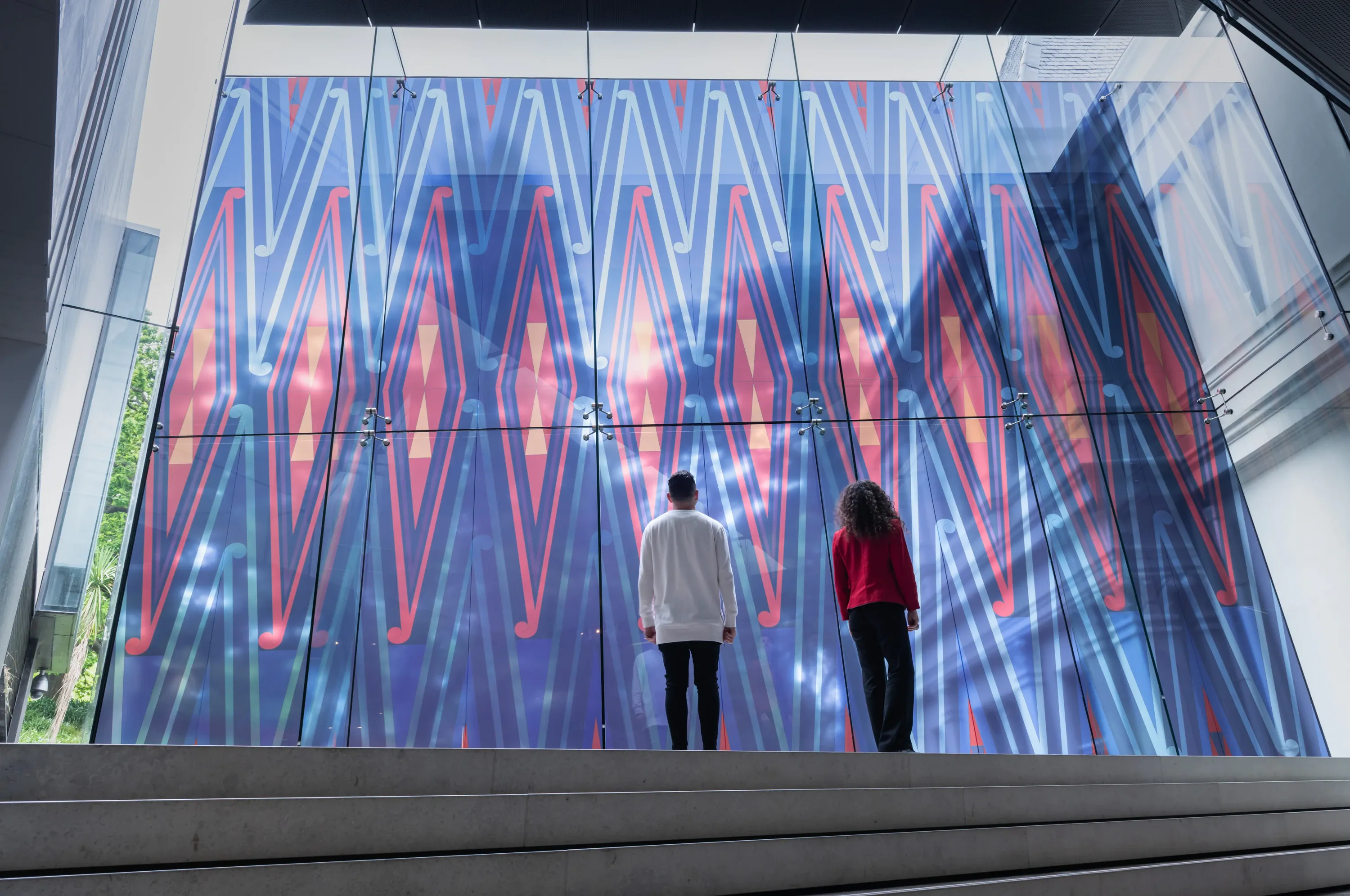 Borell's brave stand is an overdue wake-up call to make changes in our cultural institutions to better reflect this country's cultural strengths. The government has done this already in its portfolio reshuffle, elevating Māori and Pacific Island politicians to help lead our cultural sector.
Let it trickle down.
A fond goodbye to Bill
A great man exited the Wellington stage on Wednesday, having left the arts nationally all the richer.
Bill Sheat was a lawyer who used those skills as much as he could to support the growth of the arts in New Zealand. He played a major role in the establishment of the New Zealand Film Commission (and served as founding chair), the construction of the Hannah Playhouse (former theatre for Downstage), helped save the Wellington Opera House and, as chair of Embassy Theatre Trust, played a major role in saving that magnificent theatre too.
He has been chair of Royal New Zealand Ballet and the Shakespeare Globe Centre New Zealand Trust and helped many other significant arts organisations with his advice, pro bono services and simply warm, caring presence.
Sheat received a Wellington Icon Award at the 2019 Gold Awards for more than 60 years of support and leadership in the arts. As early as 1973, he was awarded an OBE, and in 2011 was made a Companion of the New Zealand Order of Merit.
An important thing about Bill Sheat was his willingness to stand up for artists publicly. As recently as October 2019, he wrote this passionate op-ed for the Dominion Post lamenting the way artists are treated as contractors and the state of the capital's venues - sentiments I see I was parroting just this last month in the same newspaper. His leadership and heartfelt support for artists will be hugely missed.
Immortalised and on demand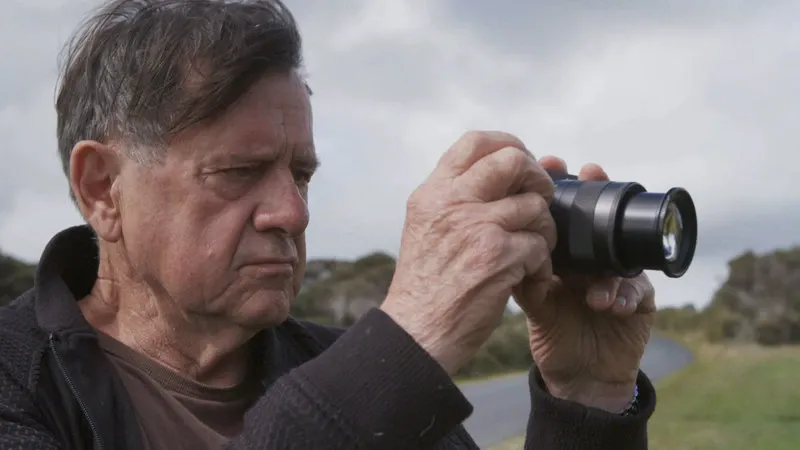 Peter Peryer.
Quietly and happily, TVNZ have put up three of Shirley Horrocks' recent outstanding documentary portraits of significant New Zealand artists over summer. All have left us in recent years: Tom Kreisler, Peter Peryer and Marti Friedlander.
So far I've watched the last of these, Peter Peryer: The Art of Seeing an outstanding articulation of the power of photography as fine art and this distinguished artist. Filmed just before Peter's passing in 2018, it is the artist himself who hosts us, demonstrating the process by which he has developed his work.
Reclamation and Repatriation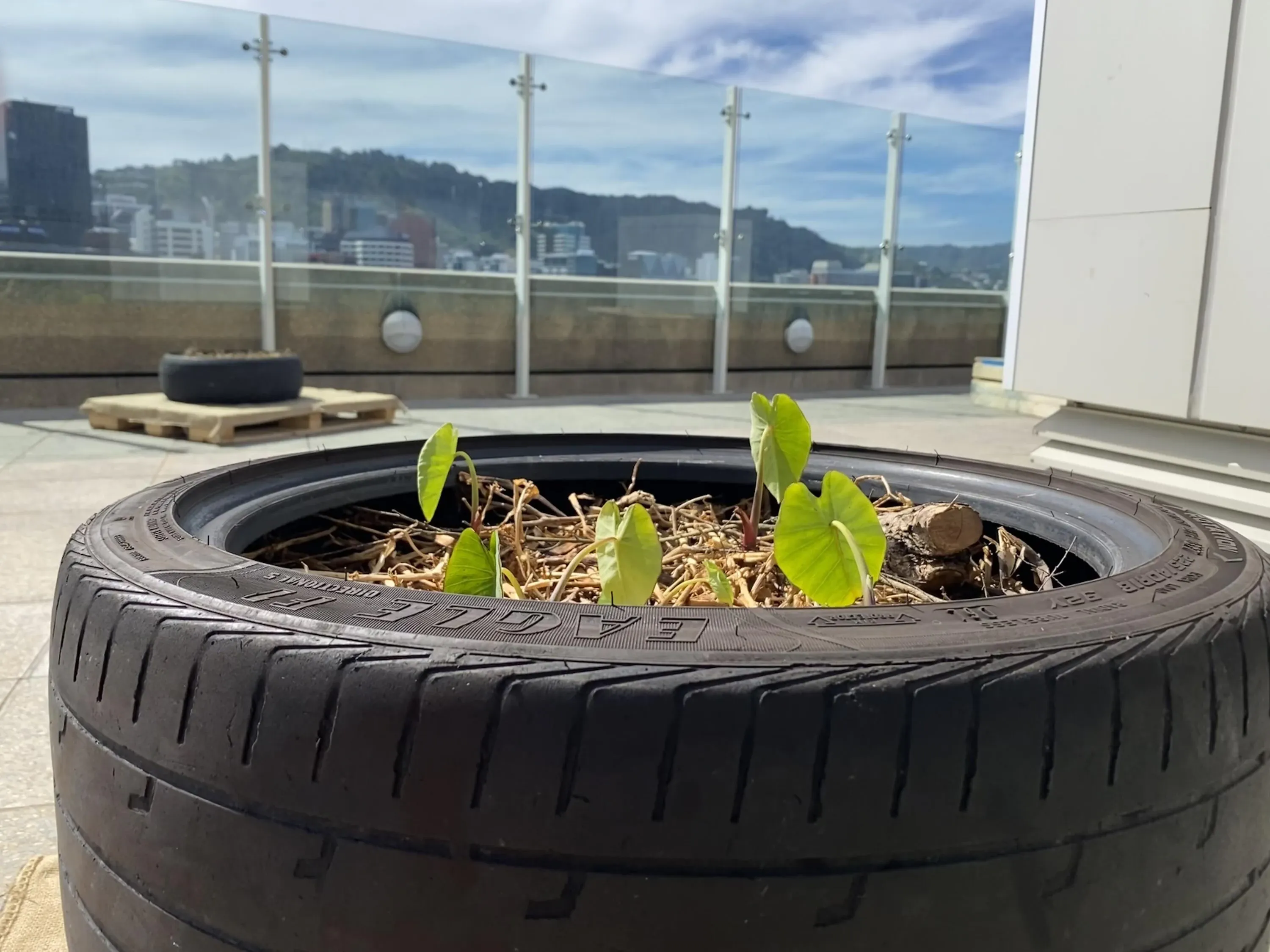 Te Papa has established a garden or māra kai in its rooftop area, using the maramataka (Māori lunar calendar). That rooftop has sadly been left empty as exhibition space since it was a place for bold sculpture commissions 10 years ago. Arihia Latham wrote on this project and From the Ground Up, a look at productive gardening through art at Dowse Art Museum in a 'Te Hīkoi Toi' Dom Post column.
Meanwhile, Te Papa curators Te Awa and Katie Cooper have explored the history of productive gardens from early Māori gardening to last year's lockdown in this blog. Timely given the increasing interest across the social, art and political scapes. Extensive gardens have also been planted over summer by Shelly Bay occupying protest group Mau Whenua as covered in this weekend story by Tom Hunt in the Dominion Post.
Speaking of Te Papa, published this month in New York site Atlas Obscura is a story by Ye Charlotte Ming about the museum's Karanga Aotearoa Repatriation programme, which since being established in 2003, has returned over 600 ancestors to Aotearoa - toi moko and the remains of Māori and Moriori. It begins with poet Hinemoana Baker at a repatriation ceremony at the Ethnological Museum in Berlin in October.
And on the theme of repatriation, summer is a lean period for arts news, with galleries, theatres and organisations closed.
Perfect time then for a bit of robbery.
A valuable 1930s Goldie painting of chief Hori Pakai, with a rather apt title for the summer, 'Sleep tis a gentle thing' went missing from a Hamilton property between 27 December and 3 January, as RNZ reports. Difficult to sell legitimately as so well-known, one wonders if the now rather offensive nature of the painting played a part in it being stolen. On Monday Stuff reported the burglars had been arrested but the painting had yet to be found. Three men appeared in the Hamilton court on Monday.
In another interesting Māori arts media story over summer, Charlotte Muru-Lanning wrote for The Spinoff on the Māori tradition of wearing hats and headdresses, following Māori Party co-leaders Rawiri Waititi and Debbie Ngarewa-Packer getting attention for their hats in parliament. Chanel Clarke, curator Māori at Auckland Museum followed up on this in conversation with Emile Donovan on RNZ.
Soaking up more culture
Cruelly, the best of summer arrives just as many of us head back to work. But in anticipation of days off and public holidays here is some arts media reading I'm recommending you can do on a smartphone.
Gareth Shoot (Audioculture) introduces ten New Zealand songs that are outstanding played acoustically.
Grant Smithies (Sunday Star Times) remembers a trip to San Francisco and compares the touristic and property realities of the city today with its cultural image,
Kiran Dass (Stuff) remembers her teenage Waikato fifth form school holidays with friends, and the darkness that crept in round the edges.
Brittney Deguara at Stuff meanwhile remembers Poul Gnatt, the Danish dancer who established our national ballet company but is too often forgotten.
Sally Blundell (Photoforum) reviews an exhibition with images currently on in Kaikoura by Birgid Anderson, where the photographer recreates Vicrtorian photography arrangement techniques to catalogue items from a house-based local dentistry practice from 1921 to 1955.
Coinciding with Nelson ceramicist Christine Boswijk's survey exhibition at the Suter, Thinking Through My Hands, Stuff have published an engaging written and video story with the senior artist. "If life comes in the door, go through the door," she says, "if you don't take risks you don't experience anything….as long as you stay on the right side of the law, I guess you're okay!"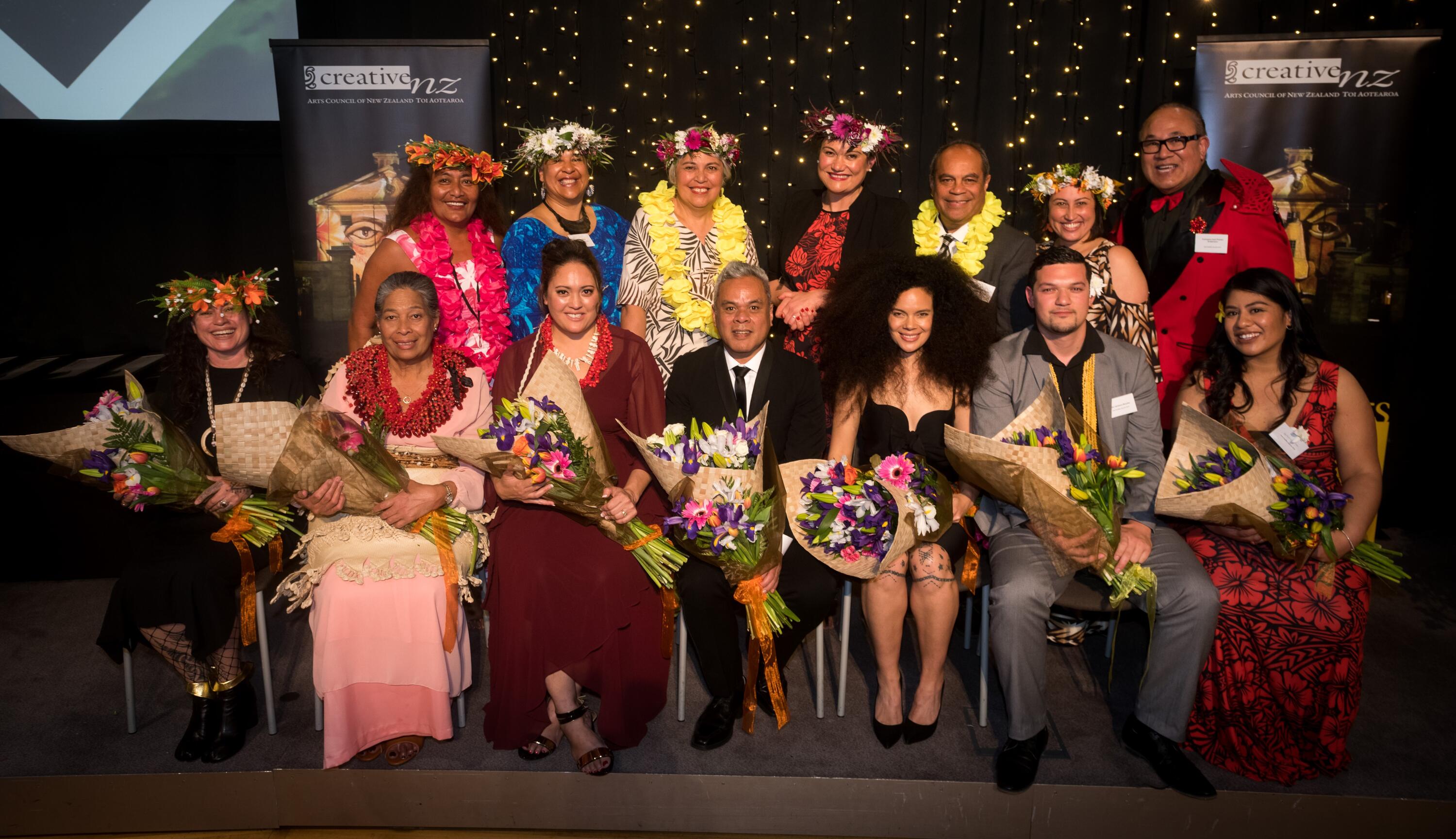 Makerita Urale (top left) at the Creative NZ Arts Pasifika awards 2018. Photo: Raymond Sagapolutele.
Finally Makerita Urale (Dominion Post) - recently announced in a new role Senior Manager Pacific Arts at Creative New Zealand - has written about the importance of being an artist working within an institution and coming to understand the role and a new language.