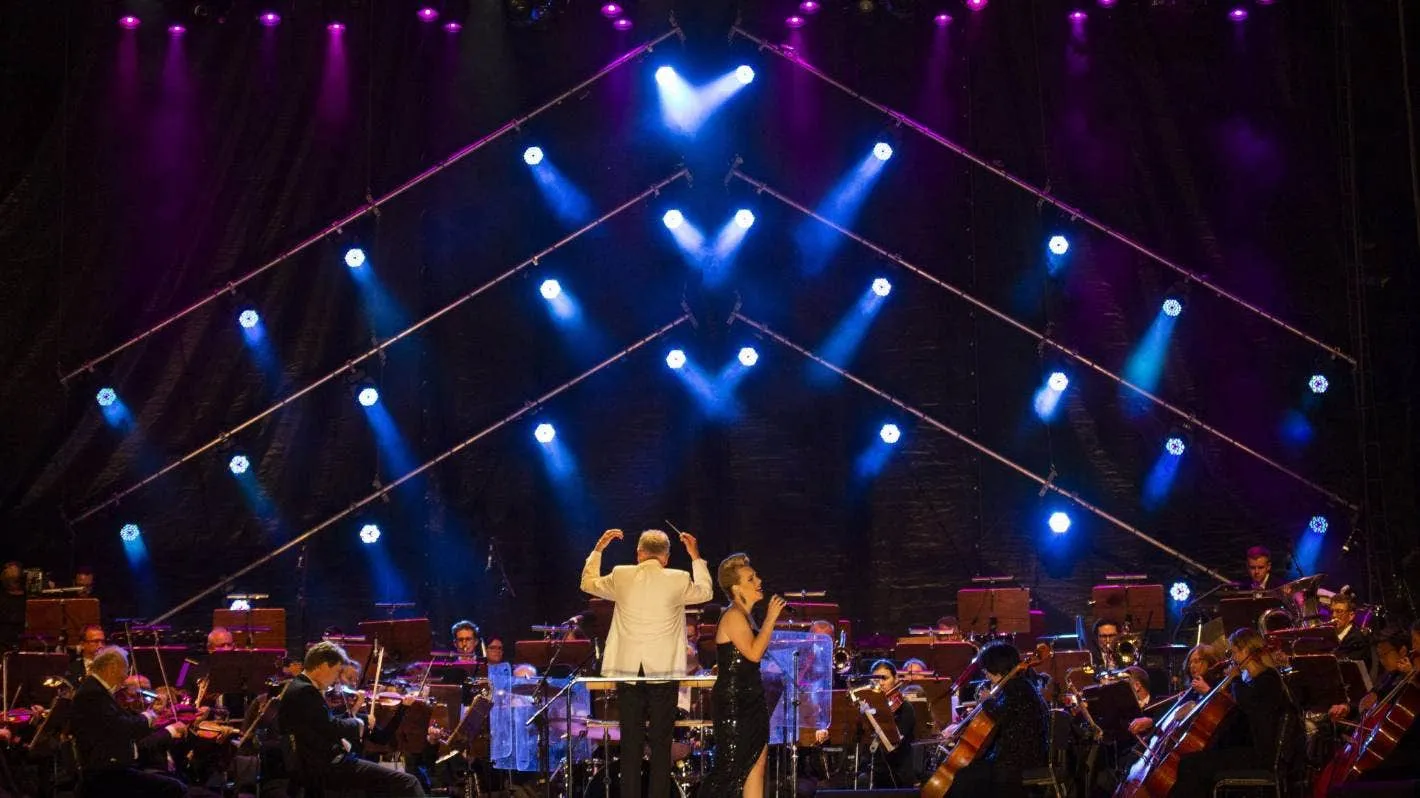 How fast is too fast? 
While many in the arts have been concerned about the speed in which the Ministry of Culture and Heritage is looking to get out a once-in-a-generation $150 million recovery fund, others, like New Zealand Symphony Orchestra (NZSO) chief executive Peter Biggs say it's needed sooner rather than later. For sure, it's a diverse sector with different needs. 
The Ministry, however, is holding firm, saying that the new funding pools are aimed at long term benefits, noting significant funds have already been issued through sector agencies (e.g. Creative New Zealand, principally responsible for funding most arts organisations outside the NZSO, Royal New Zealand Ballet, Te Matatini and the screen sector). 
These comments are from this feature by Stuff's Charlie Gates, the first - and welcome - look in the mainstream press at the tensions around this fund. Biggs' comments are echoed by those of Christchurch Symphony Orchestra's Chief Executive Gretchen La Roche, who comments "We are not all going to survive this."
La Roche, whose organisation is funded through CNZ, raises another issue that has concerned the arts; why isn't Creative New Zealand - with its sector knowledge, relationships and developed systems - more involved in the funding distribution? CNZ Chief Executive Stephen Wainwright naturally won't be drawn to comment. 
The Stuff story sees the Ministry's Chief Executive Anna Butler reveal more details of their timeline: two to three years. This is contrary to rumours that the government wants it all sorted by Christmas, or at least this financial year. 
The NZSO's concerns read as a headline-grabbing piece of lobbying, to get in first in the funding queue - Butler actually confirms the $20 million capability fund for organisations will open in December.  
Meanwhile, the $70 million Creative Arts Regeneration Fund will open early next year, and no date, Butler says, has been set yet for the $60 million Innovation fund. 
It's been a busy month for arts politicking. Remember the dirty political tactics of the New Zealand Taxpayers Union? Criticising CNZ COVID grants, which we covered here. RNZ's Emil Donovan from The Detail talked to Wellington author Eamonn Mara, and Stephen Wainwright, about what CNZ's role and responsibilities are. Of the grant winners, Wainwright says, "...in nearly every case they're delivering things to the public, that matter to the public." 
(image)
Answering Racism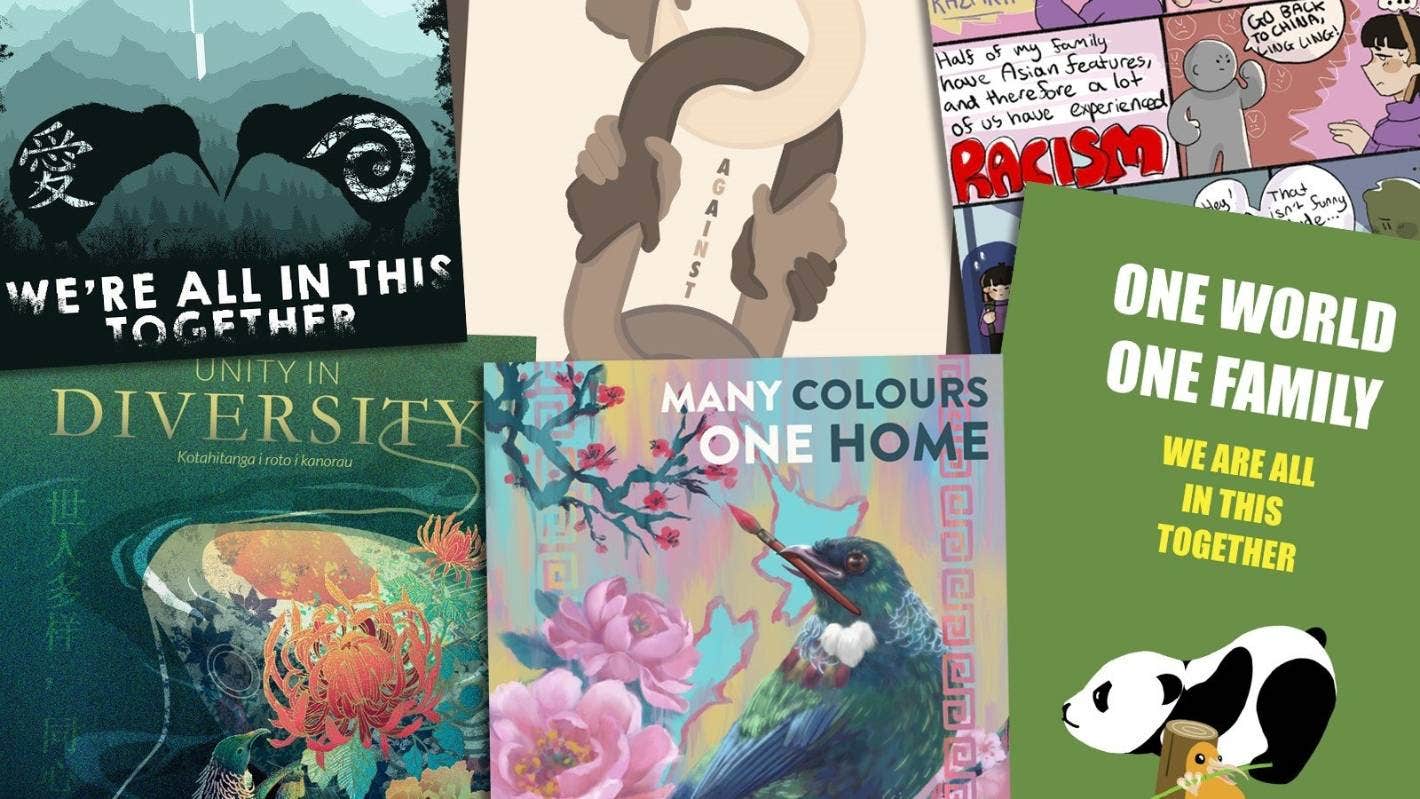 Shortlisted works in Aotearoa Poster Competition.
Complaints of racism towards Asian New Zealanders have increased in the wake of COVID and has concerned many Asian New Zealand artists. It saw the Human Rights Commission launch a 'Racism is no joke' campaign in July. Indeed, spurious connections made between Asians and the spread of plagues and viruses historically even makes a timely appearance in LA artist Candice Lin's excellent exhibition Pigs and Poisons at New Plymouth's Govett Brewster (as she discussed with RNZ's Lynn Freeman).
Answering racism, and borne of lockdown is the Aotearoa Poster Competition, which called out nationwide for submissions that speak to our diversity, and takes a stand on racist behaviour. One of the organisers Bev Hong spoke to Stuff here, who show the shortlisted works. Winners are announced Friday night. 
(image)
Diving into public art 
Nathan Pohio, Raise the anchor, unfurl the sails, set course to the centre of an ever setting sun!, 2015. Commissioned by SCAPE Public Art. Image courtesy of the artist and Jonathan Smart Gallery, Christchurch. Photo: Hannah Watkinson.
Christchurch has two new permanent public artworks, thanks to public art agency Scape, with the gift of two significant works that have been on temporary display in years past.
Nathan Pohio's Raise the Anchor featured in the Scape season in 2018, as well as being part of Documenta14 in Athens and Kassel and at Auckland Art Gallery when nominated for the Walters Prize. To be located in Hagley Park, it will provide some assertion of mana whenua history in the region. The large billboard based work shows a 1905 photograph of Māori leaders on horseback flanking Lord and Lady Plunket in their motorcar on a visit to Kaiapoi (more info here).
Meanwhile, "surreal, redundant and inaccessible" is how artist Natalie Guy describes her three-metre-high diving board The Pool which will, with a touch of the absurd, be on the Avon River's banks. Naturally, as the NZ Herald reports, its placement has raised a few councillors' eyebrows. 
In Wellington, it's been a month for reinstating popular public art. First, Neil Dawson's Ferns is hanging back up in Civic Square, and now the fourth attempt to see Len Lye's spectacular Waterwhirler last beyond vandalism is in play: here's a One News story.
Elsewhere, street artist D-Side has gone from dramatically painting the entirety of the eyecatching Sealion boat on the Wellington waterfront -  temporarily home to a collective of artists and soon to house a floating community near Nelson (great Stuff story here)  - to taking on a large Russian Mil-8 helicopter, that sits on the roadside in Wairakei. The project (Seven Sharp item here) was undertaken as part of Taupō's Labour weekend 10th annual Street Art Festival.
(image)
Screen time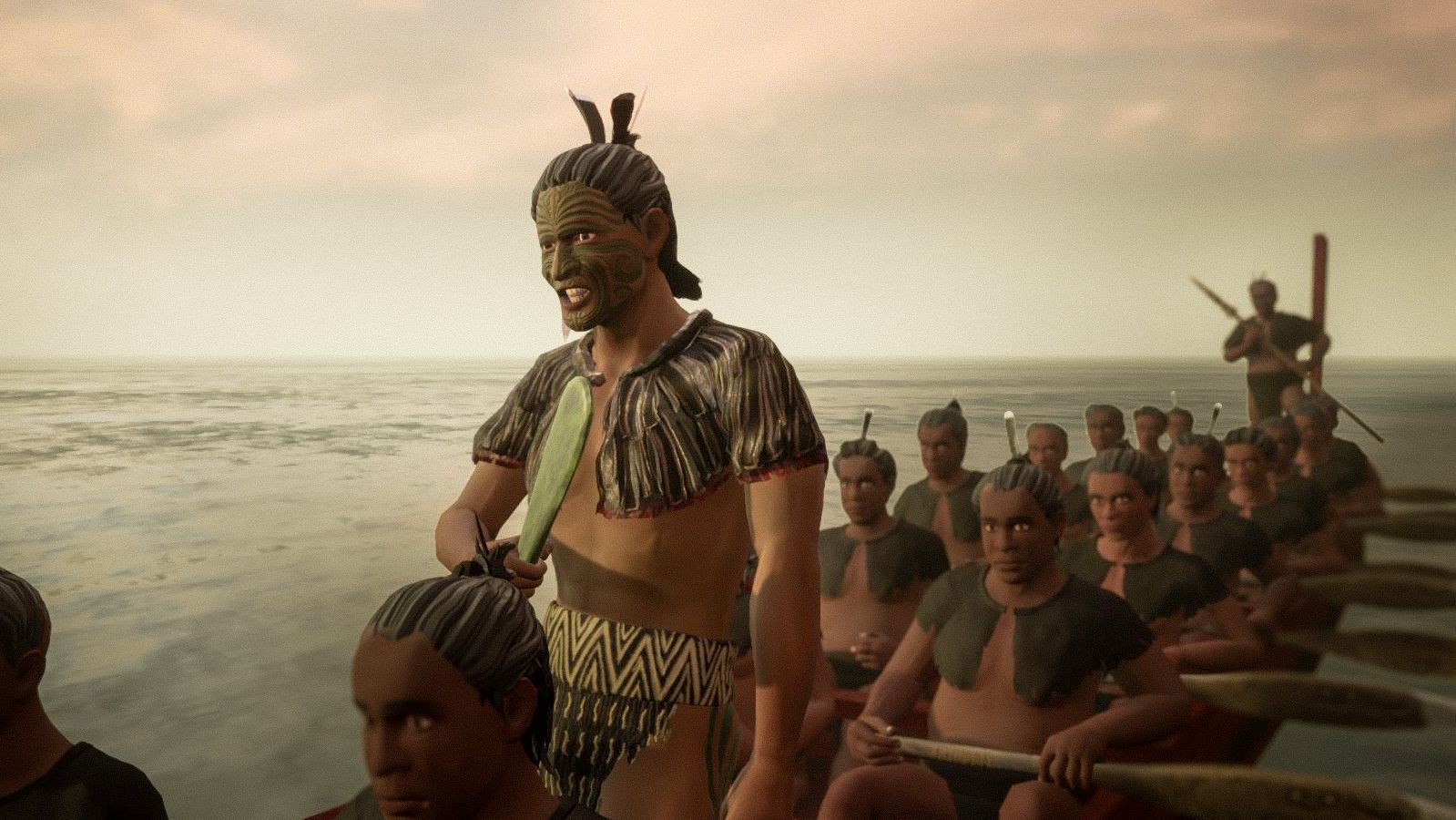 Still from Whakakitenga by Wiremu Grace.
The screen production boom in Wellington is covered in this Andre Chumko Dominion Post feature, while Chumko has also written another story on how Wiremu Grace has premiered the first-ever Māori virtual reality film, Whakakitenga, at international indigenous film festival Imaginenative in Toronto. 
Speaking of Toi Māori landmarks, I suspect many won't recall that the seminal film Once Were Warriors was turned into a theatre musical starring Tina Cross as Beth in 2004, which librettist Jamie Burgess remembers as "The only original Aotearoa made musical theatre show (of its scale) to have toured the country successfully, with a cast of 35 performers presenting over 60 shows." Almost 20 years later, Burgess has put up a short video following the show's premiere on Youtube. 
The New Zealand Television Awards nominations have been announced with The Luminaries (a TVNZ/BBC co-production) up for a record 14 nominations. Crime drama The Gulf has received six. Stuff story here. Winners are announced 18 November.
Books launched and the unlimited 
"I'm chronicling things which, if they are not written down, will be lost. Most things are forgotten but some are not. I want to add to the sum of those that are not." So writes Martin Edmond in his excellent account of '70s Wellington avantgarde performance group Red Mole, which provides in part a great study of the capital's countercultural artistic life that decade.  Edmond talks about the time in this Dominion Post story and there's a solid review of the book over on new book reviews hub Kete by theatre critic James Wenley.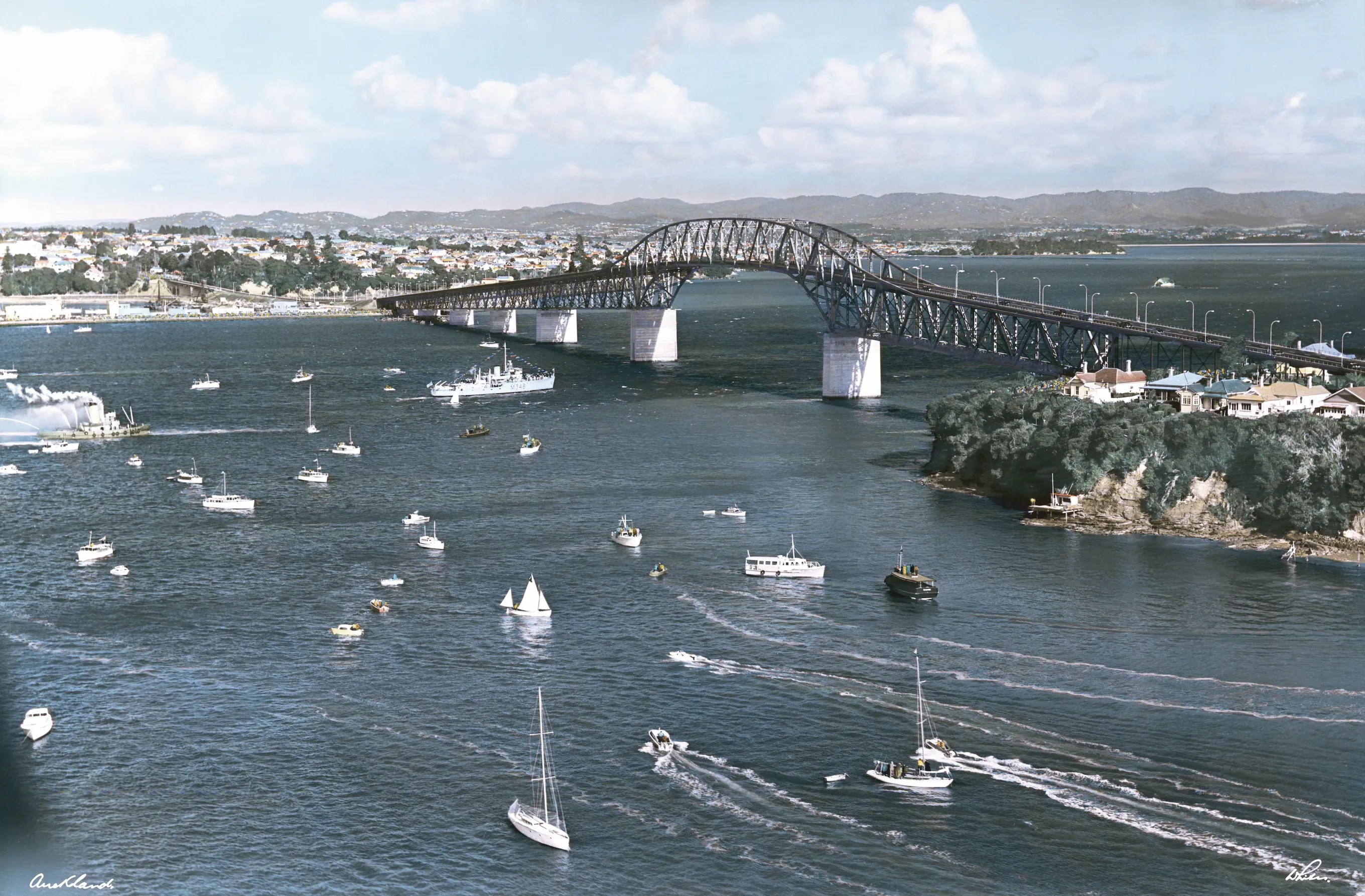 Opening of the Auckland Harbour Bridge', 1959. From Peter Alsop's Wonderland.
Also out this month is a beautiful and eye-opening look at the hand-painted aviation photography of Whites Aviation by Peter Alsop, Wonderland. From these reproductions, the painting is exquisite and was undertaken by a group of women. One of them, Grace Rawson is given her own chapter in the book, interviewed aged 82 back in 2015.
"It's high time these women are recognised for their amazing contribution to our visual art and visual history," Alsop told RNZ on Labour Day. "They have clearly done some wonderful work." 
Pictured from that book is an image from the Auckland Harbour Bridge's opening. Which leads us to... news that Auckland Unlimited is the name announced this week for the events, cultural and economic agency borne of the merger of Regional Facilities Auckland and Auckland Tourism, Events and Economic Development (ATEED) which was recommended by review in late August. Reminiscent of Auckland Live, the amalgam of council-owned venues running under Regional Facilities, it's that curious contemporary need to brand anything that needs bureaucratically sticking together.  "The new agency will also have a te reo Māori name, which is on a slightly longer timeframe," reports the NZ Herald. 
Silver Scrolls gets Glitter glow
In fresh music news just to hand, Benee's 'Glitter' has won the APRA Silver Scroll for songwriting, with Rob Ruha's song 'Ka Mānu' winning the Maioha award for exceptional waiata featuring te reo Māori. Here they are on RNZ accepting their awards.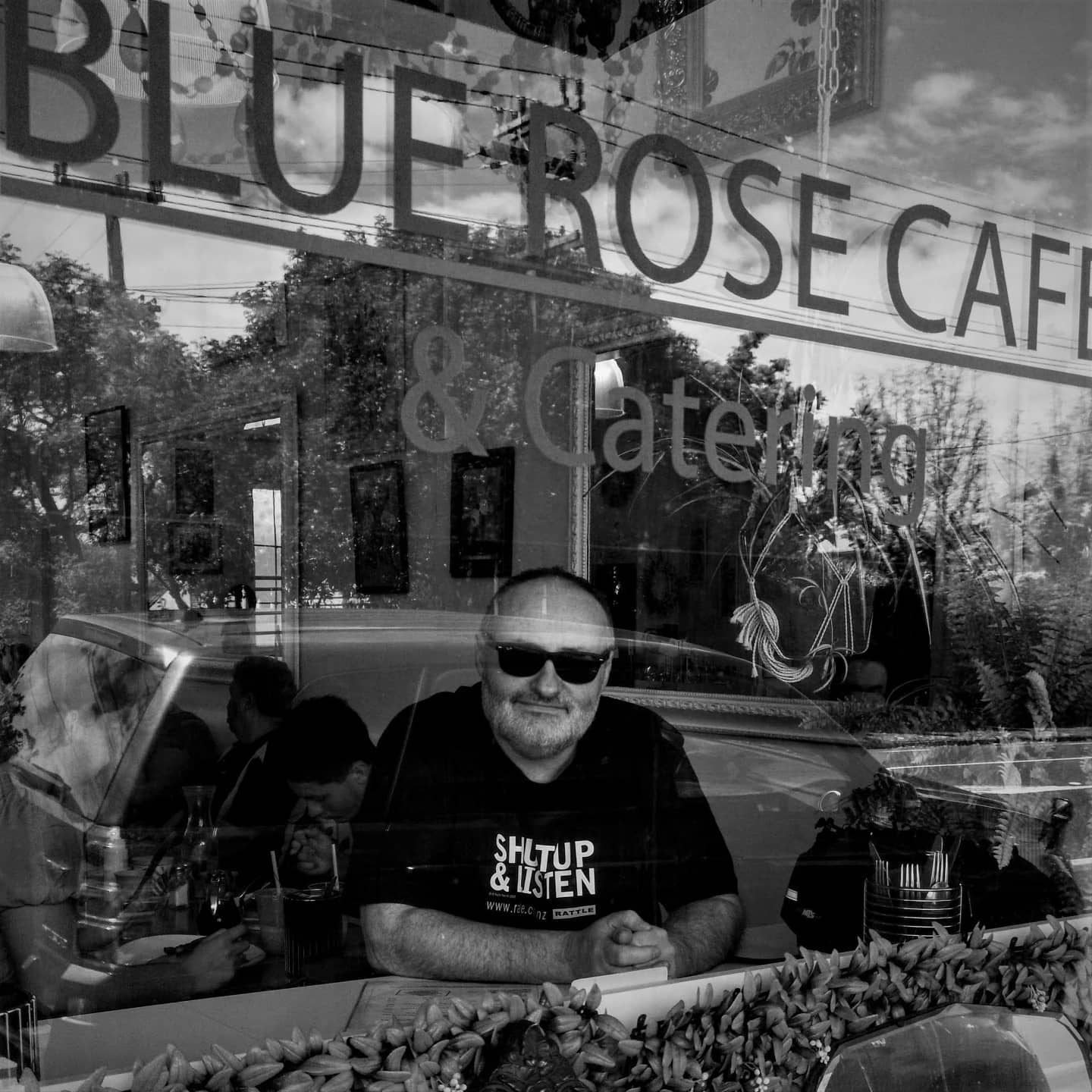 Steve Garden of Rattle Records.
Also celebrating: Rattle Records - New Zealand's dynamic home to much jazz and contemporary classical recordings is about to turn 30, and its co-founder Steve Garden (pictured) continues to run it today. Impressive numbers: Rattle's 150 releases have received 44 award nominations, and all three finalists in the Best Classical Artist category of this year's Aotearoa Music Awards are Rattle recordings. Garden spoke to RNZ Concert's David Morriss on Upbeat.
 
Web Initiatives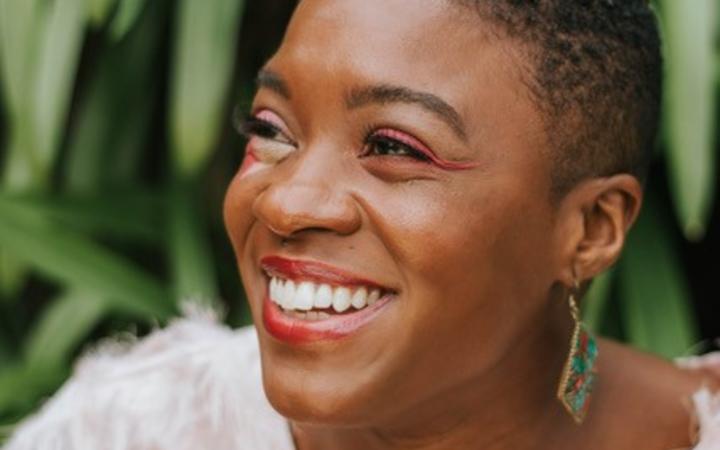 Diane Wesh.
Diane Wesh has produced, with Black Creatives Aotearoa,  a series of interviews with African-Caribbean creatives based here, and set up a new digital directory identifying Black-owned businesses around the world. She spoke to Lynn Freeman on RNZ Standing Room Only.  
As this article on The Spinoff boldly bills it, it's a New Zealand website "changing the way the world talks about movies". While reporting on a bleak year for the blockbuster and cinema chains, the story introduces Letterboxd, an online movie-logging platform that "functionally sits somewhere between IMDB, GoodReads and Tumblr – a place for users to keep a film "diary" by recording (and reviewing) their movie-viewing, collating lists, and comparing notes with friends and a wider community." Editor-in-chief is well-known Auckland arts editor and broadcaster Gemma Gracewood. Previously we've introduced her Letterboxd podcast.
Another web-based video series I've been enjoying is The Outliers, produced for Māori Television and RNZ, "a gritty, unapologetic look at youth from minority backgrounds in New Zealand." The latest episode is with Papua New Guinea born, Christchurch-based rapper Valle. 
Rated Reading
It's been a difficult year, and it was salt rubbed in the wound for many in the arts and anarchist scene in Wellington when community and arts centre 128 Abel Smith Street burnt down, spectacularly. Here's a great tribute on Pantograph Punch from writer Airini Beautrais.
Finally, I've been enjoying the Verb Wellington and City Gallery produced essay series 'Art History Is a Mother'. The third instalment is excellent. It's from Elisapeta Heta, an architect, artist and poet, on "the artists who inspire connection, continuation and resilience."