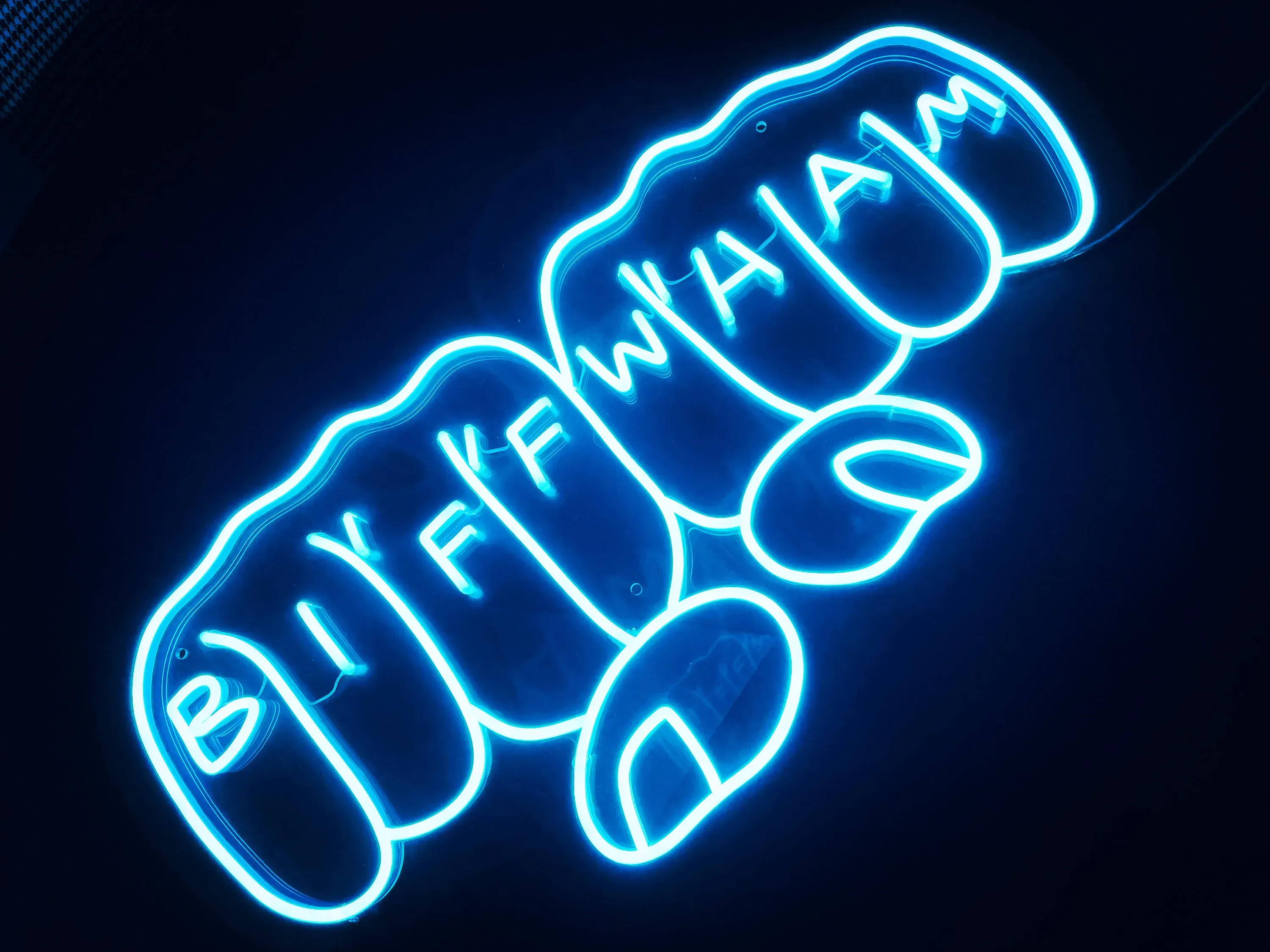 Does figurative painting translate into the digital world of NFTs?
Emerging painter Gerry Parke has boldly made Non-Fungible Tokens - or NFTs of his paintings. The paintings, part of his second exhibition - A History of Violence at Auckland's Whitespace - are large, colourful and gestural. There are white skulls, close ups of hands and groups of men in suits fighting. Each painting is intense and uncomfortable.
Despite recent concerns about the potential harms of NFTs (See our TBI piece here), Parke says making NFTs of paintings is about embracing new possibilities.
"I like the potential in the technology to open up new audiences and markets - to show my work in a global way".
Being part of a community of artists working within the NFT spaces has been fantastic for Parke.
"There's so much support and feedback and it's just a little virtual artists collective actually. We don't have that here in New Zealand."
Parke acknowledges that it is a "big experiment". He is modelling the process of what he has seen international artists do. He is giving the NFTs of the painting to the buyer of the actual, real-world painting, but will sell remaining NFTs after a six-month period.
The painting Groupthink shows a mass of men fighting. One of them has risen to the top and is pushing down on the head of another. He is accented in pale blue, and has square shoulders, as if he is wearing shoulder pads.
It is disorienting. The suits make it strange, while also being ordinary. I am vaguely reminded of the recent anti-vaxx protests, about Brian Tamaki and the far right and men who ride motorbikes.
Groupthink by Gerry Parke. Photo: Supplied.
Parke explains that the exhibition is about how "we learn and perpetuate masculinity". The images of men in suits in his paintings are actually "found images" of Ukrainian and Russian parliamentary brawls.
His creative journey started when he looked at some old photos a school friend had posted on Facebook of them in their early twenties. His interest in exploring the dark side of masculinity was ignited by reading a piece by journalist Katherine Dolan about stoicism and masculinity in Aotearoa.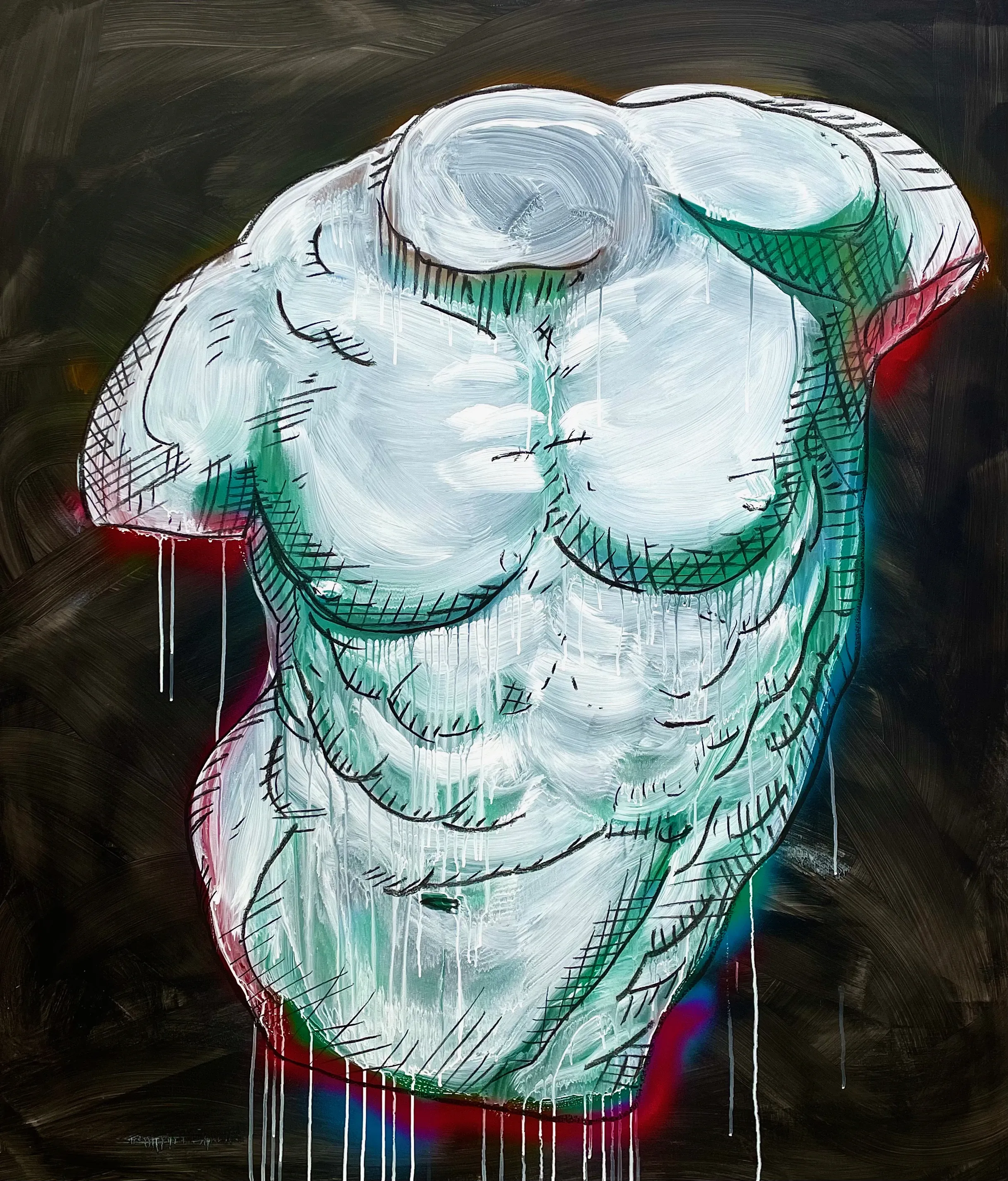 Memory of a cut off head by Gerry Parke. Photo: Supplied.
"When I was growing up, there were only a couple of emotions you were allowed; aggression and lust. And we're repressing everything else."
I am curious about whether away from an art gallery, the critique of masculinity will remain so strong, or whether as NFTs, it could be on-sold to tech-bros, who could enjoy the "tough" masculinity depicted.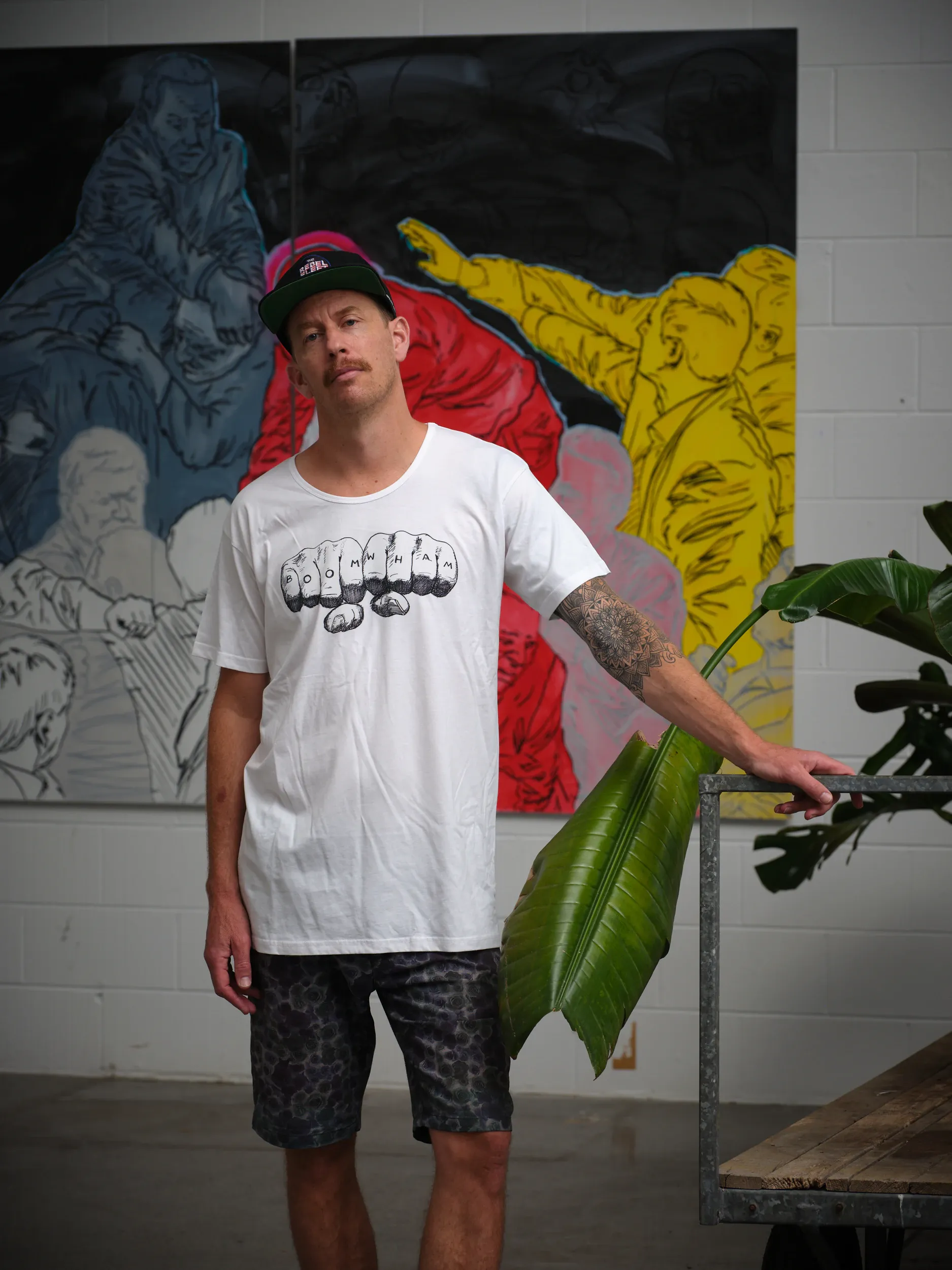 Gerry Parke. Photo: Sam Hartnett.
Take the Biff Wham Neon. In the context of his other paintings, it makes you conscious of how media aimed at boys perpetuates violent masculinity. But maybe in digital form, it would be bought by Batman fans. But when I look at the NFTs Parke has created on Opensea.io, they are all paired with quotes and explanations of the exhibition.
Besides, the need to find ways to monetise art is the reality of being an emerging artist. Parke works in the film industry as a boom operator, and the industry has been severely affected by COVID lockdowns.
"There's no more productions, so I might not work again for another 6 months or something."
He's also printed illustrations onto tee-shirts and hoodies.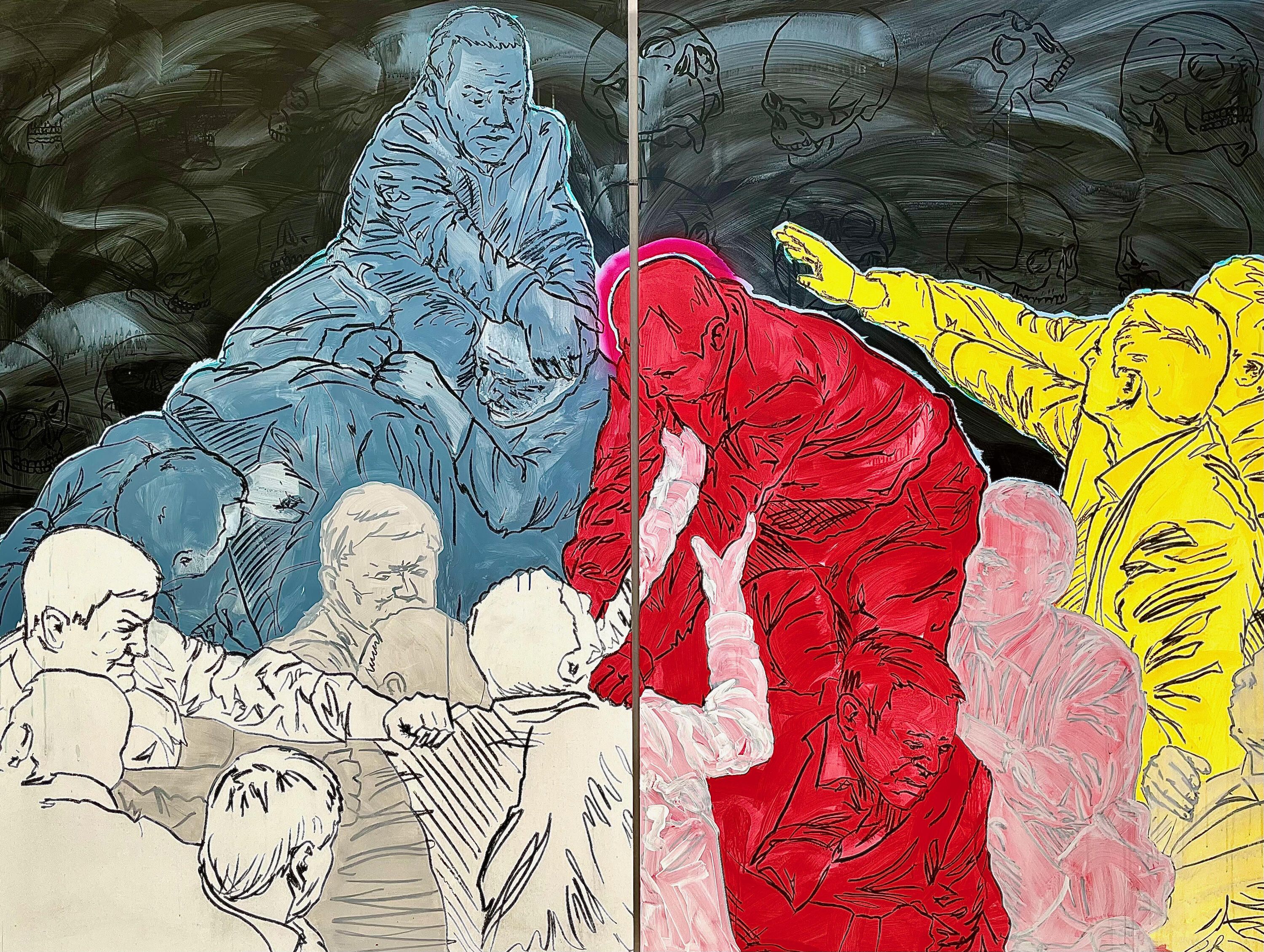 Curse of Knowledge by Gerry Parke. Photo: Supplied.
His painting routine changes with his work routine. While working in the film industry the "horrible" long hours meant he could only paint on the weekend.
"The good thing about freelance in the film industry is that you kind of have fits and bursts - you work for six months and then you might have two months off. So I switch to kind of like house husband/ artist, drop the kids off at school, go to the studio, pick them up from school."
I asked Parke what he thought about the risk that NFTs could exacerbate existing injustices for artists by creating a speculative product whose growth in value won't flow back to the artists (see this piece on the fight for resale royalties).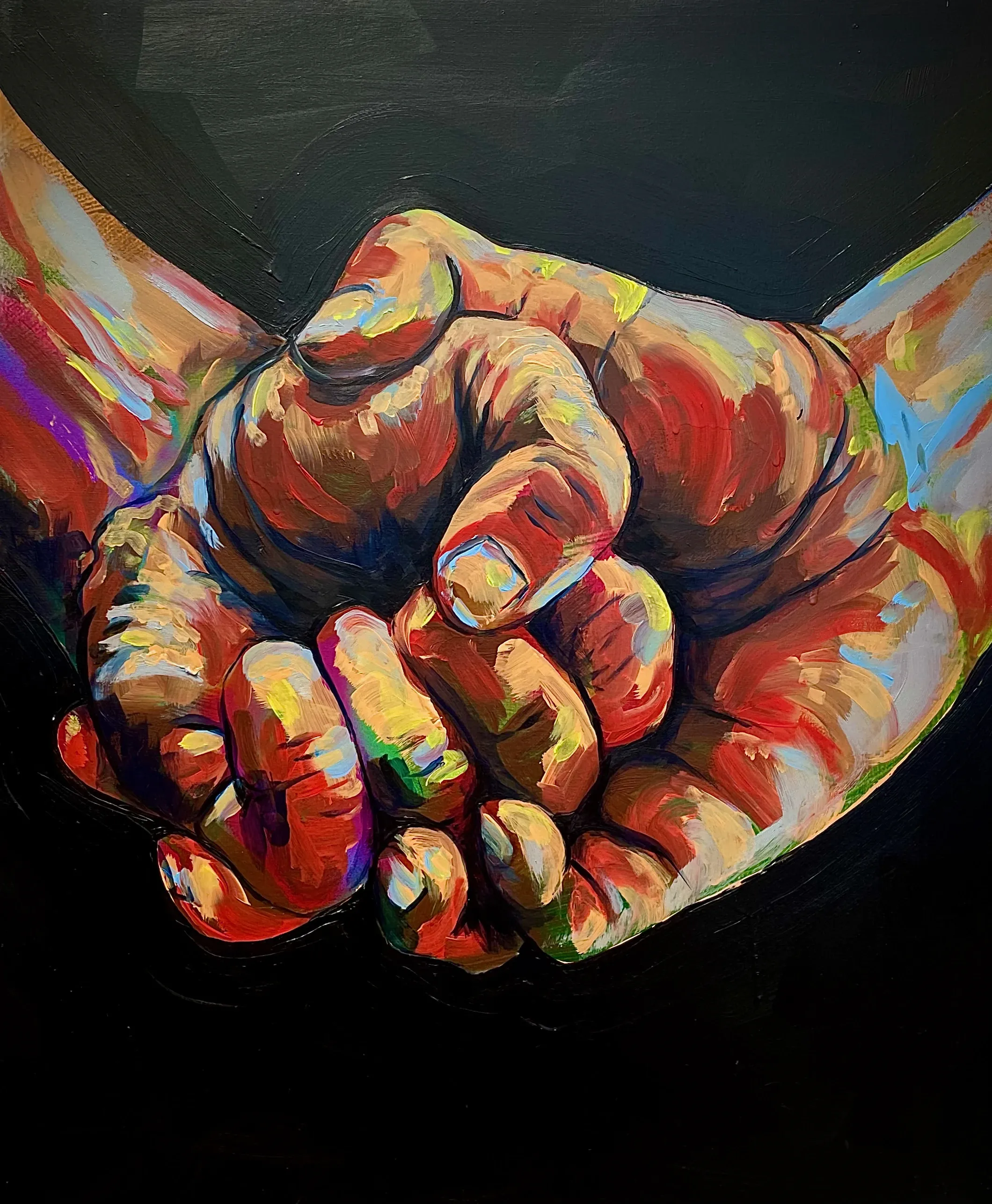 Peak-end rule by Gerry Parke. Photo: Supplied.
He explained that while different NFT marketplaces operated differently, royalties can be coded into "smart contracts" in the blockchain, so when you mint an NFT you can ascribe how much royalties an artist will get themselves. On Open Sea, the marketplace Parke is using, you can set royalties up to 10%.
He says, "It is a way that artists could potentially have a bit more control of it".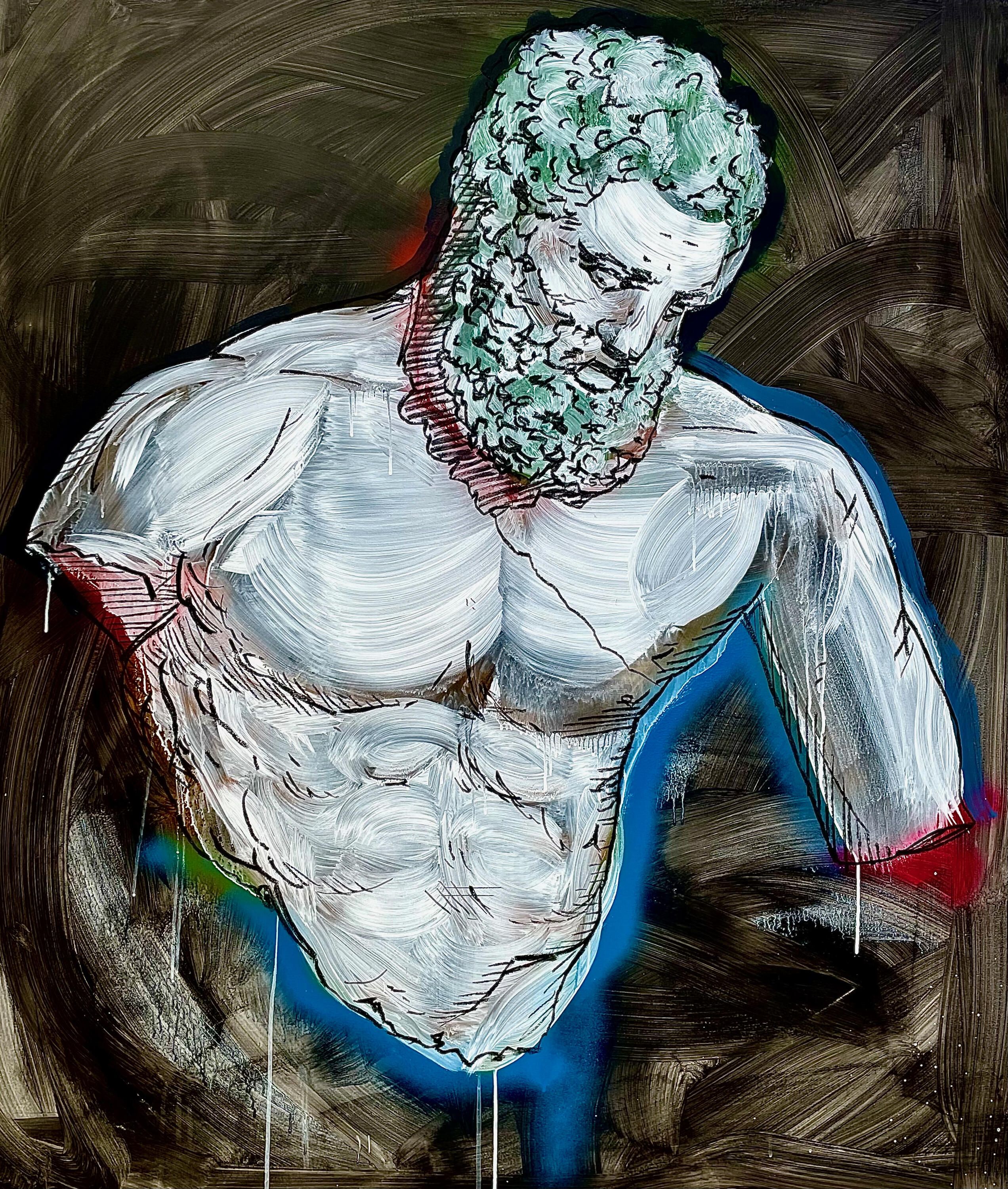 The lives they wish they had by Gerry Parke. Photo: Supplied.
The Big Idea will explore the current standing of NFTs in Aotearoa next week.