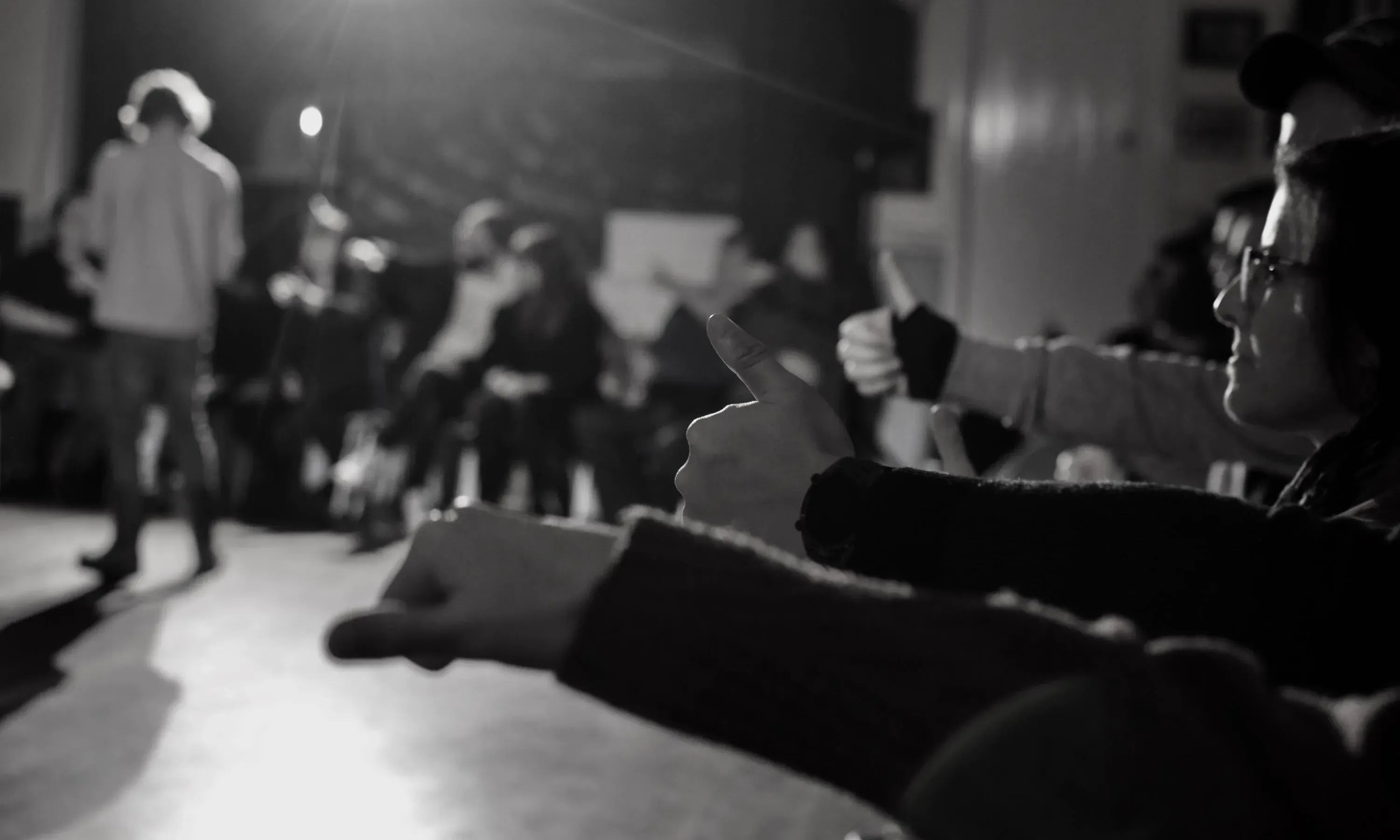 Has the creative community ever needed a holiday more?
The feedback we're getting right across the board - from officialdom to educators, experienced and emerging artists - is that this year has been harder emotionally and mentally than any of the pandemic dominated ones. It's a big call, and to be honest, we agree.
It's wind-down time for many sectors - and that largely includes the creative industries. Unless you happen to work for Manatū Taonga or Creative New Zealand.
As you set up your out-of-office replies - it could pay to keep an eye on your inbox over the holiday period (I know everyone says "I will be checking emails intermittently" in their auto-replies but…c'mon, we all know the truth).
The Lowdown understands that the results for the second round of the Ministry of Culture and Heritage's (MCH) Cultural Sector Regeneration Fund will now be announced this side of Christmas. Given there are more than 240 applications up for a slice of the $28 million fund in this round - which drew over 8000 public feedback submissions - there are plenty with skin in the game.
As a recap, only five initiatives were given funding in the first round from 66 applications, and any unsuccessful applicants are given feedback on what to work on before the round three window opens in February.
It's not everyone's cup of tea to have your workbrain switched on during the holidays - but it could give those interested in mulling over these topics with friends, family or solo the time to breathe and plan their next steps in mahi that could have significant impacts on their lives and the sector in general.
And if you're looking for in-depth cultural sector reading during the summer break, there's a new 110 page report to cast your eyes over.
MCH has just released a large body of research called the Valuing the Arts, done in collaboration with Australia Council for the Arts - with a research team from Queensland University of Technology and the University of Auckland looking into the value of the arts for social inclusion and wellbeing on both sides of the Tasman.
It outlines what those in the sector already know - that creative endeavours are about a whole lot more than just dollars and cents.
One of the big calls is to change the way the arts are measured. It is so often done through an economic lens - but researchers are stating that is too simplistic and needs to consider the social outcomes more. They suggest that 'value' can't be judged without including 'impact'.
Along with a focus on Return on Investment, another current major frame of measurement relates to a reliance on attendance figures. The researchers state "favouring audience metrics often means informal, community-based or collaborative activities cannot be accurately measured and are less able to show their value.
"A holistic view is required to fully understand the diverse impacts of the arts and new approaches for revitalising arts, culture and creativity. This includes considering how arts and cultural activities provide value in relation to identity and representation, belonging and social inclusion, and wellbeing."
That is certainly a theme of the research, with a focus on "the strong connection between wellbeing and social inclusion created through arts engagement."
To optimise these benefits, the researchers recommend increasing sustainable funding for arts and culture projects in under-represented communities, building in holistic impact assessments into grant applications and reporting, and demonstrating support for community generated responses to the value of the arts and culture in their communities.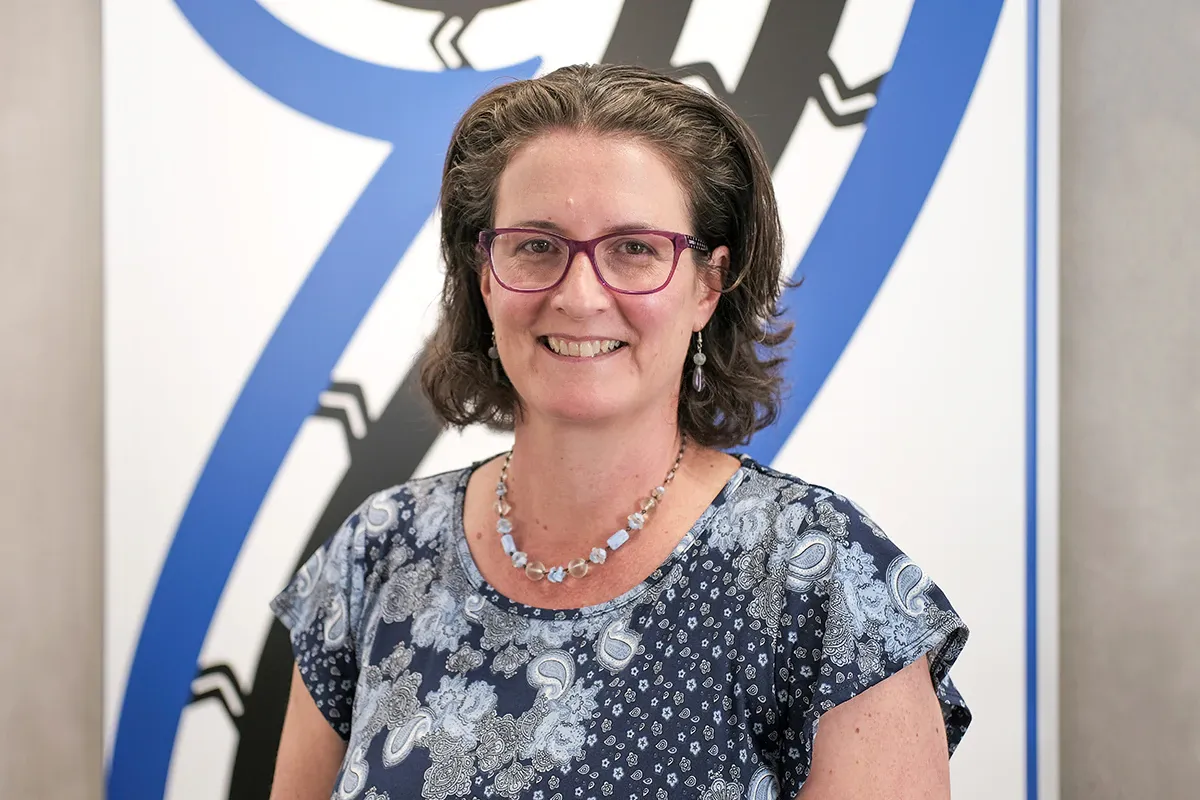 Emily Fabling, Deputy Chief Executive Policy and Sector Performance (above) told The Lowdown they recognise more research is needed to specifically reflect te ao Māori and other diverse worldviews in this country - but there is much to take out of this report in terms of fostering greater participation in the arts and reducing barriers to access.
"Our research and evaluation work programme helps inform our policy advice to the Government. Alongside wellbeing, a key priority for our arts policy work programme is a focus on economic sustainability of arts, culture and creativity in Aotearoa New Zealand.
"We already know that cultural participation can improve social cohesion, our physical and mental wellbeing, and increase educational achievement. This research can further inform economic and social policy discussions on how the cultural system can help address social wellbeing and equity matters across government."
When quizzed on what needs to happen from here and what creatives can do with this information, Fabling replies "for creatives, the report highlights the importance of measuring the impact of their mahi. For example, organisations and individuals can build opportunities to gather participant feedback into their public programmes to measure wellbeing.
"If more people across the sector are able to measure the wellbeing and social benefits of participating in these activities – the more evidence we have to show how important participating in arts and cultural activities are for all New Zealanders."
Research is good - change is better. If this information can alter the way funders and governments think about creativity, then this is a great early Christmas present.
Arts allies strike back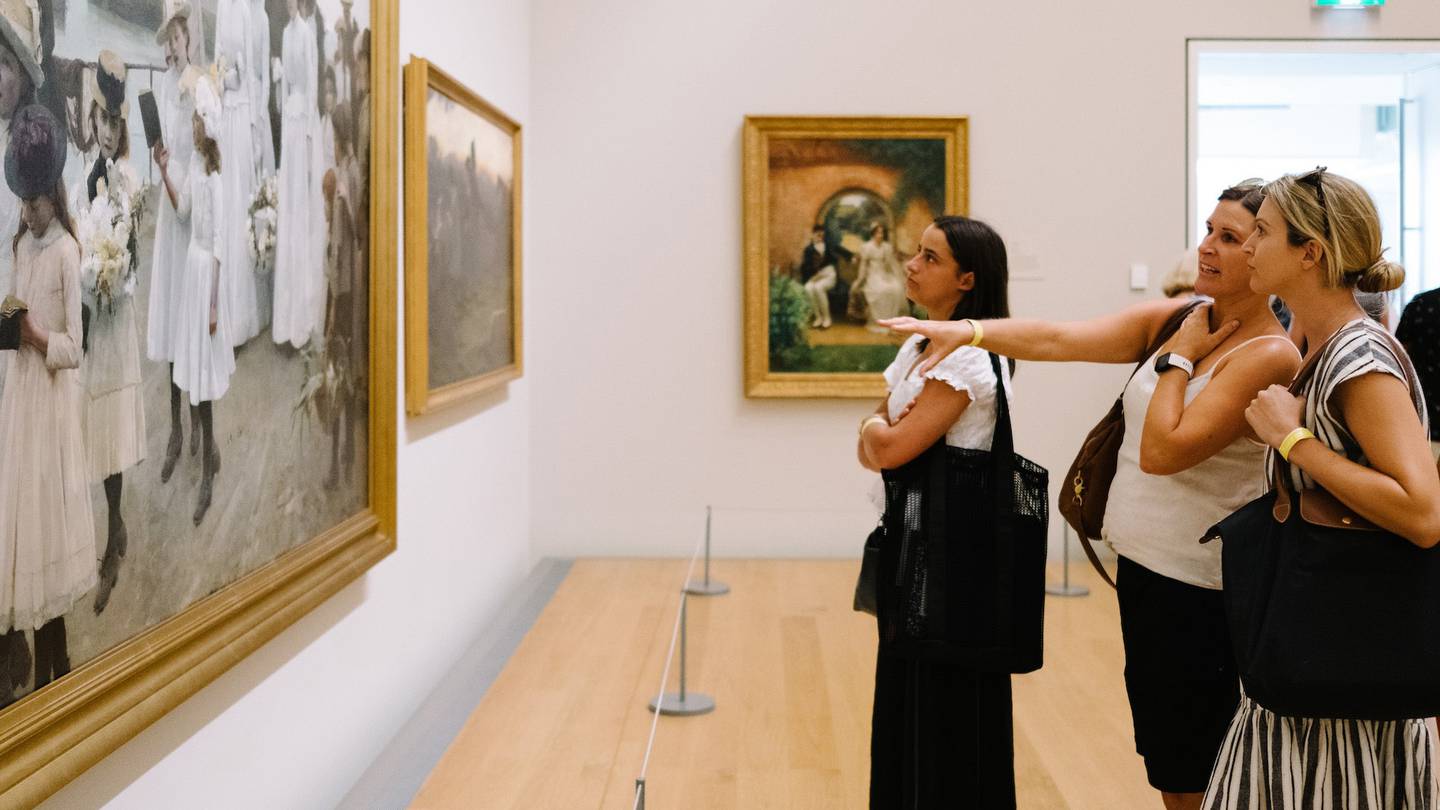 Patrons at Auckland Art Gallery (note, there's more than the Mayor thinks). Photo: Supplied.
Can someone get this report in front of Wayne Brown to read over his morning cup of coffee, please?
It's hard not to make the connection of the arts being undervalued and looked at in a myopic view of dollars out and dollars in.
The new mayor of Auckland has not been shy with what seems to be a disdain - disinterest at absolute best - for the money spent on arts and culture in the country's largest city, described to The Lowdown by those with a strong knowledge of the situation as seeking out the easy wins.
Respected arts academic Dr Peter O'Connor has unleashed his opinion on Brown's "patronising" assault on the arts on Newsroom, stating "The arts are soft targets for right-wing politicians like Brown who have a sense that value can only be measured in financial terms. For them, life is just a series of business transactions, so people become consumers and customers rather than citizens. I'm not sure how you argue for the value of the arts, of community building with the vandals in charge of the council purses. It feels like the clash of values is too extreme for dialogue that might be meaningful."
Brown's recent oversimplified attack on Auckland Art Gallery has been largely debunked - Simon Wilson taking it to task in a paywalled NZ Herald piece, noting that the gallery's 2022 attendance target of 420,000 is on track to be reached. Brown's dressing down of attendance of July-September being 9,516 was misleading - that was paying customers. The overall attendance, including locals who can attend for free, was actually 76,874. As renowned arts commentator Hamish Keith tweeted, "not bad for a dairy, eh Mayor Brown!"
Some very decisive politicians around the globe have specialised in making not-quite-the-whole-picture statements, said statements causing a frenzy then offering half-hearted apologies when the full truth is told days or weeks down the line.
On this occasion, it has galvanised creative supporters in the media - both traditional and social - and could even backfire on Brown.
Today (Thursday 15 December) looms as an important day in Brown's desire to remove the contestable arts grants Auckland Council has long offered to help add creativity and colour to Tāmaki Makaurau. The many proposed budget cuts will be put in front of the city's decision makers, where we'll discover who is on board with Brown's preferences.
From there, the recommendations will go to public consultation in March next year - and the arts have proven before they're up to the challenge of rallying for the cause. This issue is well explained in The Spinoff.
It should be pointed out that all local governments are doing it tough post COVID and need to make cuts - it's not unreasonable for the arts and other areas to be reviewed.
But progressive thinkers like Nelson City Council are choosing to try reduce overheads by actually investing in creativity, calling for submissions to build a Relocatable Autonomous Projection Structure (RAPS) to help them deliver more of their signature light art shows (click here to find out how to make an expression of interest).
But building a campaign to get rid of creative investment rather than addressing the other elephants in the room (publicly owned golf courses being a regular example given) is depressing, to say the least.
Funding heartbreak still hurts
Having funding opportunities closed or overwhelmed is becoming a sad reality for the creative community in the post-pandemic world.
Less than a week on from the last CNZ Arts Grant round of 2022 being announced, the impact is still being felt by the large number of talented, worthy but unsuccessful applicants.
Everyone The Lowdown has spoken to has acknowledged there is only so much money to go around right now and that they feel for everyone else who got the funding cold shoulder.
Take Wellington based theatre makers Binge Culture Collective. They've fallen from inside the Annual Arts Grant banner - where they received $100,000 worth of funding to fund their 2022 programme - to missing out on an Arts Grant altogether.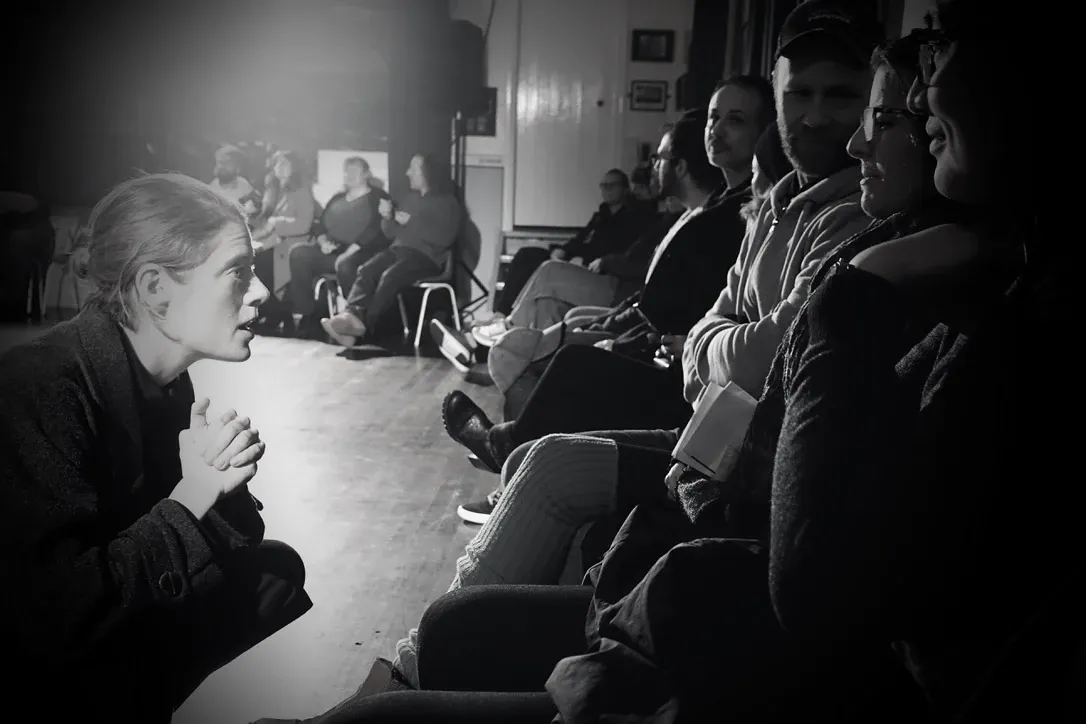 Binge Culture Collective performance of Werewolf. Photo: Moucey Young.
Creative Director Joel Baxendale told The Lowdown this has been their busiest year ever but in the last few months, they've had three of four CNZ applications denied (their one successful grant this year was from the Business Capability fund, worth $5,688).
"Momentum hasn't so much stalled as come to a crashing halt. I feel like the 'feast or famine' nature of working in the arts has really been exacerbated by these CNZ results, when it could and should be doing the opposite.
"Personally, it's been a particularly tricky time because I've just become a new parent and so can't suck up the instability and loss of income as I have done in earlier stages of my career. Other people in the company are in similar financial situations, whether it's mortgages or just the general cost of living.
"To suddenly need to fill all these gaps in the calendar at short notice, while still holding dates for the unaffected activity - or waiting to try again for the next funding round with ever shorter timeframes and ever increasing instability - is just not sustainable for anyone involved.
"So at the moment, we're just taking stock. It's possible we just press pause on development, try to do more presentations of existing work and find other work around that - or maybe go on hiatus until we can offer our personnel more security, or just call it quits.
"I've got an application in with the MCH Regeneration Fund, due back very soon, which may alter the equation. But judging by how few were awarded in the first round, I'm not holding my breath."
Others feel similarly deflated and exasperated, but have a fear - rightly or wrongly - that speaking out may have a detrimental effect on future funding requests. It's the' not wanting to bite the hand that feeds you' mentality, even when you're not getting fed.
One unsuccessful applicant explained their frustration to The Lowdown "I think we all realise that the funding pool has shrunk considerably and that's why the number of approved applications have gone from 1 in 3 or 4 to 1 in 5, but now that various organisations have started circulating their feedback from CNZ, certain patterns are emerging.
"The feedback is increasingly contradictory - often quite bizarre - which makes you wonder how the assessment criteria are being applied. Some of the feedback strongly suggests a predetermined decision, doesn't seem to match up to the application, or comes across like the assessor has no experience in the field.
"I saw one feedback form sent to a small literary organisation that was utter madness. This group was very conscious that they were very Pākehā and were trying to recruit for greater diversity as a dedicated management strategy - but being entirely voluntary had always struggled to replace members, let alone recruit new ones. Part of the funding requested was to address that issue. They also included detailed information on contributors to highlight their commitment to diversity.
"Assessor 1 praised them for their commitment to whakahaumanu. Assessor 2 repeatedly complained that the organisation lacked diversity and showed no commitment to reflecting diverse voices.
"Assessor 1 criticised the organisation's reliance on unpaid interns, despite no one in the organisation getting paid except for a very modest annual honorarium to cover the editorial board's expenses.
"As was clear from the application, these interns were recruited from the management studies department of a local university and such work was a requirement of their degree. Yes, less than ideal, but again, these are not large organisations with a lot of cash to spare, especially when the funding is declined.
"How is any of that constructive? How are you meant to improve on that? How can you possibly win?"
The Lowdown has been contacted by visual artists of strong standing and proven track records who have missed out, some having no choice but to resubmit their applications from the first round because of the short turnaround.
"It's definitely a knock," they explained, while understanding the extraordinary level of competition in this round - having to compete for funding with Aotearoa's most recent Venice Biennale artist and recent inductees in the Arts Laureates alumni outlines that clearly.
There's also, among some, a cautious air of optimism.
"It's time for a funding change - a long time coming!"
We Are Indigo saga continues
Given that CNZ has agreed its funding approach needs to be different, the question has been raised in the creative community - are they willing to address others areas of contention?
As predicted, the fall out to the controversial CNZ decision to sign a $5.3 million dollar deal with under-scrutiny tech company We Are Indigo is showing no signs of abating.
The Big Idea has been met with only comments of bewilderment from creatives over the awarding of the coveted contract to Toi ki Tua, the newly set up subsidiary of We Are Indigo who have courted many negative headlines.
Since the announcement, former Chief Executive of Callaghan Innovation Vic Crone has announced she's commencing legal action towards We Are Indigo and personally to its Directors Andrew Hamilton, Monty Betham and Patrick MacFie. Following an initial LinkedIn statement, Crone has spoken to NBR about her experience of power imbalance and harassment in the workplace. (Please note, the article involves reference to sexual harrasment that could be triggering for some - and Crone makes it clear there has never been any allegations of that nature to do with We Are Indigo.)
And influential Pasifika artist and advocate Ema Tavola, who runs South Auckland-based gallery and creative consultancy Vunilagi Vou told The Spinoff about her experience in the Vaka Measina Pacific Creative Enterprise programme that was the first collaboration between We Are Indigo and CNZ.
The Lowdown approached CNZ for comment on whether these developments or the negative public reaction to the Toi ki Tua announcement has brought cause to reconsider their stance on this partnership - and if the Arts Council will initiate an independent investigation into the Due Diligence process (which is outlined on their website).
Chief Executive Stephen Wainwright responded with a statement.
"Creative New Zealand stands by our decision to award the contract to engage Toi ki Tua based on the available information and due diligence we undertook.
"The Pacific Arts team's experience partnering with Manaaki (another We Are Indigo subsidiary) on the Vaka Measina pilot programme has been positive, open, and transparent with regular engagement – this feedback was captured as part of the decision-making process for procuring the digital arts service.
"Feedback from practitioners who participated in the pilot has been overwhelmingly positive. While we did not receive any complaints about the pilot through our formal complaints process, we were aware of feedback on the pilot raised by one participant and have discussed this with them directly in person."
With Toi ki Tua set to engage the creative community in the new year "to understand the needs and refine its services", expect the spotlight - and blowtorch - to be turned up high by those questioning this partnership.
Jolly about Molly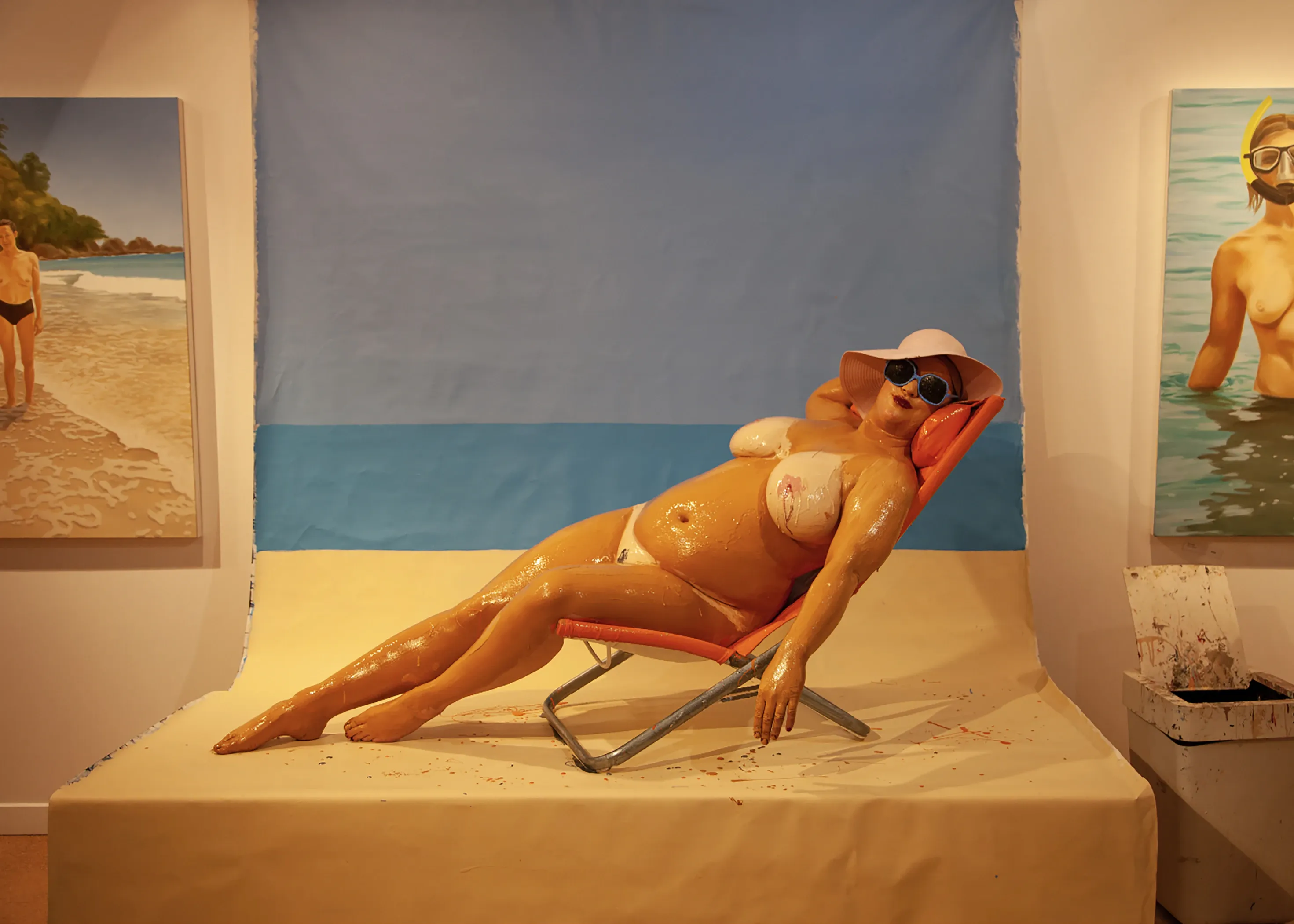 Julia Holden, Waiheke Island. The Great Waiheke Nude (Audrey Baldwin) Acrylic house paint and mixed media on figure.
50 Aotearoa artists have been confirmed still in the running for next year's Molly Morpeth Canaday Award for Painting & Drawing.
From 454 submitted artworks, the preliminary judging trio of Leafā Wilson, Susanna Shadbolt and Hannah Ireland have settled on their half-century that will make up the exhibition running throughout February and into March in Whakatāne.
Toipoto artist Julia Holden is among the contenders with her piece The Great Waiheke Nude (Audrey Baldwin), while Whakatāne locals Lea-Anne Sheather, Sarah Hudson and Sarah Jane Moon have made the cut, along with three other Bay of Plenty artists Vicki Fraser, Paul Darragh and Maraea Timutimu.
One of New Zealand's longest running national contemporary art awards will be dished out on opening night (4 February 2023) - with arts educator and artist Kelcy Taratoa delegated with the responsibility of deciding the Molly Morpeth Canaday Major Award of $10,000 - from a collective prize pool of over $22,000.
Signing off
For those able to take some time off - enjoy, recharge, find what makes you happy. For those working through - be it with festivals, markets, performances, exhibitions or working your 'day job' - we hope it fills your creativity bucket and it's a successful time.
When the chance presents itself, get out and support your fellow creatives. If you're looking for Christmas presents, consider buying local art, tickets to performances - something that helps someone else who may be in need of that boost. Stop to talk to artists selling at markets - even if you're not in a position to spend money, a little aroha and appreciation for their mahi can go a long way.
As we sign off the final Lowdown of a very lively year, we will be taking inspiration from The Big Idea's current homepage featured artist, Tanya Blong.
The Toipoto artist explains her work - "Passed out in your garden relates to the sensory aspect of being idle and the world slowing down. The title references a nod to being in love with the creation of nature."
A sentiment everyone can relate to. Have a happy and safe holidays, come back refreshed for a big 2023!